Latvia's Janis Vorobjvos and Ivo Pukis have won the Samsonas Fivemiletown Rally, round one of the McGrady Insurance NI Forest Rally Challenge!

Driving their BMW M3X for the first time, the crew claimed a last gasp victory by five seconds after an intense battle with the Fiesta R5 belonging to Cathan McCourt and Barry McNulty.

Going into the final loop of stages, just eight-tenths of a second separated the two crews with McCourt out in front. Then Vorobjvos reduced the gap to one-tenth of a second and a blast through the final stage saw the visitors secure the win!

"It's our first time at this rally and our first time in the car," said winning navigator Pukis at the finish. "The competition was very tough so it couldn't be better!"

Second-placed McCourt was left hugely disappointed with the result. He arrived at the finish believing he was victorious, only to discover he had dropped to second.

"I could have gone faster if I'd known it was so close," a despondent McCourt said.

It had been difficult to find accurate event results throughout the day due to poor phone reception. That left competitors resorting to 'old school' methods of calculating the event positions.

Many believed that McCourt had a lead of around 15 seconds going into the final two tests but it later transpired that his advantage stood at a mere eight-tenths of a second. That paved the way for a huge charge from the Latvian visitors and they nipped the rally win from McCourt's grasp after the final stage.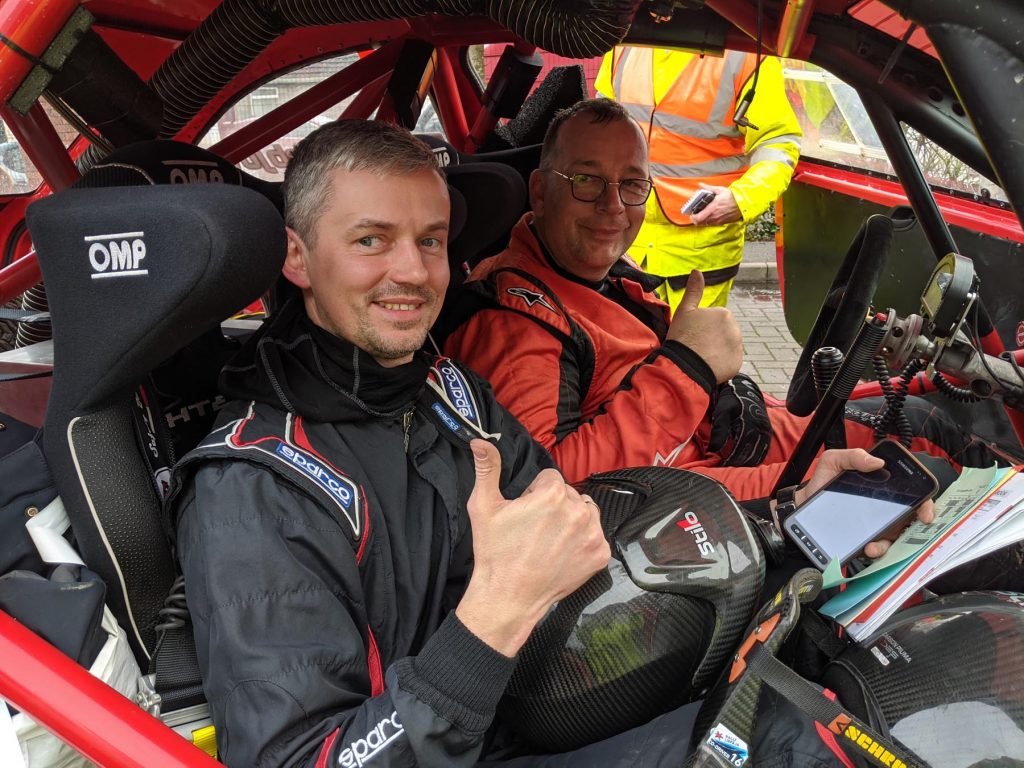 Early Leaders

The Latvian BMW crew had led early on after Patrick and Stephen O'Brien dropped outside the top 10 with an overshoot. The O'Briens had been quickest out of the blocks in their Fiesta but that stage three incident saw them plummet out of contention.

"We probably would have lost about 10 seconds if spectators had been able to help," O'Brien said. "But they were standing there recording on their phones!"

The incident knocked the heart out of the early leaders and not wanting to damage their Fiesta, they opted to take a steady run to the finish line where they eventually claimed fifth.

Instead, Vorobjvos and Pukis moved into the lead after stage three and they eked out an 8.4-second advantage over Cathan McCourt by the time they reached service. However, Vorobjvos indicated that he had some steering troubles and was pushed into their service bay after clocking in at the time control.

Thankfully their issues were fixed and they entered the second loop of stages in determined form. But so too was McCourt. The Fiesta pilot upped the ante and he started eating into their advantage before eventually moving in front after stage seven.

Vorobjvos' bid wasn't helped when he came across the stricken Subaru belonging to Scottish visitor, Fred Milne. The Impreza pilot had gone off the road and was lucky to escape with relatively minor damage, although he later retired with overheating issues.


Milne was still trying to get back on track when Vorobjvos arrived on the scene. The Latvians lost some precious seconds but were still upbeat despite the incident.

"We will continue to fight," navigator Pukis said afterward. "The battle is on – and we are not afraid of a battle. The strongest will win here!"

And that's exactly what they did. They equalled McCourt through the eighth stage before going faster on the final two tests to claim victory!

Cathan McCourt and Barry McNulty had to settle for second with Callum Devine and Brian Hoy winning the battle for third over the closing miles. Devine was really on the pace towards the end of the event, even picking up a few fastest stage times as he grew more accustomed to his Hyundai i20 R5 on gravel.

"We made a few setup changes during the day and they seem to have worked," Devine said. "I started to really enjoy it towards the end."

Devine pushed so hard that he lost his Hyundai's rear screen but that was the price he had to pay to stay ahead of last year's winners, Niall McCullagh and Ryan McCloskey. McCullagh was also on a mission and was lucky to survive a "big moment" to finish fourth overall.

Early leaders, Patrick and Stephen O'Brien, managed to recover from their stage three dramas to secure fifth ahead of Conor McCourt and Caolan McKenna who lost time with a couple of big spins. Scottish visitors, John Wink and Neil Shanks, finished seventh in their Hyundai with Gareth Mimnagh and Barry McCarney completing the top eight despite a puncture.


Two-Wheel-Drive

In the two-wheel-drive category, Adrian Hetherington and Gary Nolan led the category at first service but they crashed out of the event during the second loop of stages. That paved the way for Ryan Barrett and Paul McCann to move in front, closely followed by David Condell and Paul Kelly.

Then Barrett hit trouble on the penultimate stage, leaving Condell in prime position for the category win. He and navigator Kelly enjoyed a clean run through the final stage to seal the top two-wheel-drive award, with Barrett forced to settle for second on what was his first event in almost two years.

Retirements

There were plenty of retirements during the day with the nature of the loose gravel stages taking their toll on competitors and their cars. Martin McKenna and Martin Brady landed their Fiesta off the road on stage three, while Shane McGirr and Denver Rafferty retired their Starlet with mechanical troubles.

Oran Donnelly and Mo Downey suffered with gearbox failure and Stephen Dickson retired on the way to the opening stage with clutch failure. Martin Cairns had an early bath due to a bad misfire with his Fiesta WRC while Liam Regan struggled with a failed alternator. Unfortunately for event sponsor Martynas Samsonas, he also retired his BMW after the long trek from Lithuania.

Next Event

Round two of the McGrady Insurance NI Forest Rally Challenge takes place in September at the Enniskillen based Lakeland Stages Rally. For more information, visit facebook.com/niforestrallychallenge or anicc.org.uk.

Results (Top 10)
(Full results: rallyscore.net)

1 Janis Vorobjvos/Ivo Pukis (BMW M3X) 33m35.2s
2 Cathan McCourt/Barry McNulty (Fiesta R5) 33m40.2s
3 Callum Devine/Brian Hoy (i20 R5) 33m44.8s
4 Niall McCullagh/Ryan McCloskey (Fiesta R5) 33m58.5s
5 Patrick O'Brien/Stephen O'Brien (Fiesta) 34m32.8s
6 Conor McCourt/Caolan McKenna (Fiesta R5) 34m33.9s
7 John Wink/Neil Shanks (i20 R5) 34m35.1s
8 Gareth Mimnagh/Barry McCarney (Lancer Evo 6) 35m37.4s
9 Alan Smyth/Emmet Sherry (Lancer Evo X) 36m01.9s
10 Frank O'Brien/Thomas Nugent (Lancer Evo 9) 36m13.6s