It is well documented that the Isuzu D-Max pick-up truck is one of the most capable and practical commercial vehicles on the market today and its accolades seem to be never-ending.
This latest D-Max model, named the XTR, I am confident will add yet more trophies to the overflowing cabinet at Isuzu headquarters in Solihull, England.
Aimed not so much at the farming community to whom Isuzu have been a leader for many years, but rather those who require a commercial vehicle for light work that enjoy an adventurous lifestyle.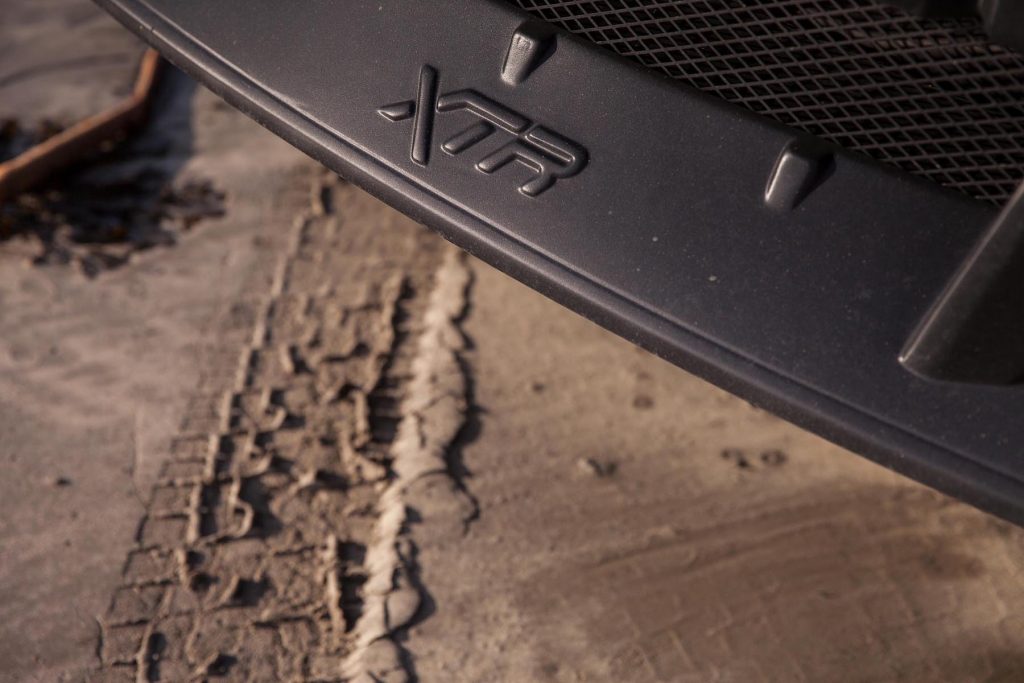 Those who require the versatility as a family vehicle, the towing capacity and load-ability as a workhorse, as well as the capability of an adventurous off-road vehicle.
Not only does the XTR provide all of the above in abundance, but it also adds a huge amount of style. A style some may not find too attractive but one for those who like to think outside the box and don't wish to conform to the norm.
I can see the D-Max XTR suiting an owner who requires a commercial vehicle for work, that person perhaps enjoys some downhill mountain biking and needs a little help to get the bikes across rough terrain or maybe even to the top of a mountain, before a speedy descent on two wheels.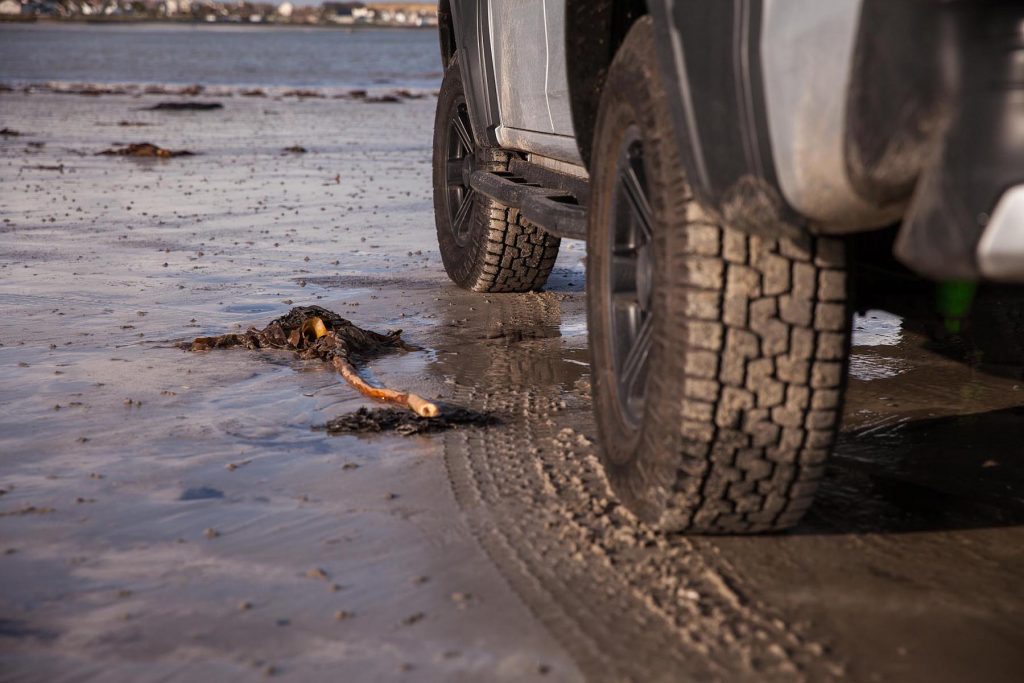 That same person may have a decent sized RIBB, jet ski, or most likely a quad and a few scramblers, that need towing around with the end destination being one which would either be wet and sandy, or wet and mucky.
Both surfaces which the XTR will cope with, without even creating a fuss, thanks to the 17-inch alloy wheels wrapped in 32-inch Pirelli Scorpion all-terrain tyres.
Coming in the model range above the D-Max Blade, the XTR isn't quite as bonkers as the Arctic Trucks version of the D-Max. It provides a happy medium with a plethora of creature comforts and still at a cost much less than many of its less attractive, less capable rivals.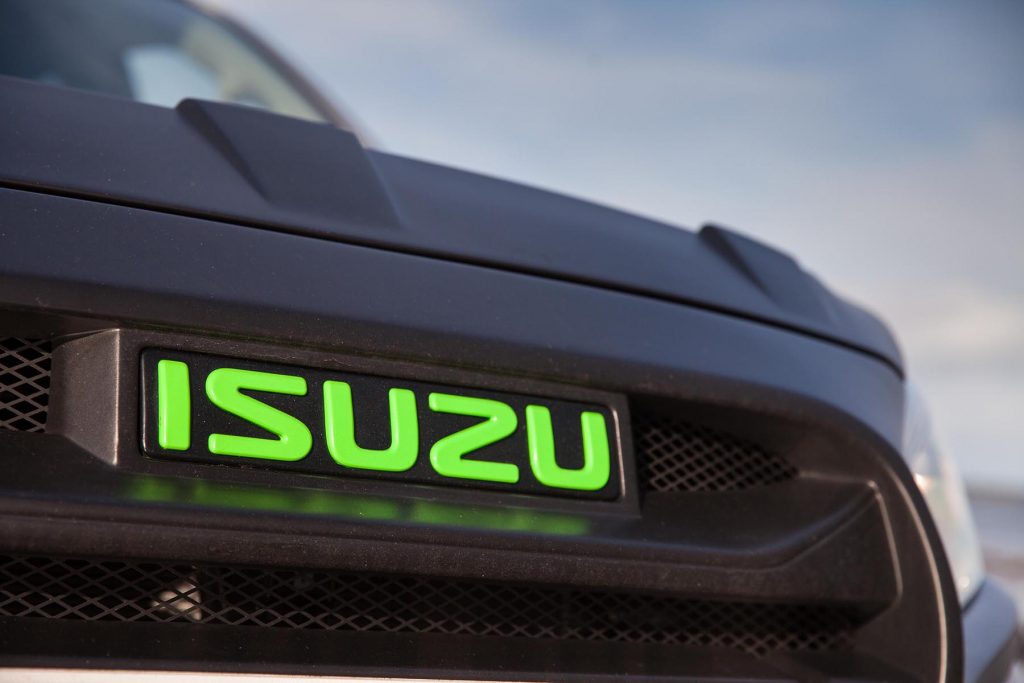 Externally, the major difference from a D-Max Blade would be the full XTR body-kit which is custom designed and comprises of front bumper, bonnet bra, rear bumper, rear spoiler, light surrounds and wheel-arch extensions as well as angular side-steps and raptor-coated under-body protection.
Available in just four colours, the XTR comes with distinctive badges and the option of a full livery scheme, finished in charcoal satin. These details contrast against the day-glo green badge on the front grill which matches the Pedders suspension and brake upgrade perfectly.
Pedders have developed the suspension for the XTR, lifting it to have a more purposeful 250mm of ground clearance without any detriment to the on-road agility the D-Max is known for.
The rear shocks, front springs and brake calipers are all finished in this same day-glo green. Pedders have even provided Geomet coated brake discs, which, when combined with Kevlar ceramic brake pads, provide up to 10% more stopping power with enhanced prolonged performance.
Powered by a 1.9L turbo diesel engine, the XTR produces 163bhp with 360nM of torque which, when combined with the automatic transmission as fitted to this test vehicle, produces more than enough get-up-and-go for even the heaviest of jobs, yet when being used as a family vehicle will never leave you late on the school run.
Permanent rear-wheel-drive can be changed on the move to four-wheel-drive at speeds of up to 60 mph, with the option of four-wheel-drive low-gearing when at low speeds and things get a little sticky under foot.
Despite looking a little overweight, the XTR doesn't feel that huge when on the road and parking is made a little easier with a rear-view camera when reversing.
Inside the XTR is a mix of leather, suede, and hard-wearing materials, with day-glo green stitching throughout. Offering plenty of room and comfort, it wasn't until I was about to return the vehicle to John Barr Cars in Antrim that I realised it was fitted with heated seats.
The controls for which are fitted in the daftest place possible, pretty much behind your derriere so you can barely find the switch, never-mind seeing which of the three heat settings the chairs are on, without careering over a hedge.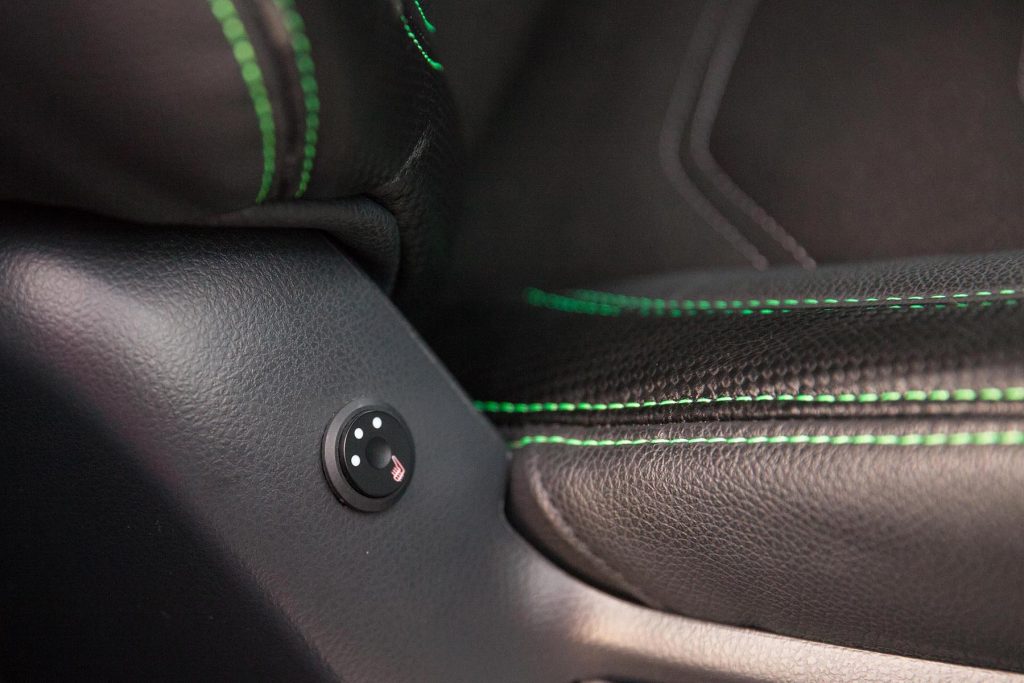 I never thought of a pick up as the most practical family vehicle but to my surprise a pair of children's 360 swivel ISOFIX seats fitted with ease, and comfort, for even the front occupants.
Several buggies could be fitted in the loading bay along with everything else that young children tend to need for any sort of journey and the mountain top roller cover keep things safe and out of sight when not in use.
A tonne of sand or stones could also be easily accommodated in the back, along with a quad, a few bikes, or a clay pigeon trap that needs moved to a different field.
A Pioneer 7-inch touchscreen is the home of entertainment on the XTR and provides a CD player, a few USB ports, Apple CarPlay and Android Auto, along with Bluetooth and Sat Nav on the model tested.
Pricing seems pretty good for what you get, with an XTR manual starting from £33,999 (commercial vehicle on the road price) and a Nav+ manual starting from £35,149 (cvotr).
Opt for an automatic and the price increases by just £1,000, meaning this model tested comes in at £36,149 or if you are not VAT registered, but want to cruise about in unique style, it's £43,315.80.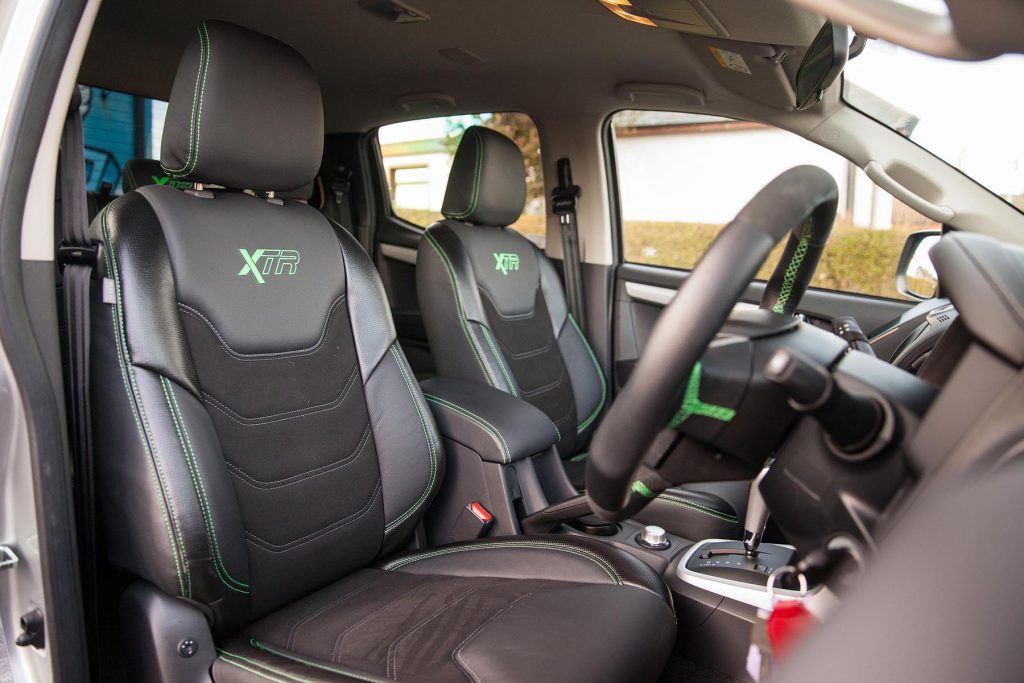 The D-Max XTR is one vehicle my family and I have enjoyed incredibly, it turns heads around every corner and returned 25mpg. And with a 5-year – 125,000 mile warranty, along with 5-years roadside assistance, it really does add up to be the ultimate package.
Fact File for model tested:
Make : Isuzu
Model :  D-Max
Trim : XTR
Engine : 1.9 turbocharged diesel
Gearbox : 6-speed automatic
Cost Circa : £36,149 (CVOTR)
Words & Photos: GRAHAM BAALHAM-CURRY
images must not be used in any way without prior written consent of the photographer