We get to grips with the Subaru Forester which recently received a hybrid system and find out if electrification is the way forward for the Japanese maker.
Regular readers will know that I have a huge affection for the Subaru brand which stems from my time following and competing in rallying. It's a brand that has always produced cars based around performance, agility and a rugged ability.
In recent years, however, the performance aspect has been lacking.
This latest model from Subaru is the tip of the iceberg when it comes to a lack of performance, and has, without doubt, put me off any potential future ownership if this is the way Subaru see their future.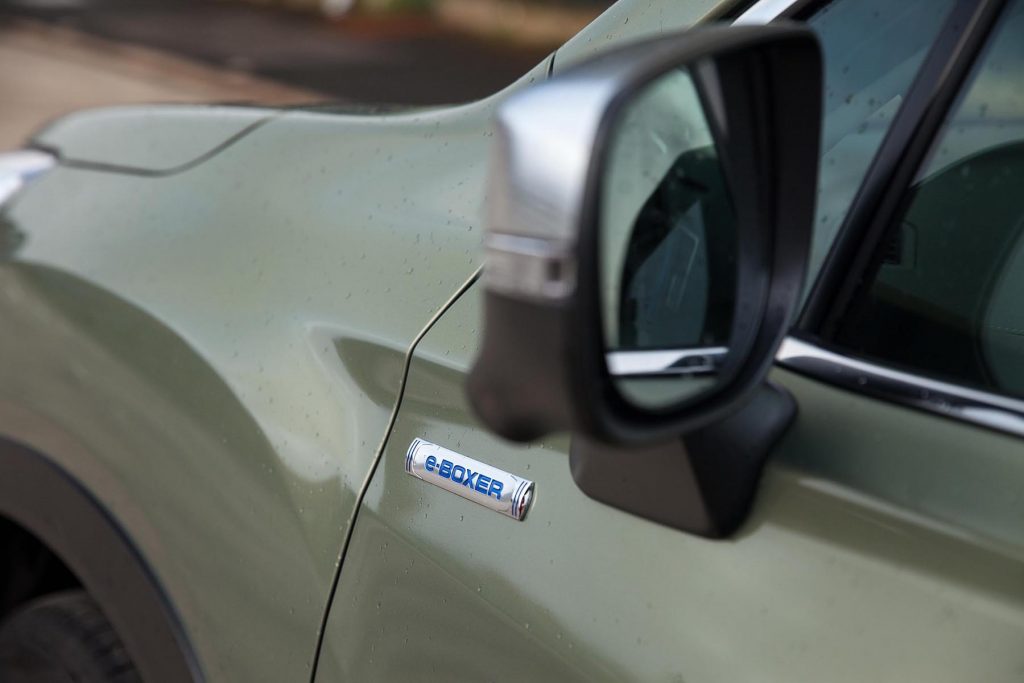 Strong words coming from someone who has always longed to own a Subaru Forester.
Subaru have mostly used a 'boxer' engine, which keeps the centre of gravity low and it's an engine type that isn't too common these days as in general, they can be quite uneconomical and with tighter restrictions on emissions, high costs of tax ensued.
It's a wonder that Subaru even still use such an engine, with the likes of Greta and her vast array of tree-hugging followers.
Perhaps the combined reasons mentioned, is why Subaru has developed the e-BOXER, a self-charging hybrid, to work towards the goal of a better carbon footprint. Let's be realistic, until recently, they haven't done a great deal other than produce fuel guzzlers.
This latest Forester, the e-BOXER, retains as you might have guessed from its name, a boxer engine. This time in 2L guise, but with a lack of turbocharger, but with an added battery in the boot.
Retaining the symmetrical all-wheel-drive system is a good thing, and combined with the award-winning 'eyesight' technology, it keeps the Forester in contention for one of the most practical and safe cars in its class.
When it comes to people carriers, there are many around, but when it comes to people carriers that add extra purpose for those living in rural areas, or that enjoy some extreme sports, few can add up to what the Forester can deliver both on-road and off-road.
Inside this model tested is awash of black leather and durable plastics that are far removed from Subaru's of old, and the Forester is actually quite a nice place to be when driving or as a passenger, for which there is plenty of room no matter which seat you opt to sit in.
Comfort on this model helped with heated seats front and rear.
An electric open-close tailgate adds a lot of convenience, whilst a suitably sized colour touch screen on the dash is the home of the infotainment which provides AM/FM/DAB radio, satellite navigation, app connectivity, Bluetooth and streaming.
Above this, on top of the dash and its owned housing, is a second colour screen which displays the climate control settings as well as the status of the engine and hybrid system and shows the transition of power from petrol or battery or the regeneration status of the battery can be viewed on this along with other car settings.
Whilst at press launches in the past, when Subaru's eyesight technology was first demonstrated, I experienced it in several clinical situations and it seemed to work well, so well in fact that many other brands are now incorporating the exact technology into their own vehicles.
It was only during my week long test of this Forester however, that I was able to see first-hand just how good a system it really is. One example would be when I was scouting out a possible location for a photoshoot of a local artist.
I was on private land and whilst driving quite slowly I was looking around me to see if my idea would be achievable, when all of a sudden the car beeped and a message popped up to say something along the lines of pay attention and keep your eyes on the road.
Big brother is watching you!
Again, later in the week, I was helped by the eyesight technology when out chasing #StormDennis. The car in front of me decided to slow down rapidly without any warning and before I knew it, lights, sounds, mechanical assistance, and my own reactions soon saved me from an embarrassing phone call to Subaru UK.
These real-world scenarios on this system enlightened me as to just how great it is, something that can't be gained truly from a set-up, role-play, of potential road scenario.
An X-mode dial allows switching between normal, snow and dirt or deep snow and mud settings, which will alter how the car drives to best suit the train under you, meaning the Foresters capability off-road and agility on-road is never in doubt.
The symmetrical all-wheel-drive system is fantastic as I have experienced several times in the past and even the lineartronic CVT automatic gearbox is one that I warmed to the more miles I covered when I got used to it mannerisms.
Now to the power train, unfortunately.
I'll start by saying that on a long stretch of road close to home, where in my 12-year old turbocharged diesel Volkswagen Golf, I can overtake a car travelling at 40mph safely, I struggled to find the torque in this e-boxer Forester to pull out and pass in a way I felt safe.
The car did complete the manoeuvre, I'll attest, but I never tried to overtake for the rest of the week that i had the e-BOXER as I just didn't have the confidence in the engine's ability.
Whilst researching this article however, everything became apparent as to where Subaru are headed, as it has removed all diesel engines from its range, removed all turbochargers from its petrol engines and the XV and Forester now come with the hybrid self-charging power-train.
Subaru are now all about high specifications, comfort and with safety of paramount importance to the brand which in this day and age, where a mixture of technology and daydreaming can distract us so easily when driving, you'll always have confidence in motion with a Subaru.
The e-BOXER Forester produces around 145bhp with similar lb/ft of torque and is equipped only with the auto 'box which will see a combined return of about 35mpg.
Prices start from £35,995 for the XE model which provides as much as most would ever need from a vehicle in regards to specification. For those wanting a little more however, an XE Premium, as tested, can be bought from £38,995.
Subaru's Forester is covered by a 5-year/100,000 mile warranty whilst the battery gets an extra 3-years, proving the confidence the Japanese maker has in its product and, despite being best suited to city driving, with performance that is undermined by many 1.2L 3-cylinder turbocharged petrol cars on the market today.
It's a safe place to be, even if i don't feel that electrification as it is at present, is the way forward.
Fact File for model tested
Make : Subaru
Model : Forester e-BOXER
Trim : XE Premium
Engine : 2.0L Petrol & electric motor
Gearbox : Automatic CVT
Cost : £38,995
Words & Photos: GRAHAM BAALHAM-CURRY
images must not be used in any way without prior written consent of the photographer