The McKee Clock Arena in the seaside town of Bangor came to life on Saturday 23 April thanks to the Capri Club Northern Ireland.
In aid of Friends of the Cancer Centre, the event, which is strictly Ford vehicles only, with the exception of a few other interesting classics should they attend, attracted in excess of 250 vehicles.
Having been forced to run in autumn of last year, due to ongoing restrictions, the sun shone bright over Bangor Marina as the show returned to his usual spring date.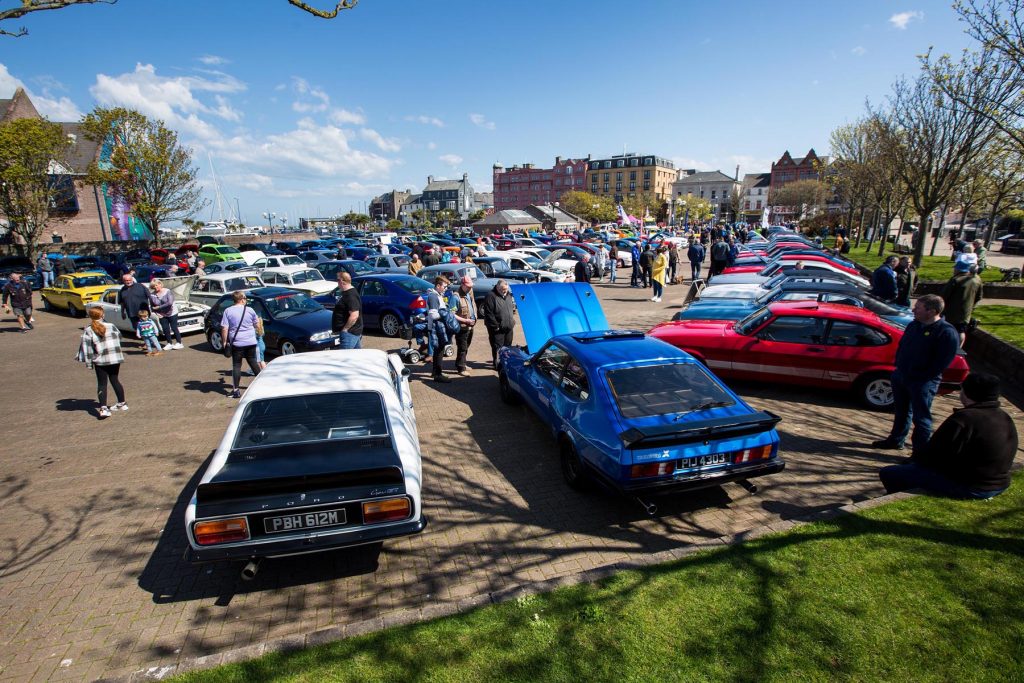 Capri Club NI
In 1988, just two years after Capri production ceased, the Capri Club of Northern Ireland was formed and registered as a Regional Branch of Capri Club International.
Established by a group of Capri enthusiasts, the Club's aim is to bring together like minded fans of the 'car that kept its promise' to display and enjoy their Capris in a club format.
Over 30 years later, and the club is still going strong with an annual membership of around 70-80. Members come from all over the Emerald Isle, with meetings once a month for an informal discussion on all aspects of the clubs activities.
As well as organising their own regional display each July, which is open to all Ford cars, the club attends many vintage & classic Ford events, static shows and cavalcades throughout the country, as well as organising a number of club runs during the year.
One major benefit of club membership is that members can also give help, practical support and assistance to other club members regarding Capri restorations, repairs and servicing.
Bangor Charity Show
I caught up with club chairman, Alan Gourley, to find out a little more; "This is the sixth year we have held this show and it is great to be back with our usual date at the end of April, where the show so will hopefully remain in the future.
"Once we have our costs and public liability insurance covered all remaining takings on the day get donated in full to Friends of the Cancer Centre," explained the Newtownards man.
"We have donated to them every year as one of our members was very ill and they received a lot of help and care from the Cancer Centre charity. Our member asked if we could donate to them and the club decided that yes, we could make them our charity each year.
"We have always been in the position to donate somewhere between £500 and £1,000 from this one day event, participant numbers depending, and it looks like we should be at the higher end of that today."
Alan continued, "Ards and North Down Borough Council allow us to use this great venue, but with that comes a lot of hoops that need jumping through with insurance, risk assessments and an event management plan.
"Covid assessments are still a thing, first aider's are required and a child liaison officer needs to be assigned. There is a lot of paperwork involved in making an event like this happen, it's a huge effort.
"As you can see though, it's a great venue for this type of event and many of our participants love the fact that we stage our event in such a nice town centre / seafront location where people who ordinarily would never see these cars can get to see and enjoy them.
"They show great interest and appreciate the time and effort the owners put in to keep and show their cars. Long may the show in this location continue."
Show and Shine
Providing an incredibly laid-back atmosphere, this event is very well supported by not only its own club members, but those from the RS Owners Club of Northern Ireland and the Mustang Owners Club NI, too.
Although this event is very much all about catching up with friends over a picnic, owners of the top-10 cars on display get rewarded with a trophy.
In addition to this, NaviWax supplier and long-term supporter of the event, Michael McDonald, picks a 'NaviWax Car of the Show' which then receives an award and prize supplied by Michael himself.
This show really is the perfect way to end the Easter holidays. Well done to Alan and his team of volunteers for making it happen, see you all next year.
Words and Photos: GRAHAM BAALHAM-CURRY
[Images must not be used in any way without prior written consent of the photographer]