Japanese Performance Car Club Northern Ireland, more affectionately known as JPCCNI, the largest Japanese based car club in the province, are no strangers to hosting car shows and running events.
Monthly cars and coffee meets and annual charity events such as the Show and Shine at Loughgall Festival of Motorsport, as well as "Skooled" at Killard House School in Donaghadee, it's safe to say that JPCCNI are well established within the car enthusiasts world in Ireland.
So when you suddenly see an influx of performance, classic and modified Japanese cars driving down Queens Road, Belfast, and turning into the Titanic Exhibition Centre, you know JPCCNI are bound to be involved, and you're not wrong!
Aptly named 'The Docks' this eagerly anticipated first for JPCCNI, by hosting a show both indoors and outdoors on the same day, was a huge success. The layout, the welcome and the overall feel was one you would expect from a well established show.
Making your way around the venue a distinct aroma of cleaning products was in the air. The reflection of the venues ceiling lights bouncing off flawless paintwork, and the buzz of the crowd with a relaxed atmosphere sparked that nostalgic feeling.
The range of cars on display was nothing short of phenomenal, with something on display to suit everyone's automotive tastes. 
From the striking looking custom deep metallic red wide-body Toyota GT-86, to the Pennzoil liveried yellow Nissan Skyline, right through to the ultra rare Autech Nismo Pulsar GTiR which travelled from Scotland. A fully restored classic 1978 Mazda 323 was a show stopper and topped off an eclectic mix on show.
And those were just the inside cars on display!
Outside played part to a stunning range of cars too, mean looking Nissan Silivia's, iconic Mk1 MX-5's and even a ruby stone red Lexus is200. We can't forget JPCCNI's iconic Nissan Cube either. The judging of the cars ahead of prize giving was never going to be easy, and JPCCNI knew this.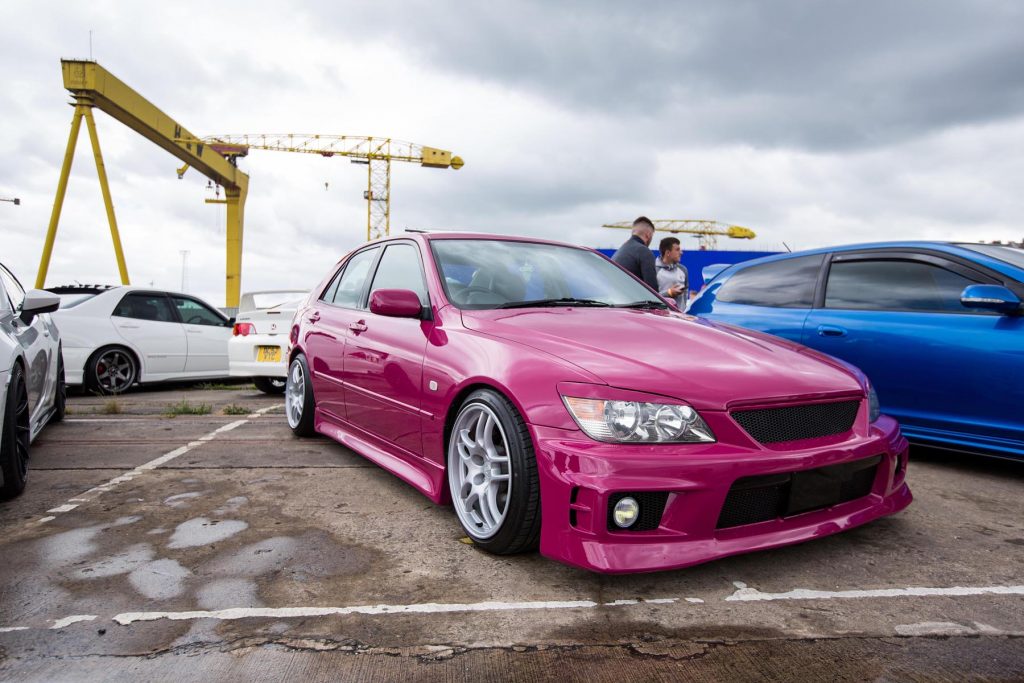 Handing over the reigns of this arduous and often contentious task to Graeme (Clan Japan) and Shaun (Zero4Seven) allowed JPCCNI to focus on keeping the event running smoothly whilst leaving the tough task of deciding the winners to unaffiliated attendees who have a credible history within the scene.
Shaun and I go back longer than I wish to recall, as we both worked for Modified Motors Magazine for most of its printing days, which saw us collaborate on feature cars and share thoughts on potential show winning cars over the years. It was great to see you, Shaun!
Top 10, Best Manufacture (Nissan, Toyota, Mazda, Suzuki, Honda, Mitsubishi, Lexus, Subaru) and Car of The Show, all accolades that were up for grabs.
Despite a typical Northern Irish summer displaying itself towards the end of the day, the event ran seamlessly with all those in attendance leaving with smiles and bags of goodies from the vast range of traders who held a pitch on the day.
It's fair to say JPCCNI pulled this out of the bag, let's hope they return next year for The Docks again!