As part of this year's summer festival organised by the Donaghadee Community Development Association the picturesque county down town came alive on Friday 29th July, 2022.
Cars from yesteryear assembled on the hard shoulder opposite Mullaghbuoy Nursing Home on the outskirts of Donaghadee before driving through the town and parking on the harbour for viewing by the public.
With huge support from the MG Car Club Ulster Centre as well as the Morris Minor Owners Club NI Branch, cars arrived hours in advance of its 7pm start time, in order to be one of the first 80 cars registered, which then allowed them access to the pier which has remained famous most recently thanks to the filming of the crime drama TV series, Hope Street.
John Caldwell, Honorary Secretary of Donaghadee Community Development Association said, "This event is a regular feature in our Donaghadee Summer Festival programme and has been growing steadily in popularity with both participants and spectators.
"We are delighted to see this and very much enjoy working with MGOC and MMOC to bring so many classic vehicles into the town. Our iconic harbour is a perfect setting for the event but such is its popularity we may need to consider an alternative venue"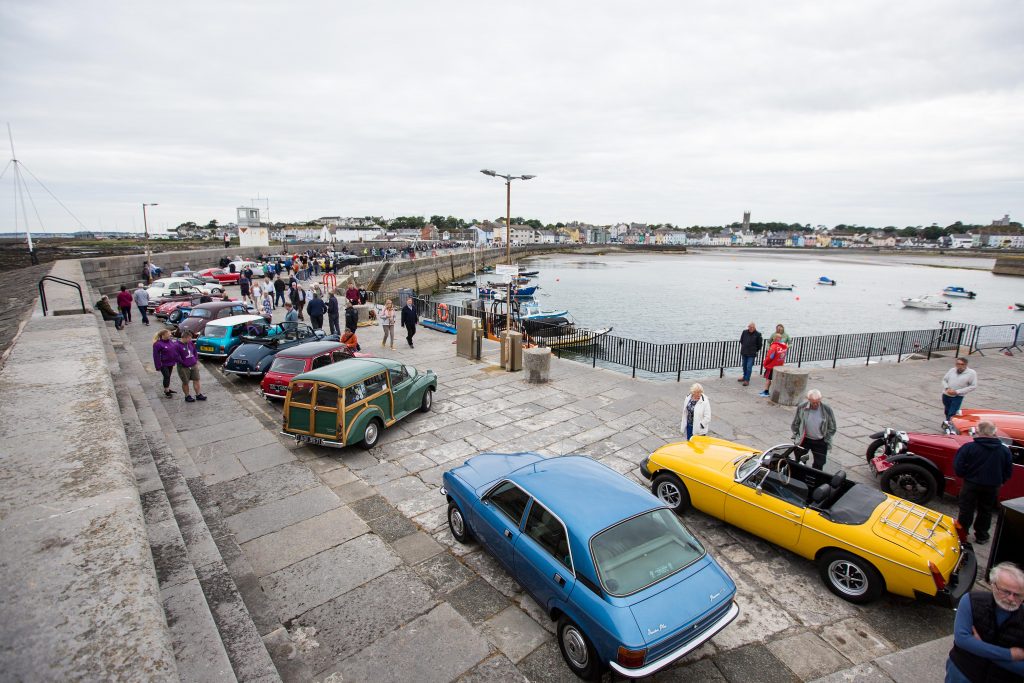 Morris Minor Owner's Club Hon. Treasurer, Trevor Mitchell said, "Each year members of the MGOC and Morris Minor Owners Club are invited to have cars parked on the pier in Donaghadee for a display. This event is looked on fondly by everyone each year and has grown in size year on year.
"Vehicles meet on the Warren Road on the outskirts of the town and due to well over 60 vehicles taking part this year, they were let off in small groups to drive into the town doing a loop of the one way system and then straight to the pier.
"The town was packed with visitors with a large crowd of people already on the pier as the cars arrived. All the restaurants and bars in the town were bursting at the seams with customers so this brought in welcome business to the various traders that were open."
Continuing, "The cars ranged from very old Morris & MG vehicles from the 1930's to a wide range of MG and Morris Minor Models, plus Ford Granada's, Mercedes, Ford Escorts, a number of American vehicles, Jaguars, Audi and Minis.
"Our grateful thanks go to John Caldwell, Hon. Secretary Donaghadee Community Development Association and Dennis Waterworth for all their assistance with this event."
For more info on Donaghadee, and events within the town, visit www.visitdonaghadee.com
Words and Photos: GRAHAM BAALHAM-CURRY
[Images must not be used in any way without prior written consent of the photographer]