The Motorsport Marshalling Partnership (MMP) is most grateful to Alan Cassells and David Evans, for facilitating the Partnership to hold its annual Prize giving at the ANICC SW Adair Tyres Sprint and Jem Oils Hillclimb Awards 2023 in the Edenmore Country Club, Magheralin on Saturday, 21st January 2023 – a night where all the attendees enjoyed superb food, terrific service, convivial company and well received awards presentations. It was a truly memorable night.
The MMP, now nearly a quarter of a century in existence, continues to Recruit, Train, Mentor and Reward volunteer Marshals who give freely of their time to assist in the running of motorsport events in Northern Ireland, including Sprints and Hillclimbs.
At which, points are accumulated towards a set of graded rewards, including the possibility of a trip to a round of the British Touring Car Championship, depending on the number of points accrued.
For the 2021/22 Season, the 1st Prize Award with 54.5 points was presented to Godfrey Evans. 2nd Place went to Robert Simpson with 53 points followed by his wife, Lorraine, in 3rd Place with 51.5 points. The Top Cadet prize was presented to Caitlin Doherty with 26 points.
"Marshals are the heart and soul of our sport, and without the band of volunteers who come along to events from all over the country, clubs simply wouldn't be able to run events," stated ANICC Chairman, Wilson Carson.
"The MMP was set up in 2000 with the aim of recruiting more marshals, encouraging them to help at more events, and provide training to improve marshals' skills. The rewards presented tonight recognise marshals for their contribution to events throughout the year, and we are eternally grateful to each and every one of them."
For more information on how to get involved with motorsport marshalling, please head over to www.themmp.com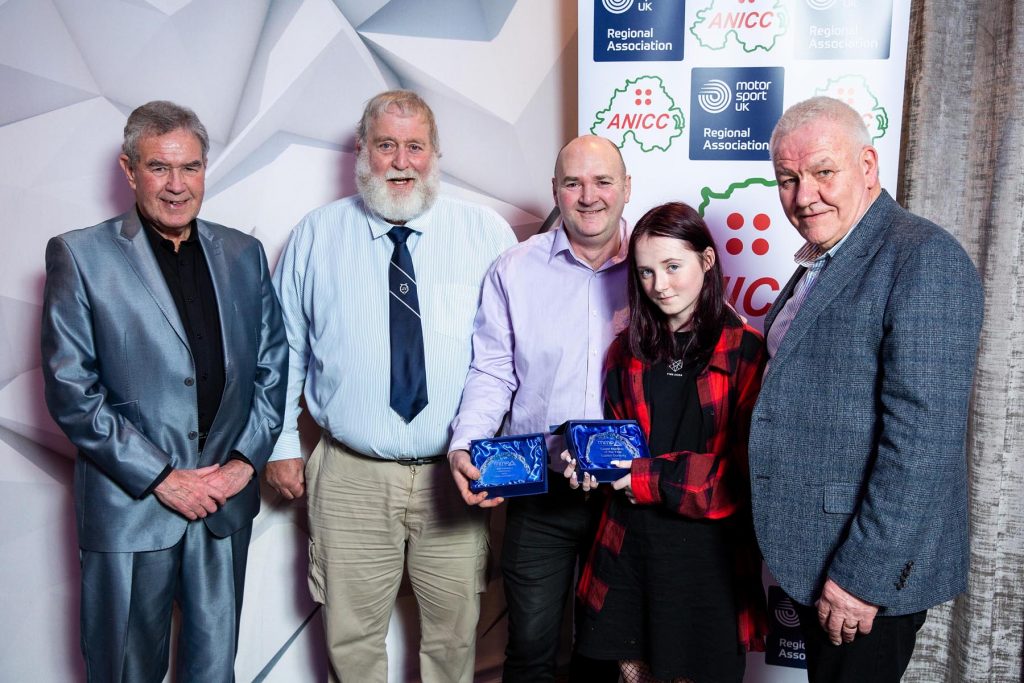 Alongside these awards presented to the top marshals in the province, the Association of Northern Ireland Car Clubs took the opportunity to present their award for Motorsport Personality of the Year.
This award went to a deserving engineer from Antrim, who designed and built his own racing car some twenty years ago. Since then, Graham Thompson has went on to win the Northern Ireland Hillclimb Championship a staggering ten times in this very car.
A record that is unlikely ever to be matched, never mind beaten. And a record that beats 80's driving sensation, Richard Parsons, who managed a total of eight championships.
This prestigious trophy has previously been awarded to names like Colin Turkington, Kris Meeke Chris Patterson and Jonathan Rae MBE – so Graham is in good company.
Wilson commented, "Graham is a worthy winner of the ANICC Motorsport Award, having clinched his tenth NI Hill Climb Championship in 2022.
"From watching the sport as a young lad, to being multiple series champion, Graham is always in pursuit of bettering his best times and even when there is no direct competition to push him up a hill, you can be guaranteed he will push himself to take tenths off the records he holds, affirming his position as a fierce competitor.
"It is no mean feat to achieve success on the Northern Ireland Hillclimb Championship," Wilson continued, "But to do it ten times in a car hand-made 20-years ago by its owner and driver, is nothing short of outstanding."