Saturday 21 January 2023 was the date of the 2022 SW Adair Tyres Northern Ireland Sprint Championship prize giving and Night of Champions in Edenmore Golf club. This was a new venue which had not been used before, but it saw a fabulous evening's craic and some outstanding food.
It was also one of the best supported speed championship awards dinners of recent times, with 144 people in attendance to collect prizes from the SW Adair Tyres Northern Ireland Sprint Championship and the Millers Oils Hillclimb Championship.
As usual, there was a fair bit of banter amongst everyone which, as customary, ended with tales of late braking, worn tyres, broken diffs and outlandish claims from those who have way less talent than they believe they have!
First up for the sprint awards was the 2022 Heaslip Ladies Challenge Trophy.
These wonderful trophies were handed out by the Challenge Trophy Sponsor, Jimmy Heaslip and the top 3 were as follows, 3d Kathy McDade, 2nd Emma Campbell and the 2022 Heaslip Ladies Challenge Trophy Winner was Sheryl McBride. Who was delighted to regain the beautiful trophy which she last held in 2020.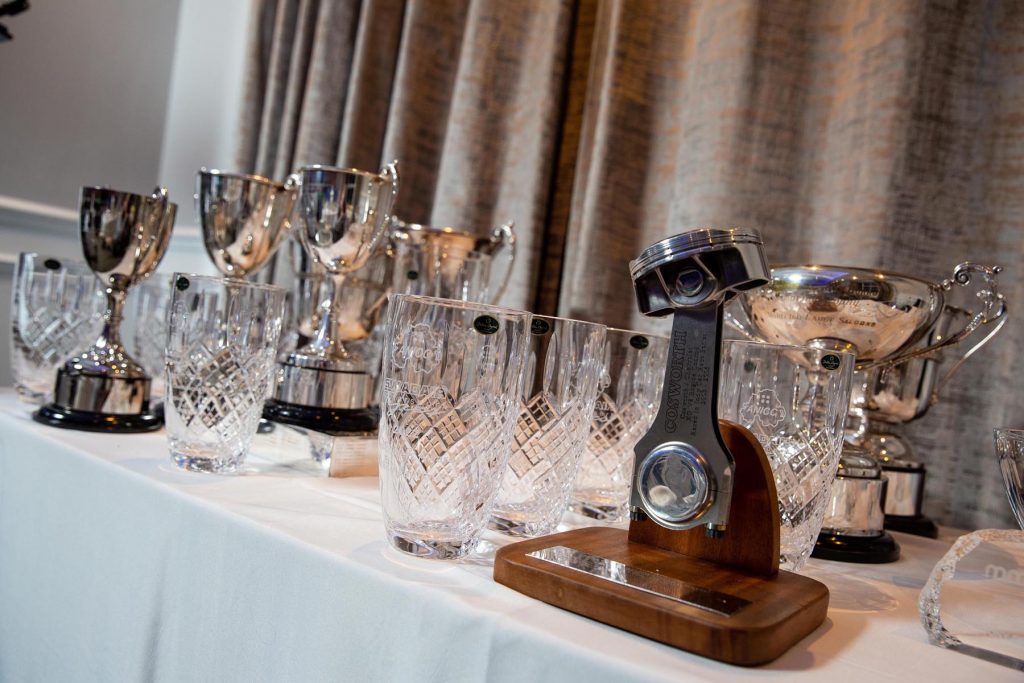 The trophies for each award winner were beautiful and are a superb memento of a successful year. Sheryl also made a small thank you presentation to Jimmy Heaslip on behalf of her fellow lady competitors. It's not often that Jimmy Heaslip is left speechless, but this was one of those few times!! Jimmy also went home with a big lipstick kiss on his cheek; it's as well his daughter was there to explain to her mum where this had come from!! Massive congratulations to all the Heaslip Ladies Trophy Winners.
A very speechless, and that's something I didn't think I would ever say, Kenny Faulkner was called on stage to present the newcomers award to his son, Ethan Faulkner, in recognition of his superb first championship season.
This award is presented to the newcomer across both the sprint and hillclimb championship's who has made the biggest impression in their first season of motorsport. Ethan was a very worthy winner and was totally shocked to win it, as this award had been kept a total secret. It's also fair to say that the award for the biggest smiles of the night went to Ethan and his dad Kenny.
Next up were the 2022 SW Adair Tyres Northern Ireland Sprint Championship Award winners with all the prizes being presented by the championship sponsor and lifelong motorsport competitor, organiser and sponsor, Bill Adair. It was great to see so many award winners present to collect their trophies and to thank Bill for all his work during the season.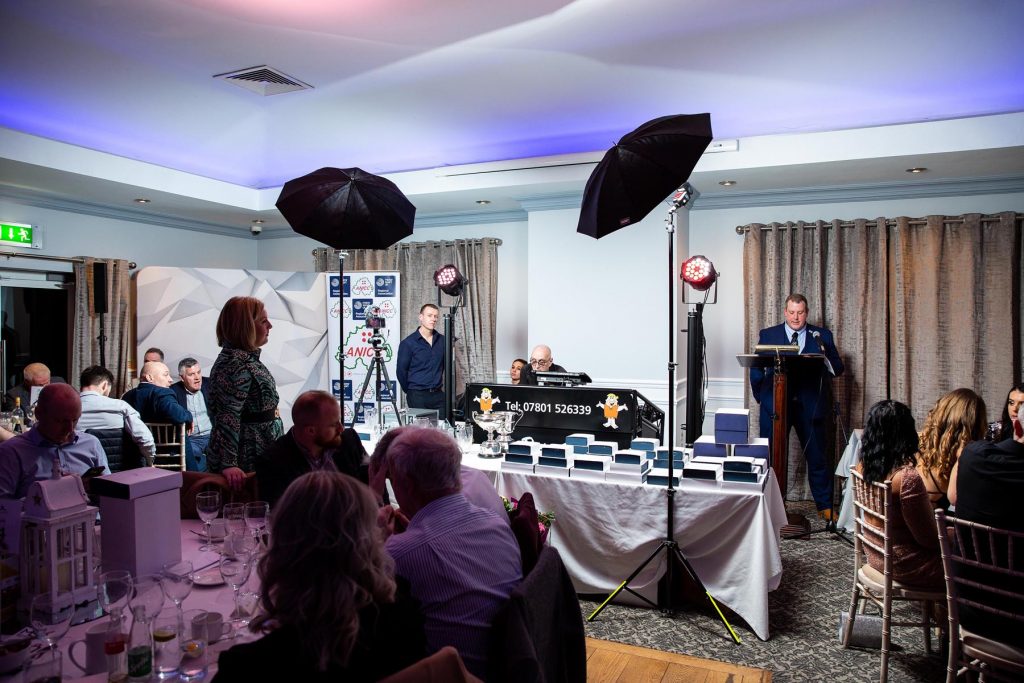 Rob Dwane, who was the 2022 Champion, was delighted to be presented with his award and Rob made a very humble speech where he thanked everyone for their help all season and made it sound as if driving the car was the easy bit. It's great to see such a humble champion! It was also great to see Rob celebrating like a champion afterwards as well!
The other main award winners were the Modified Champion, Dan Campbell, Road Going Champion, Conor Hamill, Specialist Category Champion, Jim Hutchinson and all of the individual class award winners.
It was also good to see Bill being given a little bit back in return, with the presentation to him by championship coordinator, David Evans.
During the evening I spoke with Bill who advised that he has sponsored the championship for so long that he can't actually tell us how long he has been the title sponsor. But he thinks it's somewhere in the region of 30 years plus, and that before sponsoring the Sprint Championship he also sponsored the Loose Surface Sprint Championship, which Bill actually founded, as well as the NI Rally championship too over the years, and that in total he has counted up that this was his 39th year as a championship sponsor.
Congratulations are due to all the award winners from the 2022 SW Adair Tyres Northern Ireland Sprint Championship as well as all the other winners on the evening.
Words: DAVID EVANS #154 | Photos: GRAHAM BAALHAM-CURRY