Derek McGarrity and Damian Garvey sealed victory at the McGrady Insurance Stages Rally, round two of the McGrady Insurance Motorsport UK Northern Ireland Stage Rally Championship!
Driving his newly acquired Ford Fiesta World Rally Car, Glengormley's McGarrity led the Ballynahinch and District Motor Club organised event from start to finish with Draperstown's father and son Mini WRC crew, Derek and Mark McGeehan, arriving home in second.
Another all-family crew claimed third with Kieron Graffin and his 16-year-old daughter, Amy, who was competing in her first rally, nabbing the position after the final stage.
Top Six
McGarrity was fastest from the outset in his Fiesta as he laid down the benchmark. After finishing third at the opening round of the championship in February, he was determined to give his 2020 title chances a major boost as pre-event series leader, Stephen Wright, was forced to miss the Bishopscourt Race Circuit based event due to work commitments.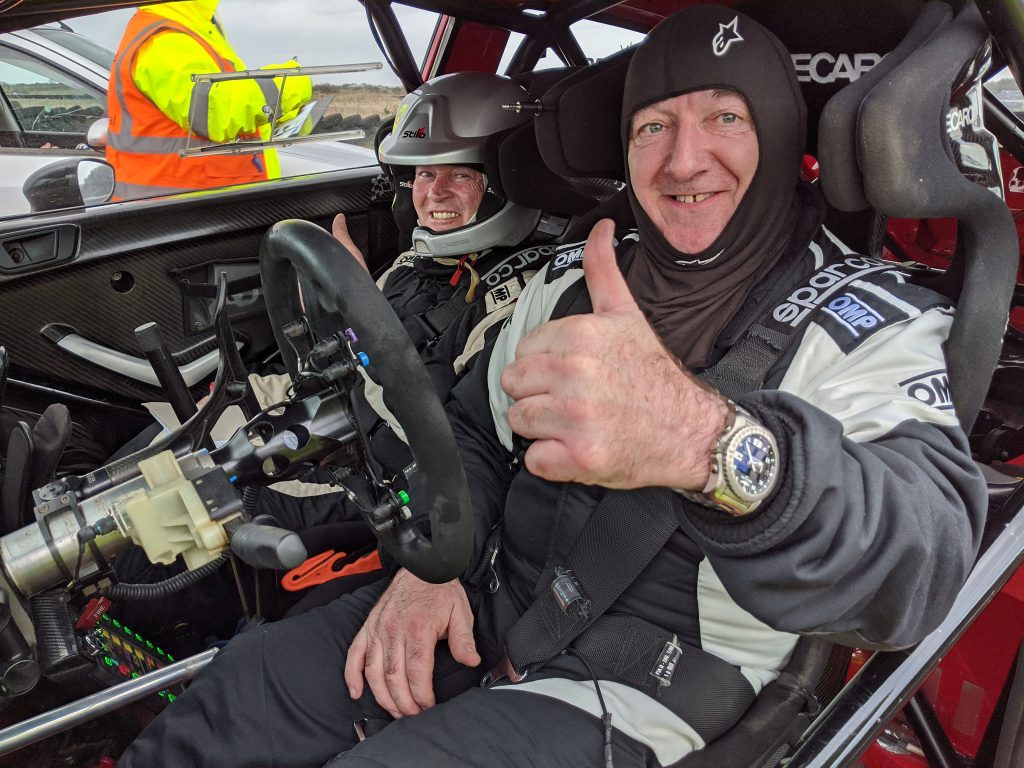 McGarrity charged hard, closely followed by the chasing Derek and Mark McGeehan. However, the McGeehan challenge faded after stage three when they had a big sixth-gear moment, hitting one of the trackside lorry tyres. Their Mini WRC sported black tyre marks on its doors after the incident, showing just how close they came to disaster.
The crew lost around 10 seconds with the incident, leaving them 15 seconds behind McGarrity with three stages remaining. The McGeehans tried hard to catch up but the damage had been done. At the finish line, they were 10.8 seconds behind the eventual winners.
As for McGarrity, he was grateful for the extra breathing room between himself and McGeehan but if he thought he was going to have a straightforward run over the final stage to secure victory, he was hugely mistaken.
As he entered a hairpin during the final lap, he found another competitor's car stalled in the middle of the road. The former champion was forced to climb up a small grassy bank to get around the stricken car and although he lost a couple of precious seconds with the incident, he still powered to the finish in the top spot, placing him at the top of the championship standings for the first time since 2018!
"I'm back to where I should be!" a delighted McGarrity said at the finish. "We caught a few cars on track today which slowed us down a few times but I really enjoyed it and the car was great."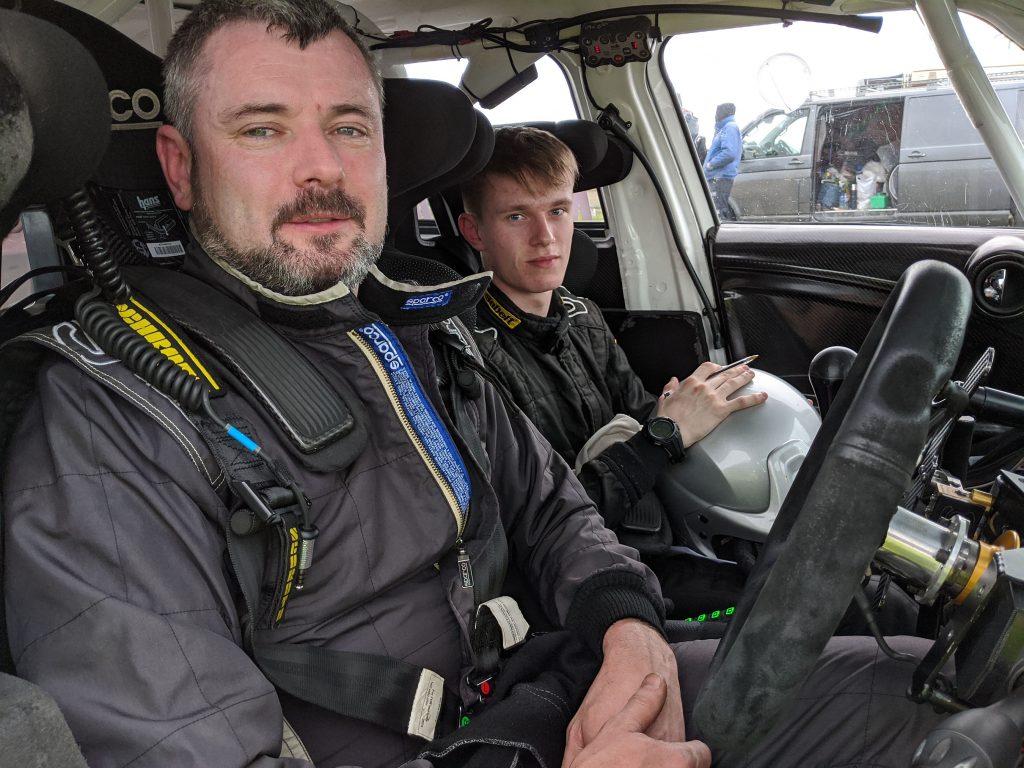 While McGeehan sealed second, Gareth Sayers and Gareth Gilchrist were on course to secure third until an incident near the end of the final stage. Sayers reported another car blocked him from taking the exit to the stage finish, forcing him to take an extra lap and incurring a stage maximum time. 
That dropped him well down the leaderboard and out of contention for a podium place. Meanwhile, Kevin Kelleher and Martin Brady also had their fair share of dramas on the last stage. They stalled their Impreza WRC and eventually finished the stage with steam billowing from their engine as a result of a suspected burst radiator.
The drama allowed father and daughter, Kieron and Amy Graffin, to take the final podium spot in their Ford Fiesta R5. It was 16-year-old Amy's first rally and the crew were delighted with the result after climbing two places on the final stage.
Kevin Kelleher and Martin Brady clung on to fourth overall with Emma McKinstry and Kenny Hull surviving a couple of spins to take fifth. Jason Mitchell and Kenny Bustard were lucky to escape a two-wheeled moment as well as a couple of big slides to finish sixth with just a little damage to their rear bumper.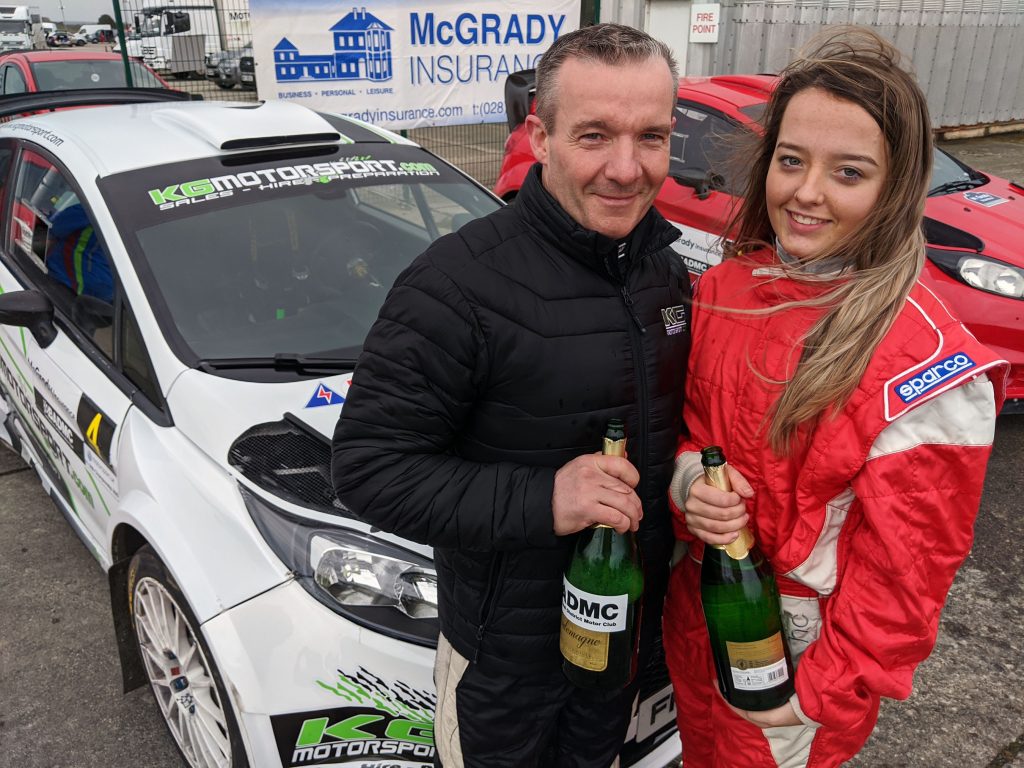 2WD
The remaining top 10 places were occupied by the leading two-wheel-drive crews where a battle raged on every stage to take the coveted spoils.
Husband and wife, James and Heather Kennedy, took the early lead and were comfortably in front until a mistake on stage three saw them drive over the top of one of the trackside tyres. The tyre became stuck underneath their Escort MkII and they lost over half a minute, dropping them to fifth in the category.
Drew Stewart ad David White assumed the advantage from the Corolla belonging to Jonny Morrow and Adam Semple but it was all set to change again after stage four as Jamie Grant moved ahead in his Starlet.
With two stages remaining, five seconds separated the top five crews. But then came the big charge from James and Heather Kennedy. They pulled out all the stops to move back in front and at the end of the final stage, they secured seventh overall and had more than 10 seconds in hand over their nearest rivals.
"That's all I had to give," Kennedy said at the end of the final stage. "I had a good attack in there. There was nothing left!"
Drew Stewart and David White secured eighth overall and second in the 2WD category but they simply couldn't do anything about the flying Kennedys.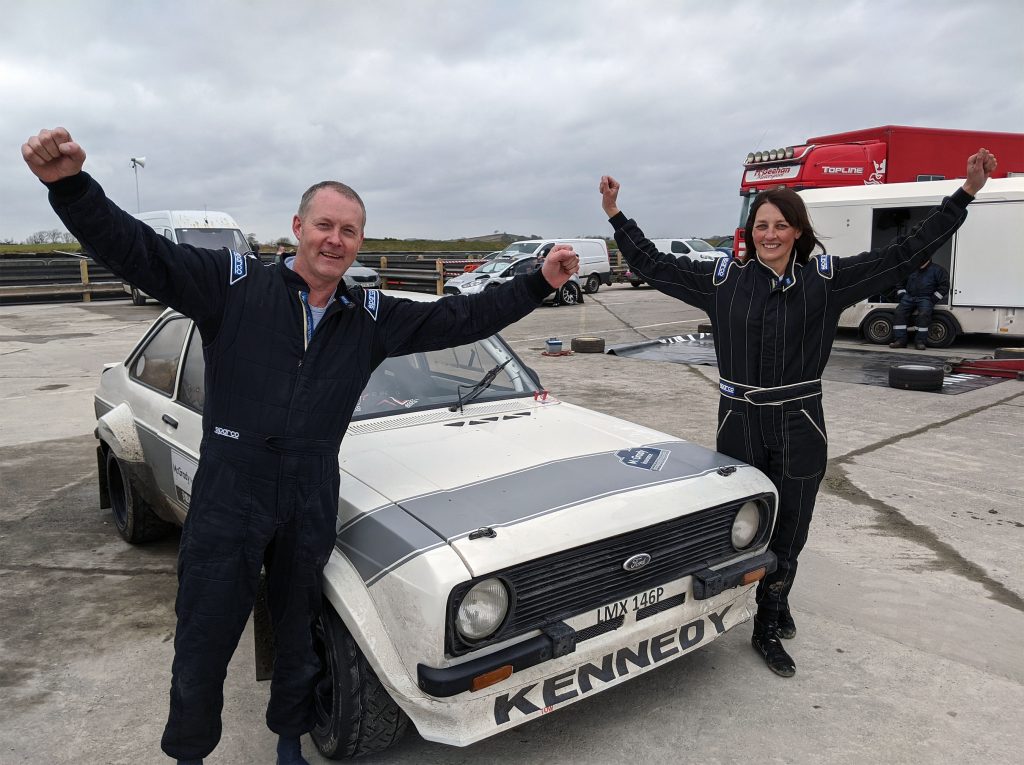 "We gave it a go," Stewart admitted, "but for some reason, James (Kennedy) is always very fast when this track is used in the anti-clockwise direction!"
Alastair Cochrane and John Adams took their Escort to ninth overall while Jonny Morrow and Adam Semple completed the top 10 in their Corolla, just ahead of the Starlet belonging to Jamie Grant and Jonathan Chambers.
And the rest…
PJ McDermott and Niall Burns dropped outside the top 10 on the final stage after a spin cost them some precious seconds. They eventually finished 12th ahead of former champion George Robinson and Tommy Speers who struggled with a misfire during the early stages.
Gary and Keith McEvoy had a lucky escape when their brakes failed at the flying finish of the final stage. They finished 14th ahead of Seamus Braniff and Barry Savage.
Retirements included Chris McGurk who exited the event when his Fiesta R5 struggled with gearbox problems. Paul McKenna and his 16-year-old son, Jacob, who was another navigator competing in his first event, damaged their Evo on the second test before retiring with driveshaft trouble.
Round 3
Derek McGarrity now heads the championship tables by one point from Derek McGeehan. The battle for the prestigious McGrady Insurance N.I. Championship spoils will resume at the Maiden City Stages on 25 April.
For more information, visit nirallychampionship.com or fb.com/nirallying.
Results (Top 10)
1 Derek McGarrity/Damian Garvey (Fiesta WRC) 43m12.8s
2 Derek McGeehan/Mark McGeehan (Mini WRC) 43m23.6s
3 Kieron Graffin/Amy Graffin (Fiesta R5) 44m35.2s
4 Kevin Kelleher/Martin Brady (Impreza WRC) 44m42.2s
5 Emma McKinstry/Kenny Hull (Fiesta R5) 45m01.8s
6 Jason Mitchell/Kenny Bustard (Fiesta R5) 45m26.1w
7 James Kennedy/Heather Kennedy (Escort MkII) 45m28.3s
8 Drew Stewart/David White (Escort MkII) 45m38.6s
9 Alastair Cochrane/John Adams (Escort MkII) 45m42.6s
10 Jonny Morrow/Adam Semple (Corolla) 45m48.8s