Press photographer and motoring writer, Graham Baalham-Curry, is no stranger to the pages of Pacenotes Rally Magazine. In fact, some of his earliest published work was from the Paddy's Day rally at Aghadowey Race Circuit which featured in issue number one, in April 2003…
Back then, Pacenotes was a large format newspaper, and Graham was knocking on doors to help carve a career out of his passions for all things motoring and photography. Almost 20 years later, he is still doing what he loves, albeit with some middle-aged spread after two strokes left him, in his own words, Fat and Furious!
Graham takes up the story…
"Having navigated single-venue events for a couple of seasons, my biggest achievement was clenching a Group N victory at the Lurgan Park Rally alongside John McGlaughlin in his Mitsubishi Evo 9. The last time I sat in a rally car competitively was at the Gullion Stages in 2010, after which affordable clubman rallying seemed to be on the decline."
"As a regular face around speed events and clubman autotesting, I built a little car to tackle the Thoroughbred Sports Car Club Championship which consisted of a handful of autotests and two hillclimbs. After finishing second overall winning Driver of the Year, I sold my race suit and went out on a high!"
"In recent years, though, I have wondered if some sort of affordable rallying existed. But it wasn't until compiling a recent feature for Pacenotes that a constructive conversation helped to shed some light on my question. While chatting to William James when featuring his French Championship winning Peugeot 106 Rallye, he asked why I have never test driven and written about a rally car, in the same manner that Kirkistown's Richard Young would have done many times over the years with race cars."
"The costs of doing an event, never mind potential repair bills, have always stopped me thinking that such a thing was possible. However, not long after this chat, William put an offer on the table to drive a car that he was recommissioning. That got my dreary cogs turning! A few weeks later, I accepted his very kind offer of an 'arrive and drive' at a Rallysport Association (RSA) event – realistically the only business offering true budget clubman rallying."
"The car was a 30-year-old Peugeot 106 XSi equipped with its factory standard 1360cc, 8-valve engine. It's a car that was familiar to me, as I photographed it 20 years ago when it was competing in the local hillclimb scene with Roy Smith at the helm. I believe Roy transformed it from a road car to a caged, seated and belted toy for use in the two speed championships."
"During the week leading up to round eight of RSA's Summer Series, a seemingly straightforward recommission of a turn-key car transpired into nothing short of a rebuild! Having sat in dry storage for longer than we can figure out, the passage of time and a lack of use hadn't been kind on many of the plastic and rubber components around the engine and fuelling system, never mind gremlins within its wiring loom."
"As well as carrying out a major service, Colin Reaney and the team at CR Autoworx Ltd in Poyntzpass pulled out all the stops to troubleshoot, modify, replace and repair a fair amount of stuff. After some long hours, they returned the car to William in time for him to complete his to-do list a few days before the event."
"The day before the rally, we had an essential trip to Blackwater Graphics in Ballygowan to cover up some lacklustre paint as well as add some colour and livery for the car's debut rally. Large Pacenotes decals were applied too, as a thank you to Simon Mooney at Pacenotes for his support."
"Having worked late into the night to replace an exhaust manifold gasket, which led to several broken bolts, William was close to throwing in the towel and bringing the French Championship winning car for me to use, instead. But remembering that my article was about the budget end of the sport (and also the blue car had been decaled for the event!), he persevered into the small hours before loading it up on the Saturday morning and heading to Aghadowey."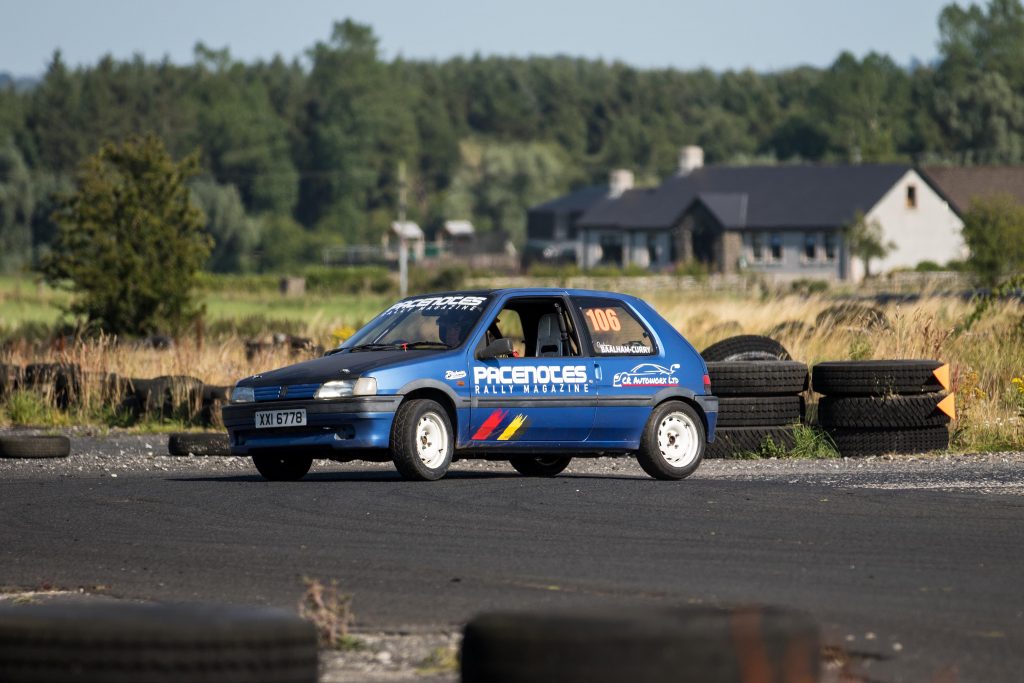 "With the remainder of William's to-do list called out, Billy and David (you know who you are…thank you!) jumped in like a Formula 1 pit crew alongside William to make sure I saw scrutineering and also the start of stage one. Which I did…and that was where I failed on my first goal of this adventure. The goal? Not to be beaten by a 12-year old. We'll quickly gloss over those stage times!"
"That said, my main goal was to prove that you can compete in a car that could be built for less than £5,000, including personal safety equipment. With plenty of familiar faces in the paddock from the sprint and hillclimb scene, it highlighted my personal view that any car built for RSA events should also meet the specification for Motorsport UK affiliated speed events."
"By doing so, you are not limiting yourself to only competing at Rallysport Association events. You will add value to any resale due to the fact the car can be used in other disciplines, and should you wish to go stage rallying, an extra spend of something in the region of £1,000 would enable the car to be logbooked to allow you to do this."
"Heading into the first corner of my first ever rally in the driving seat, a quick glance left reminded me of the importance of good safety equipment. A Nissan Micra had rolled heavily, yet the safety cell around its cabin was perfectly intact."
"As the rev counter climbed on my way into the second corner of the 2.5 mile stage, which would be run six times with the five fastest times counting towards the final total time, I was surprised at how well this little 8-valve engine enjoyed being out in the fresh air, receiving some manners. With absolutely no idea what grip could be achieved, having never driven on slick tyres before, I was driving like Miss Daisy for the first run!"
"Checking the live timing on my return to the paddock, I was pleased to see that I wasn't the slowest through the stage, which was another goal met."
"My plan for the rest of the event was simple. Avoid the many super-single lorry tyres that laid out the stage, bring the car home to its owner in one piece, and improve my time with each run. Thankfully, I managed all of these, with just the final stage time being two seconds slower than my quickest of the day. It was a good job, well done. Not only did I learn a lot from this adventure, but I had an absolute blast, too!"
"At the end of the day, as the sun started to fade over the venue on the outskirts of Coleraine that holds a special place in my career, an added bonus came with a surprise trophy for finishing third in Class 3."
"I would like to thank William James for this opportunity and entrusting me with his latest acquisition. Thanks also to The Rallysport Association, and their marshals and medics, for a professionally run event in what could only be described as Caribbean conditions. Final thanks must go to Jonathan MacDonald for steering my camera on the day. I'm sorry I forgot the rum!"
From humble beginnings around 20 years ago, Rallysport Association has gone from strength to strength, having had almost all of the current crop of top Irish Tarmac Rally Championship contenders through its doors. The Moffett brothers, as an example, started rallying by sharing a 1200cc nova at RSA's events. It's amazing that one of them is now a two-time Irish champion.
Junior drivers can start at the age of 12, in a car equipped with an FIA approved safety cell and equipment, (full regulations are on the RSA website), and it's a great place to learn car control against the clock.
Single-make category's offer the best budget rallying and include a Mazda MX-5 series as well as a Mini Cooper championship. It's also the only place welcoming to a bike engined buggy in Northern Ireland, and they make up a healthy percentage of each and every entry list. 
Words: Graham Baalham-Curry
Images: Jonathan MacDonald