The Leinster name is a familiar one in the world of Irish motorsport. John Leinster was a well-known competitor in the sprint and hillclimb scene, and his son, Iain, recently debuted this stunning MG Midget race car…
This magnificent Midget has been built to regulations to satisfy England's Modsports series, giving Iain the opportunity to drive it in anger on renowned circuits such as Donington, Thruxton, Cadwell Park and Mallory Park.
"I plan to take it to the Classic Sports Car Club (CSCC) Championship," he said. "There's a Revival series for the special saloons from the '70s and '80s. The regulations are based on pre-1993 regs so the engines have pre-93 technology. That's why my car doesn't have a modern engine – it has been built to give me the opportunity to race on the big grids and big tracks that I've always really wanted to get to."
Leinster's Midget was built from scratch by Dromore's Mike Johnson. He had previously built two cars similar to Iain's new build – one for himself that was later used by the Woodside family before heading to England, and another that also resides in England.
"Both of the previous cars now compete at the top of the CSCC series," Leinster said. "There has been nearly 20 years of development behind my car so it's very good out of the box."
"Mike Johnson made everything. He has all the moulds and he designed all the bodywork. He made the wishbones, chassis, panels…the whole thing. Other than the likes of the radiator, oil cooler and that sort of thing, it was all made in-house."
Iain's car is effectively the third development car. It's fitted with a KGP Vauxhall 2.1-litre engine that was built by renowned engine builder, Kevin Gallagher, and is running on an MBE engine management system from SBD."
"I wanted a reliable engine," Leinster said, "and if KGP's engines can put up with three days of hard rallying in Donegal, then they can take three seasons of chasing around Kirkistown!"
"We aimed for reliability rather than out and out performance," he added. "That's why we've kept it at a fairly conservative 280bhp. It should be fairly bulletproof at that."
The engine is mated to an uprated version of the Elite IL200 gearbox – a compact and cost effective five-speed sequential 'box that weighs just 20kg. And while the engine/gearbox combination makes the car accelerate at an impressive rate of knots, the Brembo brakes from a Dallara Formula 3 car ensure it can slow down quickly too!
With regards to the suspension, Mike Johnson specified the setup required and the bespoke parts were provided by West Sussex based Quantum Racing Services.
"I don't know what the specification is – that's part of the secret!" Leinster said. "It's on a live axle, so it's a Ford English axle at the back, very similar to what would be used in the likes of National Hot Rod."
"It's set up with a 3-link on the back, with 1-link to the centre diff and 2-links to the top. Most Escorts would have 6-link rear ends where mine is 3-link. It keeps the whole thing as light as possible – it weighs in at just under 500kg!"
Iain's plans don't end there and further developments are in the pipeline…
"I'm going to switch to a paddle-shift system," he said. "I'm struggling with the feeling of the change with the gearbox so the paddle-shift should help with that. We're also going to enable traction control, launch control, data logging, auto blip and spark cut for flat shifting."
Data logging will be of particular use to the local racer, helping his crew find the perfect setup for racing around the track.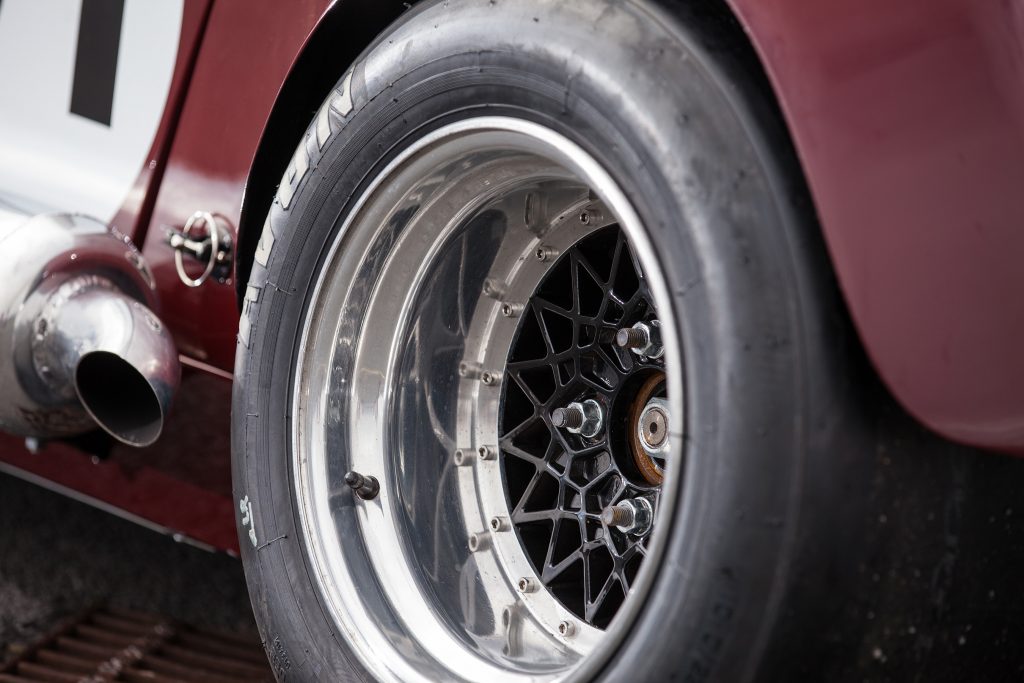 "The data logging will allow us to analyse what the car is doing around the track," he explained. "We'll be able to see where it's hitting peak revs and will be able to work out how we can pull the gearing down so that it's absolutely maxing out on the circuit. We'll be able to see what it's doing under braking, entering corners, through the mid-corners and exiting the corners. It will allow us to adjust it to my driving style."
Although the car is only running on what Iain calls "base setting", it didn't stop him from setting the pace at his first race meeting earlier this year where it quickly became apparent that he has a powerful package under his control.
"Gerard O'Connell was the main opposition in his RSR Escort," Iain recalled. "His car is a little bit heavier than mine but he has a bit more power so there's not much in it between the two cars. I managed to get pole position at the first race meeting with Gerard 3-hundredths of a second behind!"
"We were both on the front row and I'd never done a standing start in my car before. I dropped a couple of places so there was a bit of catching up to do. I managed to get back up to the lead but as I was passing Gerard, I spun at the hairpin. A bit of rain had started and I opened up the taps too early!"
Iain tried hard to catch up again but then another spin landed him against some trackside tyres, putting an end to his first race.
"It was mostly superficial damage," he admitted. "The wing was all bent but we managed to get the car sorted with a stick welder. We cut the rear frame and reset it to where it needed to be, then welded it back up again, and we still managed to set a new class record!"
The second race proved to be even more fruitful. Starting from pole position, Iain led from start to finish and despite losing his brakes over the final handful of laps, he eventually claimed the win by six seconds from Gerard O'Connell.
"One lapse in concentration and Gerard would have been barking down the door," Iain said.
Next year is going to be an exciting year!
Words & Photos: GRAHAM BAALHAM-CURRY
images must not be used in any way without prior written consent of the photographer