Before you reach the pinnacle of any form of motorsport, you must work your way through the ranks. It's something Dungiven driver, Gerard O'Connell, has been doing for the past six-or-so years.
Starting off in a historic spec MkII Escort rally car, O'Connell developed this car into something almost unrecognisable over a couple of seasons, which culminated in him becoming the 2015 Modified Saloon Sprint Champion.
Then, in 2016, Gerard became Northern Ireland Sprint Champion at the helm of a Radical SR8. It was this same car Gerard drove to a nail-biting finish to win the 2018 Hillclimb Championship. Soon after, he made the decision to build an RSR Escort which brought great success becoming 2019 & 2020 Kirkistown GT Champion, as well as 2020 Specialist Sprint Champion.
It was obvious at this point that Gerard was getting a great deal of fun out of the RSR and that the radical was sitting doing very little, so it was put up for sale. It wasn't long until the Radical moved to a new home in the Mourne Mountains, which left space in the garage for one thing, and one thing only, a single seater.
Welcome the car pictured. A World Series by Renault – Dallara T02. An ex-Carlin Motorsport car once used by four-time F1 champion, Sebastian Vettel, when he was working his way through the ranks as a RedBull Racing junior driver, whilst he was also testing with the BMW Sauber F1 team when he was just 19-years-old.
That was 13-years ago now and the series in which this car raced proved crucial for the German driver's progression into the top flight of circuit racing. For a clubman like Gerard O'Connell however, this Dallara isn't so much a stepping stone, but perhaps the pinnacle his racing career.
The carbon fibre monocoque is nothing short of a work of art, with all of the cars external carbon fibre panels being painted in a scheme that is a tribute to the design used when Vettel drove the car, but with a modern twist using satin finished colours like todays Red Bull Racing Team.
The cars 3.5-litre V6 Nissan engine produces something in the region of 450bhp and is mated to a Ricardo six-speed sequential gearbox. On-the-grid it weighs around 600kg and stops almost on-its-nose thanks to Brembo brake calipers all-round and the O.Z Racing wheels are shod with fresh Avon rubber awaiting to get scrubbed-in when Covid restrictions ease.
So how does a car with a history like this end up in Northern Ireland? Via Austria, where it spent several years as a track car for a private owner. And then via Ireland, where it arrived around two years ago and has since bagged two Formula BOSS Ireland Championships with its then owner and driver, Paul O'Connell.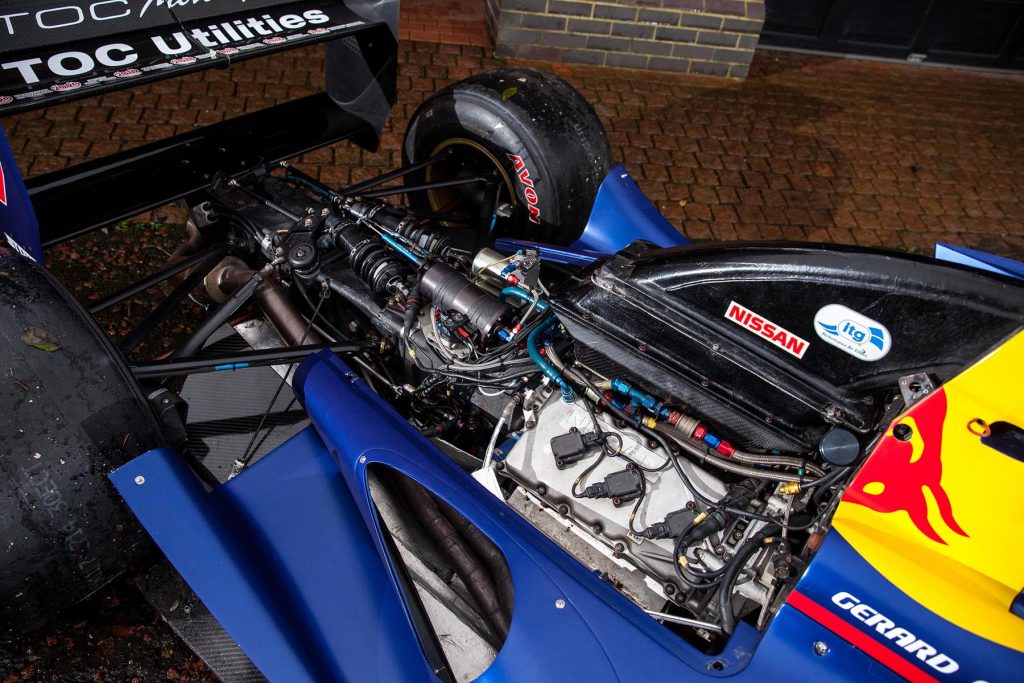 Those who follow or compete on this Irish Championship can expect to see a lot more of this winning car as Gerard has every intention to start every round next season. This car holds the outright record for Bishopscourt racing circuit, which is somewhere where the Dungiven driver hopes to take it to next year, with just one target in his sight.
O'Connell also plans on making a return to regular racing at Kirkistown, a venue that will most likely see him roll the Dallara out of the pit-lane garages on for a few sprints in the future also.
In May of next year, the 52-year old Utilities Contractor plans taking the car to France. Its Saint-Gouéno hillclimb to be precise. This will give Gerard some time to test and race, allowing him to dial the car in whilst getting some valuable seat-time under his belt before the journey into Europe.
It won't be the first time Gerard has visited this hillclimb however, as last year he took his RSR Escort to fifth overall and first placed saloon car on the event held in Côtes-d'Armor in Brittany. This is likely to be the only hillclimb this car will ever see as it is not designed nor built to cope with Irish hillclimbing.
Words & Photos: GRAHAM BAALHAM-CURRY
images must not be used in any way without prior written consent of the photographer