Saturday 9th October saw the fourth round of the SW Adair Tyres Northern Ireland Sprint Championship return to Kirkistown for the TT Bistro October Sprint hosted by the Ulster Automobile Club.
Sadly, the recent spell of good weather had to end and unfortunately for the competitors it ended with a swish and several drips as they started to unload their trailers on Saturday morning. With the rain set to stop around lunchtime it was hard to predict what tyres would best suit the ever changing conditions. Whilst there was no standing water, there was still just enough water to make the line between wets and dry somewhat fuzzy.
Thankfully after a wet practice it started to clear up as we headed into the timed runs, with many opting to swap to dry tyres for their timed runs. Gerard O`Connell set the early pace with a clinker of a 99.73sec run which sent him straight to the top of the time sheets ahead of Stephen Colbert and Steven Gault. With the track almost dry for the second run Stephen Colbert slashed 2.34secs out of Gerard's time to go top ahead of Gerard O`Connell and Alan Cassells in that order as Steven Gault suffered a throttle cable breaking on his second run. With it all set to play for in the now dry last runs, Stephen Colbert lined up and took an instant lead taking another 1.67 secs off his previous best. Gerard O`Connell, Steven Gault John Donnelly all went faster on their last runs but Alan Cassells does whatever he does between runs and managed to find 2.86secs over the lap which was enough to tip him the lead by a mere 0.40 secs from Stephen Colbert, Gerard O`Connell Steven Gault and John Donnelly in that order. This win now puts Alan firmly in the driver's seat at the head of the NI Championship but with 2 rounds to go and a dropped score to take out it isn't all over until the fat lady sings, and I hear she hasn't started warming up yet so it is still all to play for.
Further down the Paddock it was great to see local man Lee Kirkwood return in his Radical SR3 in which he managed to finish sixth overall ahead of the hard changing George Stevenson. Sadly, George left the circuit feeling a little unwell and on behalf of the entire Sprint community I'd like to wish George a speedy recovery!
Daniel Campbell made a long awaited return to the championship, this time with a 2.5l Smith and Jones engine nestled under the bonnet of his little Starlet. Daniel was going superbly well and managed to claw to 10 overall as well as fastest saloon and fastest modified car. That's some going!! The changing conditions also helped the class 5 road going specialist car men with Trevor Allen finishing 14th overall and Richard Munnis 19th. Another top commendable drive was had by David McMullan who wrestled his Luegeo Locost to second in class and 23rd overall. The highlight of his day was beating Steven Hawthorne!!
Up and down the paddock there were some massive battles. Once again class 14 proved to be tight. After Trevor Roberts suffered a diff issue George Stevenson and Brian Fitzmaurice battled hard with George Stevenson taking top honours by a mere 0.37secs to finish 7th overall. In class 1 roadgoing all 3 drivers, Mark Brogan, Stephen Donnelly and Alan Wallace were separated by a mere 1.24 secs at the end of the day, and only 1.79 secs separated David Hawthorne, David McMullan and Steven Hawhorne in class 7.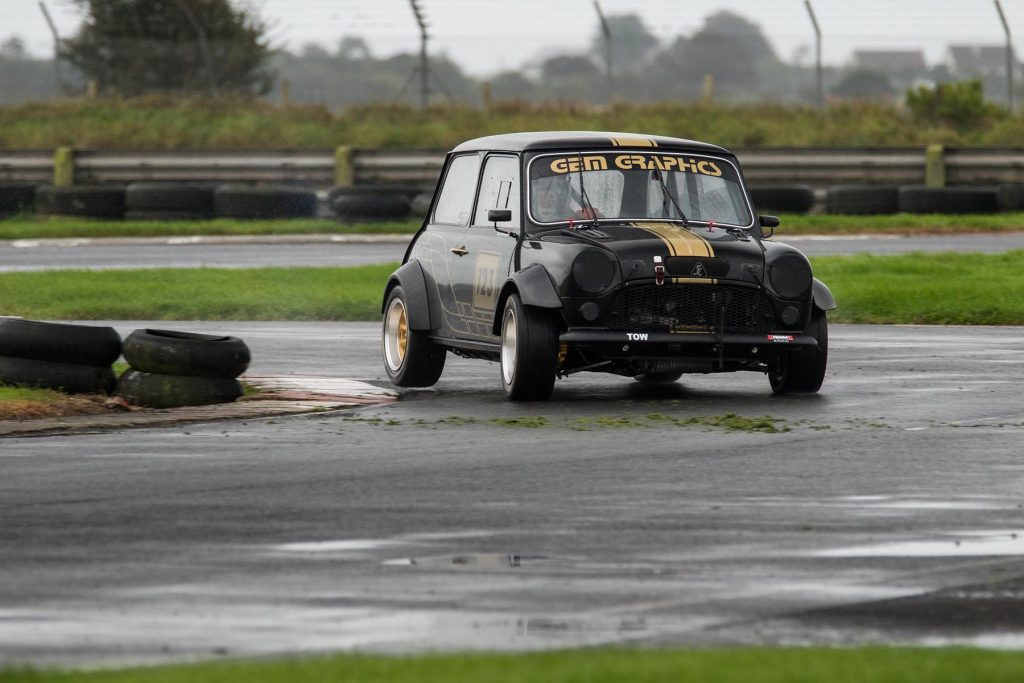 Despite the varied weather there were still some impressive speed trap speeds recorded. Gerard O`'Connell recorded a whopping 124mph through the speed traps in his second timed run which proved to be the fastest speed recorded and was a full 24 mph faster than Alan Cassells who finished the run only 0.25 secs behind Gerard. John Donnelly set a whopping first 64 feet time of 1.95 secs in his Pilbeam which is simply astounding to think of. That's almost dragster pace from a standing start. Another incredible standing start time was that recorded by Ian Lancashire who managed to cover the first 64 feet, in his impressive Subaru in only 2.05 seconds!!
In terms of the categories now, Conor Hamill was the first man this year to beat Phillip Cardy in the Road going saloons category. Conor powered the big BMW a mere 0.43secs ahead of Phillip Cardy, with Jonny Forsythe taking third in this category in his fiesta. In terms of the Road going championship Philip still has a 6 point lead over Conor who is 3 points ahead of Aaron Vance. However, dropped scores may well change that top 3.
As detailed above Daniel Campbell took the modified honours in his Toyota Starlet with a mere 0.4sec advantage over second placed Ryan Murray in his Subaru. Third in the Modified battle went to Ian Lancashire in his Subaru. It still close at the top of the modified Championship table with Oliver Cormican and Ryan Murray now tied on points at the top with Stewart Strain 1 point behind in his Peugeot 205. Really todays result wasn't good for Stewart who dropped for leading the category to third, but again, when dropped scores are counted this may well change!!
In terms of the Specialist category Trevor Allen took today's top honours with a fabulous run to 14th overall. Second in the Specialist category went to Richard Munnis who was having a great day. David Hawthorne, who is usually the fastest Hawthorne was third in the category but this result loses him his advantage at the top of the championship as he now goes equal with Trevor Allen with Steven Hawthorne a mere 1 point ahead of Richard Munnis.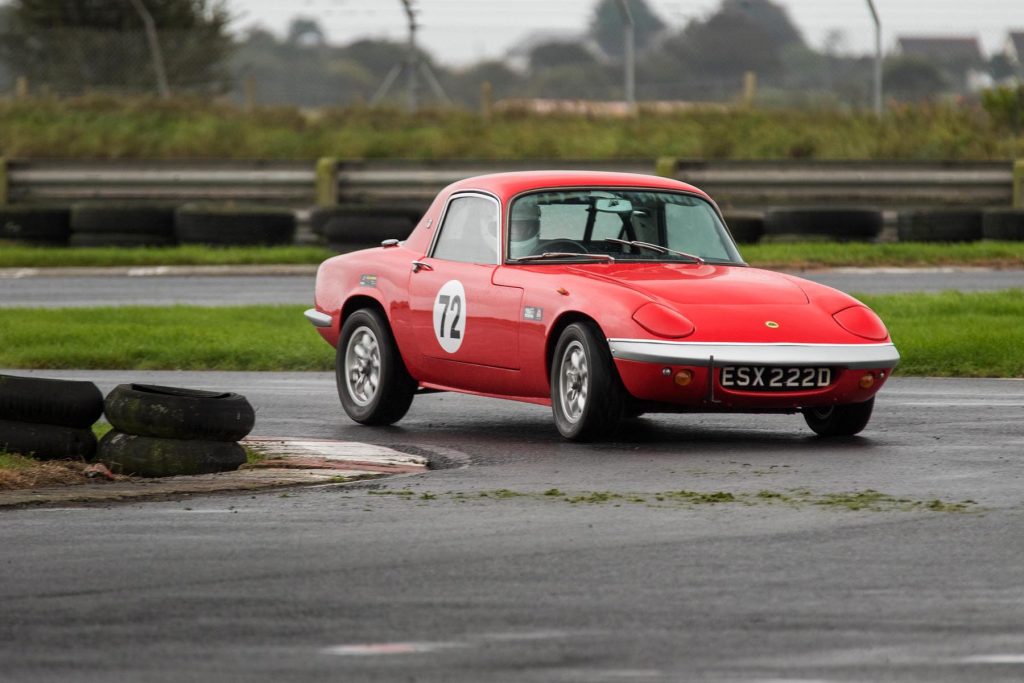 Now the penultimate category. Today saw Amy Hawthorne take her maiden category win in her little clio. This was a popular win throughout the paddock as Amy pulled a blinder of a last run to take the honours on corrected time, from Emma Campbell who finished a mere 0.37secs behind Amy on the track. Third went to Sheryl McBride with Kathy McDade fourth and Catherine Donnelly fifth. In terms of this category battle, again dropped scores will matter but Emma no has a 2 point lead over Sheryl McBride with Kathy McDade a further 2 points back and 3 points ahead of Amy. This is going to be an interesting category run in.
Our last category to mention is the unofficial title of fastest mini in the west which once again went to Karl Johnstone in his Mini. Gerry McGarrity was runner up today and unfortunately Gary Milligan was not competing otherwise he would surely have won it. Or would he?????
Our next event will take place at Kirkistown on 30 October and will be hosted by 500 MRCI. See you all there folks!! Also don't forget that the reserve event on 06 November will also now run as well and will cunt as a championship round!
Now for the class battles:
Class 1 – Road Cars up to 1700cc
As highlighted above class was very closely run today with all 3 competitors finishing within 1.24 seconds of each other. Mark Brogan took the class win ahead of Stephen Donnelly with Alan Wallace third. Championship wise Mark Brogan now has a 5 point lead over Stephen Donnelly with Arnie Wishart tied for third with Alan Wallace. As none of the class 1 drivers have competed in every event dropped scores won't come into play in this class.
Class 2a – Road cars over 1700cc
Conor Hamil completed a clean sweep again today having now won every round he has competed in. Some may think this is greedy, other like me just realise how hard he is pushing in his unwieldy big BMW M3 V8. It's not exactly a lightweight car to be throwing about so fair play Conor. Jonny Forsythe made a return to the scene today and once again finished second in his road going fiesta. Jonny pushes hard in this little car which was on pure road tyres. When I say road I mean road tyres, not R888`s or some other form of "sticky road tyres! I mean actual road tyres. Having watched Jonny through the back chicane on one of his runs it was obvious that Jonny forgot he had to drive the car home again as he was hammering it and was impressive to watch. Note to self, don't accept a lift to an event with Jonny Forsythe in the car he is competing in, as he drives it during the day like he intends to walk home!! Third in class went to Aaron Vance who has really got to grips with the little clio this season and managed to pull a full 4 seconds out of fourth placed Crawford Ewing in a similar Clio 197. In terms of the championship Conor now has a 1 point lead at the top of the table from Aaron Vance with Crawford Ewing third 1 point ahead of Jonny Forsythe. This class is far from over as another good result from Jonny and dropped scores could really shake things up.
Class 3 – Road cars specialist Production cars 4wd
Philip Cardy proved to be the man to beat in class 3 today and thankfully once again he won his class. This was to be expected as he was the only one in class 3 today. Phillip had a lonely but quick run to finish up 35th overall in his road tyre clad Imprezza. Well done Phillip. Championship wise Phillip now has an 8 point lead over Barry Griffin with only 2 rounds to go. As a result Phillip has certainly got 1 hand on the championship trophy and it will be hard to prise that hand off it.
Class 5 – Road cars specialist Production cars
Last year I always used to talk about how Richard Munnis had a lonely run to win the class, and how no one wanted to play with Richard. This year it's all about Trevor Allen and how he has won another round. Thankfully we have a few more competitors competing in class 5 this year – there were 5 at this event. Trevor, as mentioned took the class win and the Specialist trophy win ahead of Richard Munnis Third in class went to the hard charging Gardiner McIlwaine with James Perry and John Hamill rounding out the class. Championship wise, really by now it is Trevor's to lose to be fair. Trevor has a maximum score of 20 points, which is 6 ahead of Richard Munnis and 12 ahead of third placed Andy Hawthorne. My very bad, and unofficial mathematical calculations show that Trevor needs to finish fifth or higher, therefore scoring 1 point or more at either of the last 2 events to take the class championship.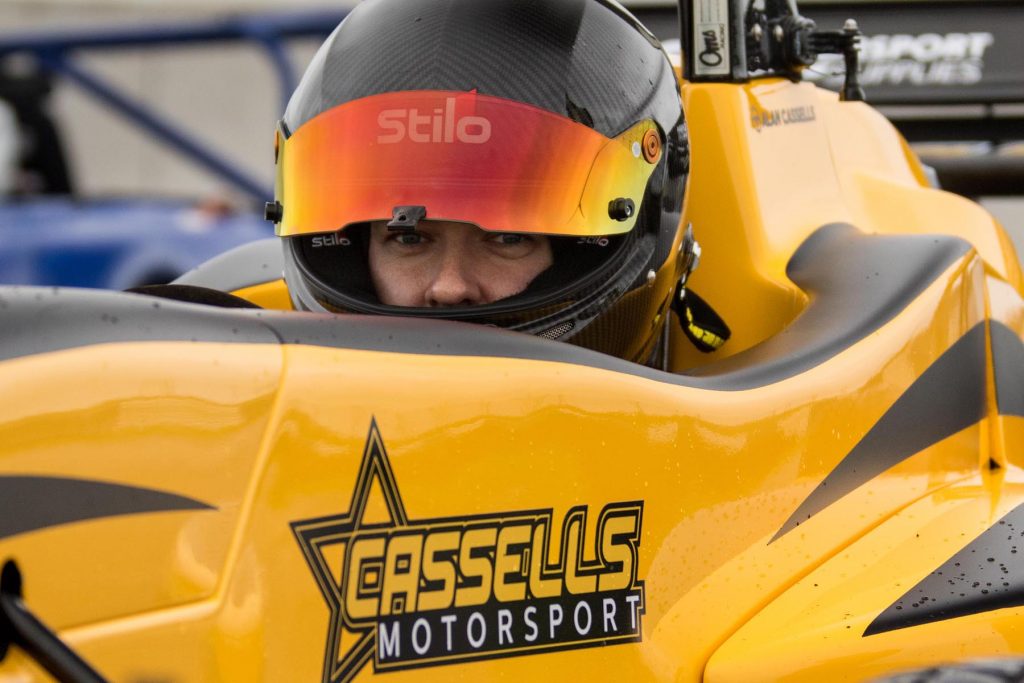 Class 6a Modified Cars – Series Production cars 8v
Once again 6A proved to be where all the fun was (or am I just a bit biased). For the second time there wasn't a strain at the top of the charts this week as Jonny didn't make the event, leaving it as a big championship battle between Karl Johnston and David Evans. Karl, who had no wets competed all day on dry tyres and drove like the circuit was bone dry. Indeed Karl managed to win the class at the end of the day by a massive 1.45 secs from second placed David Evans and William Hutton was third a further 3.31 secs back. David tried his best but simply couldn't touch Karl. He pushed so hard that he missed a gear on the back straight and nearly ended his season. Next time you're talking to David remind him that 4 +1 equals 5 not 3!! Championship wise this is going to be very tight. Karl has a one-point lead over David Evans with Jonny Strain a further 4 behind David. However, when dropped scores are factored in this will make things tight and interesting. This class really will go down to the wire, which is usually how it ends up in 6A.
Class 6b Modified Cars – Series Production cars 16v
Class 6b was another very hotly contested class again on Saturday, Stephen Colbert was on serious form and once again was the man to beat in every run always being at least 2 seconds faster than anyone else in the class. So the main fight was for second to fifth and it was an epic battle between Dermot O`Hagan, Neil McMullan, Ken Colbert and Andrew Straney with all of them fighting hard. Dermot took second in class, a mere 0.31 secs ahead of Neil McMullan in his Clio. Neil had a flyer of a last run to nick third from Ken Colbert by a mere 0.29 secs. Andrew Straney finished fifth only 1.04 seconds behind Ken Colbert. There were only 0.6 secs between second and fourth place and 1.64 seconds between second and fifth!! Championship wise Stephen Colbert took control of the class and has a one-point lead over Dermot O`Hagan with Ken third, 2 points ahead of Neil McMullan. With two rounds to go and the promise of dropped scores this class looks set to go all the way to the end and whilst it is a clear battle for the lead between Dermot and Stephen there is also a secondary tight battle for third between Ken Colbert and Neil McMullan. I for one don't want to predict how this will end up.
Class 7 Modified Cars Specialist Production
Class 7 has seen a bit of a decline in numbers this year, and Rudy Tate and Andrew Straney have certainly been missed amongst the ranks. Especially Rudy as there is no one to keep going. David Hawthorne once again proved to be the fastest Hawthorne but he didn't get it easy. David McMullan has really got the hang of his Locost and is ringing its neck almost dry as he enjoys himself. He drove fantastically to finish second in class, a mere 1.03 secs behind David Hawthorne and 0.76 secs ahead of Steven Hawthorne. You must remember that David's car is running a heavier and less powerful car engine as opposed to the Hawthorne's who have a lighter more powerful motorbike engine fitted. Championship wise David is still the fastest Hawthorne and has a 4 point lead over Second placed Steven Hawthorne. David McMullan is in third 1 point behind Steven. With all three of these drivers missing a score during this season dropped scores wont factor at all here so it is a straight fight for the championship. I will put my money where my mouth is and predict that both Hawthorne's will finish in the top 3 as will David McMullan, but I won't (yet) predict what order they will finish up in!
Class 8 Sports Libre cars Special Saloons
Class 8 was once again the Richard O`Mahoney show as Richard took class honours in his RSR Escort. It's a real shame that Richard wasn't championship registered as I think he would win it. Sadly Grandad (aka Rory Stephens) wasn't with us at this event as he was in Braga competing in the FIA Masters Hillclimb event in Portugal, where he had an epic result. Well done Rory and all the other UK and Irish drivers who went to Portugal and well and truly put the British and Irish Hill climb scene on the world wide map!! Despite being away Rory still leads the championship by 3 points from second placed Jim Hutchinson.
Class 9a Sports Libre cars Saloons and GT`s
Class 9a was a 2 Campbell affair today with Emma and Daniel Campbell being the only participants. Daniel took the win by 33.35 secs from Emma in his Starlet. Emma pushed her wee Peugeot 106 hard and had a great wee dual in the overalls with Amy Hawthorne and John Hamill. In terms of the championship Emma now can't be beaten to the class title as she has a 12 point lead over David Frances and Daniel Campbell who are joint second. Emma managed to take the advantage at the start of the season when she was the sole car scoring points in class 9a and this advantage has seen her through to her second class 9a Championship.
Class 9b Sports libre Closed wheel sports racing cars.
Today saw the very welcome return of championship stalwart Lee Kirkwood in his Radical SR3. Lee who has proved to be more than capable of mixing it with the single seaters finished an incredible sixth overall which is an impressive result before you take into consideration that he hadn't sat in the car in a year if not two years. Second went to the hard charging Patrick Roche who was having great craic as well as setting superb times in his little OMS SC which he drove to ninth overall. Third in class went to the hard charging Sheryl McBride in her little Global GT which Sheryl is now getting to grips with. Championship wise class 9b is certainly still very much up in the air. Patrick has a slim 4 point advantage over Sheryl so it's not decided yet!
Class 10 Sports libre Cars – small capacity Rally cars
As always class 10 was somewhat under represented, just like its bigger class 11 brother. Irrespective of the number of competitors in the class it was as usual a class with epic pace. Alan Roddy took the class win in his little saxo from Derek Robinson in his Corolla. Both these fellas have had a great season's craic hammering away against the clock with no real concerns other than how much faster they can go. Alan got down to a 127.11 and Derek's best was 139.03. Third went to Alan Griffith who sadly had a disaster of a day in his Escort Mk 2 but which was having a mechanical off day. In terms of the championship Alan Roddy leads the way from Derek Robinson by 5 points. With scores to drop Alan, by my unofficial and poor mathematician, only needs a fourth place or higher to take the class championship for 2021 which will be his umpteenth title in a row.
Class 11 Sports libre Cars – large capacity Rally cars
Class 11 saw another close battle behind the leader today. Stewart Strain showed a masterclass of driving to run a 117.74 sec run to take the class win. Stewart is simply superb to watch in his little blue Peugeot. He tries super hard and carries some excellent speed. I witnessed his last run and found his line into the infield to be a tad unusual however!! Anyway, enough of insulting the baldy stig!! With Stewart so far up the road Michael Boyle and Noel Strain had an epic battle between themselves with Noel fighting back on his last run. Michael took the nod over Noel by a mere 0.14 seconds which was a fair representation of just how hard Noel tried on his last run. Fourth in class went to Martin Flannigan in his BMW E36. Martin came for a day's craic and had more than his fair share of craic around the paddock and he did well too, finishing on a 125.24 which was just 1.24 behind Noel Strain and 1.38 behind Michael Boyle. Told you it was close. Championship wise Stewart now leads class 11 by 19 points form Michael Boyle with Jaye Nevin and Noel Strain tied on 7 points in third. By my unofficial and somewhat suspect addition I think calculate that Stewart needs 1 point or fifth place from either of the 2 remaining rounds to win the championship. However, Stewart still has a grasp at winning the modified category championship, so I'd expect him to drive at 110% at the 2 remaining rounds. He may well even scrape up the perfect maximum of 25 points or 5 wins out of 5 counting scores!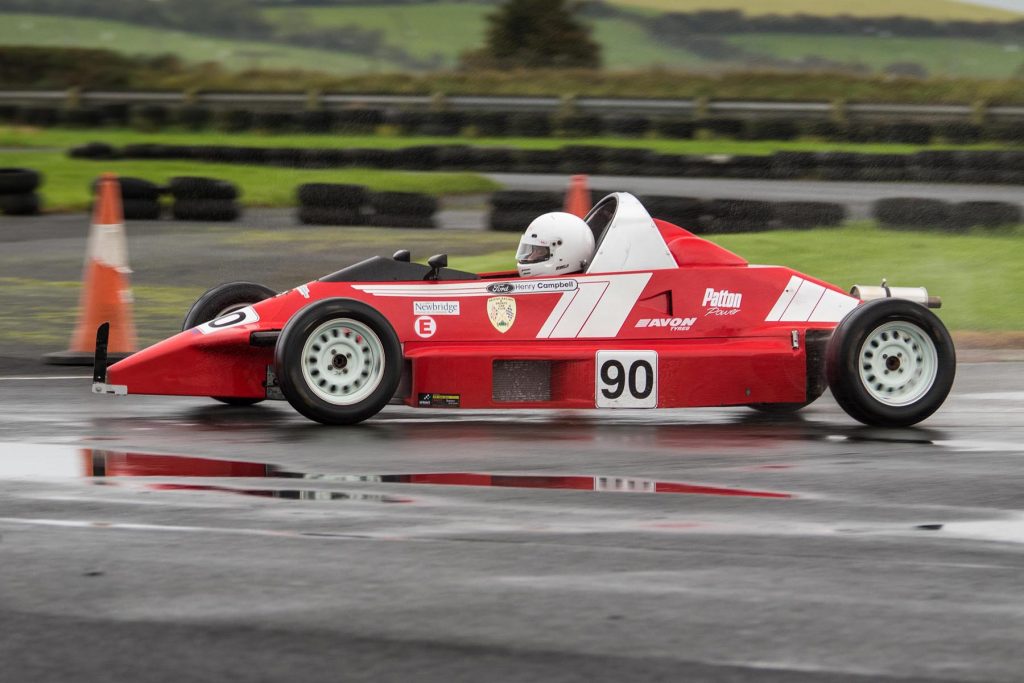 Class 12 4WD sports Libre Cars
Last year class 12 was the Oliver Cormican show as he played alone in class 12. However this year it's a different kettle of fish with 4 drivers starting in class 12 on Saturday. Ryan Murray proved to be the fastest of them all taking the class win by a mere 0.1 second from Ian Lancashire and Oliver Cormican third. All three were separated by a mere 0.72 seconds!! Tight or what. Fourth in class went to Nicky Caughey in his rally spec Evo. Whilst Nicky's car is a beautiful car and is seriously fast it is just too heavy, as it's in full rally spec and running on rally tyres as opposed to the slicks most of the others run on. Championship wise Oliver Cormican is joint top with Ryan Murray on 12 points with Ian Lancashire third on 9 points. Dropped scores won't come into count here as no one has completed every round so it really is a race to the finish, and I don't fancy predicting a winner!!
Class 13 Formula Racing cars
With no Roundy racing on this weekend to distract him Henry Campbell regained his title of king of class 13 in his formula ford. Henry had a convincing win over second placed Stephen Wishart in the SERC prepared car he shares with third placed Basil Barnes. Henrys 118.81 sec run saw him finish 18th overall. In terms of the class championship Henry has a 2 point lead over Stephen Wishart with Basil Barnes third. Dropped scores won't count but the usual Formula ford Festival in England might just lead the way for Stephen Wishart to sneak a big class championship win at the end of the year.
Class 14 small Capacity Racing Cars
With Trevor Roberts sadly suffering mechanical issues in practice we once again failed to see Trevor push this car to its full potential. However we did get to see George Stevenson giving his new car a real good run to take the class win. He pushed hard, as did Brian Fitzmaurice in his older and less powerful oms. At the end of the day only 0.37 secs separated George and Brian in Georges favour and both finished 7th and 8th overall in the final standings. Third place went to the ever hard charging Thomas Corey in his venerable Reynard with Catherine Donnelly hot on his heels in her Delta T91.
In terms of the class championship class 14 is a bit of a melting pot with George and Brian joint top on 14 points. Trevor Roberts is third on 10 points and is still in with a mathematical chance of winning when dropped scores are counted. This has been an epic championship battle all year and will be interesting to see how this ends up. I just hope however that the battle isn't spoiled by any "occasional" or "one off" drivers who enter the last rounds, having done little or no events previously this season and taking points from any of the top 3. Whilst this is motorsport, it is also something which can and does happen and can leave a championships final standing obscured away from just how tight a season it had been. As for predicting whose going to win, don't ask!!!!!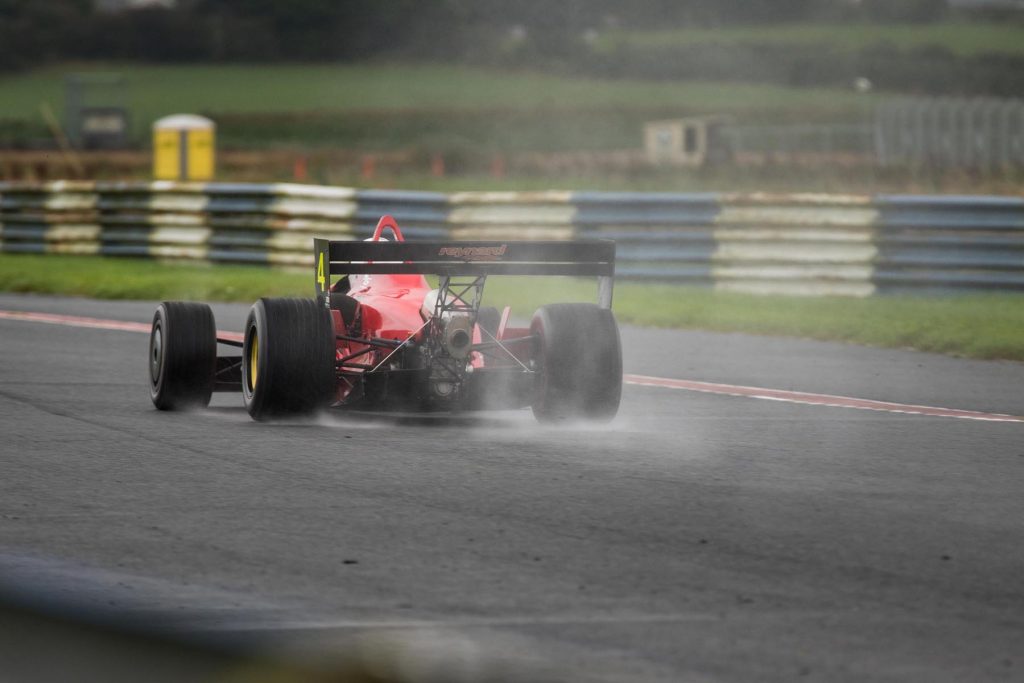 Class 15 large Capacity Racing Cars
Well what can I say apart from Alan Cassells did it again. The main battle for this class was mentioned above, so I won't dwell on it but I did spend some time looking through the times for this class in terms of their split times, best speeds, chicane times etc and it really does show that class 15 is close, unpredictable and that it has everything!!
If you could combine John Donnelly's epic first 64ft with Alan Cassells sheer get up and go, Gerard O'Connell's courage and top line speed, along with Stephen Colbert`s coolness, cornering and car control talents (did you see his time through the chicane on the last run) and Steven Gault's neatness and precision, and ability to push the boundaries on the brakes you would have one heck of a run that no one could beat.
I know that may sound odd and don't get me wrong every one of those drivers mentioned really is on the top of their game, but class 15 has got so many good drivers in so many good cars with such talent and desire to win that its one of the best mixes of cars and drivers that I've ever seen in the NI speed scene, and I've been following it for many years. Each of those names mentioned, and let's not forget the recent 3-time Sprint Champion Adrian Pollock in this, can easily go out at any event and win it, and no one would be shocked or surprised if they did. That's just the quality of class 15 at the minute, in fact it's the quality of the entire paddock!
Championship wise Alan Cassells has a 6 point lead over Gerard O`Connell with Steven Gault third and Adrian Pollock fourth ahead of John Donnelly and Simon and Tim Woodside. Dropped scores will certainly make a massive influence in this class and may see a change in that order but looking at it, unofficially and with no expertise in this, or indeed any field, I calculate that Alan only needs to finish fourth or better at either of the next 2 events to secure the class championship.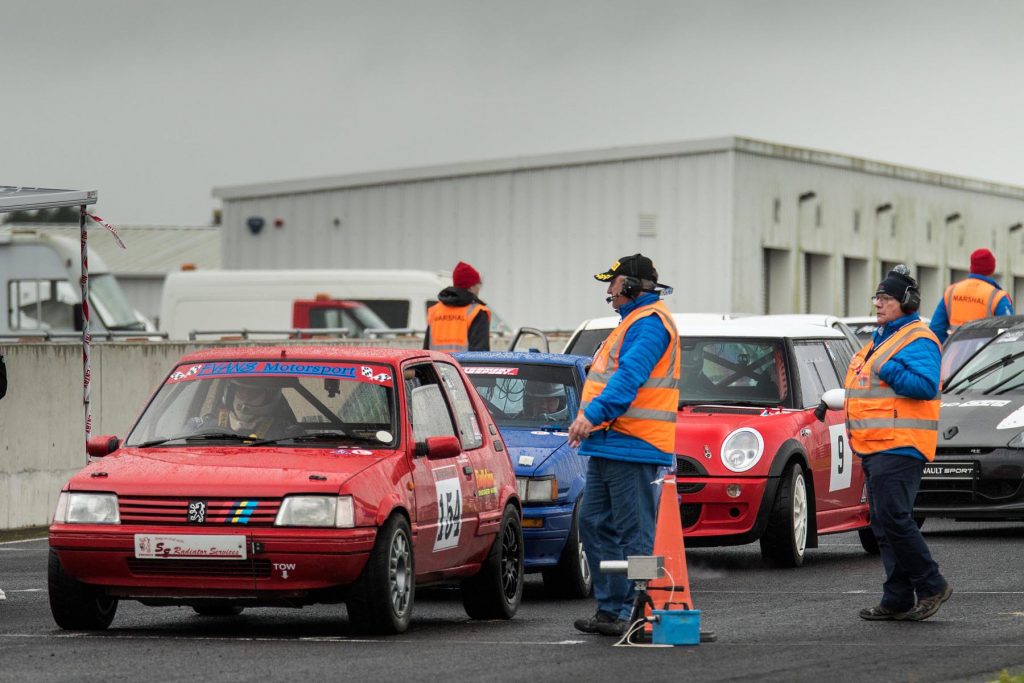 Class 16a Historic Road Cars.
Gerry McGarrity once again piloted the Mini to another dominating class win in class 16a. Second place went to local autotester turned sprinter David Cochrane in his immaculate and beautiful Escort MK1. Mervyn Getty took third in the class in his MGBGT Sebring a mere 0.57 secs ahead of Trevor Mclroy in his Sebring Sprite. I trust Trevor kept all his doors closed today? Ian McCullough, Vincent Rodgers completed the class roll out. Class 16a has now built up a nice little array of cars and the final events show that all is reasonably close between them. Discounting Gerry who is further up the road the rest of class 16 a competitors all finished within 1 – 1.5 secs ahead of each other so the pace is all roughly the same too which makes it more enjoyable for the spectators and competitors alike.
Championship wise Gerry McGarrity leads the pile by 5 points from Trevor McIlroy with Mervyn Getty third, mounting a late challenge. Fourth goes to Vincent Rodgers with John Hamill and Ian McCullough behind Vincent n that order.
Class 16b Historic Saloons and Sport scars
Class 16b proved to be an escort Mk1 only affair with 2 escorts entered. Stephen Nevin took up his usual position at the top of the pile ahead of Paul Taggart who finally got everything to click for him on Saturday and he advises that Saturday was one of the best days he has had in the escort since he built it. It's always good to hear such positive feedback. Championship wise Steven Nevin has a 12 point lead over second Placed Paul Taggart and therefore cannot be beaten.
Heaslip Ladies Challenge Trophy
Saturday's event saw the fourth different winner of the Heaslip Ladies Challenge trophy when Amy Hawthorne took her maiden win on only her fourth championship event. Go Amy!! On actual times Catherine Donnelly was the "fastest" lady ahead of Sheryl, Kathy, Amy and Emma in that order, however when the conversion factor was added Amy took top honours ahead of Emma, Sheryl Kathy and Catherine. With all the girls now scoring a win each, apart from Catherine it shows that the newly designed Challenge trophy is working especially when you look at the points tally. Emma Campbell has a 2 point lead over Sheryl Mcbride. Kathy is a further 2 points behind Sheryl and 3 ahead of Amy with Catherine fifth, 19 points off Amy. Dropped scores will definitely make a big difference here and as we approach the last 2 rounds, the onus is really on the girls to push like blazes to get their actual times down before the conversion factor is calculated. Again, this is a tough one to call so I'm not going to make any predictions, other than, that this will go to the wire to be decided. Watch this space!!
Words: DAVID EVANS #154 | Photos: GRAHAM BAALHAM-CURRY
[images must not be used in any way without prior written consent of the photographer]