The motor racing season at Kirkistown Circuit in County Down kicked off in style on Saturday 25th March, with a fifteen race schedule including single-seaters, saloons, sports cars and superkarts. Top class racing was enjoyed by an unseasonally large spectator count.
Saloons and GTs opened the programme and Gavin Stanfield, from Cabra, thrilled the crowd. He started his Subaru Impreza from the pit lane, on cold tyres, after the main field had gone. Thus began a charge through the field. By the end of lap one he had risen from twelfth to fifth. A lap later he was third. Peter Baxter, from Lurgan, had started his Seat Supercopa from the rear of the main field and he was outpacing Stanfield in his rise through the ranks. On lap five, Baxter overtook Downpatrick driver, Gareth Blaine, in another Supercopa, for the lead. But Stanfield was still charging and two laps later he caught and passed Baxter, pulling away for the win. Bangor driver, Stephen Potter, in his Honda Civic, was third. In the GT class, Gary Grattan, from Portadown, was the only finisher.
In the second instalment, later in the day, Stanfield cut the drama, leading from start to finish. Baxter, again, came from the rear, going from ninth to second on the first lap. However, Potter was charging too. He dispatched Blaine for third on lap five and from lap ten he was right on Baxter's tail. It all came down to the drag out of the final corner and crossing the finish line, Potter was one thousandth of a second ahead! Stephen Conn, from Armagh, won the GTs, 1.3 seconds ahead of Grattan.
The Formula Vees produced a twenty two car field for their first race for B and C grade drivers. Although Seán Newsome, from Ashford, led from start to finish, his mirrors were full of seven other cars throughout this excellent race. Second place went to Dunloy driver, Ronan Doherty, who had been as low as ninth at one stage. Third place went to Andy Keogh, from Saggart.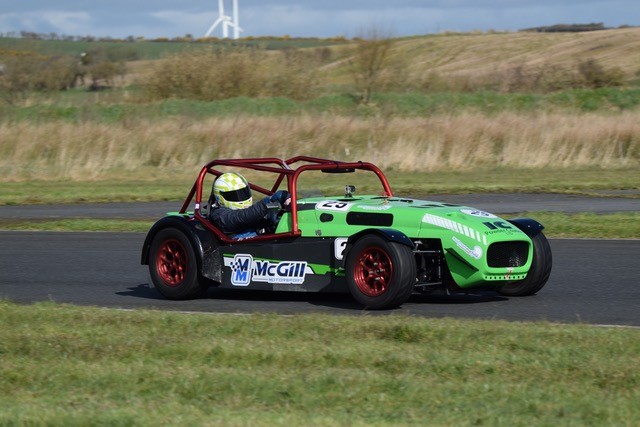 Their second race included the A grade drivers and twenty five cars took the start. This time there was another amazing eight car battle for the lead. Dublin's Gavin Buckley ran at the front for four laps before Jack Byrne, from Tinahely, borrowed the position for a lap. Multiple champion, and wily fox, Anthony Cross, from Bohernabreena, had been sitting in the middle of the leading pack until making his move on lap eight. He overtook Byrne for second and, one lap later, deposed Buckley for the lead. Byrne also passed Buckley for second and Lee Newsome, from Wicklow, grabbed the final podium position on the last lap.
Many people had come to see the first stand-alone race in the new Kirkistown Mini Cooper series. Two cars didn't progress beyond qualifying but eleven cars started the inaugural race. It appeared that all of the cars were very evenly matched, with no driver able to get a break. Jack Conachy from Newry, was battling hard with Johny Titterington, from Ballygowan. Chasing closely was Craig Gilmore, from Ballyhalbert, Jack's father, Noel, and Darren Gilmore, from Lisnaskea. On lap five, Titterington's car retired and now it was another Newry driver, Hugh McEvoy who took up the challenge, having risen from tenth. At the flag, it was McEvoy from Conachy and Dundalk driver, Kian O'Brien, who had risen from eighth. However, there was to be a twist as McEvoy had a ten second penalty because of being underweight. This dropped him to sixth and promoted Noel Conachy to third place.
In the second race for the Minis, ten cars started. Craig Gilmore made the running before retiring from the lead on lap eight. O'Brien had climbed from eighth to inherit Gilmore's place. Jack Conachy kept him honest, finishing second while Shane Henry, from Donegal, drove a very steady race to third place. Less than four and a half seconds covered the top six finishers. The prizes for this race were presented by ex-BTCC driver, Chris Smiley.
There was a good combined field of Roadsports, N.I. 7evens and Global GTs. These cars have a rolling start and from "lights out" it was a battle between Newtownabbey driver, Jim Larkham, and his nephew from Ballycarry, Steven Larkham. Jim took the lead on lap one but on lap three Steven squeezed past and was never headed again. Michael Ward, from Youghal, finished third in this class. Newtownards driver, Graham Moore, dominated the N I 7evens, ahead of Paul Thompson, from Banbridge and Mark Francis, from Donaghadee. Cameron Fenton, from Greystones, won the Global GT class, actually finishing ahead of Paul Thompson, as did Peter Drennan, from Navan. Charlie Linnane, from Kilmacanogue, finished third, which was excellent considering the big crash he had at Kirkistown, less than two weeks previously.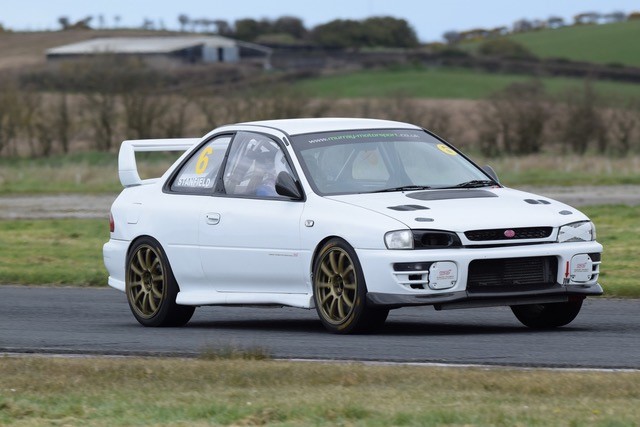 In the second outing for these machines, once again, Jim Larkham took the lead. This time it took six laps before Steven could muscle past. Mike Ward was having a better race and on the last lap he relieved Jim of second place. Graham Moore repeated his win in the N I 7evens, ahead of Paul Thompson and, this time, Richard Francis, from Donaghadee. Ballyclare driver, Jack Finlay, won the Global GT class ahead of Peter Drennan and Richard Finlay, from Larne.
The Superkarts produced eighteen machines, eleven of which were 250cc and seven 125cc. In their first race, Comber driver, Alan Crossen, took a convincing win in the 250cc class, well ahead of Craigavon driver, Brian Jones, and Ross Witherow, from Newtownards. Scott Greenaway, from Armagh, narrowly beat Stuart Coey, from Comber, in the 125cc class. These two were well ahead of Noel Lindsay, from Hillsborough.
Race two for the superkarts saw another convincing win for Crossen in the 250cc class, once again ahead of Jones. This time Richard Dewart, from Lurgan, completed the podium. Stuart Coey improved a place in the 125cc class, leaving second place to Greenaway, with Lindsay third.
The final superkart race saw another victory in the 250cc class for Crossen. Dewart improved to second and Witherow got another third place. Coey again won the 125cc class from Greenaway and Lindsay.
Robert Kennedy, from Culloville, who had been worryingly fast a few years ago in the Modi-5-Cup Mazdas, made a comeback for this meeting and he proceeded to dominate, winning the first encounter by almost eighteen seconds! It was a much closer affair for second place with Newry driver, Damian Moran, just shading Moira driver, Francis Allen, by a third of a second. The Kirkistown Fiestas were on the same grid. Portadown driver, Michael Graham, beat his father and current champion, Derek, by 0.119 seconds. Stephen Walker, from Helensburgh, took third place.
In the second outing for these cars, Kennedy, once again, drove away from the pack, winning the Modi-5-Cup race. Allen took second place and Moran was third. Michael Graham won the Fiesta class, with Walker second and Richhill driver, Henry White, third.
The Formula Ford 1600 races were poorly supported but provided excellent racing. The results will tell that Ballymena driver, David McCullough, won both races but they don't tell how Ballina driver, Dave Parks, kept him honest the whole way. Had McCullough lost concentration or made the slightest error at any time in either race, Parks would have been through. Equally, in race one, the battle for third place lasted thirteen laps, being decided in Ballymena driver, Darwin Smith's favour by six one hundredths of a second over Buncrana's Jordan Kelly. In the second race it was Ballina's Rob Parks who got the third place decision over an unusually detuned Alan Davidson, from Randalstown.
There is a gap now until Saturday 27th May before circuit racing returns to Kirkistown but Drag Racing makes its first appearance on Saturday 28th April.
Words: DONAL O'NEILL | 500 MRCI Photos: JIMMY GRAHAM