Saturday 18 March saw the long-awaited start of the 2023 SW Adair Tyres Northern Ireland Sprint Championship. With the first round cancelled due to circumstances well beyond the control of North Ulster Car Club, it was the 500 MRCI who stepped up to the plate to hold the season opening event.
With a cracking entry of 75 drivers making the trip to Kirkistown on what was a reasonable and initially dry morning everyone was excited to finally get the season under way.
Working through the paddock there were a lot of new names and cars in the paddock which is great to see and even better to see so many returning drivers including those who have been absent for a couple of years. Amongst the new drivers we also had some new cars as well, with the introduction of a class for Motorsport UK Log booked buggies. With new drivers such as Mark McClernon, Chris Nelson, Kevin Meenagh, all in Casmat buggies, Donal Sweeney Ricky McLanon, Harold Bunting, David Kane and Jenny Pollock all making their debuts at this event. Its great to see that this championship continues to look to the future and encourage new drivers to play.
In terms of the event itself, it started off dry and not too cold but sadly the weather deteriorated. An oil slick left by a competitor held up proceedings and by the time this was dressed and action was ready to commence the rain had started. The rain and the oil left the circuit slippy in places and everyone had to drive accordingly. There was a fair amount of rain falling too which didn't help matters leaving the first timed run very wet and the second timed run not just as bad.
Despite the weather Gerard O Connell took the overall win in his Dallara World series car with a clinking 107.61sec run in the conditions which Gerard set on his first run. Second went to a hard charging Ryan Murray who guided his flying Subaru Impreza to second overall a mere 0.09secs adrift of Gerard. Ryan used his 4wd and immense torque to take such a fabulous final place ahead of the Casmat buggy of Mark McClernon with David Kane fourth in his silvercar and Terry McCay fifth in his casmat. Its great to see so many drivers coming from the Rally Sport Association to run with us in the SW Adair Sprint Championship.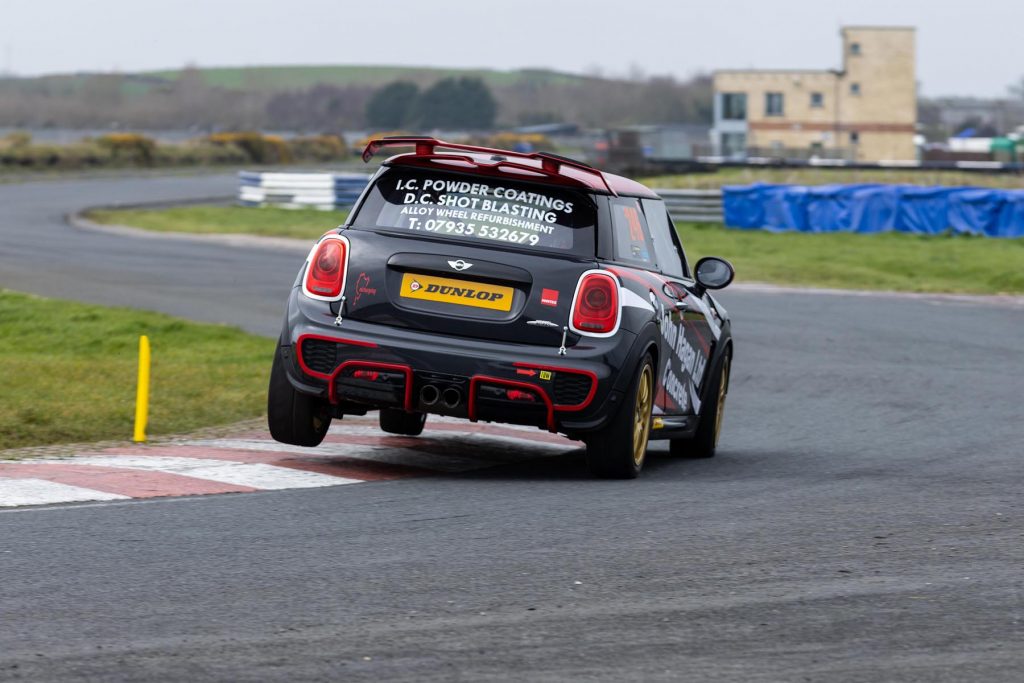 In terms of the categories the unofficial title of fastest mini in the west went to Karl Johnston once again. Karl is hoping to lead this title chase this season but rumours circulate that Gary Milligan will appear with a rebuilt engine in an attempt to beat Karl and Gerry once for all as he is sick of being the brideSmaid and wishes to move up to being the bride!! Will this make Gerry the flower girl??
The modified category was very tightly contested and Ryan Murray used his 4wd to secure himself maximum modified category Points ahead of Dan Campbell who was second overall at one point, and Stephen Colbert. The modified category looks as if its going to be hard to secure this year.
In the specialist category Andy Hawthorne stamped his authority on the 5 points available as he proved to be the fastest Hawthorne and fastest specialist driver on the day. Andy pipped son David Hawthorne by 8.77secs to finish 9th overall and Specialist category Winner in his Westfield SE, David Hawthorne was second in the category ahead of Mark Crawford who returned to the championship in his lotus exige.
Roadgoing category honours went to Crawford Ewing who proved that the car in front of the roadgoing category was a Renault. Aaron Vance steered his big BMW to second in the category ahead of Stephen Donnelly who debuted his new Renault Twingo
In the Heaslip Ladies Challenge Trophy Amy Hawthorne took class honours in her little Clio finishing a corrected 1.65 secs ahead of Second Placed Emma Campbell. Jenny Pollock made her championship and challenge trophy debut in a Reynard FF1600 and finished third in the ladies challenge. On the timesheets the ladies finished in the same order.
The next and second round of the 2022 SW Adair Tyres Northern Ireland Sprint Championship takes place at Nutts Corner on 01 April hosted by 500 MRCI. At present there are still entries available for anyone who wishes to compete. Entries can be found on www.rallyscore.net
Words: DAVID EVANS #154 | Photos: GRAHAM BAALHAM-CURRY