Reigning Northern Ireland Champion Stephen Wright has secured his second consecutive victory at the Pacenotes Rally Magazine Stages, round one of the McGrady Insurance Motorsport UK NI Rally Championship!
Navigated by Gary McKenna, Wright mastered the treacherously wet and windy conditions to secure the win at the North Armagh Motor Club event by 5.2 seconds from Derek and Mark McGeehan, with former champions Derek McGarrity and Paddy Robinson third.
It was the McGeehan father and son pairing who were fastest over the opening stage in their Mini WRC with Wright trailing close behind. Champion Wright was mindful of making a mistake early in the event after a couple of spins during his last visit to the Kirkistown venue made his bid for victory more difficult than it should have been.
However, with the first stage safely behind him, Wright started to mount a charge for the lead. He was fastest on stage two and moved into the rally lead with another fastest time over the third test.
The margins were tiny and with little room for error in the wet conditions, crews had to be inch-perfect around the venue. Wright continued to edge ahead and going into the final stage, he had 7.6 seconds in hand over his rivals.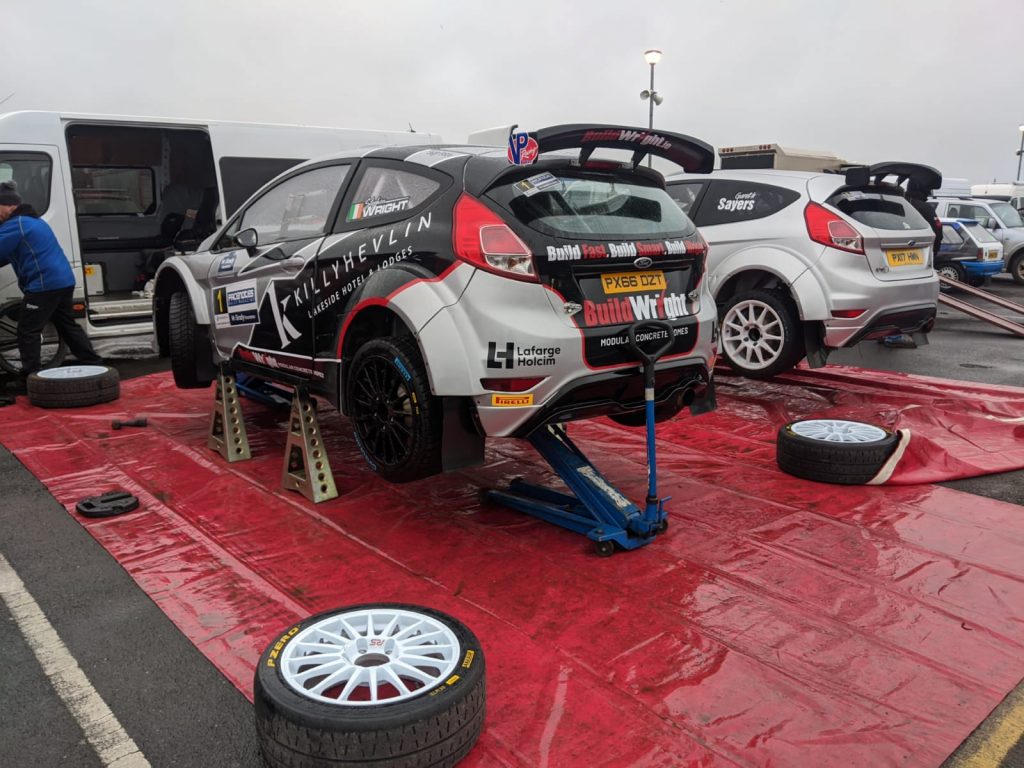 In a final twist in the tale, the rally leaders were caught behind another competitor during the second lap of the final test. They started to panic and quickly looked at the stage times after they arrived at the finish. They still set third fastest time and it was enough to secure the Pacenotes Rally win by 5.2 seconds!
"It was hard work in there today!" Wright said after the finish. "I didn't want to make a mistake this morning so I kept it tidy and safe on the first stage. It's great to get the win and lead the championship again."
While Wright sealed victory, Derek and Mark McGeehan were embroiled in a battle for the runner-up position with Derek McGarrity and Paddy Robinson. It was McGarrity's first event in the wet with his Skoda Fabia R5 and he used the opening stages to settle in.
Initially trailing the McGeehans by seven seconds, he started eating into their advantage and was just two seconds adrift after stage four but then it all went wrong through a very wet fifth stage.
"Someone must have hit the (directional) arrows on part of the circuit as they're pointing different directions," McGarrity said. "I got a bit confused and ended up adding an extra 100 yards to our stage because we took a longer route!"
The incident cost him some precious seconds and he was forced to settle for third behind the father and son McGeehan team.
"We hit a bad rut in the concrete section on the second stage," McGeehan recalled. There was a vibration in the car after that so I thought we had a puncture and backed off."
It cost the crew some time but not enough to make any difference in the end result with Wright emerging as the deserved winner.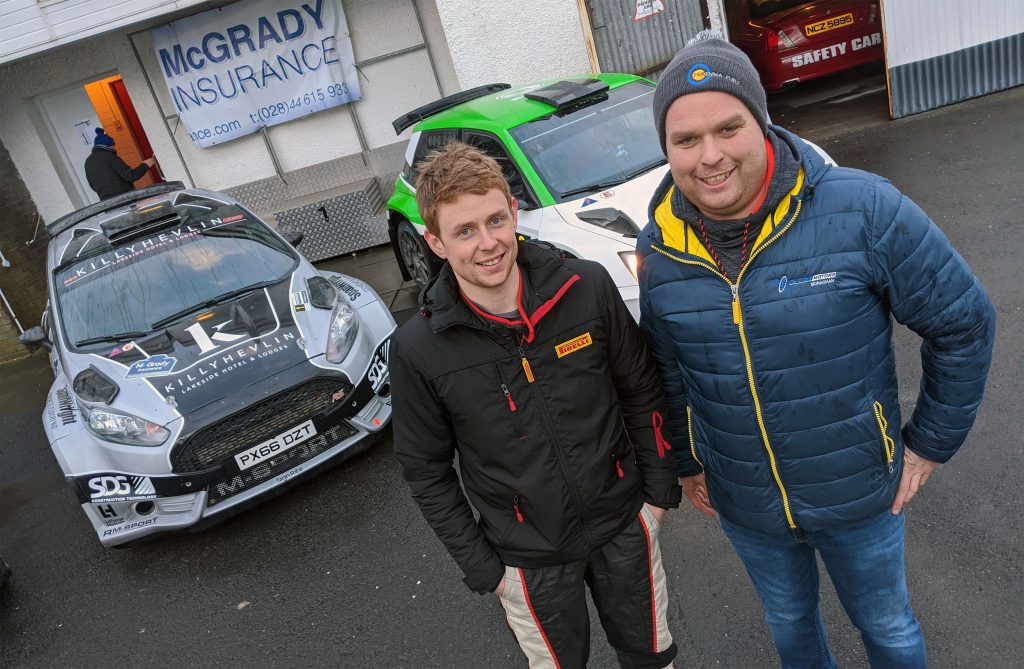 3rd – 10th
Outside the top three, there was plenty of drama through the field. Gareth Sayers and Ash Boulton lost around 20 seconds when their engine spluttered to a halt midway through the event. It eventually fired up again, allowing them to accelerate home in fourth.
Jason Mitchell and Kenny Bustard acquitted themselves well on their first attempt at a round of the Northern Ireland Championship in their Fiesta R5. They came home in fifth with Scottish visitor Barry Groundwater, who had Neil Shanks calling the notes, claiming sixth after a tie-break with Emma McKinstry and Kenny Hull.
Both had their fair share of dramas with McKinstry losing time after a spin and a stall. Groundwater also lost time with a spin at the end of the gravel section but he just managed to nip into sixth at the last gasp in his Impreza WRC while McKinstry had to be content with seventh.
And breathing a sigh of relief at the finish were Alan and Lucy Carmichael in their Fiesta R5. Their day featured a big spin, an overshoot and a failing centre differential, plus copious amounts of muddy water inside their car!
Rounding off the top 10 were the leading two-wheel-drive contenders. Keith White and Gavin Campbell enjoyed an intense battle with husband and wife team, James and Heather Kennedy. It was Escort MkI versus Escort MkII and in the end, the MkI belonging to White won the day.
The Kennedys had held an early advantage but White powered through to take the category win and well as ninth overall with James and Heather forced to settle for the runner-up position and 10th overall. However, both crews won their respective classes.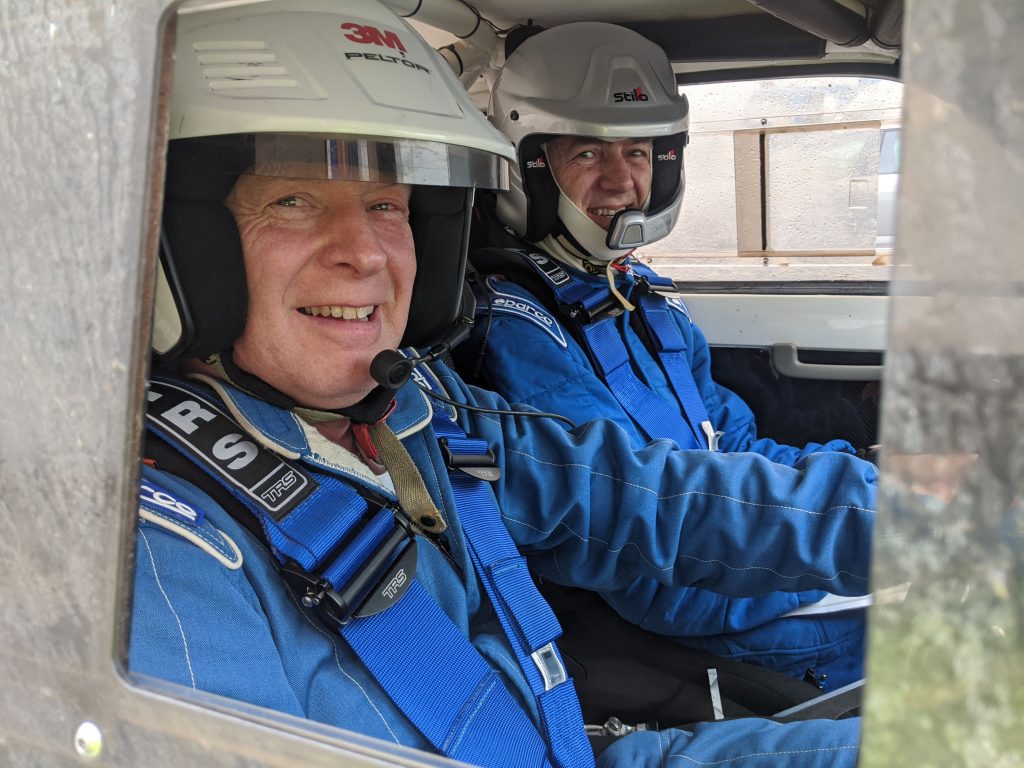 And the rest…
Some of the leading retirements during the day include former champion, Kenny McKinstry. He had a dreadful start to the event when his wipers failed to work on the opening stage and he also lost first gear. The problems were fixed for stage two but he later exited the event due to mechanical problems on the fifth stage.
Gary and Keith McEvoy returned to competition for the first time in a few years but unfortunately their Mitsubishi Lancer Evo was forced out with transfer box failure.
Others in the wars included Philip Allen and Mark Kane. They had a big spin on the grass during the early stages and then Allen's gearstick detached itself midway through a stage! Undeterred though, Allen plans to contest this year's championship.
Kieron Graffin and Clive Kilpatrick were also in a spot of bother when their powersteering failed. They ran wide on a few corners and arrived at the finish of a stage with a trackside tyre sticking out of their front bumper. Then they lost their bumper in its entirety on the final stage!
Wesley Patterson and Johnny Baird commented after stage two that they just wanted to finish the event without any dramas…and then proceeded to slide off the track on the following stage. Thankfully, no damage was done!
Dominic McNeill and Tommy Speers damaged something in their Fiesta's drivetrain during the final stage which forced them to head home slightly earlier than expected and spare a thought for Matthew and Chloe McAllister who had a substantial impact with a bale in their Subaru.
Next Round
The next round of the McGrady Insurance NI Rally Championship will be held at Bishopscourt Race Circuit on 7 March.
Results (Top 10)
1 Stephen Wright/Gary McKenna (Ford Fiesta R5) 31m38.4s
2 Derek McGeehan/Mark McGeehan (Mini WRC) 31m43.6s
3 Derek McGarrity/Paddy Robinson (Skoda Fabia R5) 31m57.3s
4 Gareth Sayers/Gareth Gilchrist (Ford Fiesta R5) 32m34.1s
5 Jason Mitchell/Kenny Bustard (Ford Fiesta R5) 33m12.4s
6 Barry Groundwater/Neil Shanks (Subaru Impreza WRC) 33m19.3s
7 Emma McKinstry/Kenny Hull (Ford Fiesta R5) 33m19.3s
8 Alan Carmichael/Ivor Lamont (Ford Fiesta R5) 33m25.3s
9 Keith White/Gavin Campbell (Ford Escort MkI) 33m29.1s
10 James Kennedy/Heather Kennedy (Ford Escort MkII) 33m37.3s
Words & Photos: JONATHAN MACDONALD
images must not be used in any way without prior written consent of the photographer