Towards the end of last year we caught up with one of motorsports longest serving personalities, County Fermanagh's Gerry McGarrity, who despite not letting us in on his age, jokingly said "I'm driving a long time!"
As a driver and engineer, Gerry has worked with some of our country's finest talent during their formative years, including Kris Meeke, Mark Fisher, Alastair Fisher, the MacHales and the Moffett Brothers.
He explained how he got involved with motorsport during an interview at the final round of the 2019 Northern Ireland sprint championship at Kirkistown Race Circuit in County Down, "All my family have been involved with motorsport," Gerry said.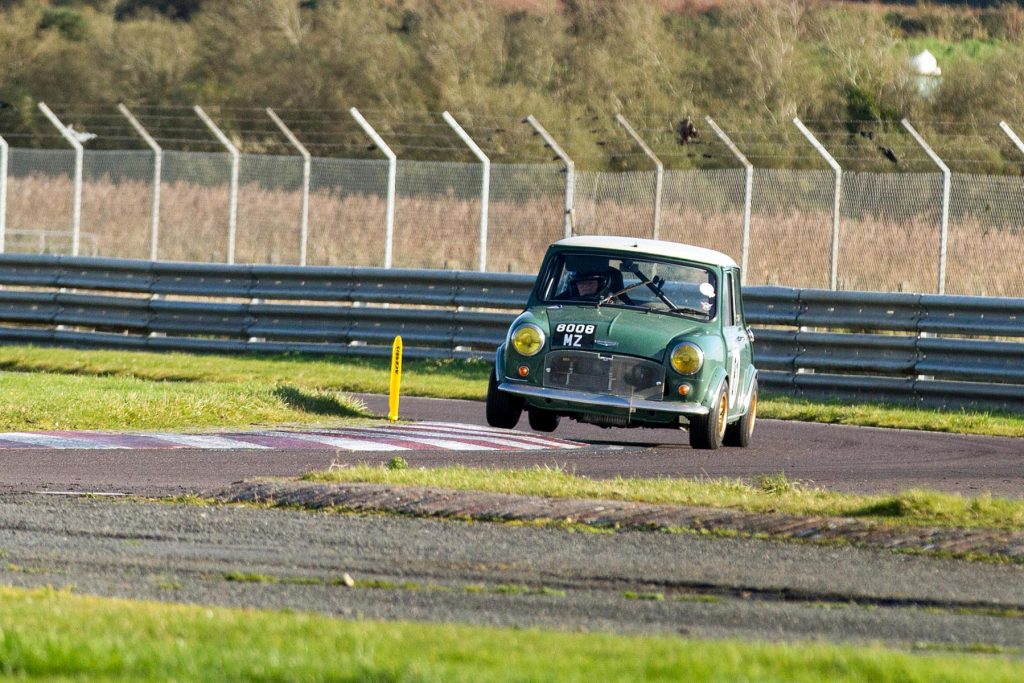 "My uncles and whatever over the years have all raced here [Kirkistown] in single seaters and Formula Atlantic, there's probably been half a dozen uncle's racing either motorcycles or cars, it just runs in the family."
Starting his motorsport career in around 1976, a MINI was Gerry's first car. His first event was the Enniskillen sprint, before he progressed to racing saloon cars at Mondello Park in Dublin, as well as Kirkistown.
By this point a Honda Civic was the weapon of choice, "It came about because my uncle Harold had taken on the Honda dealership," Gerry said, "they were the first ones to bring Honda into Ireland. Harold thought this was a great engine and wanted to prove [to everyone] how good the Honda was."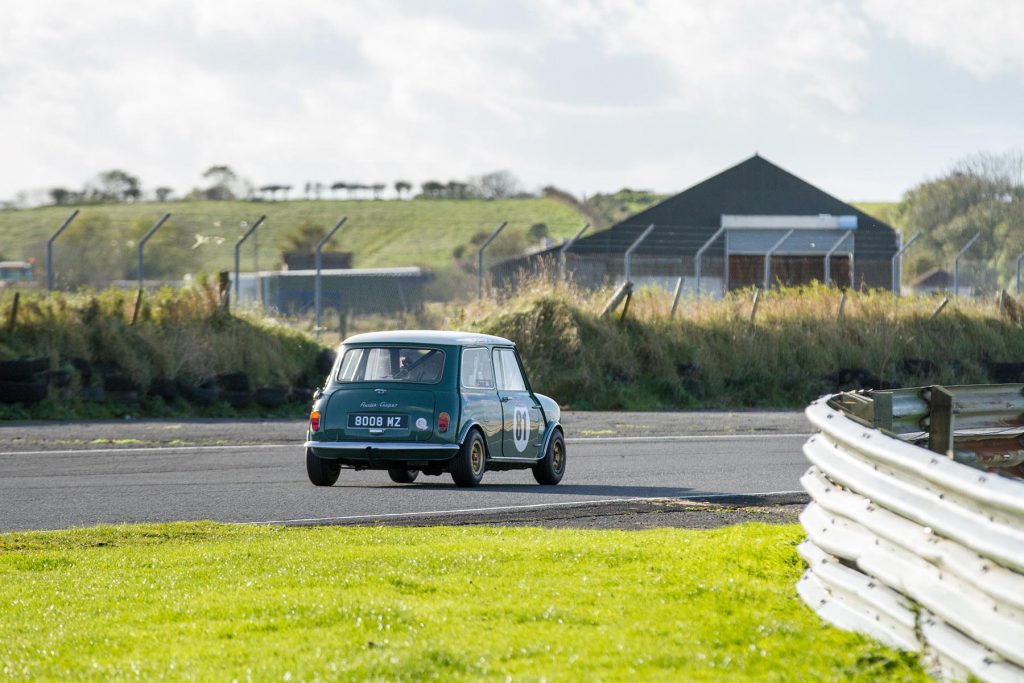 "He said he wanted me to do the Circuit of Ireland in a second-hand Honda Civic, so he give me the first Civic to do the Circuit in 1977. The car was taken out of the showroom with 35,000 miles on it and we put a roll cage in it, made a sump guard for it, and that was it.
Whatever tyres were on it, stayed on it, and we done the Circuit finishing fourth in class. He said that next year we would get a brand new car and we will do it properly. So in 1978, I had a brand new Civic which we used on the Circuit right through to 1982, alongside all the international rallies, the Irish Tarmac Championship and all the gravel events."
Gerry continued, "We raced the car at Mondello, we raced it at Kirkistown and I still have the car. And then twenty-odd years ago, we did the Northern Ireland Sprint Championship in the Civic and i won my class in 1986 I think it was. It's the same class which I am racing my MINI in today."
Around this time, Gerry started preparing and building cars for the aforementioned upcoming drivers, as well as others, and running them on rallying events. Gerry McGarrity was the man who built former WRC driver, Kris Meeke from Dungannon, first rally car, a Peugeot 106 Cup.
This expansion of business meant little time for his own competitive driving and Gerry honed his engineering skills, rather than his driving flair for the next couple of decades.
Until recently, that is, as Gerry says "This last couple of years I've decided to try and get back out to maybe try and compete again. So this is the fourth time now I'll have done this championship and I'm doing the hillclimb championship as well, in this car."
"I've the hillclimb class championship won, so I need a win here today, to win my class in this championship by one point. But I missed three rounds at the beginning of the year, so hopefully I can do it."
Do it, Gerry did! He became four-time Road Going Historic Saloons and Sports Cars champion, beating his closest rival on the day by over 13 seconds.
The car in which Gerry has tackled his recent motorsport conquests is a 1965 Mini on road-tyres and out of twelve starts, across both championships, he took twelve class wins.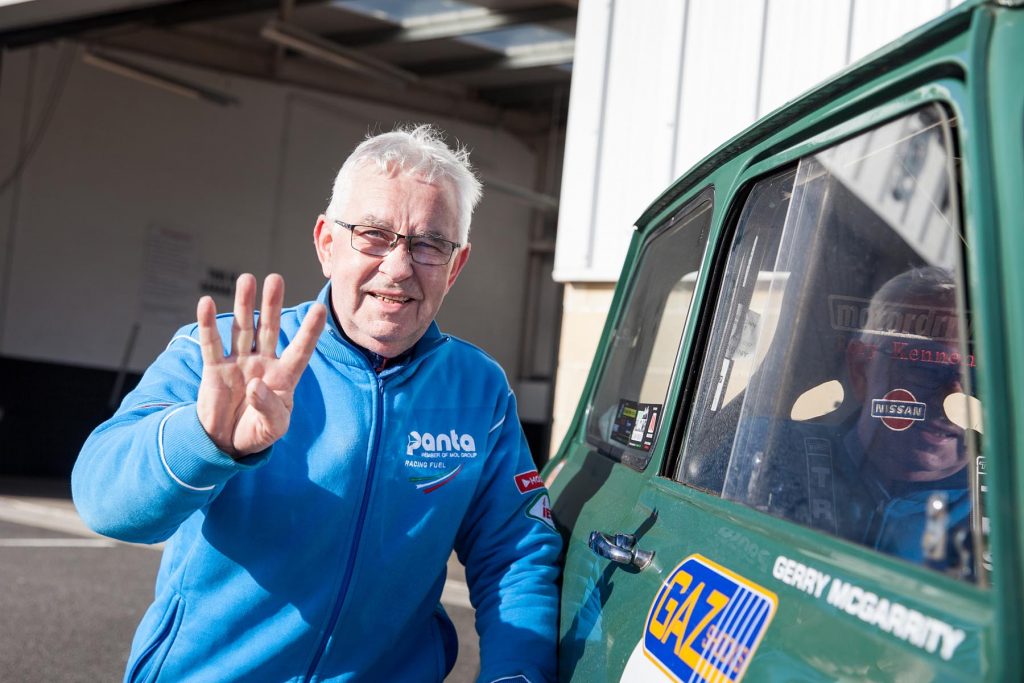 Despite rallying and racing being his favoured events, Gerry was very quick to commend the Sprint discipline as he explains "This here's good, and it's good to keep your hand in, it's a very good discipline. You've got to be really good at this here or you don't do the times. But it's also very good at sharpening you're driving, to progress on and take it to rallying or whatever, it's no different.
"It's great to be able to keep your hand in, to come here and compete, it's easy to do without a whole entourage of people to come and help you. When you go rallying, it just multiplies the expense by whatever, but there's nothing that beats the rallying, or the racing.
"This is a great discipline and a great place to learn how to drive," Gerry said.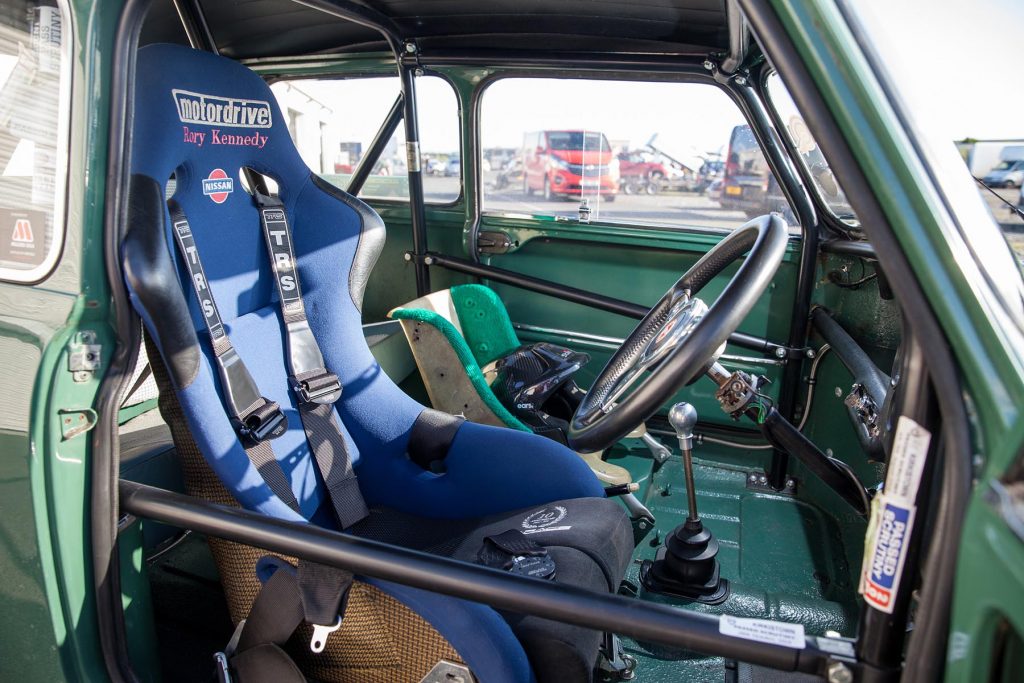 As a native from Irvinestown, the St. Angelo Airfield based sprint, organised by Enniskillen Motor Club, is Gerry's favourite event of the sprinting calendar. As it is on his doorstep, it's where he debuted his space-framed, motorbike-engined, rear-wheel-drive 'MINI Countryman' which he hopes to use for this coming season.
The car photographed is the one which has brought Gerry McGarrity great success the last few years and is a MkI MINI which runs in the road-going historic category.
Gerry explains "It's probably a 1959 shell because it's really early type and it's one of the lightweight shells. The car is registered 1965 and when I bought the car, it was a one-owner for 30-years. The man died and his next-door neighbour bought it and when it came up for sale again, I bought it and brought it home, despite not seeing it beforehand.
"The engine was removed, so I got it all back going again, got an engine and got it all back to the way it was and then it sat there for a few years as I'd been busy rallying and running other cars," Gerry continued.
"The Enniskillen sprint came up about five or six years ago and I thought, "Why not take it out and do the sprint, sure it's handy, and it's only up the road," so I pumped up the wheels, entered the class with Meryn [Johnson] and all the others and won the class.
The rest, as they say, is history as Gerry was sucked back into the hot-seat!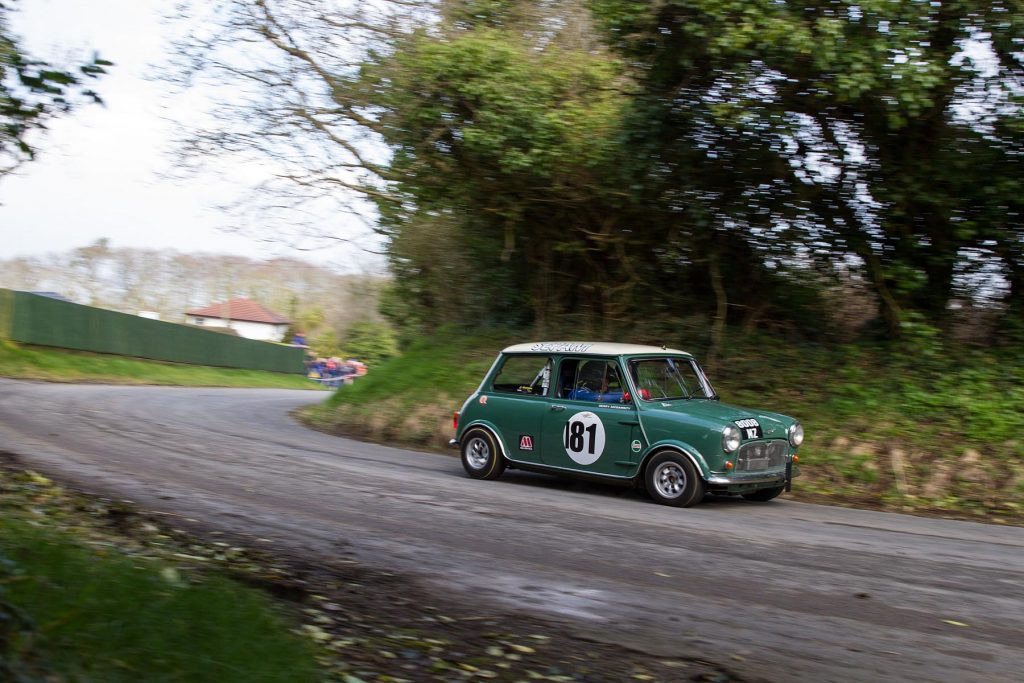 Engine wise, the MINI runs a 1275cc unit bored out to 1340cc with a modified head, 649 cam and a Weber carburettor on it with close ratio gearbox and limited slip diff.
Chassis wise, the car runs Cooper S brakes and Gerry has put a lot of time and effort into the suspension and feels he can drive it as hard as it can go and, having watched Gerry in action over the last few years on hills and sprints, the MINI forgives his 11/10ths driving style.
Words & Photos: GRAHAM BAALHAM-CURRY
images must not be used in any way without prior written consent of the photographer