One of the Emerald Isle's largest automotive events took place at the weekend under a very different guise thanks to ongoing restrictions on large gatherings.
Instead of several hundred cars on display as a static show, as has been the case for a decade now, with over 10,000 spectators, DubShed 2021 was a closed-gate affair featuring the extreme sport of Gymkhana, in the form of Monster Energy Gymkhana GRiD.
So what is GYMKHANA, [jim-ka-nuh]?
An automotive sport that takes place on an open field or parking lot and requires drivers to skilfully manoeuvre their cars around a series of cones, slaloms, 180 degree turns, 360 degree turns, figure eight turns or other obstacles using extreme acceleration, braking, and drifting.
Similar to "autotest", Gymkhana courses are often very complex and memorising the course is a significant part of achieving a fast time.
American co-founder of DC Shoes, Ken Block, wanted to take this concept further and on a larger scale, resulting in Gymkhana becoming an internet phenomenon.
A total of ten YouTube released videos of perfectly choreographed courses left tens of millions of viewers flabbergasted worldwide. This flamboyant sport is a cinematographer's dream, the coverage from which is worth its weight in gold for any marketing department.
As one of monster Energy's most influential athletes, Ken Block firstly worked with Subaru before moving over to Ford. Unlike competition events, Block was able to have multiple attempts at each and every obstacle on these videos, creating the perfect end product.
Better known locally as the motorsport discipline "autotest", Northern Ireland has provided some of the best precision drivers the world has ever seen,wWinning the coveted Ken Wharton Memorial Trophy countless times against stiff competition from teams Ireland, Scotland, Wales and England.
Some of those involved within the autotest fraternity here in NI have gone on to work as stunt drivers with the likes of Top Gear and even with Hollywood blockbuster movies.
This brings us to the Eikon centre on the outskirts of Lisburn, and a GTi NI hosted event named Gymkhana GRiD. A 'Dubshed Golden Ticket Qualifier for the Gymkhana GRiD Final 2022' which will see two winners from this event jet off to Los Angeles, with their cars, to compete against the world's best.
For most readers, GTi NI and DubShed in particular, have next to nothing to do with motorsport and you would be forgiven for thinking that. However, I am of an age where I remember fondly track days and drag racing events organised by what was then Club GTi Northern Ireland region.
The majority of those organising the events back then, are what have become GTi NI, today. In preparation for this all-new event which will hopefully return alongside the static show in years to come, it became apparent that I have been somewhat of an official media partner and friend of the club for two decades.
The craic has been ninety for all of it, I must add, and having dipped their toes with motorsport many years ago, successfully too, it was static car shows that proved to be a big winner for the guys and girls involved.
Castlewellan Forest Park was home to a well-supported and very relaxed summer show for several years. The former King's Hall Complex in Belfast became too small to host DubShed, which then moved to the Eikon site at the former Maze prison, and has become one of Ireland's biggest car shows with entrants travelling from across the UK and Europe.
An end-of-season event at the Titanic Pump House and Dry Dock in Belfast is a firm favourite to close the calendar and see's entrants from across the Ireland and GB.
Just last month we attended an event named Euro Treffen, which was held just outside Larne and attracted over 300 vehicles, which for a first-time show is a commendable turn-out.
This brings me to another first. DubShed Gymkhana GRiD.
A few years ago Monster Energy driver, Derek 'Buttsy' Butler, travelled to the event to put on a drift demo. That same weekend, Ken Block was in Northern Ireland to visit a friend in Co. Armagh who has a collection of interesting rally cars.
Block's RallyX team-mate at the time, Andreas Bakkerud, attended DubShed and, on chatting to him at the event, he was very impressed with what Northern Ireland had to offer with its car scene.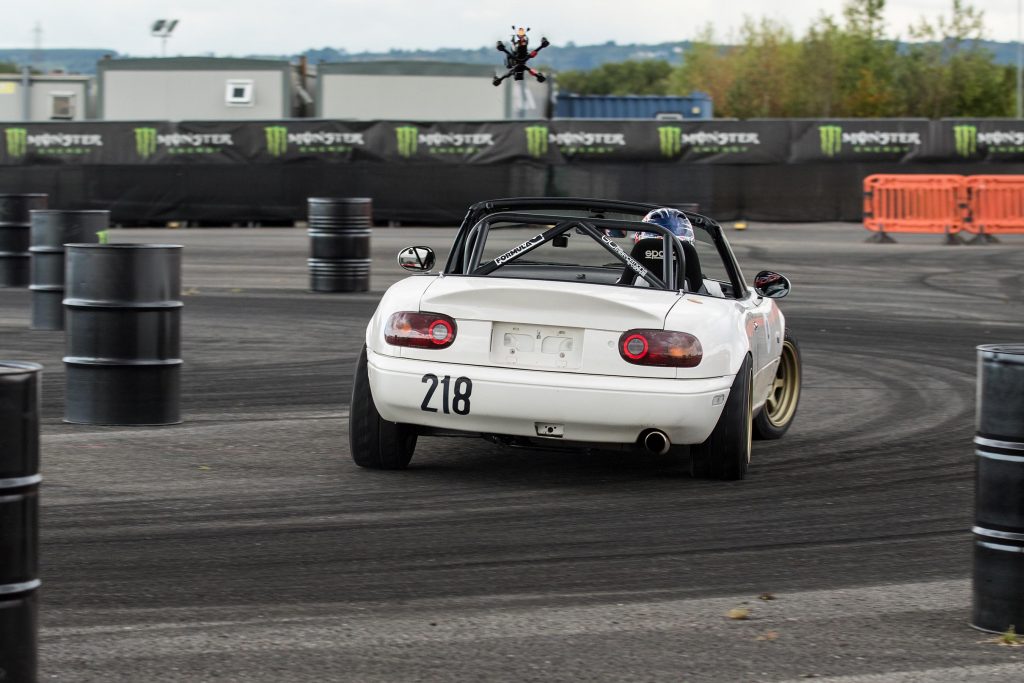 I guess it is safe to say that this strengthened an already good relationship for many years, with Monster Energy, and a proposal to host a qualifying round of Gymkhana GRiD alongside the DubShed event was agreed.
Covid said no, however.
A year later and DubShed is still unable to run in its usual format due to ongoing restrictions on large gatherings. However, the Gymkhana GRiD qualifier was able to run behind closed gates over two-days.
As the sole event for UK and Ireland, as well as being hosted in rallying's own country, which is filled with autotest legends, a strong entry was hoped for.
Sadly, though, less than a handful of all-wheel-drive entries were received and the rear-wheel-drive entry was missing some incredibly great local drivers and cars. Having personally put feelers out to all the right people locally, I was somewhat devastated for my friends at GTi NI.
Saturday morning saw competitors arrive at the Eikon Centre to set up, put their vehicles through technical inspection and go for a track walk to familiarise themselves with what lay ahead.
Saturday afternoon allowed for a few hours practice ahead of the main event on Sunday. Open practice before lunch on Sunday allowed any final tweaks to be done on the vehicles before the first competitive runs at 1400hrs.
The Top 5 from each class in timed Session 1 got through to the next round, with the Top 2 from timed Session 2 progressing to the final, where a trip to LA awaited the winners.
The winner of each class, as follows:
All-wheel-drive – Dmitrij Sribnyj (ENG), Subaru BRZ.
Rear-wheel-drive – Steven McConnell (SCO), Nissan PS13.
Here's hoping that many drivers capable of fighting at the top of this event will realise just what they missed and be eager to get an entry in next year, should it return, which I hope it does!
Words & Photos: GRAHAM BAALHAM-CURRY
Images must not be used in any way without prior written consent of the photographer