Some expressed a view that the "Final Fling" race meeting that was to be held on Saturday 23rd October 2021 at Kirkistown Racing Circuit might turn out to be a bit of a damp squib. There were no single seater formula cars in attendance and these usually provide great racing.
However, the meeting turned out to be brilliant and the spectators were treated to some classic, competitive, close racing.
The first race of the day was a combined grid of GTs, Saloons and Mazda MX5s. Dungiven's Gerard O'Connell's space-framed Ford Escort was on pole position, with Lurgan driver, Peter Baxter, first of the Saloons, along-side in his Seat Supercopa. Templepatrick's David Beatty, in his Ginetta G50, was third beside Nutt's Corner driver, Donal O'Neill, in an early Seat Leon.
When the lights went out, O'Connell shot into a lead he would never relinquish. Baxter grabbed second place. Beatty got sideways as he dropped the clutch before getting it together. He and Lisburn's Greer Wray, in a BMW 330i, along with the very fast starting Gregory McMillan in a Mazda MX5, got past the slow starting O'Neill on the first lap. By the end of the lap, Wray had a car issue and had dropped to 11th. On lap 3, O'Neill passed McMillan for 4th on the road. Wray was now having a great battle with Jim Kennedy, from Culloville, in another of the Mazdas. Kennedy finally got the better of Wray's sick BMW by the end of lap 4. Meanwhile, Dundonald's Keith Wray, who had had an issue on lap 1 in his BMW 330i, and dropped to dead last, was now climbing back up the order. On lap 6 he passed both Nutt's Corner's Eórann O'Neill in her Vauxhall Vectra and his brother Greer. For the next 4 laps the Wray brothers traded places regularly. On lap 10, Baxter's Supercopa had to retire. This moved Beatty's Ginetta into second and O'Neill's Leon into third. One lap later, O'Neill began to slow dramatically. The top four Mazdas passed him as did Ashbourne's Dan Keelan, in his Fiesta ST. In the end, he finished 10th on the road, right behind Keith Wray. The final results were 1st in GTs, Gerard O'Connell, 2nd David Beatty. 1st in Saloons, Dan Keelan, 2nd Keith Wray, 3rd Donal O'Neill. 1st in Mazda MX5s, Gregory McMillan, with a new lap record for Mazdas, 2nd David Cousins and 3rd Newry's Damian Moran.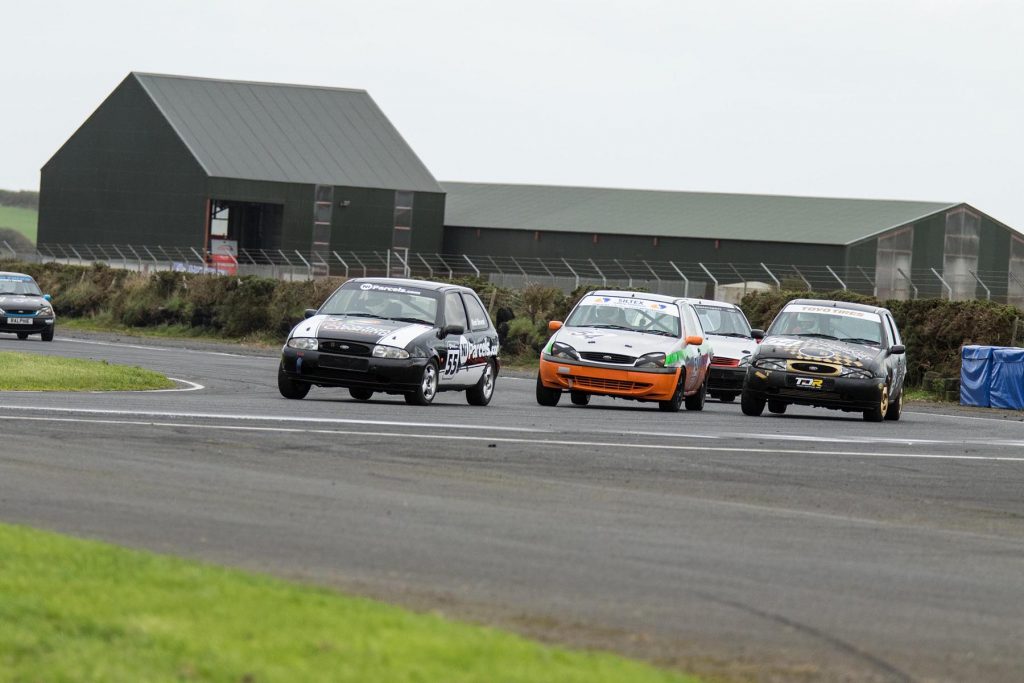 Race 2 was for Ginetta Juniors and was for the Ann Stevens Trophy. Sé Óg Martin, from Dunloy, led from start to finish but it was not an easy win. Both Sean McGovern and Bushmills driver, Ben McFaul kept him honest, while tussling with each other. Meanwhile Strangford's Ethan Campbell and Kallum Graffin, from Toomebridge, were having their own battle, while not dropping too far from the leaders. In the end Campbell not only got the better of Graffin, he also passed Mc Fall for third on the final lap.
Race 3 was the first Fiesta encounter. This championship had not been settled and five drivers were in with a mathematical chance. Portadown driver, Michael Graham, is in his first year of racing has been consistently just behind the top runners all season, quite often finishing 5th or 6th. However, on this occasion he must have had a special breakfast, having just missed qualifying on pole by 5/100th of a second from Belfast driver, Mark Stewart. When the lights went out, these two broke away and began swapping places on almost every lap. Neville Anderson was in third, ahead of German driver, Timon Dohnke. Colm Barrable, from Dublin, dropped from 4th to 7th on the first lap. Megan Campbell, from Strangford, rose to 5th and Dan Keelan, from Ashbourne, was 6th. Anderson pulled out a gap, to make 3rd place safe. Behind him Barrable was fighting back, passing Keelan and Campbell on lap 2. Campbell came back at him on lap 6 but he repassed her and went after Dohnke, passing him on lap 11. All eyes were on the battle at the front. On the 11th lap, Graham passed Stewart into Maguire's Hairpin. From there he defended all the way to the finish, 2 laps later. However, post-race, the stewards decided that he had passed under yellow flag conditions and docked him 10 seconds. This gave Stewart the win. Graham kept 2nd place. Anderson was 3rd, Barrable 4th, Dohnke 5th and Campbell 6th.
The final race of the morning was for Roadsports. Qualifying times suggested a very close and fast race but the Gremlins came out in force, removing Newtownabbey's Jim Larkham and Crossgar's Niall Fitzsimmons from the starting grid. Thus, it was Lisburn's Trevor Allen who initially took the lead in his Radical. John Benson, from Holywood, was 2nd in his Crosslé 37S and Blackrock's Bernard Foley was 3rd in his Crosslé 42S. On lap 4, Allen retired. By this time, Belfast's David Mutch was up to 3rd. Behind him, a fierce battle was going on for 4th place, involving Billy Crosbie, from Dublin, in a Crosslé 9S, Paul Thompson, from Banbridge, in a Stryker and the Francis brothers, Richard and Mark, from Donaghadee, driving a Westfield and a Caterham respectively. Mark Francis got up to 4th, only to retire on lap11. Richard had retired 2 laps earlier! Now, it was Thompson in 4th, with Crosbie 5th and Greg Elliott, from Banbridge, 6th. At the flag, it was Benson from Foley, ahead of Mutch.
The first race after lunch was a re-run of the Saloons, GTs and Mazda MX5s. For some reason, Gerard O'Connell was starting 7th on the grid. After 2 green flag laps, the red lights went out and it was all a bit mad into the Colonial Complex. Greer Wray had got the jump on both Donal O'Neill and David Beatty. Peter Carvill, from Dundonald, also was in the mix. By the time the leaders were exiting the Crosslé Chicane, both O'Neill and Beatty were line abreast and about to overtake Wray. O'Connell war right behind, with no way through. Not to be denied, he took to the old track surface on the left and passed all three in a hail of stones and dust! His tyres must have been a mess as he braked for Maguire's Hairpin. Beatty settled in to 2nd place and steadily pulled away from O'Neill, who was doing the same from Wray. By lap 3, Gregory McMillen, who had started from 12th place, was now up to 5th. Keith Wray, Peter Carvill and Dan Keelan were having a great battle over 6th on the road and Moira's Francie Allen was knocking on the door in his Mazda MX5. Keith Wray got the better of Carvill on lap 12. The final standings were GTs, 1st, Gerard O'Connell, 2nd David Beatty. Saloons, 1st Donal O'Neill, 2nd Greer Wray, 3rd Keith Wray. Mx5s, 1st Gregory McMillen, 2nd, Francie Allen, 3rd, Damian Moran.
The Trackskills team were the happiest in the paddock. Having worked until the small hours of the morning trying to get 2 Vauxhall Vectras, that hadn't turned a wheel in 6 years, to fire up and go, they were elated to bring 5 cars to the finish in this race.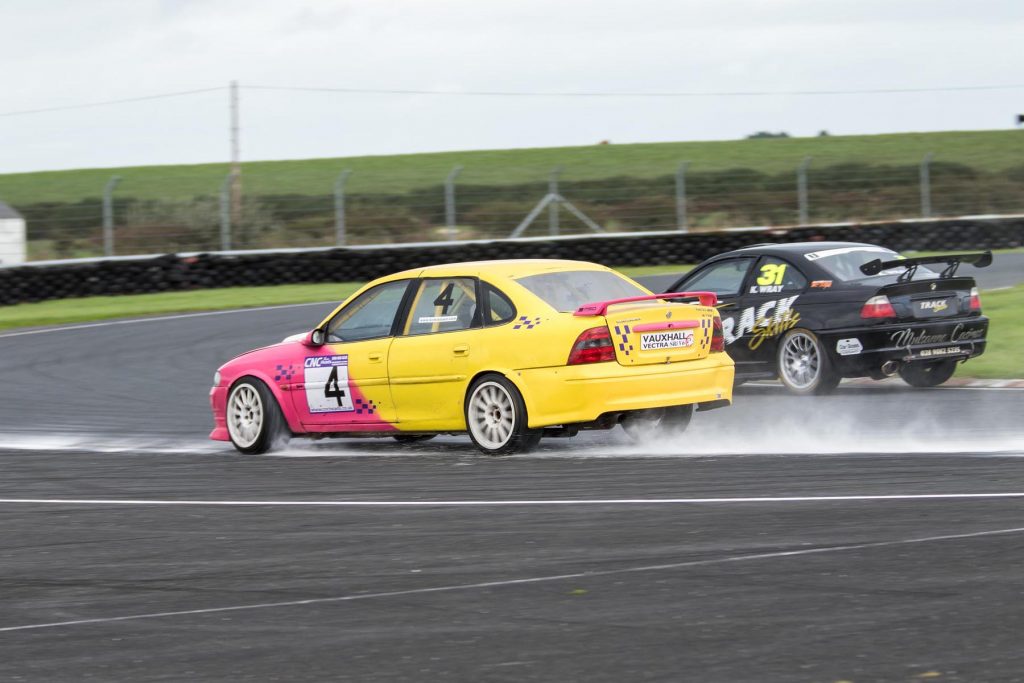 In the second Ginetta Junior race, Sé Óg Martin again led from start to finish. Sean McGovern and Ben McFaul had a clean, race long battle, with places changing constantly, right up to the final lap, when McFall persevered. Ethan Campbell spent 7 laps trying to get past Kallum Graffin, before making it stick on lap 8.
Race 7 was the Championship decider for the Kirkistown Fiestas. With the top six finishers reversed on the grid, Megan Campbell got away into a lead that she would hold for five laps. Lap 2 saw a massive reshuffle which included Neville Anderson, Colm Barrable, Timon Dohnke, Dan Keelan, Mark Stewart and Michael Graham. At the end of that lap Stewart was 2nd, Barrable 3rd, Dohnke 4th, Anderson 5th and Graham 6th. Dohnke moved up to 2nd on lap 5 and one lap later, took the lead. However, on lap 10, Campbell regained it before getting shuffled all the way back to 6th! Meanwhile, Graham had steadily been climbing up the order and on lap 11 he took the lead. However, Stewart, who had also been demoted as low as 6th was charging back and on lap 12 he took the lead for the first time. Such was the tight order at the front, Dohnke was demoted from 2nd to 6th on the final tour. The last lap was mighty. As they crossed the line, Graham and Stewart were totally inseparable, both credited with the win! 3rd was Keelan, 4th Barrable, 5th Campbell and 6th Dohnke. Thus, Mark Stewart is the 2021 Kirkistown Fiesta Champion!
The final race of the day was for Roadsports. 10 cars took the start. Trevor Allen immediately took the lead, only to retire at the end of the lap. That left Niall Fitzsimmons to have an unchallenged run to the finish. Similarly, John Benson had an untroubled run in second place. Things were not so straightforward for 3rd. Bernard Foley held that position up to the end of lap 7 but on the next tour both Paul Thompson and Richard Francis got past. David Mutch ran in 6th place for the whole race bar one lap when Mark Francis briefly got through.
Newtownabbey's Jim Larkham, who had already sown up the Roadsports Championship for 2021, had the quote of the day. Since his car had expired after practice, he was watching from the pit wall and was heard to say, "I'm not racing Roadsports again. They're far too quick!"
So ended the 2021 season. The racing has been great, as has the organisational procedures. People are already talking about 2022!
Finally, a massive thanks has to go to the ladies and gentlemen who are our marshals. Without them, there would be no racing.
Words: DONAL O'NEILL/500 MRCI | Photos: GRAHAM BAALHAM-CURRY
Images must not be used in any way without prior written consent of the photographer