There can't be many petrol-heads around who haven't had a Ford crush at some point during their childhood, you can in fact almost guess a person's age based on their favourite 'Fast Ford' and we saw a lot of them at the recent RS Owners Club Regional Day in Antrim.
For the eighties child, including myself, the models to lust after were either the Escort RS Turbo and for me the Fiesta RS Turbo, or perhaps the Sierra RS Cosworth which was most loved in rear-wheel-drive set-up of the earlier cars, before converting to all-wheel-drive.
For the nineties kids on the other hand, Ford arguably reached the peak of their powers with the introduction of the Escort RS Cosworth. Its over-the-top design, muscular arches and tea-tray spoilers will always be a total head turner, it not only looked awesome on the road, but excelled in rallying too.
Looking best in Imperial Blue, like the model below recently rejuvenated by McNeill Motorsport, this particular car is one which I have fond memories of, thanks to a few road-trips across the pond as well as uncountable track days, and without delving into incriminating detail, enough 'enjoyable runs' across the Antrim plateau for it to leave a lasting memory.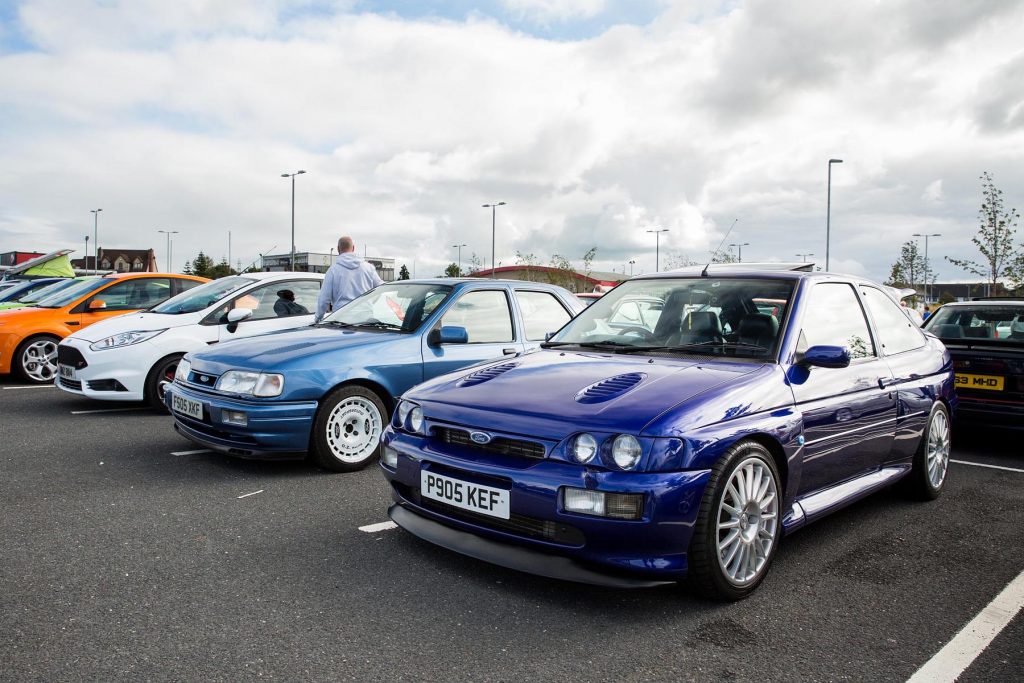 In the world of motoring, there can't be more passionate or enthusiastic car owners than those who own anything with a blue oval badge. Generations of Ford owners, young and old gathered at 'The Junction', just off Junction 1 in Antrim.
The early autumn sunshine was a welcome sight, the clear skies providing the perfect backdrop to highlight various features of over 100 Ford models.
Some highlights for me on display include the Red X-Pack MkII Escort which seems to be gathering up trophies rightly, in what is a very reduced show calendar this year. A Moonstone Blue Escort Cosworth caught my eye as I cannot recall ever seeing one in this colour.
Also catching my eye was the Magenta Granada Scorpio 24V and Sierra P100 TruckMan, along with the MkI Escort rally car on-tow behind a period livered Transit rally service van. A Yellow Mitsubishi Evo snuck into the event and sat absolutely perfectly on its dark Speedline wheels.
Posting to Facebook after the event, the RSOC NI commented, "Following a successful End of Season Display at The Junction Retail and Leisure Park, our committee has made a donation of £600 to the family of a local woman, to help raise funds for her specialist cancer treatment. We thank everyone who came along to our show and made this possible."
Words & Photos: GRAHAM BAALHAM-CURRY
Images must not be used in any way without prior written consent of the photographer