First held eleven years ago Titanic Dubs has become the unofficial closing event of the Northern Ireland car show calendar and it returned to its original historic and picturesque venue on Saturday 7 October 2023.
After a sabbatical from Belfast Docks last year, due to building works ongoing at the Titanic Dry Dock and Pump House, thanks to it being transformed into a distillery, the event rebranded and moved to an equally picturesque location at Scarva Demesne in Co. Down.
Scheduled to return to Scarva a few weeks ago, plans changed dramatically due to a week-long torrent of precipitation that rendered the venue untenable. Despite being well-kept agricultural land that runs close to the main house, it was simply much too sodden to host such an event.
The good folk at GTI NI always pull out the stops, and thanks to retaining a close relationship with Belfast Docks, the Harbour Police and especially the Titanic Pump House, it was arranged to bring 'Titanic Dubs' back after a year out.
With just a few weeks' notice, word spread around the scene like wildfire and being open to all motors of German origin, it was hoped that the event would return in strength by numbers. That it did, as around 160 show cars arrived to display on a dry and unseasonably warm Autumn Day.
I have been around this event for most of its tenure, and have seen it strive in the early days, before numbers dwindled a handful of years ago. In more recent years I reported that its popularity had returned, and participant numbers increased testament to the organisers' commitment and professionalism.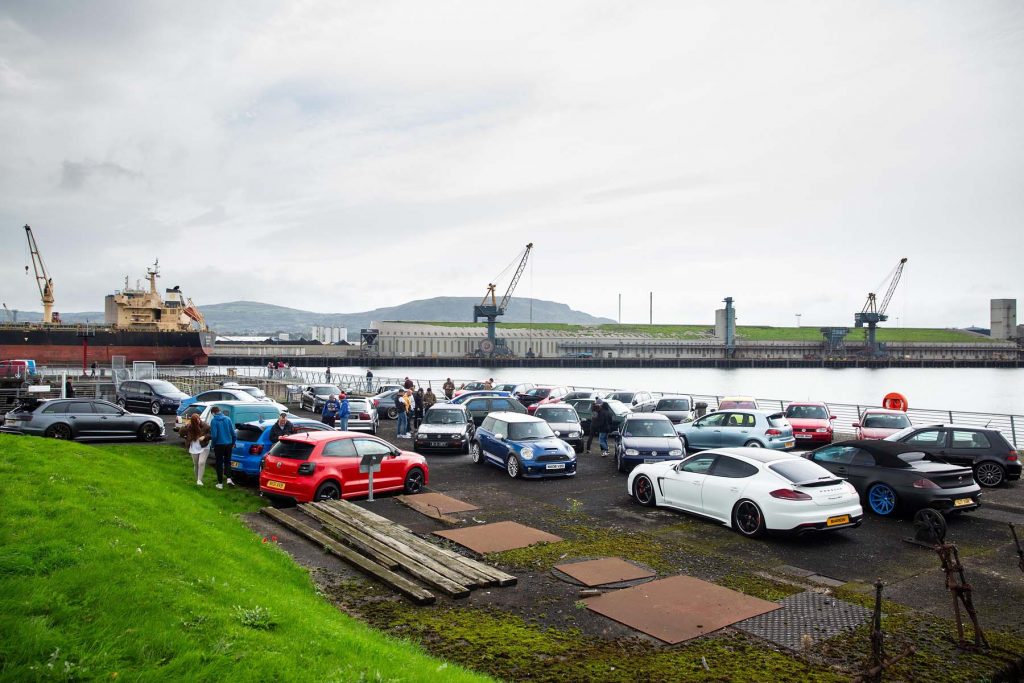 The central Belfast location is great for a show that in one area has restomod Beetles, another modified Caddy vans, bagged Golfs and Jettas elsewhere and VW Buses ready to camp out!
It's not just members of the Volkswagen Audi Group stable invited to Titanic Dubs now either. With the criteria slightly tempered we now get to see superb examples of other German marques such as BMW.
Retaining its super-relaxed atmosphere, where all styles of vehicle modification, as well as almost stock cars are accepted equally, some of my personal highlights include the Silver Opel Calibra 16v, and as the person who created a unique yellow Seat Cordoba Vario, I grinned more that I should at seeing the Yellow MkIV Golf with 3-spoke wheels and tints more usually seen on a Safari rally car. Whoever created it didn't think outside the box, they ripped it up and threw it in Belfast Lough on their way in. Well done!
Others that grabbed my attention included a Blue MkIII Golf on OZ Polaris wheels, a slammed dark Green S8, an even more slammed and wire tucked Blue 5 Series, and a Beige Jetta with a VR6 engine swap. A Black Passat saloon ticked the boxes in every category of modification with a USDM inspiration to it.
Every classic Beetle on display deserves a mention, they are such an iconic car in whatever guise they are presented in. And finally, the Pastel Green Mini fitted with Bride seats was just outstanding.
Words and Photos: GRAHAM BAALHAM-CURRY [Images must not be used in any way without prior written consent of the photographer]