Saturday 28 September 2019 saw the 7th round of the SW Adair Tyres Northern Ireland Sprint Championship arrive in Nutts Corner race circuit on what was a lovely warm but crisp Autumnal morning.
It transpires that a lot of drivers had spent the previous night on their knees praying, but as usual with a group of race drivers there was no joint approach. Some wanted the well forecast rain to come, whereas others were praying for a warm sunny day. On this occasion the latter seemed to have their prayers answered as Saturday turned out to be a surprisingly warm dry day, much to the disgust of some.
There was a momentous start to the day when the drivers, marshals and spectators came together to wish Pat McAleer a happy birthday. Pat who had just turned 89 was up with the larks on Saturday morning setting up the time keeping equipment around the circuit before it was properly day light.
For those who know Pat, you will know that this is something he has done for more years than he will care to remember. It was therefore a great and fitting tribute by the Sprint Championship contenders to show Pat a token of their appreciation as he was presented with a birthday cake on behalf of all the drivers. As always with Pat its fair to say that he was delighted but embarrassed to be in the limelight.
With a quality entry of 58 starters the North Ulster Car club commenced practice shortly after 1030 and the action began in earnest. With Practice going without a hitch Timed runs commenced and as usual Championship leader Adrian Pollock set the scene with a blistering run of 90.97 secs. Indeed Adrian`s first run was so good that even he couldn't equal or beat it over the remainder of the day and Adrian's first run turned out to be fastest time of the day.
Steven Gault had other ideas and did his best to try and catch Adrian despite lady luck giving him a big dose of bad luck. Sadly Stevens alternator packed up during first practice so Stevens Dallara spent the day connected to the battery of his Honda CRV just like it was a life support machine. Fair play to Steven who, once again, overcame the odds to take a fine second place with a second run of 91.59 secs, a mere 0.62 seconds behind Adrian.
Trevor Roberts was in superb form on Saturday morning and set a blistering run of 97.47 in his little Jedi to take third place overall. Trevor was absolutely flying and showed everyone just how well he has taken to the little Jedi this season. Trevor is bound to be reading this now and wondering what brought him more luck Trevor McIlroy being there to cheer him on, Or Fel McIlroy not being there as she was other ways engaged in Marshalling duties at Kirkistown. We will know better in under a fortnight when we see who he takes to Kirkistown with him
It was great to see some more entries from some non regular championship contenders who were out for a day's craic amongst a great atmosphere. Conor Hamill (aka Garmin) brought his V8 BMW M3 out for a run and takes the not so slowly sideways award for a sterling drive in what is a very powerful, but slightly unwieldy car to throw round such a tight circuit. A note to the wise however, don't take directions from Conor as he was allegedly observed driving the wrong direction away from Nutts Corner on Saturday morning. Whilst these reports are unconfirmed, Conor did let slip that it took him longer to get there than he expected!!
Another fabulous sight to watch was that of Stephen Nevin as he continues to come to terms with his newly built Mark 1 Escort. Stephen set a blistering run of 113.7 sec to finish up seventeenth overall. I was very lucky to be given a guided tour round the car by Stephen himself and to say it is beautiful just doesn't do it justice. I guarantee that even the Ford designers could not have envisaged such a well built, well painted and simply stunning car. The car is simply so stunning that it's a shame to see it being used in competition. I did warn him that if I saw him on a rally stage with it that I wouldn't be letting him start. It really is that good.
Another Hillclimb regular Adrian Mulholland debuted his newly built Mark 2 which he has built for class 2a in the Hillclimb championship. Again, as you`d expect with Adrian the car is simply stunning however Adrian only completed 2 timed runs before heading home early.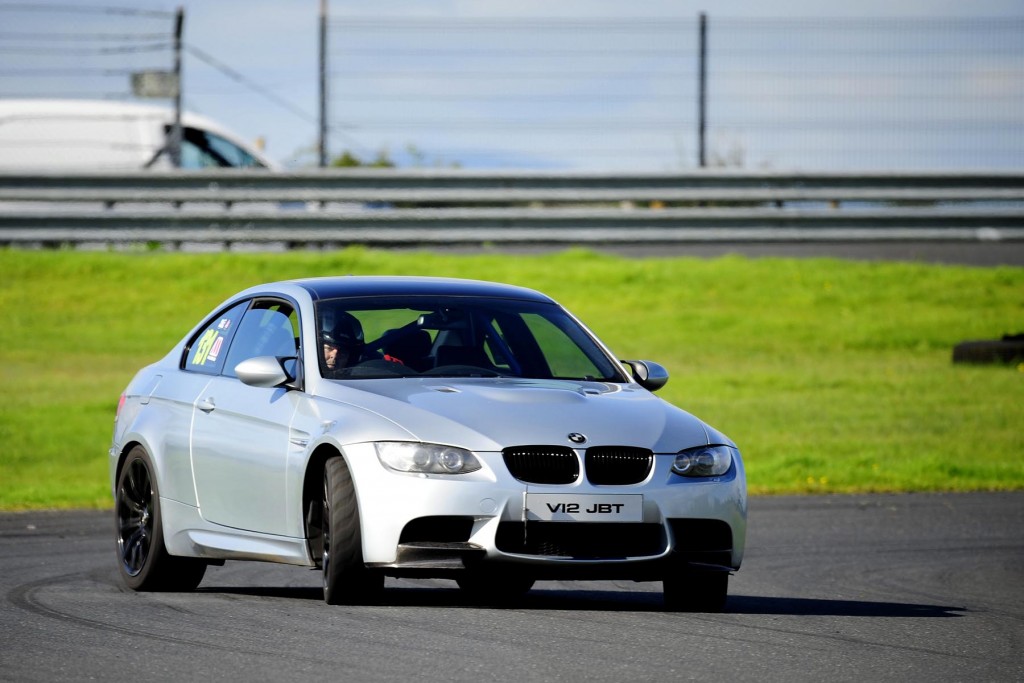 In the modified battle Oliver Cormican set out with the goal of a Category win to maximise his lead at the top of the category. As always with Oliver he drove the wheels off his Mitsubushi Evo and was taking the challenge so seriously that he was observed checking spark plug gaps between runs! Now that is commitment. In Oliver's case this attention to detail paid off as he took not only a class win but also the modified Category win.
He did however leave it late as Stewart Strain did make him sweat a time or 2 though as Stewart pushed Oliver hard. As they went into the third runs Stewart was in front but Oliver pulled a cracker run to take the win by mere0.09 secs from Stewart Strain. Third in the Modifed category went to Norman Armstrong who made another appearance in his venerable Mk 2 Escort.
The Roadgoing category was, like on so many occasions this year, dominated by Andrew Robb. Andrew, who lives a stone's throw from the circuit took his 6th win from 6 starts in the Sprint Championship this year. He has already won the Class 2 Hillclimb championship as well as being virtually unbeatable in the Sprint Roadgoing category and class championship. Michael Clarke, who was in superb form, took a fabulous 26th overall and second in Roadgoing category and became the meat in a Bavarian Sandwich as Conor Hamill Slipped and slithered his M3 into third.
Stephen Nevin was the Historic to beat as he took Historic honours in his stunning Escort Mk1. Gerry McGarrity was second placed Historic as he once again thrashed the little mini to a whopping 38th overall. It really is awful to see such a beautiful wee car thrashed to with an inch of his life. When I told him this after the event he gave me a wee chuckle and said, "It'll go harder you know". I dread to think where he intends to find more time. If he drives on any fewer wheels he'll need a unicycle.
With Gary Milligan doing Competitor Liaison Duties in the Cork 20 Rally Karl Johnston took the honours for the fastest mini in the West as he went 3rd in class 6a and 33rd overall in his Mini Midas.
Words: DAVID EVANS #154 | Photos: Gary Craig Motorsport Photography 
[images must not be used in any way without prior written consent of the photographer]