Motorsport Ireland Rally Academy driver William Creighton secured the prestigious Junior British Rally Championship title after taking second place at last weekend's Modern Tyres Ulster Rally [20 November].
Creighton, who celebrated his 24th birthday at the event, ensured he had the best present possible by taking the title at the third attempt, after twice finishing as runner up. The Moira driver also ensured long-time co-driver Liam Regan could take his second British Rally Championship title after securing top honours in 2019.
Taking his Creighton's backed Ford Fiesta Rally4 to second place in the Junior category on his home round would be all that was needed to clinch the title after taking a blistering four wins in 2021 to ensure the coveted honour finally adorned the Motorsport Ireland ace's CV.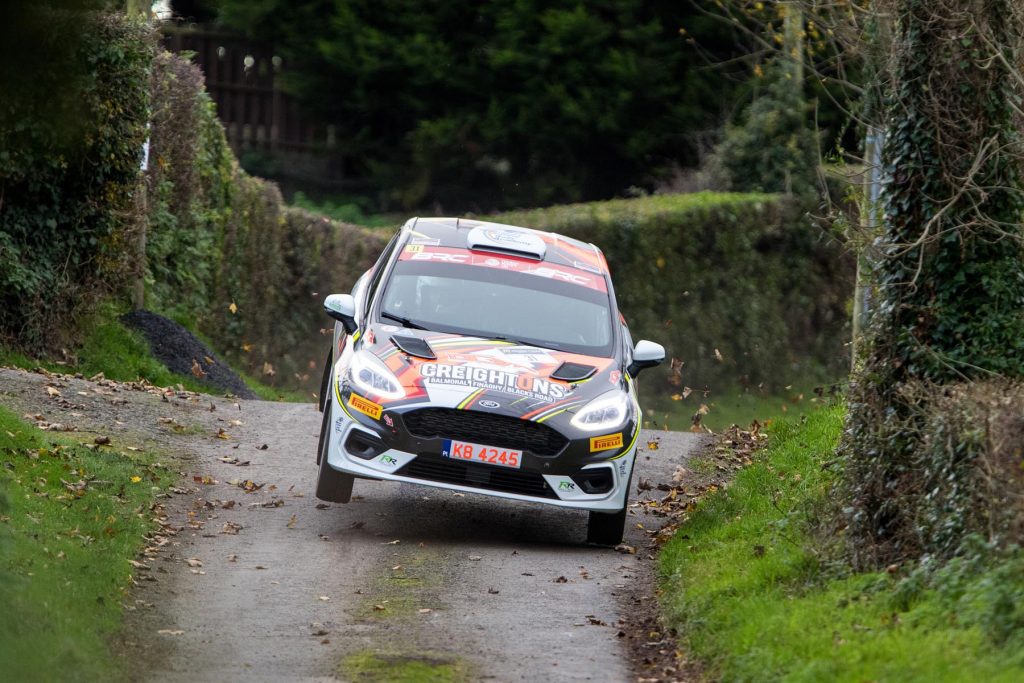 "It's a truly fantastic feeling to finally become a Junior British Champion," said an elated Creighton.
"I'm so delighted with the result and to finally get the title means so much. We made it quite hard for ourselves this season after not finishing the Nicky Grist, so we knew we had to score maximum points on every other round. I'm just so happy to get this result today, now I just want to enjoy this moment, it's been a long time coming."
Creighton has enjoyed a buoyant career behind the wheel after graduating from the Junior 1000 series, taking both the UK and Northern Ireland titles in 2014. A progressive rise up the ranks saw class wins on both gravel and asphalt surfaces with an Irish Tarmac Championship title in 2016 a sign of things to come.
Becoming Junior BRC runner up in 2017 was replicated in 2019 and Creighton would mount an impressive campaign in both the Junior World Rally Championship and British Championship in 2021 in a bid to obtain further experience of European events.
On the world's stage, Creighton would go head-to-head with some of the best Juniors in the business and impressed on his debut year. A plethora of fastest times ensured the season was a success and offered the perfect grounding for the future.
His British campaign was an impressive one, with just one non-finish and taking wins across the season meaning he would only need to finish in the top seven to clinch the coveted title.
Nine gruelling stages and 94 stage miles near Newry would stand in his way and with the addition of the unpredictable November climate to add to the equation, it would mean it would not be a clear-cut task.
However, Creighton took it all in his stride. Five fastest stage times would see him secure second place and in doing so, the sought-after Junior British title. It would also mean that the young ace will tackle a round of the 2022 FIA World Rally Championship behind the wheel of a Hyundai Motorsport Customer Racing i20 N Rally2; a truly `money can't buy` opportunity.
"That was the longest stage of my life," said Creighton at the finish of the final test.
"I didn't even want to think about the WRC prize before today to be honest but now reality has set in, it really is such an exciting and privileged opportunity. We have worked so extremely hard this season and it's a testament to the Motorsport Ireland Rally Academy that I`m in this fantastic position. The title means everything to me and I could not have done it without the support of my family and sponsors. I really can't wait to see what 2022 holds for us but for now, I'm just going to savour this moment".
Photos: GRAHAM BAALHAM-CURRY
[Images must not be used in any way without prior written consent of the photographer]