The racing season finally got under way at Kirkistown Racing Circuit in County Down on Saturday 25th July, after a Covid-19 enforced hiatus since March.
Under closed gate conditions, the 500 Motor Racing Club of Ireland produced an eleven race programme that covered their domestic championships for cars and Superkarts.
Fittingly, the N.I.FF1600s got the ball rolling. The Randalstown Rocket, Alan Davidson, put his newly acquired Mondiale M89s on pole. This is the sister car of the one he had been racing for Hugh Reid, during the last few years. Ballymena's David McCullough was along side him on the front row. Ballina father and son team, David and Robbie Parks filled the second row, while Lisburn's Scott Finlay, now driving the Reid Mondiale, and Carrickmacross driver, Trevor Delaney, filled row three.
Davidson got a poor start, letting both McCullough and David Parks past. Robbie Parks also had a terrible first lap, dropping to ninth place. Finlay passed both Delaney and Robbie Parks to run fourth.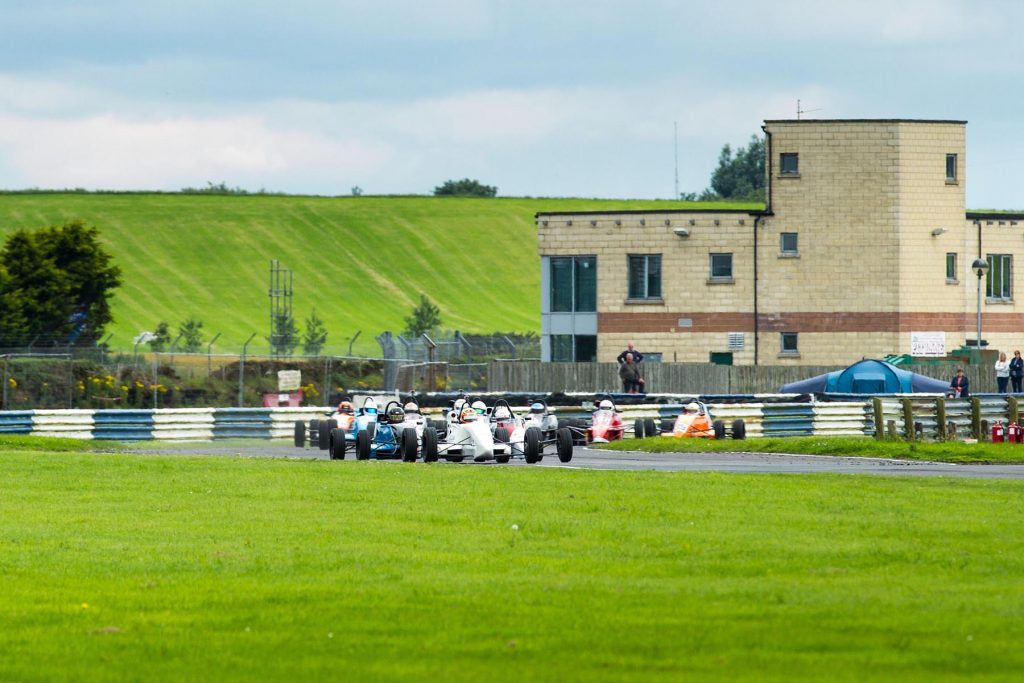 On lap 6 David Parks got past McCullough for the lead, which he would hold until the end. Meanwhile Davidson stopped on lap 4, putting his "old car", with Finlay at the wheel, into third. Unfortunately, Finlay would also stop on lap 8. That left Delaney in third. At the finish it was Parks from McCullough and Delaney. Antrim's Drew Stewart was fourth, ahead of a recovering Robbie Parks in fifth. Ballyclare's Mike Todd was sixth.
Just five cars took the start of the first of two Roadsports races. Lisburn's Trevor Allen just put his Westfield SEi on pole, ahead of John Benson's Crosslé. These two had a great race, swapping places numerous times, before Benson retired, handing the win to Allen. Welling's Steve Morris was second in his Crosslé 42S. Third was Paul Thompson, from Banbridge, in a Striker.
The first of three Superkart races saw Lisburn's Liam Fox lead from start to finish. That is not to say that he had it easy. Just behind him, Bangor's Colin Menary, Comber's Stuart Coey and Scarva's Brian Jones were tripping over each other to get on his tail. Eventually, Coey established himself in second place. Menary took third.
Comber brothers Alan and Peter Crossen battled throughout for the 125cc honours, with Gilford's Scott Greenaway keeping them honest all the way. Eventually, it was Alan who took the spoils.

The Saloons and GTs produced a large grid of fourteen cars. Gerard O'Connell, from Dungiven, put his space-frame Escort on Pole, ahead of Stephen Traub, from Belfast, in a Honda Integra. O'Connell cleared off into the distance from the very start while Traub did likewise in the Saloon class. Ciaran Denvir, from Downpatrick, moved into third pace in his Honda Civic on lap 2, demoting Hilltown's Paul Parr in an RT2000. Denvir's machine quit on lap 9 and Parr began closing on Traub, who was experiencing fuel starvation. Meanwhile, Peter Baxter, from Lurgan, was coming through the field in his Seat Leon. On the final lap, Parr caught the ailing Traub, who just managed to hold on ahead of Baxter. Fifth went to Luke Baxter, son of Peter, in a VW Golf and sixth was filled by Matt Lyness in his Renault Clio Cup machine.

In terms of classes, in the GT class it was 1st O'Connell, 2nd Parr and 3rd Conor Devlin, from Armagh. In the Saloons it was 1st Traub, 2nd Peter Baxter and 3rd Luke baxter. Lisburn's Greer Wray took the BMW 330i honours.
The combined grid of Fiestas and Mazda MX5s were next up, with a total of 16 cars. From the start it was a fierce race. Tandragee's Stephen Murray and Newcastle's Eugene McCann swapped places numerous times in the first 2 laps. Local man, David Cousins overtook Comber's Michael Lynn and Randalstown's Paul Sheridan to take third before demoting McCann a lap later. Lynn, in his first ever race, got swamped and found himself in the middle of a horde of Fiestas going into Maguire's Hairpin. He made a mistake, going wide onto the grass and losing control. Unfortunately, Belfast's Paul Stewart unavoidably collected him and both cars were out. The incident was investigated by the stewards and declared 'a racing incident with no further action necessary'.
Meanwhile, Belfast's Mark Stewart had negotiated the mayhem and established a Fiesta lead that he would hold to the end.
On lap 4 Sherridan caught Cousins, who was having mechanical difficulties and on the next lap he passed both Murray and McCann for the overall lead. However, McCann came back at him on lap 8 taking the lead once again. Sheridan retook the lead once again on lap 9 and held it to the end. Murray went out with gearbox issues on Lap 9.
In the Fiestas, Neville Anderson took 2nd with Newtownards man, Ricky Hull 3rd.
In the second of the Superkart races, Liam Fox took the lead for the first two laps but he was hounded by Colin Menary, Stuart Coey and Richard Dewart. On lap 3, a rare mistake saw all three go past, along with Reading's Jason Dredge. Two laps later Fox got past Dredge and the places were settled until the end.
In the 125CC class the Crossen brothers were at it again for the whole race, with Alan just edging Peter on the final lap. Scott Greenaway took third.
The second N.I.FF1600 race was another battle between the Davids, McCullough and Parks. This time it was McCullough who took the lead while Parks harried him all the way. On occasion, Parks efforts to get past caused him to lose momentum and drop back but he always had the speed to close the gap. Going into the final lap there was nothing between them but a highly defensive McCullough managed to just be ahead by 0.07 seconds at the finish line. Alan Davidson was a clear third ahead of a lonely Trevor Delaney in fourth. Robbie Parks and Drew Stewart had a great battle for fifth, with Parks getting the better place.
John Benson took his Crosslé past Trevor Allen's Westfield SEi on lap 1 of the second Roadsports encounter but although he held the lead until the end, there was never more than a second between them. In fact, at the finish line the gap was just half a second. Steve Morris brought his Crosslé home in third place ahead of Paul Thompson's Stryker and Kieron Smyth's "Rocket".

The second Saloons and GTs race was red flagged after a coming together of the pack at Debtor's Dip on the first lap. This resulted in the withdrawal of Peter Baxter's Seat with considerable rear damage. The resulting delay saw most of the field restart on a wet track on cold slicks!
Once again, Paul O'Connell roared away, seemingly oblivious to the conditions. This time it was Ciaran Denvir who carefully drove into second place, building a good lead to Stephen Traub. Matt Lyness was having trouble getting any heat into his tyres and was biding his time. As the track began to dry, from being full wet to just very greasy, Traub was gaining grip and confidence. He could see both the gap to Denvir and the remaining time coming down, as he steadily closed in. On lap 9 he made his move, passing Denvir but at Colonial One he caught a massive slide before losing it again at Colonial Two, this time doing substantial damage to the underside of his car and retiring at the Crosslé Chicane. Denvir had now secured second place.
Paul Parr and Conor Devlin had had a good battle in their RT2000s, with Parr taking third. As Lyness's tyres eventually got some grip, he caught Greer Wray's BMW and passed it on lap 6 and then got Russell Morgan, who had made the trip from Edinburgh to race his Fiesta STi, on lap 8.
The final car race was the second Fiesta/MX5 race. David Cousins took an early lead in his MX5, while Eugene McCann and Paul Sheridan battled for second place. Mark Stewart, once again, led start to finish in the Fiestas. On lap 4, Sheridan got past McCann and they continued to swap places until McCann overcooked it at Maguire's hairpin on lap 13, leaving Sheridan breathing place. Cousins had retired with a fuel issue on lap 10, so Sheridan took the win from McCann. Anderson took second in the Fiestas, while a fierce battle for third was resolved in favour of Ricky Hull. Fourth went to Strangford girl, Megan Campbell.
The third Superkart race finished the day off and it was a cracker, both in the 250cc class and the 125s.
The bigger class was a battle between Liam Fox and Colin Menary. Fox seemed to have the better drive out of the corners but Menary was simply amazing on the brakes. Unfortunately, as Menary made a brilliant pass, on the brakes, into Maguire's hairpin, his engine tightened and he had to retire. Stuart Coey had been running in third place but he too had mechanical issues and had to retire. That left Richard Dewart to take second and Jason Dredge third.
The 125cc class was breath taking! The Crossen Brothers were inseparable! Time and time again they emerged from Maguire's Hairpin side by side and continued in that manner right through the incredibly fast Debtors Dip left hander. There was no way to predict a winner. At the finish line it was Peter by just 0.136 seconds. Ross Witherow took third place.
It was almost with a collective sigh of relief that the motorsport powers-that-be breathed at the end of a very successful day.
The next race will be on 29th August. Depending on the developments that take place between now and then, possibly there may be a loosening of restrictions on whether spectators can attend. We wait to see.
Words: DONAL O'NEILL | 500MRCI Photos: GRAHAM BAALHAM-CURRY
images must not be used in any way without prior written consent of the photographer