On Saturday 19 September we got to meet six ladies registered for a new female driver's award within the S W Adair Northern Ireland Sprint Championship.
Firstly however, I'd like to say a huge thank-you to the North Ulster Car Club (hosts of the sprint during which I got a chance to speak to these petrol-heads) who pulled out all the stops at the eleventh hour, to enable this feature to become what you are about to read.
A clubs spokesman gave us a little insight into the club, "The club has been in existence for 49 years and celebrate their 50th Anniversary next year in 2021. Usually we run three sprints in the year, all at Nutts Corner Circuit, each of which, a round of the championship.
"The other thing we do is we run a Targa Rally, but last year we ran two Targa Rallies because we became involved with Friends of Cancer Centre Belfast and we ran a Rally to raise money for them which was very successful and, from just the support of motorsport and other clubs raised close to £16,000 which is very, very good.
"Today is our second sprint this year, we were lucky enough for event before Covid hit and restrictions became in place, a massive entry of 98 cars are running, normally we only see around 55-60 cars, so this entry is great and for once the sun is shining."
David Evans, Sprint Championship Co-ordinator commented on the new ladies award, "Back at the Eurocables Rally, around two Saturdays before the first event in the middle of February this year, literally two Saturdays to the first round of the championship, the ladies award started from an impromptu discussion really.
"Jimmy Heaslip stopped me at Kirkistown in the restaurant and said to me 'why don't we have a ladies award this year?' and I jokingly said I don't even have a prize to cover my new category yet (Specialist Category Award), without looking for another one. Jimmy said 'I'll stand you an award if it can work', so I said I'll have a look but don't think we will be able to do it in 2020 as it's only a fortnight but I'll put it to speed committee and we will take it from there."
Evans continued "That was on the Saturday afternoon about 4 o'clock. I pondered it Saturday and Sunday then contacted the sprint drivers groups to seek their views on it and they all said yes. So challenge accepted, I spent a lot of time Sunday evening and Monday drafting up rough regulations which I put through Jimmy and the sprint organisation to make sure everyone was content.
"Next I approached speed committee and they jumped at it and were straight back instantly with responses. That was agreed on the Thursday, so by Friday I had a detailed conversation with Motorspork UK and sent across regulations.
"By Wednesday they had sent back a signed championship bulletin announcing the launch of the championship and it went live that morning, before the first round on the Saturday.  Within this time I'd contacted all the ladies to make sure they were content as well.
"It's scored slightly differently, if you give it to the first lady, it is just the lady in the fastest car. So we decided we would do it to give everyone a fair chance and show how they can compete against their peers. You get 1 point for completing a timed run which is different from the challenge awarded points for your position against peers in your class. So if your 3rd in class you get 3 points, 1st in class get 5 points, last in class get 1 point. Cheque book racing can't win the award, as such, it comes down to fair balance," explained David.
Talking about the drivers, Evans said "We have Kathy McDade, who has been competing around 4-5 years. Olivia Coulter started out winning her class championship in her Anglia in around 2014. It's Emma Campbell's second year out and she's doing really well and leading class 9A at the moment and also towards the top of the ladies category.
"Catherine Donnelly has been competing the last 4- 5 years in a single seater and is going really well and getting better with every race. Sheryl McBride competed in her Saxo about 7 years ago on Hillclimbs then upgraded to a Global Light in class 9B and going well, it's very tight racing and great to watch as she battles at the top for the award.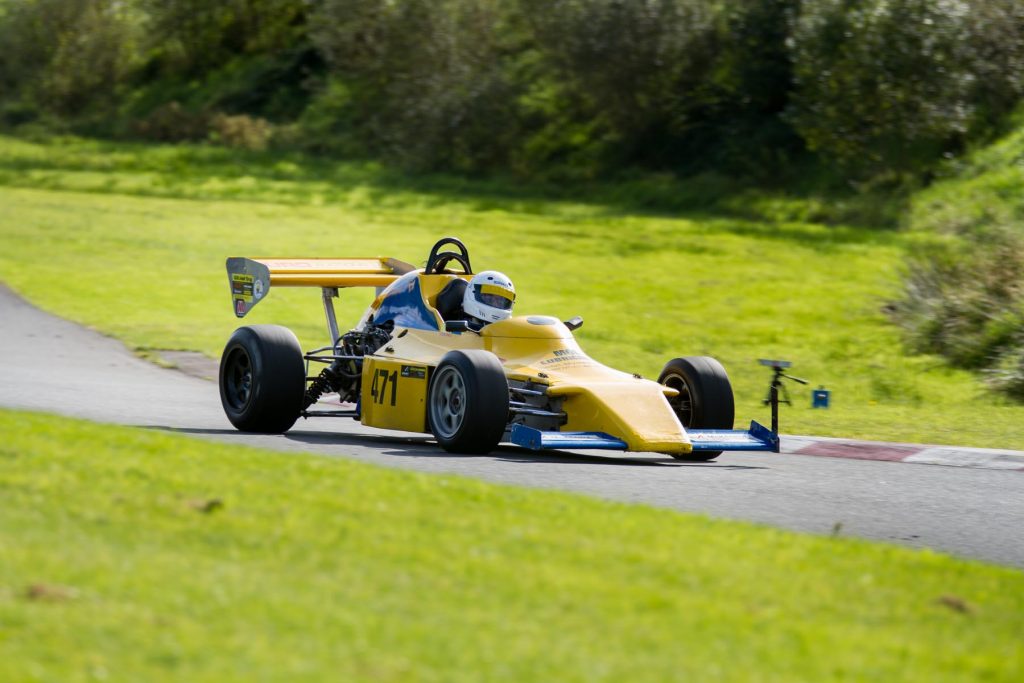 Lastly but no means least, we have our youngest competitor, Amy Hawthorne who has not yet competed as she is just waiting on a driving test which unfortunately Covid has delayed and has killed her dream this year. She is one of the famous Hawthorne Clan, her Grandad, Dad, Uncle and Mum have all competed in the championship and in terms of her dad and uncle, the apple hasn't fallen far from the tree so it's going to be a very good championship."
Jimmy Heaslip, the ladies award sponsor commented, "Many will know me as I've been involved in motorsport for many years, mostly rallycross and a bit of rallying. I work from home on a few cars, doing electrical work, and help my son who is an agricultural contractor. I'm sponsoring the award as my daughter has been involved in sprinting over the years as she is more car orientated than my son.
"He is more into the tractors and thinking ahead about what is going to make him more money, whereby motorsport your always seeing where you're going to lose a bit of money. I thought to myself, 'there never seems to be an award for the ladies in any of the classes or sports and their entry is every bit as important as anyone else's'. So I thought for all its going to cost and my with daughter being involved why do I not put a trophy up for the ladies as a bit of gratitude and get them an interest or boost.
Jimmy finished by saying "I approached David Evans in the Kirkistown restaurant and it all took off from there. It's a beautiful day today here at Nutts Corner and we have six ladies registered, but more ladies are very welcome to join and hopefully the trophy encourages some higher entries in the future."
Meet the drivers:
EMMA CAMPBELL
Age: Mid 20's.
What got you into the sport/when did you take an interest in it? From an early age I watched Formula One and BTCC with my Dad. I didn't have an ordinary school bag I had to have a Ferrari school bag, so motorsport was very much on my mind! On special occasions, such as birthdays etc. when I was younger, Dad would have taken me and a few friends to a Go Karting Track. I guess I got the passion for speed from these informal events. After obtaining my driving licence, it wasn't long after that I took part in the open-wheeled single seater event ran by race school Ireland at Kirkistown, a great adrenalin rush, hence, I needed to find a motorsport discipline that I could get involved with without huge cost – "racing on a budget". We visited a few race meetings and stumbled across the Sprint Championship and after some enquiries set about purchasing a suitable car, trailer and all usual safety equipment and, of course, registering for the championship, turning up at my first event in March 2019 without any experience. I am still very much in the learning phase but overwhelmed by the offers of help and guidance from fellow experienced competitors. Unfortunately with Covid-19 restrictions and lack of practice in 2020 I have been unable to take them up on their guidance but hopefully 2021 will be a better year for us all.
First competition car: Peugeot 106 – Patsy the Peugeot (named after my Nanny who was known to have a heavy right foot – no one will ever know how she drove for 50 years without getting a speeding ticket!).
First competitive event: Nutts Corner Sprint, 2019.
Best result (event and year): As a novice I am still working on this.
Current competition car: Peugeot 106.
Favourite event: Hard to pick as there is always something good that comes out of every event.
Hobbies outside motorsport: Weightlifting and powerlifting training – hoping to also take part in Northern Ireland power lifting competition; music festivals; dancing; coastal drives.
KATHY MCDADE (HEASLIP)
Age: 37.
What got you into the sport/when did you take an interest in it? My dad has been involved in motorsport from a young age, with him being the youngest driver (age 13!!!) at Ballyskeagh and his love for the sport continues to this day. With such a long history of seeing a variety of cars in the garage at home, it was inevitable that either my younger brother or I would develop a similar interest. My brother opted for tractors, which, whilst impressive in their own right, won't be setting any record times on the race track!!!
I spent many weekends (and the occasional school night) attending motorsport events with my dad and his friends, varying from sprints, rallies, auto grass and banger racing.
My favourite motorsport memory is waiting in Bangor and listening to the sound of cars coming through the park at Castle Grounds, as part of the Circuit of Ireland rally.
In 2014, whilst attending a track day at Kirkistown as a spectator , I noticed a lot of people taking part in what seemed to be their own road-going cars and that triggered my curiosity and after a few enquiring questions for my dad, I decided I wanted to have a go. And so it began, my dad kindly let me take his WRX Subaru for the next track day, which I thoroughly enjoyed and only heightened my interest and enjoyment for the sport.
First competition car: Ford Ka, which was sourced from a local scrap yard. I subsequently upgraded to a Ford Puma in 2015.
First competitive event: Sprint at Kirkistown in 2015.
Best result (event and year):
2015 Winning Class 3 in dads STI Subaru; 2016 2nd in class 1 Larne Motor Club sprint at Kirkistown; 2019 Winning the Ladies Prize at TSCC Summer Classic.
Current competition car: Seat Leon 20V Cupra.
Favourite event: Whilst I enjoy all motorsport events and supporting my local club 500MRCI at Kirkistown, my favourite event would have to be the Erne Trophy Sprint at St Angelos. I have only competed in this event once, but hope to attend again in 2021.
Hobbies outside motorsport: Clay pigeon shooting and shopping.
Thanks must go to all the Clubs who organise such successful events and to the Marshalls who give up their time, no matter the weather, to ensure the safe running of events and its competitors.
CATHERINE DONNELLY
Age: 28.
What got you into the sport/when did you take an interest in it? Daddy has always been involved in motorsport, working at rally cars and engines, and competing at hills and sprints. When it was suggested I apply for my licence I jumped at the chance.
First competition car: Delta T91.
First competitive event: Nutts Corner, April 2012.
Best result (event and year): 2019 Ballyalban Hillclimb, 6th o/a.
Current competition car: Delta T91 – same car that I started with, but with a different engine.
Favourite event: Kirkistown Sprint and Cairncastle Hillclimb and Ballyalban Hillclimb and Corkscrew Hillclimb.
Hobbies outside motorsport: Reading, cooking, running and going to the gym.
SHERYL MCBRIDE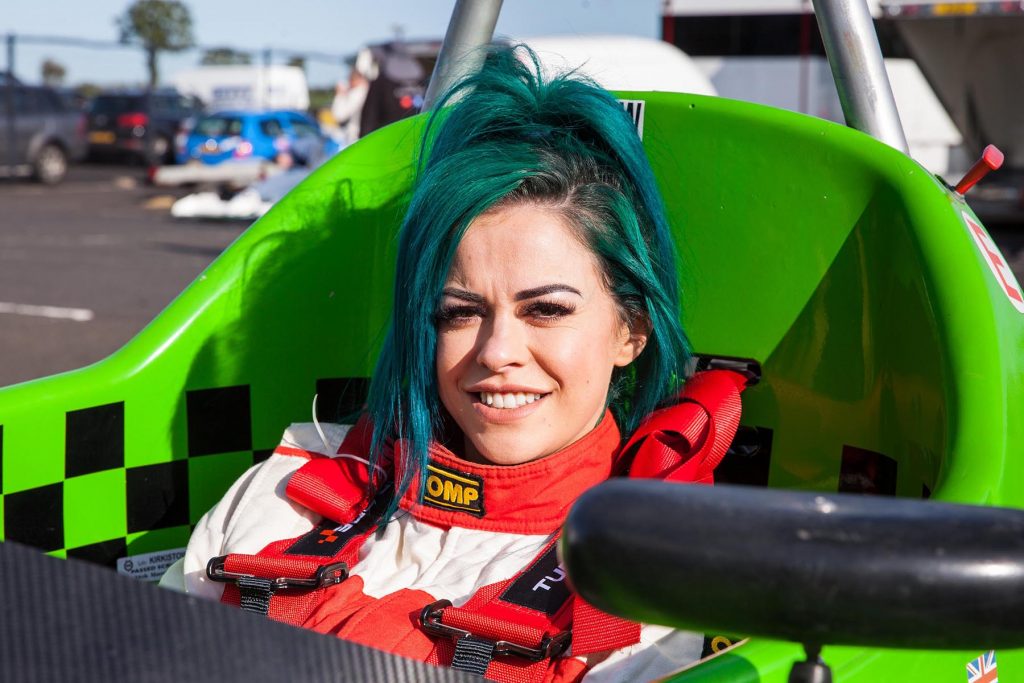 Age: 31.
What got you into the sport/when did you take an interest in it? My Dad has been competing in hills since 2001, I went and spectated but was still too young to drive. My first time at Kirkiston was a track day in his Robinhood kit car in 2005, I was 16 and didn't know how to change gear so we drove round the track with him shouting clutch and changing gear from the passenger side. By 2014 I'd stopped competing in equestrian events every weekend so my dad got me a car to start competing in hills.
First competition car: Citroen Saxo VTS.
First competitive event: Cultra Hillclimb 2014.
Best result (event and year): 1st Class 1 Hillclimb Championship 2015 (had a 3 year maternity leave after this!).
Current competition car: Global GT1.
Favourite event: Craigantlet/Cairncastle Hillclimb too hard to choose between them (in the interests of promoting sprints happy to say Kirkiston).
Hobbies outside motorsport: Equestrian.
OLIVIA COULTER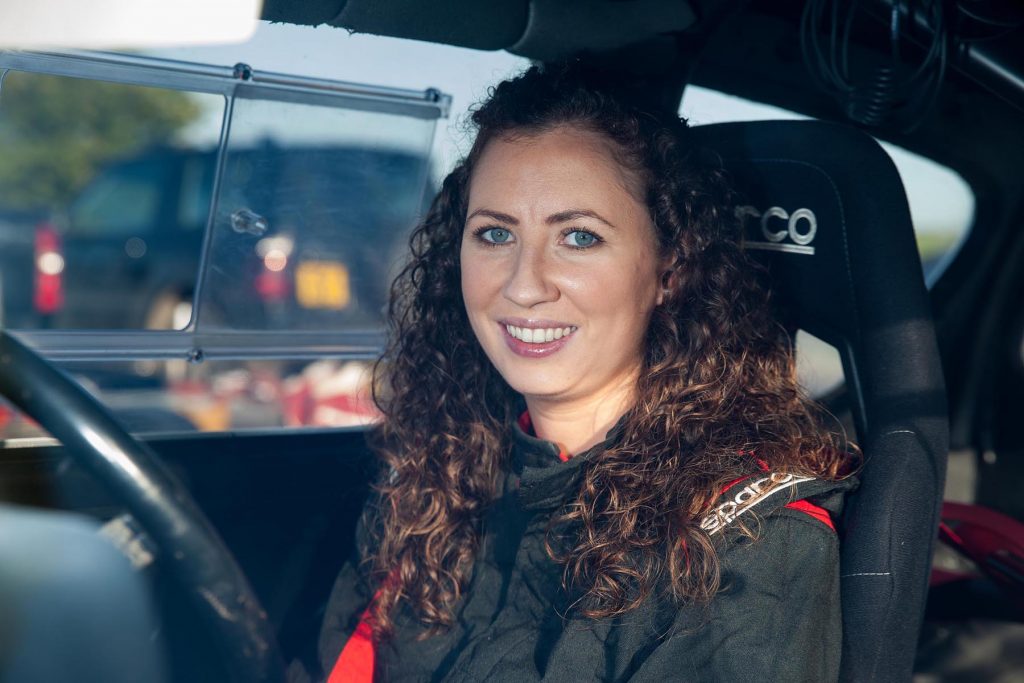 Age: 20's.
What got you into the sport/when did you take an interest in it? From the age of 7 I watched (tried to help) my Dad build a Ford Anglia for rallying and that's what got me interested in the sport. As soon as I was old enough I started navigating for my Dad at Rallies, but I always wanted to drive myself. In 2014 Dad let me take to the driving seat of his car and from there I never looked back. After a couple of years of driving Dad's car, we decided to build my own Ford Anglia so Dad could have his car back.  First competition car: Ford Anglia. 
First competitive event: My first competitive event was a sprint at Kirkistown. I wanted to start with the sprints to get used to the car before venturing into rallying as well.
Best result (event and year): Winning the sprint championship for class 16 in 2015 and 2016 and finishing the Lurgan Park Rally in one piece. 
Current competition car: Ford Anglia.
Favourite event: May Day Rally at St. Angelo's and Lurgan Park Rally (hard to pick between the two). As much as I enjoy sprinting it's hard to beat the excitement of the stages.
Hobbies outside motorsport: More motorsport, navigating and more motorsport. Maybe holidays… does that count as a hobby? [Yes Olivia, it certainly does] Though always thinking about when the next event is going to be.
AMY HAWTHORNE 
Age: 17.
What got you into the sport/when did you take an interest in it? My Granda started rallying in the 70's and about 12-years ago we started doing sprints and hillclimbs, so I've always been around cars.
First competition car: Clio 172.
First event/ best result: I'm currently still waiting to complete my first full championship and I'm excited participate in all the events next season.
Current competition car: Clio 172.
Favourite event: The 2 day event at kirkistown in August as its good to see all the ones from the British championship and see all their cars.
Hobbies outside motorsport: I play Hockey for my school and Pegasus HC.
Words & Photos: GRAHAM BAALHAM-CURRY
images must not be used in any way without prior written consent of the photographer