When it comes to performance SUV's, there are several I could think of that would easily tick all the boxes, this Jaguar wasn't one of them, until I got a drive that is.
Welcome to the Jaguar I-Pace, priced from £60,995. The I-Pace claimed an historic treble at the 2019 World Car Awards, claiming the title of world car of the year, world car design of the year, and world green car.
Jaguar's I-Pace is a fully electric performance SUV that will see 0 to 60mph in a mere 4.5 seconds via its all-wheel-drive system, with a claimed range of 292 miles and, being a Jaguar, it is very much a driver's car, delivering a staggering 696Nm of instant torque and more importantly, sports car agility.
This big cat really is truly electrifying to drive.
I'll be the first to admit that I am not fond of electric vehicles, perhaps due to the fact that manufacturers never give us media in NI the opportunity to drive them locally. I guess a lack of understanding due to this and, dare I say it, lack of infrastructure for such vehicles in Ireland means that many manufacturers don't wish to loan a vehicle that will likely end up stranded somewhere remote.
I know for sure that my 'drop of a hat, go anywhere' work and lifestyle, wouldn't lend itself to many of the electric vehicles on today's market. That said, I am talking from experience of electric vehicles whenever they were first introduced, a time when range wouldn't allow more than a trip to your local shop and back.
With a real-world range of 250 miles the I-Pace actually is a realistic electric vehicle and one that I feel could cope with the daily challenges of most users, myself included. Let's face it, 100 miles gets you from one side of Northern Ireland to the other, pretty much.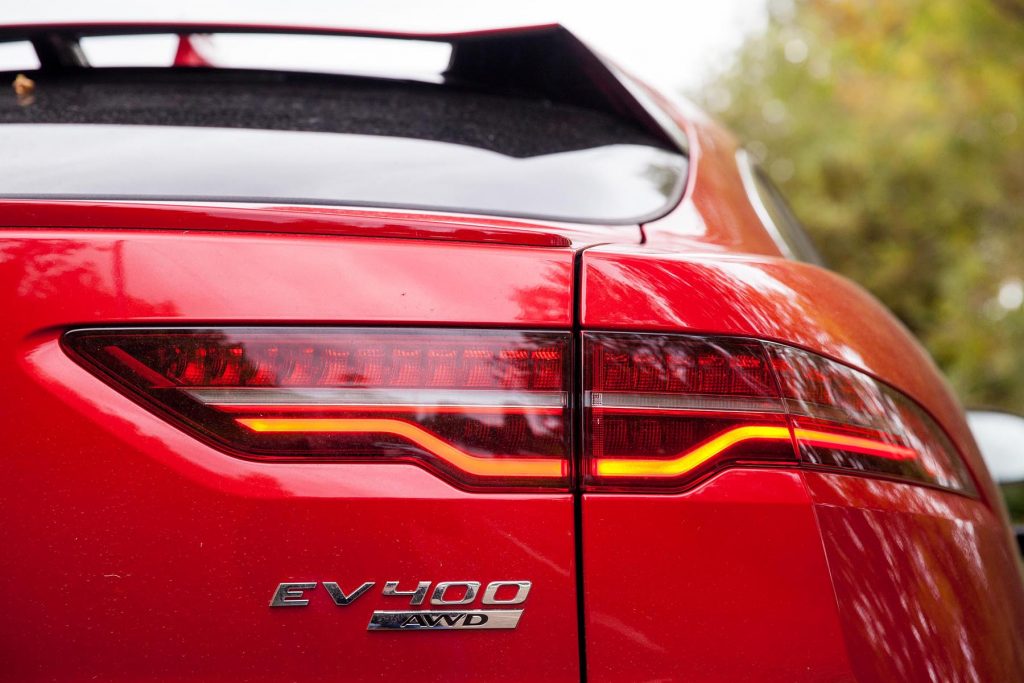 It also gets you from Belfast to Dublin, thus meaning a return journey to Dublin, or covering the width of Northern Ireland and back is feasible.
Should however mileage be tight and you find yourself in need a drop of fuel, it isn't just a case of pulling up to a pump, squeezing a trigger and spending a couple of minutes queuing up at the till to pay, before you set about your journey again. With a vehicle like the I-Pace you would need to plan an hour's break close to a rapid charging point, the kind found at most public charging stations.
This hour of charging would give you in the region of 168 miles and in fairness, that hour would allow you to stretch your legs, grab a bite to eat, have a coffee, and a bit of a comfort break before continuing your journey. To fully charge on a rapid charger you will need to allow around 90 minutes.
Charging at home couldn't be simpler, and overnight with an approved Jaguar wallbox, a full charge can be achieved in around 12 hours. When photographing this I-Pace I noticed a 3-pin socket in the boot which was connected to some sort of power inverter enabling you to plug the car into a domestic socket.
Regarding this method of charging, I was advised to forget it, leaving the two previous and more practical methods of charging as the best.
Driving wise the I-Pace really took me by surprise and with its instantaneous power, the all-wheel-drive system distributes power in a way that maximises unimaginable traction. I have been fortunate enough over the years to drive some seriously fast cars, but the way in which the I-Pace gets up and goes will leave you with nothing but childish laughter and a huge smile.
With its weight distribution creating an almost perfect balance, the most challenging of meandering country roads can be driven in a way that most SUV's could only dream of, and with a surprising amount of comfort and refinement.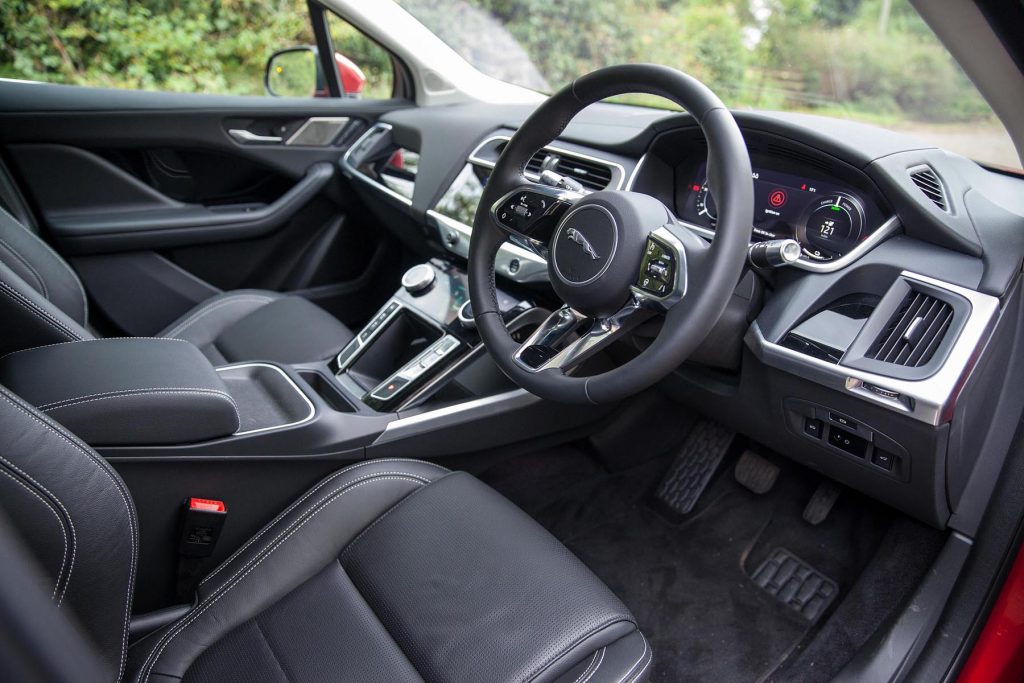 Inside the I-Pace is a spacious place to be and hints at the way future Jaguar's will be finished as it is better styled and better screwed together than most previous models from the brand. The model tested featured black leather trim, heated, with white stitching and I recall a heavily dished steering wheel, something with not only looked fantastic but felt great too.
There are just three trim levels available on the I-Pace and it comes with more than you can ever require from £64,495. This price drops to just under £61,000 as the I-Pace is eligible for the Government Plug-In Car Grant. However, pricing listed below will not include any government incentives.
Donnelly Group in Dungannon, who I tested this vehicle through, can most certainly explain all the various incentives and company car benefits that come with electric vehicle ownership, as they are simply beyond my knowledge.
Starting with an I-Pace 'S' you get 18-inch alloy wheels, LED headlights, heated door mirrors with approach lights, luxtec sports seats, navigation Pro, connect Pro, smartphone pack and DAB radio along with Meridian sound system. Driver assistance includes traffic sign recognition and adaptive speed limiter, driver condition monitor, lane keep assist, park pack, rear camera, and cruise control with speed limiter.
Next in the model line-up is an I-Pace 'SE' which starts from £69,995 and features 20-inch alloy wheels, premium LED headlights with signature daytime running light, powered open/close tailgate, power-fold heated door mirrors with memory, grained leather sports seats, and a drive pack.
The 'SE' model tested and pictured features several optional extras such as 20-inch diamond cut alloy wheels, metallic Firenze Red paint, fixed panoramic glass roof, life shine warranty, service plan, and cold climate pack. Expect to pay in the region of £75,000 for this model with options.
Finally, and from £74,995, is an I-Pace 'HSE' which features a different style of 20-inch alloy wheel, matrix LED headlights with signature daytime running light, powered gesture tailgate, Windsor leather sports seats, Meridian surround sound system, and a driver assist pack.
I ought to thank both Donnelly Group for the chance to experience the I-Pace (can i have another go, pretty please) and Jaguar for producing this vehicle which has not only opened my eyes to, but also changed my thoughts on the future of electrical motoring.
Fact File for model tested:
Make : Jaguar
Model :  I-Pace
Trim : SE
Engine : Dual electric motor
Gearbox : Automatic
Cost Circa : £75,000
Words & Photos: GRAHAM BAALHAM-CURRY
[images must not be used in any way without prior written consent of the photographer]