You have to hand it to Hyundai as they have the incredibly lucrative SUV segment sewn up, with the Tuscon, Santa Fe and Kona, all well reviewed.
Performance is now well covered by the super fun i30N and the brand strides ahead of the competition in its second mainstream all-electric offering after the Ioniq, in the Kona Electric.
Sharing platform and components with its Kia E-Niro cousin, the Kona, which is also available in petrol form, is a polished product. Our road test vehicle, provided by Daly's Hyundai in Belfast, is in top of the range Premium SE trim, with a 64kWh battery and 292 mile claimed range from a single charge.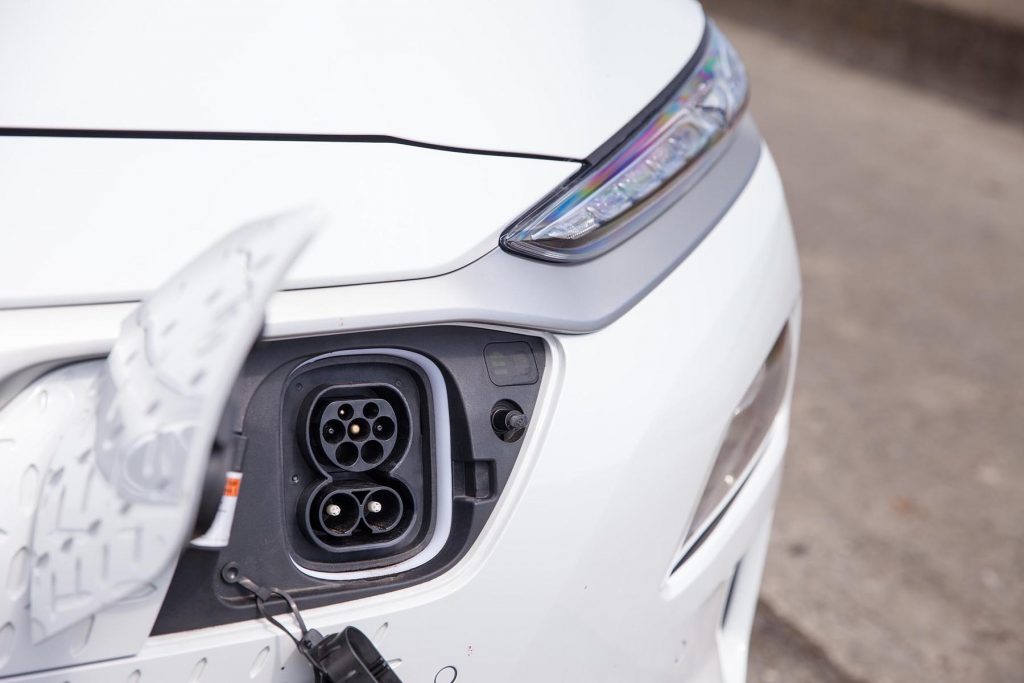 Quoted manufacturers figures aside, our car could comfortably do over the 250 mile range mark, which in the EV top trumps today is hard to beat, especially at the £35,000 mark.
That's similar cash to the long range Leaf, but the Hyundai will do up to 50 miles more on a charge. Spend £5k more for a Tesla Model 3, and you get even less range. Things look exceptionally good value on paper for the Kona, so let's dig deeper.
This Kona Electric was in Eco mode on collection, which gives the most amount of regenerative braking, effectively allowing you to accelerate and brake using the single pedal and is a common feature in electric vehicles. It makes town driving a breeze and within a few miles I was more than comfortable in the city traffic.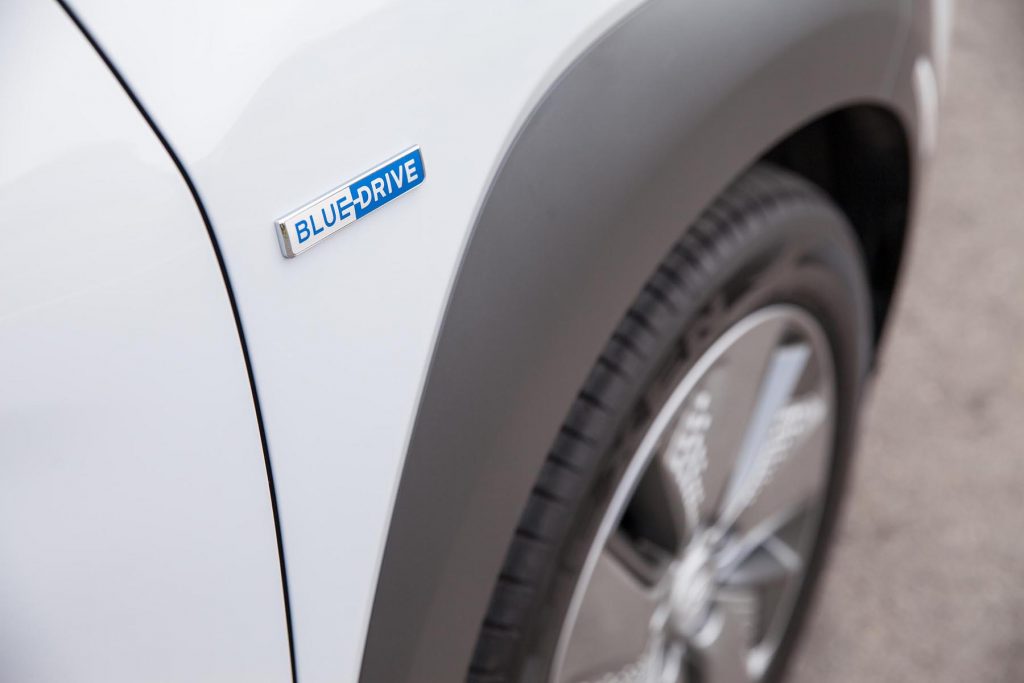 The steering wheel also features paddles to control the level of regen, although I thought the three driving modes (eco, comfort and sport), were well enough judged that I didn't feel the need to use this much at all.
This model also featured lane assist and lane departure warning, although you can only have one or the other. With the lane assist on and eco mode, this can feel unnatural as the car will seem to be braking and steering for you, so worth delving into the settings before setting off.
Out onto the Westlink slip road and simultaneously finding the sport button, the Kona leapt towards the carriageway, rapidly finding the speed limit well before merging into the faster traffic.  I knew it had 200bhp, but the surge of the almost 300lb/ft of torque was unexpected in what is packaged as a family crossover. 
The performance is confirmed with some red traffic lights at York Street, my dash to the M3 motorway showing the petrols and diesels a clean pair of heels with no effort, and I could imagine a fully loaded Kona, family of four on-board with luggage, comfortably hustling long distances at pace.
I'm off to meet resident photographer, Graham, near Millisle on the Irish Sea coastline, and once onto B-roads through Six Road Ends, the Hyundai starts to feel its weight. Batteries on board bring it north of 1600kg, with the 215 section Nexen tyres sometimes feeling under pressure especially with so much torque on offer.
Yes the chassis does lose its composure when pressing on down twisty back roads, but to put it into context no other small SUV in this segment (think Qashqai/Captur) with a typical small petrol engine would come near the Kona in terms of pace.
Inside, this fully loaded Premium SE car was well appointed, the 8″ display picking up my iPhone for Carplay, and the system was quick and easy to navigate through for everything from climate control to navigation.
Road noise is well suppressed and the cabin in general is airy and bright, although that's also likely due to both the white leather interior pack on this car, although the grey/blue plastics are ghastly – go for black.
There's decent storage in the centre console with some deep cup holders as well, including a cubby with a wireless charging pad.  Button count is fairly high but the layout is logical and after a few days with a Kona they became like muscle memory.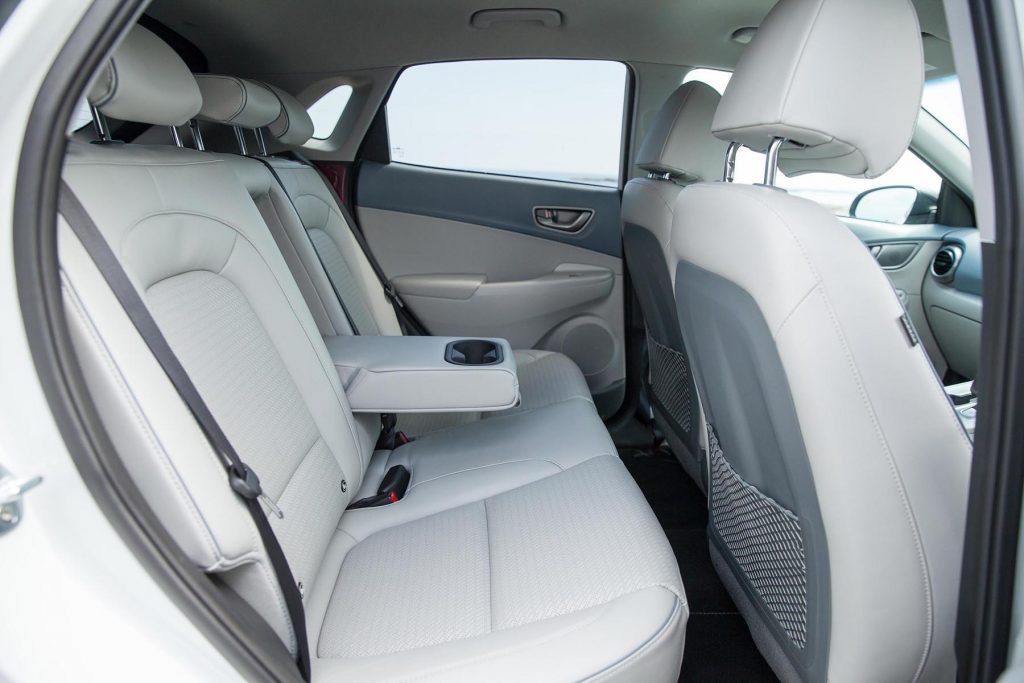 Seating position and visibility was decent and I found from making snap motorway decisions in traffic, to reversing into a parking space effortless, although the parking sensors and camera also made this a cinch.
This car also featured other premium level options including heated and cooled seats, heated steering wheel and adaptive cruise control. My first day in the car was a scorcher and the ventilated leather did mean I didn't require peeling out after a day's driving.
In the back, with over 6ft of me up front, there's only leg room for small children, but there were plenty of pockets, power, and cup holder's back there too.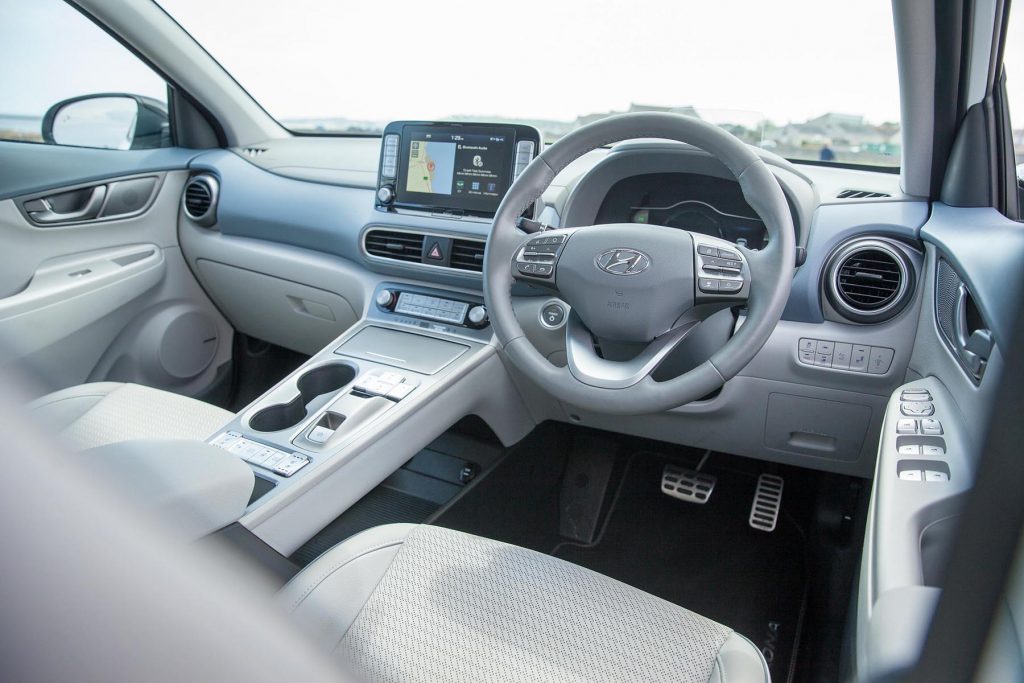 As Graham began his static walk around of the car with his trusty camera, we popped the bonnet and immediately the architecture of the Kona came up for discussion.
Unlike say a Tesla which is a ground up EV, the Kona (and cousin the Kia eNiro) has to share the platform with its petrol siblings, and so the traditional engine bay is sparse with only the electric motor, with the batteries being at the mid to rear under the car.
It is clearly well engineered however and certainly not compromised from this development approach.  In fact I'm sure many prospective buyers like the fact that despite its sharp styling that it doesn't look overtly different to a non-EV.
The luggage capacity is fairly small at 334 litres (VW Golf 380l, Qashqai is 430l – for those times when you fill the boot with liquid!) but split folding rear seats and good access still make the Hyundai Kona Electric a decent load lugger, and there is some useful under floor storage in the boot as well.
Charging is straightforward from a pop out panel in the front grille, showing a typical Type-2 charging port for home charging, and a CHAdeMO rapid charge DC socket for the few public charge points in Northern Ireland that have them.
As mentioned, an excellent 250 mile plus range was comfortably achieved, however a home 3.7kW Type-2 charger will take 18hours for a full charge.  The CHAdeMO public chargers will do 20% to 80% battery in around 50 minutes.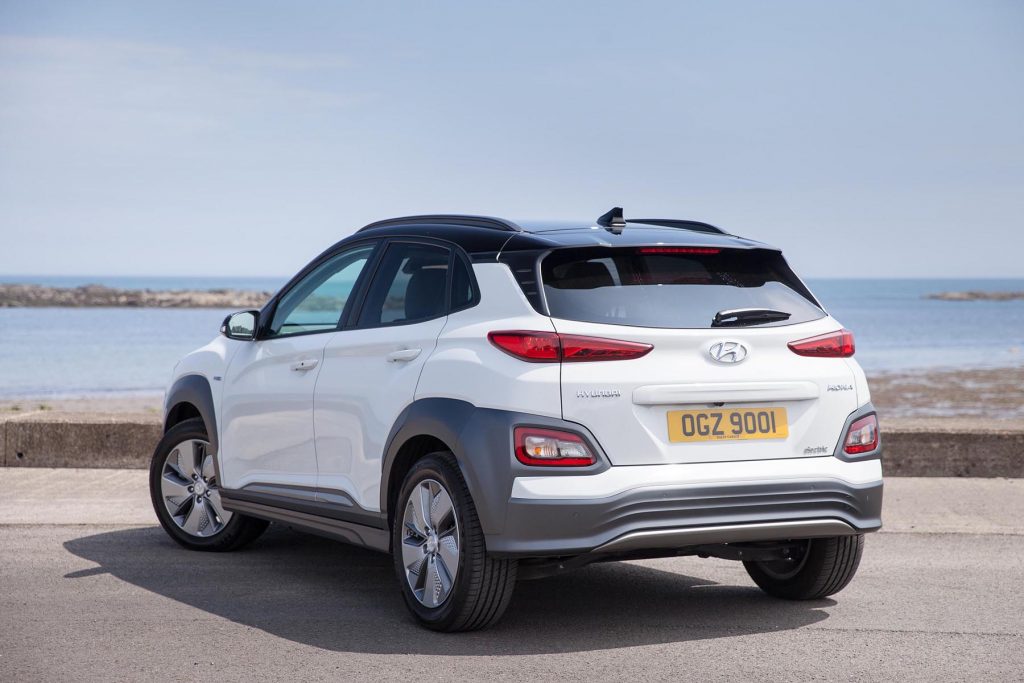 There's no doubt, the Hyundai Kona is immensely practical, has typically low running costs of an EV, but also brings great usable performance into the small SUV market. It's solidly built and could serve a small family well for years, and with its pricing in the mid £30k bracket it has better range and value than the competition.
If you are looking for a step into EV ownership then the Kona is the car to go for. In fact the Kona's only competition is itself; the petrol Kona is £10,000 less.
Fact File for model tested
Make : Hyundai
Model : Kona Electric
Trim : Premium SE
Engine : 64kWh battery
Gearbox : Automatic
Cost : £38,250
Words: ANDREW COOPER | www.rmsmotoring.com Photos: GRAHAM BAALHAM-CURRY
images must not be used in any way without prior written consent of the photographer