Saturday 19 March 2022 saw round two of the SW Adair Tyres Northern Ireland Sprint Championship being held at, an unusually for March, sunny Kirkistown by the 500 MRCI who held their St Patrick's sprint.
The event hosted a whopping 78 entrants with a fabulous mix of cars throughout all the classes. Obviously someone had put a good word in upstairs as the weather turned out to be brilliant as well with a dry, but windy day greeting all who ventured to the County Down venue. Which turned out to be a blessing in disguise.
Halfway through first practice a competitor managed to leave an oil slick from the start line to Fisherman's, which delayed the action for over an hour whilst the marshals and officials, and even a couple of pensioners, worked hard to dress and brush the oil to make the track safe to continue.
A massive round of applause has to be given to all the marshals and officials for their actions at dealing with this issue as the event simply would not have been able to continue had they not done such a wonderful job when dressing the oil.
As a result, half the paddock got a competitive first practice and the remainder of the paddock had a slower post oil slick practice. In order to make up some of the time lost, the second practice had to be held as a procession run so that everyone could see where the oil was and make themselves familiar with its pattern.
So once the first timed runs started, it really was a case of going for it!!
Robert Dwane once again proved himself to be a class act, setting a first run time of 90.99secs. This was 1.76 secs faster than Alan Cassells' first timed run and Tim Woodside went third fastest on a 95.67. The oil didn't seem to faze Robert much as he set a speed trap reading of 146mph which was his fastest speed trap of the day and joint fastest with Tim Woodside, however Tim set his on the third run by which stage the oil had dried.
Sadly, Robert Dwane had a mechanical issue on his second run which meant that his first timed run was the fastest run of the day and secured him the event win. Alan Cassells also set his fastest time on his first run and sadly a drive shaft broke on his third run when he was on a serious push for the win, so he finished second.
Third place went to Tim Woodside in his Pilbeam MP82 with a best run of 95.48s which was 2.73secs behind Alan Cassells. Tim had a massive battle all day with Simon Woodside, also in a Pilbeam and Simon was up to third at one point before Tim pipped him to third by a mere 0.38secs.
Fifth went to John Donnelly who put his Nutts Corner misfortunes behind him as he pushed the Woodside's hard all day. John set a best run of 95.92secs which was only 0.06 behind Simon Woodside. So third, fourth and fifth were separated by a mere 0.44 seconds.
Another class with a seriously tight battle was in class 11 where Norman Armstrong and Richie O`Mahoney fought tooth and nail all day in their Ford Escort Mk2`s with Norman finishing a mere 0.05secs ahead of Richie O`Mahoney. Richie was having so much fun sliding the Mk2 about, that he probably cost himself that time by having so much fun. However, any time I saw either Richie or Norman, both fellas were smiling and clearly having a ball.
At long last we got a trio RSR`S out together in class 8 and the lads had a ball. Jim Hutchinson took the win from Rory Stephens and Richie O`Mahoney Snr.
There were a few more new names and faces around the paddock again on Saturday, it was great to see Ruth Nugent make the long run up to compete in here BMW Mini, Aidan Savage washed off his Skoda (well the windscreen anyway) and had a great days craic in class 2 where he managed to pip Ian Thompson's Porsche.
He'll be telling all the grandkids for the next few weeks that he beat a Porsche! We also had Albert McClenahan out for some fun in his Sierra. This is a massive car for throwing around and Albert had absolutely no fear of throwing it around. It was great to watch.
The two Grady brothers, Paul and Tony, made a very welcome return in their Subaru in class 3 and as usual picked up where they left off. The amount of banter and abuse these boys give each other, and the rest of the paddock is unreal and these two larger than life characters were sadly missed last year, but the banterometer is now well and truly back with these two fellas out again.
Another lovely entrant to the paddock on Saturday was the Lotus Cortina of Robert Coulter. Robert painstakingly started to build this car several years ago and has been steadily building it on and off since. Mid-way through the build he set it aside to build an Anglia for daughter, Olivia, who we all know well, but during lockdown he completed his lotus and gave it a superb debut outing with a class win.
I suspect this will be the first of many. Robert did look a bit lost in his Lotus Cortina as it's twice the size of the Anglia we are all used to seeing him in. The big question is whether or not he will allow Olivia to dual drive it with him??
In terms of the categories now and Stephen Colbert took the modified category win from his father, Ken, in the family Talbot Sunbeam. Dermot O`Hagan took third in the modified category. Stephen only did one timed run as he had to dash off quickly to support his son who was doing his first ever Kart Race at Nutts Corner!!
I did hear that the youngest Colbert had made the final, but didn't hear how he got on. It sounds like we have another Colbert star in our midst. With Daniel Campbell and Oliver Cormican having mechanical issues, this event could shape the outcome of the modified title from now on in.
In the specialist category David Hawthorne took maximum points after a frantic last run which deprived Jim Hutchinson of the lead he had. Third went to Steven Hawthorne who also fought hard all day with round 1 winner, Scott McMullan.
Interestingly, it shows how hard these guys were all pushing as Jim, Scott and at least one of the chuckle brothers all attempted a bit of gardening at some point in the day. I did see Jims little excursion and it was impressive. Torville scored him a 9.5 and Dean rated him a 9.3, so a little room for improvement there Jim! I`ll not repeat what the grass maintenance attendant said.
The road going category reverted to a bit of a retro look today when Andrew Robb topped the time sheets for the first time in a while. Even with a bit of time off, Andrew showed that he hadn't lost any of his flair as he pushed hard all day. Conor Hamill was also pushing very hard and finished a mere 1.63 secs behind Andrew.
As an indication of the pace these two lads were on, Andrew Finished 19th overall and Conor 20th overall!!! Third in road going went to the hard charging Crawford Ewing who has taken to the new Meganne like a duck to Water. It's great to see our road going category so closely fought this year.
In the Heaslip Ladies Challenge Catherine Donnelly took her maiden category win as she pedalled her little delta to 15thoverall. With the ladies times being calculated using a factor, determined by the ladies performance, it was great to see that when factored times were calculated there was only 0.54 secs between Catherine in front and second placed Sheryl McBride, and a further 0.36secs between Sheryl and third placed Amy Hawthorne who pipped Emma Campbell to fourth by a mere 0.65 secs corrected.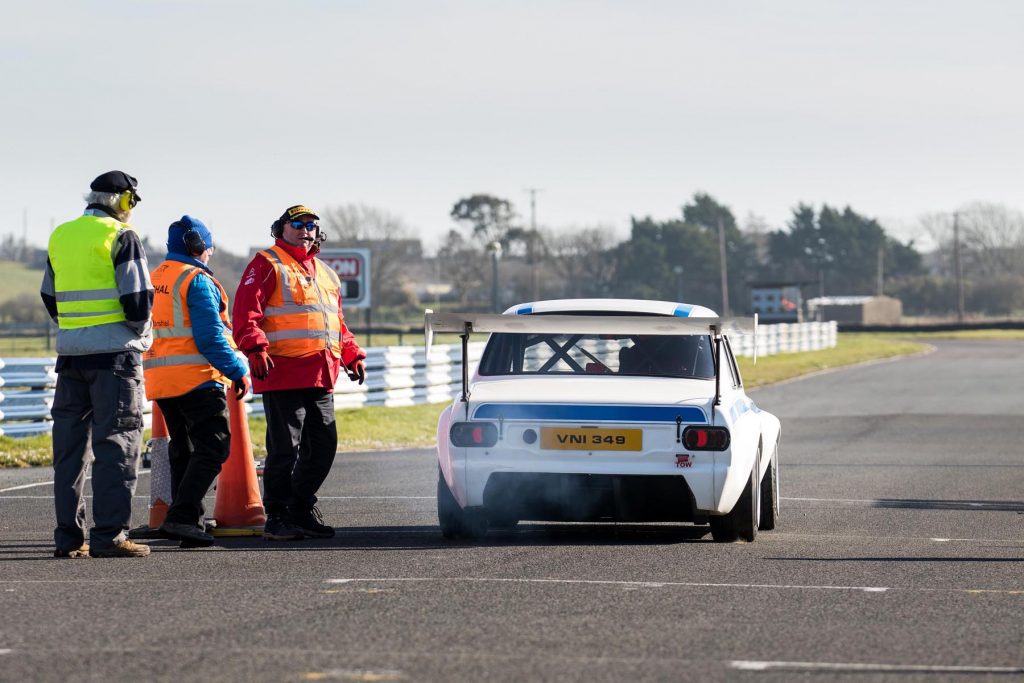 Ruth Nugent finished 5th ahead of Cathy McDade, but both these ladies have only ever done two sprints in their respective cars so their factors are still to be fully calculated. In total the top 3 ladies were separated by a total of 1.55 secs on corrected time!!! Now that's close.
Catherine's win now means that every registered Heaslip ladies Challenge competitor has now won at least one event, which is great to see. It also shows that no matter whether you're in the fastest car in the paddock or the slowest car, the factored times brings everyone together against each other which leads for a level and close battle.
So close in fact that three of the ladies are now tied on the same number of points in the overall challenge, and when you consider that Catherine did one round less, it's even tighter. Dropped scores are going to make a massive difference here at year end, and rest assured whichever lady wins this really, really deserves it, as they will have driven their socks off all year to win it!!
For some, the most important category is the fastest mini in the west. Once again this went to Karl Johnstone, who is driving the wheels off his little mini. Gerry McGarrity finished second and Gary Milligan was not out to play so sadly there was no one for Gerry to wind up on Saturday. Whilst mentioning Gerry, it was great to see him back out again after he missed the last round. Keep well, Gerry and see you in a fortnight!!
The next round is scheduled to take place at Nutts Corner on Saturday 2 April, hosted by North Ulster Car Club. Entries filled very quickly and it's a capacity entry plus reserves, so is shaping up to be a good day. North ulster are also planning on using their "longer loop" circuit which includes a very technical infield section, so this will sort the men from the boys and the ladies from the girls.
Words: DAVID EVANS #154 | Photos: GRAHAM BAALHAM-CURRY
[Images must not be used in any way without prior written consent of the photographer]