Northern Ireland's Drew Wylie has been involved in motorsport for 60 years. He's successful in business, a champion competitor, a renowned manager of some of motorsport's headline stars, plus he's just won the NI Historic Rally Championship in this impeccably prepared Ford Escort that graces these pages.
Wylie's love of motorsport started 60 years ago after his father bought a kart for him and his older brother. That was back in the early '60s when Drew was about eight years old and living at home on the family farm. It was enough to spark his interest and kick-started a lifelong passion for anything with an engine on wheels.
"When I was a bit older, I started going to local events such as sprints and hillclimbs," Wylie said. "I joined the Belfast, Bangor and Ards Motor Club. They organised different types of events including hillclimbs and autotests so I bought a MkI Escort. That was the start of the road to hell!"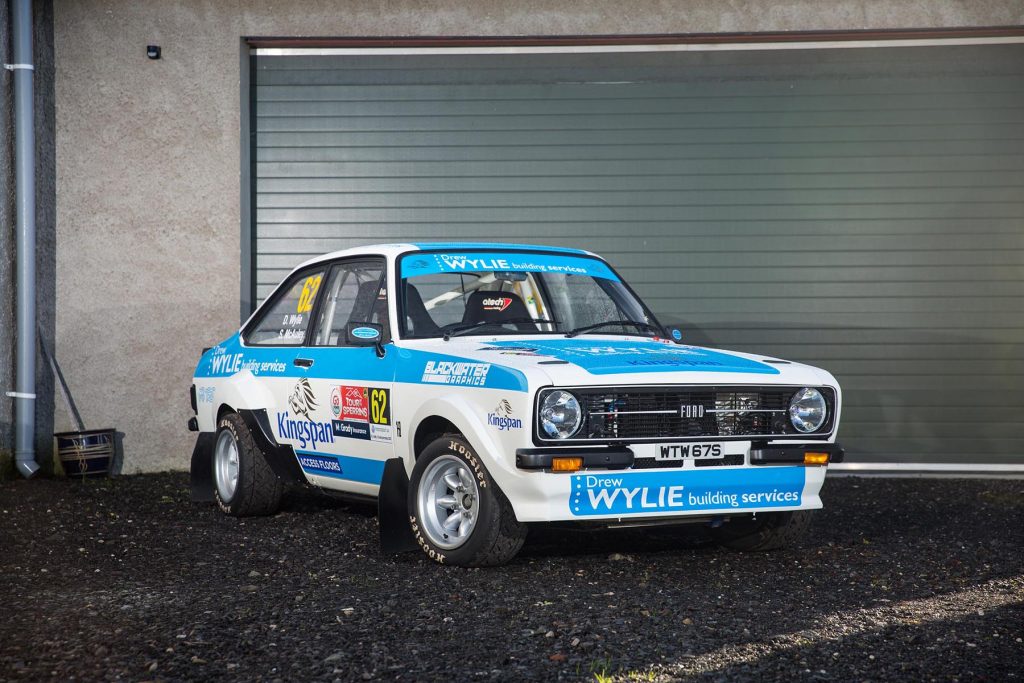 Wylie used his Escort at a number of speed events, and even rallycross at Kirkistown Racing Circuit, but later switched his attention to karting after getting married.
"I raced with Colin Turkington's father, Trevor, and entered both the road and circuit karting championships. I remember taking part in races around the streets of Newtownards and Carrickfergus. And I won the road championship about 40 years ago!"
Eventually, he decided to go rallying again, initially with a Scirocco that proved to be challenging.
"It was a disaster of a car!" Wylie recalled. "I entered a couple of night navigations with Bobby Willis before going to the Circuit of Ireland on its golden anniversary year. The steering rack mountings came loose on the way to the start, so I didn't even get to the first stage!"
Wylie then moved onto a Talbot Samba, built by Ernie Larton at LAD Motorsport, near Blackpool and he went on to set some very impressive stage times, even managing to win the 'up to 1600cc' category in the Irish Tarmac Championship.
Wylie eventually took a few years out of motorsport to focus on work and raising his family. But by the early '90s, the motorsport itch was becoming unbearable and he made a return to action in the historic category.
"I had a Hillman Imp, then an MGB, followed by a better MGB, then a Lotus Elan, followed by a better Lotus Elan!" Wylie said.
Some years later, he switched to an Escort and loved it so much that he has rallied a Blue Oval of various guises since 2007. However, it's his most recent Escort – which was built from a shell purchased on eBay – that has given him the most pleasure.
Drew explains, "Billy Miskelly, from N.I. Restoration Services was tasked with stripping the shell back to where it needed to be before being sent to Stephen Wishart, who installed the roll cage, strengthened the stress points and fitted jack points etc. After which Bill then finished what needed to be done on his part before painting.
"Mark Solloway supplied the engine and it has a fully-floating axle from Phil Squires. It was built into a gem of a car. It's the sort of car you want when you're 30 but couldn't afford… and you get it when you're over 50 but can't drive it!"
Wylie has used his Escort to win the Northern Ireland Historic Championship a total of five times in just seven years of the category running and is really enjoying the camaraderie that the historic category is renowned for.
"We've had the best fun with that car. We have a few enthusiastic guys involved with our team – people like Harry Stinson, Graham McNamara as well as Gary and Lewis Dunlop. It's recreation, camaraderie and it's fun. We all help one another. If I'm stuck for a gearbox, I know I could ask another competitor for one. And if someone asked me, they'd get it."
"The pace in the Historic category is incredible," he added. "A few years ago, in Killarney, the competitors in full, proper historic cars were going as quickly as the modified cars. And it's nice to be able to go to the likes of the Isle of Man and do the exact same stages that were used years ago in a MkII Escort running the same spec that they were back then."
Being FIA log-booked as a historic spec car means that it is built to an almost identical spec as to what was rallied by the Ford works-team drivers in the late 1970's. It also means that Drew can take the car anywhere in the world to compete in, as it meets the world's governing bodies standards. He has in fact won his class at a rally in Portugal a few years ago, in this very car.
When the pandemic hit however, Drew decided that it was time for another lengthy call to long-time friend and master-car-builder, Billy Miskelly, who has looked after the car from it was first built, to refresh what was becoming a tired Escort. "Because there was nothing else to do, and there were no rally's to go and spend money on we decided that, although it wasn't really desperately in need of a rebuild it would be nice to, when things would start to come back again that we would have the car as fresh as it was some 11-years ago, when it was first built," explained Drew.
"Billy stripped the car right back to a bare shell again before it went out to Alan Croskery, a keen classic car man himself near Seaford, for painting. On its return, Bill, bit-by-bit improved a few things, modified a few things and just really put the car together in a way that it looked like it had just come off the production line. It was just a thing of beauty once more.
"His attention to detail and his knowledge of the finer points of getting a car right are just fantastic. There is no such thing as just throwing it all together and sure it'll do rightly."
The car runs a BDA engine, which is a 16-valve, alloy blocked, 2-litre engine that Ford have used since the late 70s. The engine runs on carburettors, and with a dry sump system is in no way electronically controlled and retains its old mechanical simplicity. Running around 260bhp, it's not exactly shy!
Wylie runs a 5-speed, manual, dogleg gearbox from GR Gearboxes in Italy, which feeds an Atlas axle via a single one-piece prop. Disc brakes all-round allow Drew to dig deep into the bends, whilst Reiger Racing Suspension have cornering planted with the non-adjustable coil-over-spring kit that is allowed within this class. Interestingly, just like the original cars, there are plastic silhouettes of leaf springs fitted.
Unlike most newly-built rally cars, power steering isn't allowed to be fitted and the cars all run 8-inch wide tyres like they did when Grp4 rallying was first born. It is the tyres in fact that make the most difference to the speed of this category, when compared to a few decades ago, as the technology and development of rubber has surpassed the rest of the cars abilities.
During its overhaul the car was re-bushed from front to back, received a new cross member, and had a new steering rack fitted along with some nicely reinforced steering arms. It was a fine tuning process to improve on what was already a championship winning package.
Which brings us to 2021, post-lockdown and with motorsport almost back in full swing, Drew set off in his 'as-new' MkII, backed by Kingspan and Blackwater Graphics, to see of another historic title could be added to the ever growing trophy cabinet.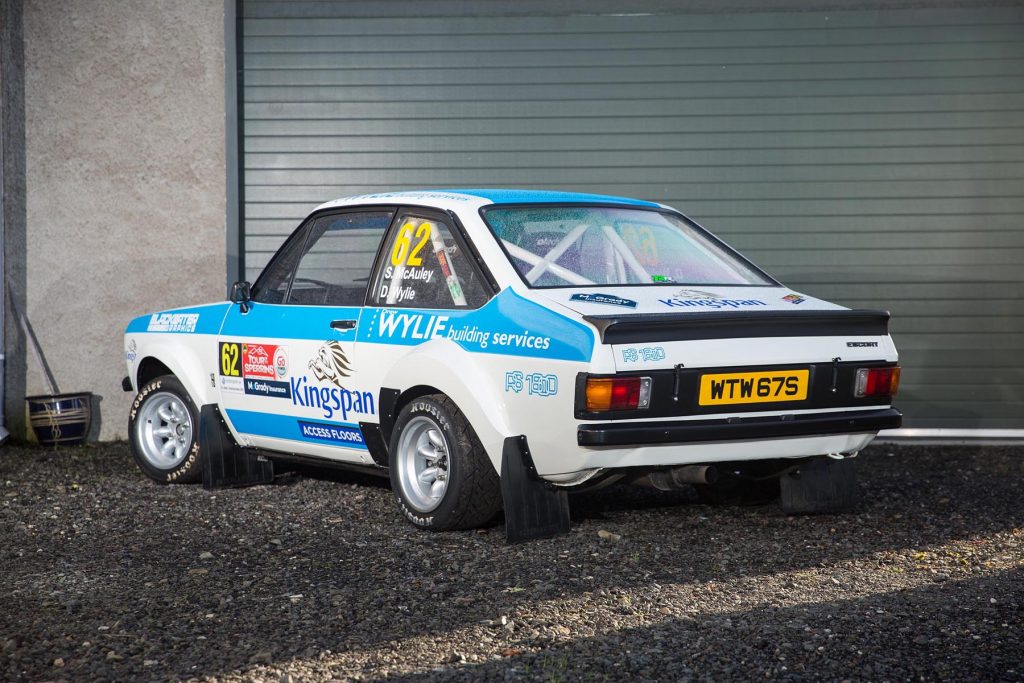 This year's Northern Ireland Historic Rally Championship was reduced to just four rounds, the points from all of which counted. Navigated on all but one of these events by Stephen McAuley, Wylie bagged maximum points on Round 1 at Bishopscourt Racing Circuit, finished second on Round 2 at Ballykelly Airfield, and claimed third at Round 3 in Loughgall Country Park.
Heading into Round 4, the Tour of the Sperrins Rally, the Escort crew had to finish fourth or above to win the championship ahead of Dickie Hall in a similar car, despite the fact that Hall had won three of the four rounds this year. "I went out at the final round purely to harvest points," Drew commented, "I wasn't interested in getting involved with a race at the front, we were just cruising for a finish."
Rounding off the year on the closed public roads with thousands of spectators lining the ditches, almost felt somewhat normal. Having attended the final round myself, I'd say I was as excited to be photographing closed-road rallying again, as Drew was at winning his fifth historic title.
Not bad going for a grandfather of six who's not far off his 68th Birthday!
Words and Photos: GRAHAM BAALHAM-CURRY
[Images must not be used in any way without prior written consent of the photographer]