Saturday 01 August saw the re-commencement of the 2020 SW Adair Tyres Northern Ireland Sprint Championship at Kirkistown Circuit after a Covid-19 induced layoff of four months.
With a bumper entry of 100 cars including three WRC cars and three R5 Spec rally cars, along with thirteen single seaters and a fascinating array of modified cars and roadgoing cars, the day started with the sun splitting the trees and everyone itching to get back behind the wheel.
Unfortunately due to Covid-19 restrictions, it was a spectator-free event so sadly only those who were there competing or on the tools for a driver, were able to see what turned out to be a spectacular days motorsport.
Practice started early and there were an awful lot of cobwebs blown off during the first practice run as everyone tried to find the groove again after so long out of the driving seat. It was also great to see so many acquaintances and motor sport family members again after such a long time apart.
Thankfully almost everyone picked up where they left off after the last round with Steven Gault being the fastest driver after practice with a run of 114.97 secs. Sadly Alan Cassells had a moment at the front chicane and had to be recovered to the paddock with a bent suspension arm and a broken front wishbone joint and his front wheel at a far from standard angle. As usual the motorsport family came together to help Alan out and a borrowed rose joint from Richard Munnis`s spare gear selector and some help and assistance from Robert McGimpsey and his dad Alfie, Alan was back out in time for the second timed runs. Alan doesn't believe in doing things the easy way!
With some epic class battles going on right up and down the paddock it was great to see so many "visiting" rally and hillclimb drivers joining in and having a go. Wesley Patterson and Barry Morris brought their Escort Mk2 and Darrian T90 out and had a battle royale in class 11 with Barry doing a 128.12sec run to put him ninth overall. It just goes to show that the apple doesn't fall far from the tree as Barry is the son of multiple sprint and hillclimb winner Seamus Morris who also, by coincidence, used to campaign a Darrian.
Oliver Cormican debuted his beautiful new VW polo which he has had built. It runs the running gear and engine from his extremely rapid Mitsubushi Evo and Oliver, who hadn't driven the car before today, had a baptism of fire in it as he was pitched alongside 10 other phenomenally quick 4wd cars including Ivan McCullough in is Nissan GTR, Paul Montgomery in his rapid Subaru and none other than Kenny McKinstry in A Subaru S14 WRC Car, along with 6 other R5 and WRC Cars. Needless to say Oliver showed just how deft he is behind the wheel and had an epic battle with Gareth Sayers in an R5 Ford Fiesta. Gareth only pipped Oliver to the lead by a mere 1.16secs which is a phenomenal result for both him and Oliver.
Some other new additions to the paddock were John Donnelly who finally rolled out his new Pilbeam MP62 which he assured me he was only "running in". The car got "well run in" as he piloted it to 20th overall despite having never driven it before. Tom Devaney debuted his new class 14 Jedi Suzuki which he drove to a mega impressive 6th overall. Roy Coulter debuted his new 1.1OMS PR which he also had never driven before either.
Karl Johnston, who some would say was born driving a mini, finally brought his beautiful new MINI out to play and boy is it nice. As you can imagine there was a fair amount of banter around the paddock, with most of it emanating from a grey haired man in a green mini who was determined that he would be the fastest mini in the west. In fairness to Gerry McGarrity he lived up to his promise and was indeed the fastest mini in the west at the end of the day.
When the timed runs commenced Steven Gault hit the ground running and topped the time sheets after the first run by a 1.24 sec margin from Adrian Pollock with Ryan McGimpsey third. By the time the second timed runs had started Alan Cassells had his car fixed and he was ready to go. Alan launched off the line and immediately took top spot in his new car. Adrian went 1.6 seconds faster than his first timed run but could still only manage second 1.42 seconds behind Alan. Steven Gault slipped into third with is first timed run still being his fastest. Alans dominance continued as he lowered his time in his third run to 109.88 secs which was the Fastest time of the day.
Both Steven Gault and Adrian Pollock drove like legends in their older, heavier and less powerful cars but neither driver had any answer to match Alans newer super lightweight OMS 25 which is rumoured to be just over 500bhp. The car itself is a work of art with a carbon fibre tub where everything is designed to be super lightweight as you expect from an ex works OMS car. Fair play to Alan for such a superb final time in such a quick car that he is still getting used to. Don't also forget the unfortunate start he had to the day which is bound to have dented his confidence. There is so much more potential still to come from that package as Alans experience of it grows. This was A lan`s first ever overall win and FTD and he is the third different winner this season.
With the top 3 places being Alan Cassells, Adrian Pollock and Steven Gault in that order it leaves Adrian Pollock still at the top of the overall championship with a 6 point lead over Alan Cassells with Steven Gault a mere 3 points behind in third and Hard Charging Ryan McGimpsey fourth 1 point behind Steven. This will be an epic run in.
As always the road going class battles were tight and like in previous years the fastest road going car was driven by a Robb. However in this instance it was the younger brother Steven Robb who was fastest. Steven has bought himself a Westfiled Suzuki which he runs in the Specialist road going class. Steven is another driver who has bought a new car which he is still getting to grips with, and with experience he will only get faster and faster. Richard Munnis was second road going car home whilst Andrew Robb was third road going car and fastest road going saloon on the day with a 139.63 sec run which put him 41st overall on road tyres in a road going saloon. In the Roadgoing category Andrew Robb extended his category lead to 7 points from second placed Tom Lawther who is a mere 1 point ahead of hard charging Conor Hamill in another BMW M3. This will be a great battle as the season progresses.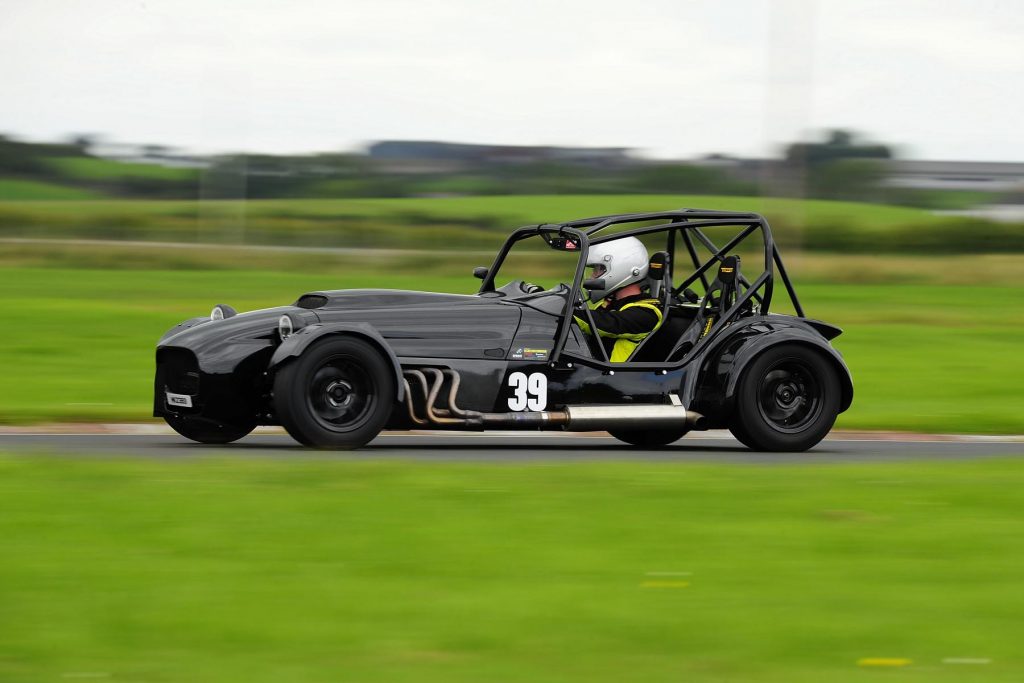 In the modified battle Barry Morris took modified honours in his Darrian T90 with a stunning 128.12 sec run which put him 9th overall. Second modified was another "visiting" rally driver Gareth Sayers in a Ford Fiesta R5 car with Oliver Cormican third in class in his beautiful new VW Polo. To show just how quickly these modified cars are in comparison to the remainder of the field all 3 of them were placed in the top 13 overall. The modified category sees Oliver Cormican extend his category lead to 5 points over second placed Daniel Campbell who is 5 points ahead of Steven Nevin with Alan Roddy fourth.
The specialist Category battle was very good to watch with returning racer Jim Hutchinson and Gerard O`Connell going nose cone to nose cone all day. Over the 3 timed runs there was never any more than 1.42 seconds between the 2 of them. Gerard set the initial pace in run 1 and Jim retaliated in run 2 to set his fastest time of 124.80. Gerard then went for it on his third run and set his fastest time of 125.02 secs which was only a mere 0.22 seconds off Jims time. As the season develops this is going to be an epic dice between these 2 competitors, and then when you throw third placed Graham Boyce and 4th placed David Hawthorne into the mix it just gets more interesting. After this round David Hawthorne leads the category by 2 points from Gerard O`Connell who is 2 points ahead of Steven Hawthorne who has Graham Boyce snapping at his heels 1 place behind in fourth. I predict this battle to go to the wire at the last round, and it really will be the best man who wins.
In the historic Classes Steven Nevin retains the title of fastest Historic (and Im referring to the car) after he took a fabulous 45th overall in his ford escort mk1 with a 140.84 sec run. Alan Jardine was second with a 145.35 sec run but Alan is still having carburation issues with his escort. Apparently a trip to Dr Webber is on the cards. Third placed historic was Gerry McGarrity in his mini. Gerry also wins the highly sought after title of fastest mini in the west after winding all the other competitors up all day about this one. Perhaps we should look about making "the fastest mini in the West" an official championship category?
Lastly, but certainly not least was the Heaslip Ladies Challenge trophy which, as always was hotly contested. Catherine Donnelly finally got her season underway and finished as the fastest of the ladies with her 139.3sec run netting her a superb 39th overall. However the Heaslip Ladies Challenge Trophy is set up to promote competition amongst the ladies based on how they finish against their class peers. Emma Campbell took top honours on the day from Catherine Donnelly with Kathy McDade third. Emma now has a slender 2 point lead over Sheryl McBride with Olivia Coulter third in the Heaslip Ladies challenge trophy contest.
Despite a 100 car entry the event was wrapped up by 1615 hours on Saturday and only a handful of drops of rain were seen all day. The next and now fourth round of the SW Adair Tyres Northern Ireland Sprint Championship is scheduled for Nutts Corner Circuit on 19 September when the North Ulster Car Club are hosting the event. A massive thank you is due to the 500MRCI and all the marshals, officials and everyone else who made this event happen under such stringent covid restrictions.
Words: DAVID EVANS #154 | Photos: Gary Craig Motorsport Photography 
[images must not be used in any way without prior written consent of the photographer]