Saturday 18 June, 2022 was the date of the 2021 SW Adair Tyres Northern Ireland Sprint Championship prize giving and Night of Champions in the Armagh City Hotel.
Sadly, due to Corona Virus restrictions in place in January of this year and then the lack of suitable dates in such a hectic motorsport calendar, the 2021 SW Adair Tyres Northern Ireland Sprint Champions had to wait until mid-June to receive their prizes.
Despite the wait, a huge crowd of award winners attended the evening which was a massive success.
It was the first chance since before Covid for all the competitors to accumulate socially away from an event and to catch up on stories of bravery, late breaking and the age old arguments as to who had the fastest cars, as well as a bit of banter amongst those who had less talent than they believed they had.
After some sterling work by the organisers, all the attendees received a gift bag which contained gifts from several local companies including Used Cars NI, Translink, PaceNotes Rally Magazine, Blackwater Graphics, Pinkertons Pork, Motorsport Supplies and Motorsport UK. A massive thank you is therefore due to each of these companies who donated gifts to be included.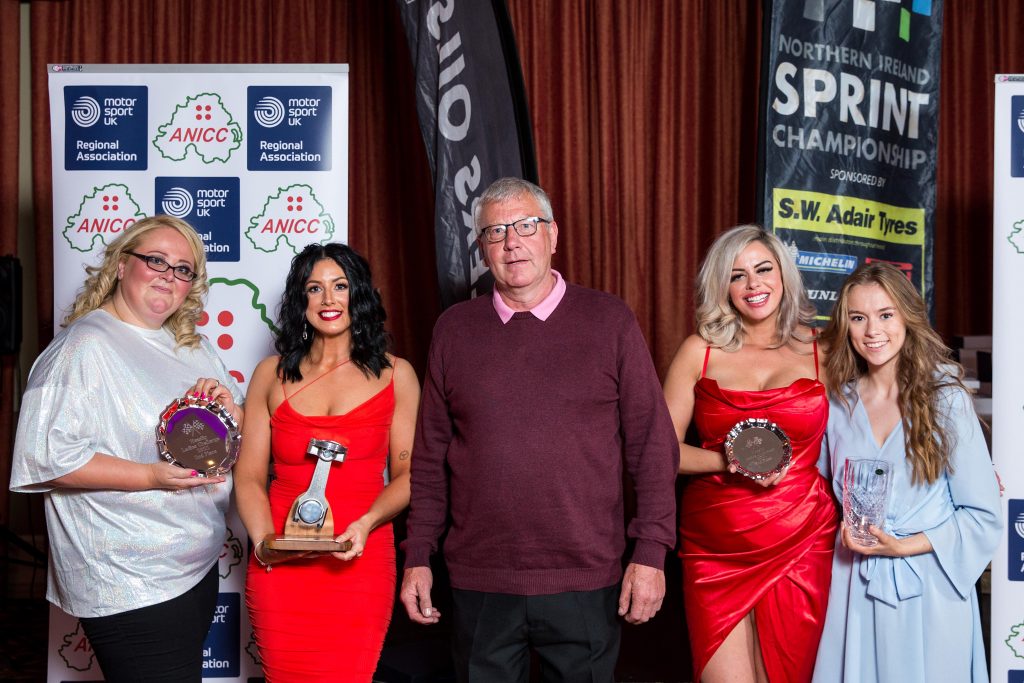 David Evans, who is the Sprint Championship Co-Ordinator was also the compere for the evening and he started proceedings at 19:30 sharp. Awards were given out for the Motorsport Marshals Partnership winner's first and then it progressed to the Championship awards.
David Hawthorne was called on stage to present the newcomers award to his daughter, Amy Hawthorne, in recognition of her superb first championship season. This award is presented to the newcomer across both the SW Adair Tyres Northern Ireland Sprint Championship and the Miller's Oils Northern Ireland Hillclimb Championship, who had made the biggest impression in their first season of motorsport. Amy was a very worthy winner and was totally shocked to win as this award which had been kept a secret from her. Congratulations Amy.
The next round of awards went to the top 3 finishers from the 2021 Heaslip Ladies Challenge Trophy. These wonderful trophies were handed out by the Challenge Trophy Sponsor, Jimmy Heaslip, and the top 3 were as follows – 3rd Sheryl McBride, 2nd Kathy McDade and the 2021 Heaslip Ladies Challenge Trophy Winner was Emma Campbell. The trophies for each award winner were beautiful and are a superb memento of a successful year. Emma also made a small thank you presentation to Jimmy Heaslip on behalf of her fellow lady competitors. It's not often that Jimmy Heaslip is left speechless, but this was one of those few times!! Massive congratulations to all the Heaslip Ladies Trophy Winners.
After the meal, which was fabulous, it was straight to the 2021 SW Adair Tyres Northern Ireland Sprint Championship Award winners with all the prizes being presented by the championship sponsor and lifelong motorsport competitor, organiser, and sponsor, Bill Adair.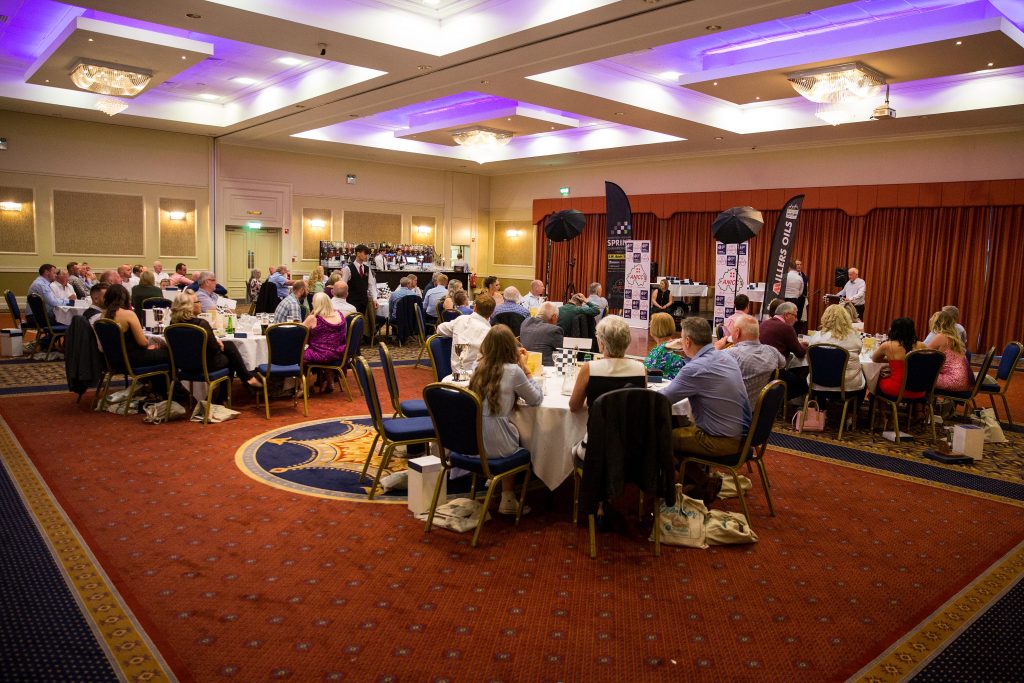 It was great to see so many award winners being there to collect their trophies and to thank Bill for all his work during the season. Alan Cassells who was the 2021 Champion was delighted to be presented with his award, as was Modified Champion, Oliver Cormican, Road Going Champion, Phil Cardy, and all of the individual class award winners.
It was also good to see Bill being given a little bit back in return with the presentation to him by championship coordinator, David Evans, of a very special edition SW Adair Tyres Northern Ireland Sprint Championship Tie, which was presented to Bill on behalf of all the competitors.
During the evening I spoke with Bill Adair who advised that he has sponsored the championship for so long that he can't actually tell us how long he has been the title sponsor for, but he thinks its somewhere in the region of 30 years plus. Bill also advised that he previously sponsored the Loose Surface Sprint Championship and the NI Rally Championship too, over the years. Bill is a minefield of information and like the rest of the attendees had a great night's craic.
Congratulations are due to all the award winners from the 2021 SW Adair Tyres Northern Ireland Sprint Championship as well as all the other winners on the evening.
Words: DAVID EVANS #154 | Photos: GRAHAM BAALHAM-CURRY
[Images must not be used in any way without prior written consent of the photographer]