Volvo to most people translates as a premium product, built to the highest standard possible, and with more safety than a straight jacket and padded cell.
Whilst being built to last forever and cope on rugged terrain when required, the Swedish manufacturer actually only offer eight models in total. It's very much a game of quality over quantity.
Aiming to be climate neutral by 2040, with their line-up of vehicles being fully electrified by 2030, the full range of cars available today are mild hybrid, or greener. This brings me to the pinnacle of Volvo, the XC90.
Standing out of the crowd against Audi's school run favourite, their Q7, and being much more attractive and more agile on the road than Land Rover's Discovery which sits in a league of its own thanks to its off-road ability, can the latest Volvo XC90 fight off stiff competition from BMW's X5?
Quite possibly, as the Audi and BMW rivals can get increasingly expensive once options get added to their specification. Speaking of which, the spec of this XC90 test model would require a full review on its own, but I will try and touch on as much of it as possible, however I can safely say that it packs more toys than Hamleys.
Pricing starts from £58,965 for a mild-hybrid model, I couldn't find or spec it on the Volvo UK website, but according to the Model Year 2023 – Edition 2 to pricelist, a diesel engine is still available in the highest two trim levels, starting from £65,015.
The plug-in recharge hybrid XC90 starts from £67,850 while the car pictured and tested comes in at a snip over £75,000 (at time of testing in July, 2021) thanks to a few options, some of which I believe now come as standard.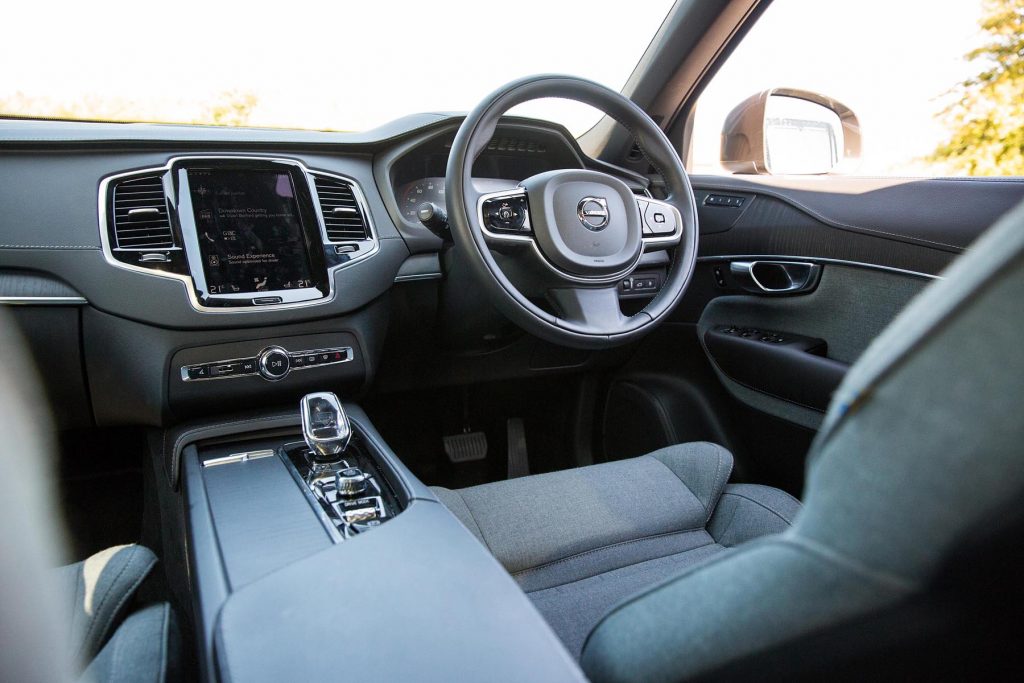 Fitted to every XC90 is the following; nine-inch centre console touchscreen with voice-activated control; Volvo On Call with app – available for your smartphone, smartwatch or tablet, this enables you to control various car functions remotely, and also acts as an emergency and tracking service; Sensus Navigation – full European mapping with traffic information and lifetime map updates; Sensus Connect – allows you to access a range of web apps.
Data SIM card – provides up to 100GB of data for 12 months; City Safety – includes pedestrian, cyclist and large animal detection, and front collision warning with fully automatic emergency braking, including at junctions (a world first); Pilot Assist and Adaptive Cruise Control – this driver-assistance technology helps with the steering (up to 80mph) and takes care of the accelerator and brake inputs required to keep the car within lane markings and at the desired cruising speed.
Also included is Oncoming Lane Mitigation – automatically provides steering assistance if you unwittingly drift out of your lane, guiding you back into your lane and out of the path of any oncoming vehicles; Run-off Road Protection – automatically tightens the front seatbelts should the car inadvertently leave the road, while front seat frames with a collapsible section (a world first) reduce vertical forces to help prevent spinal injuries.
LED headlights with active high beam; Two-zone climate control with CleanZone air-quality system; Power-operated tailgate with handsfree opening; Rear parking camera; Front and rear parking sensors; 12.3-inch active TFT crystal driver's information display; Seven seats – three second-row individual folding seats with fore/aft adjustment and two third-row individual folding seats; and finally heated front seats.
Inside, the dash is pretty clear of clutter thanks mostly to the fact that the 9-inch portrait orientated touchscreen not only looks after the infotainment, but also the vast majority of everything else that used to require a button. Operating the system is smooth, fast and precise, credentials which similar systems from other manufacturers fail to meet, and once used to navigating the various menus, it is surprisingly simplistic.
This larger than life Volvo offers quite possibly the most comfortable seating available from any manufacturer today. The slate coloured, tailored wool blend upholstery on the model tested, perhaps not the most durable for family life. But it looked absolutely fantastic.
No matter what engine you choose, the XC90 only comes with an all-wheel-drive system paired with a seamless 8-speed automatic transmission. The model tested, equipped with Volvo's T8 petrol and electric power plant is nothing short of surprising.
The way in which it wafts this 2 ¼ ton SUV down any road is impressive to say the least, thanks to its combined 390hp with 640Nm, which will see it from 0-62mph in just 6.5 seconds with a top speed of 120mph. Expect a full EV range of just over 20 miles when in a city environment, the recharging of which can be done via a cable or even recharged via the petrol engine when on the move.
Even without electrical assistance, the turbocharged 2-litre, 4-cylinder petrol engine producing a little over 300hp, is more than adequate. For the vast majority of commuters it is safe to assume that the claimed best economy (83.1 mpg) is almost impossible, and without any charge you can expect something in the late 20's mpg when driving with the petrol engine only.
Words and Photos: GRAHAM BAALHAM-CURRY
[Images must not be used in any way without prior written consent of the photographer]