When it comes to buying a small hatchback the Renault Clio is one model that would appear on most buyer's radars and this latest example is no exception.
When I started driving some 20-years ago, the Renault Clio was a firm favourite with friends, mainly due to attractive insurance deals that were offered when buying a new model. The price you paid for the car and its free insurance, wasn't far away from the price of two-year's insurance alone, for a 17-year old.
Back then, it was one of the more practical hatchbacks available, featuring what was most certainly the most supportive and comfortable seats around, as well as what was a new concept back then with its plastic front wings. It was far from the best car in its class, featuring an interior that felt cheap and it wasn't terribly well put together.
As with all things motoring, things have changed drastically over the years for the Renault Clio as it has not only provided some of the most frugal diesel models available in its class, but it has also given many petrolheads the chance to get on track with an array of potent Renault Sport (R.S.) models, over the years.
As is common with most manufacturers now, there is a model that suits the want for sporting pedigree, without the need for a fire-breathing engine, nor requiring pockets deep enough for the ultimate performance model. This most certainly applies with the latest Clio, thanks to its 'R.S. Line' trim which I spent the vast majority of lockdown with.
Despite not leaving the house much during my six weeks with this latest Renault, I did manage to burn-off the contents of its fuel tank, meaning I covered something in the region of 450 miles. This is much more than I would put on most test vehicles and allowed me to really bond with the car.
Starting from £15,295 the Clio range features five trim levels, the most expensive of which is actually the model tested, which starts from £18,495. Surprisingly, according to the Renault UK website, a Bose audio edition of the R.S. Line is actually £200 cheaper, so as someone who likes my music, I know which one I would be opting for.
Depending on which trim you choose from, there is the choice of petrol, hybrid, and even a diesel engine, as well as the option of a manual or automatic gearbox. With the Hybrid engine adding a premium of around £4,000 it is the 1.0-litre, turbocharged three-cylinder petrol engine that is likely to be most popular.
The most potent petrol engine is a 1.3-litre, turbocharged four-cylinder 'TCe' unit, which is paired only with a seven-speed 'EDC' dual-clutch automatic transmission. It is this combination fitted to the test car pictured, which, finished in Iron Blue along with two other options, is priced at £22,755.
One of the options, a 'Techno Pack' offers great value for money, £500 to per exact, with its auto-dimming rear-view mirror, Hand-free parking, wireless smartphone charging and a 360-degree camera.
Featuring 17-inch diamond cut alloy wheels, this model features bespoke R.S. badging, sports front bumper with gunmetal finish F1 blade, sports lower grille, R.S. chrome inserts for front wing, sports rear bumper, gunmetal finish rear spoiler, chrome finish oval exhaust pipe, and rear privacy glass.
The sporting theme continues inside with a red/grey striped fabric and contrasting red stitching on the super supportive, yet very comfortable seats. A perforated leather steering wheel also features contrasting stitching and an aluminium pedal set finish the sports touches alongside seat belts featuring red stripes.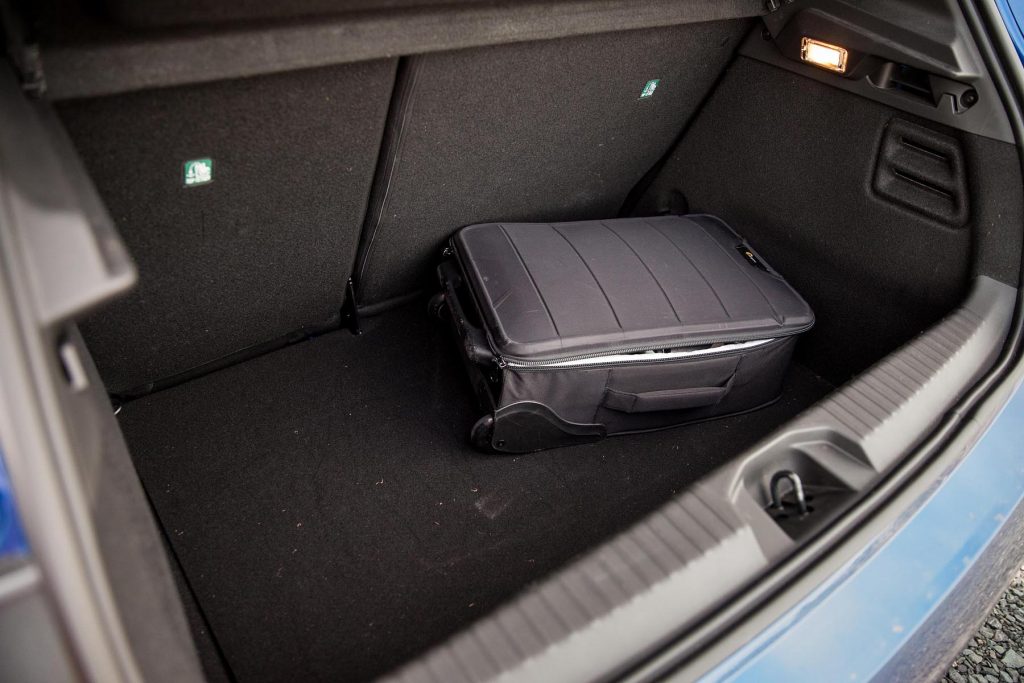 Keyless entry and ambient interior lighting with the choice of eight colours, offers nice additional touches, whilst climate control keeps occupant as comfortable as possible. One feature I feel that should be on a Clio of this specification, that isn't, is heated front seating.
Infotainment comes in the form of a 9.3-inch touchscreen which features DAB and FM radio, Bluetooth smartphone integration, USB and auxiliary input, along with Android Auto and Apple CarPlay, as well as Renault EASY CONNECT and services.
The Clio has never been bigger, nor more practical. I would go as far as saying that it is almost comparable to what my 10-year-old Volkswagen Golf offers in regards to cabin and boot space. The Clio's rear seating being a little less spacious, but mostly only noticeable with four adults during a long journey.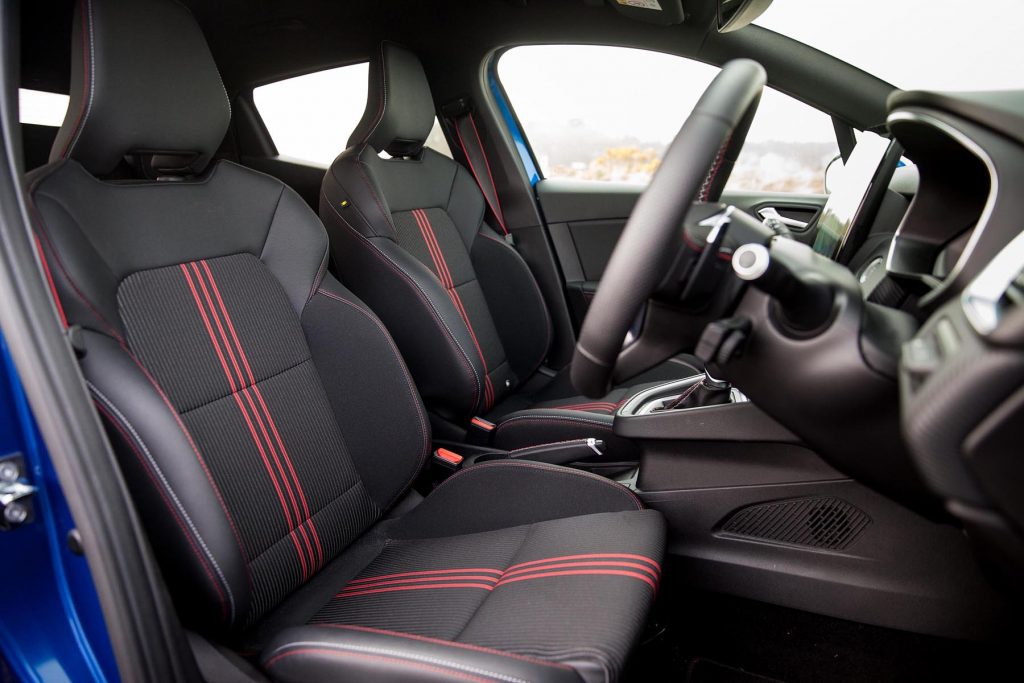 ISOFIX points not only feature on the rear outermost seats, but also on the passenger seat, too.
Other safety aids come in the form of an active emergency braking system, lane keep assist, lane departure warning, traffic sign recognition, and electronic stability control. This Clio also features cruise control with speed limiter, and enough airbags to keep all occupants safe if the worst may happen.
This little Renault offers a rewarding driving experience, perhaps a bit noisier than rivals though, with plenty of road noise apparent. That's something that may well be overcome with a switch to a different brand of tyre, down the line. It is sure-footed and agile, with brakes that could stop the Titanic.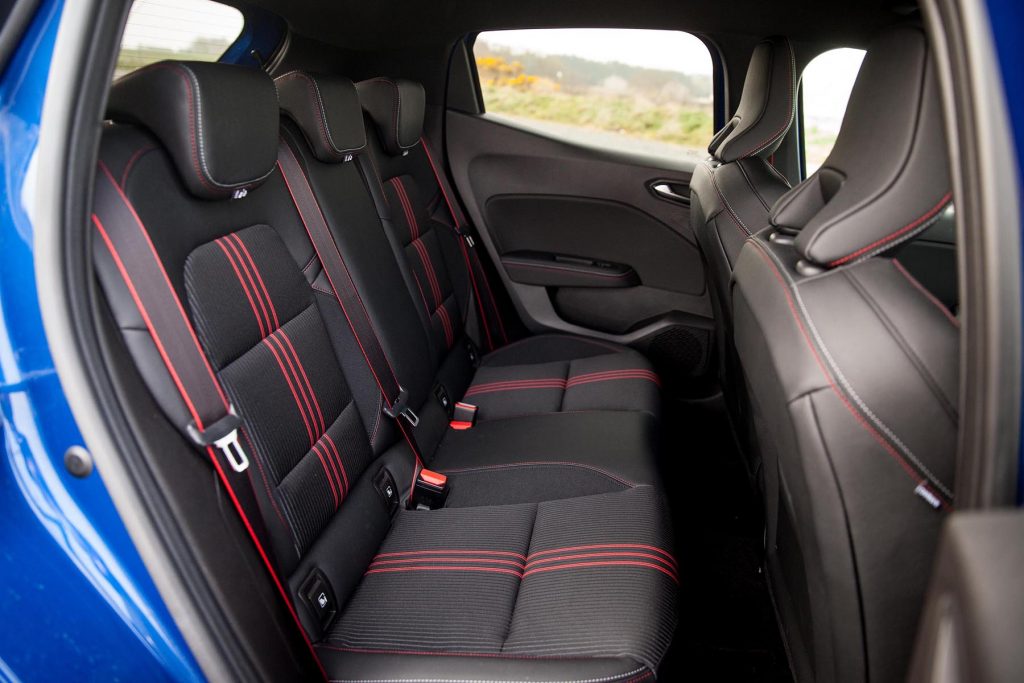 Producing 130hp and 177lb/ft of torque, this R.S. Line model is equipped with ideal power for its chassis and is no slouch. Seeing 0-62mph in 9 seconds, a top speed of a 124mph can be expected with a staggering combined return of almost 50mpg.
The 7-speed dual-clutch 'box wasn't to my liking however, finding it somewhat indecisive and hesitant, which was frustratingly disappointing as on paper it looked promising. Other than that, it was a delightful experience.
Renault offer three-year, 60,000 mile warranty, whichever comes first.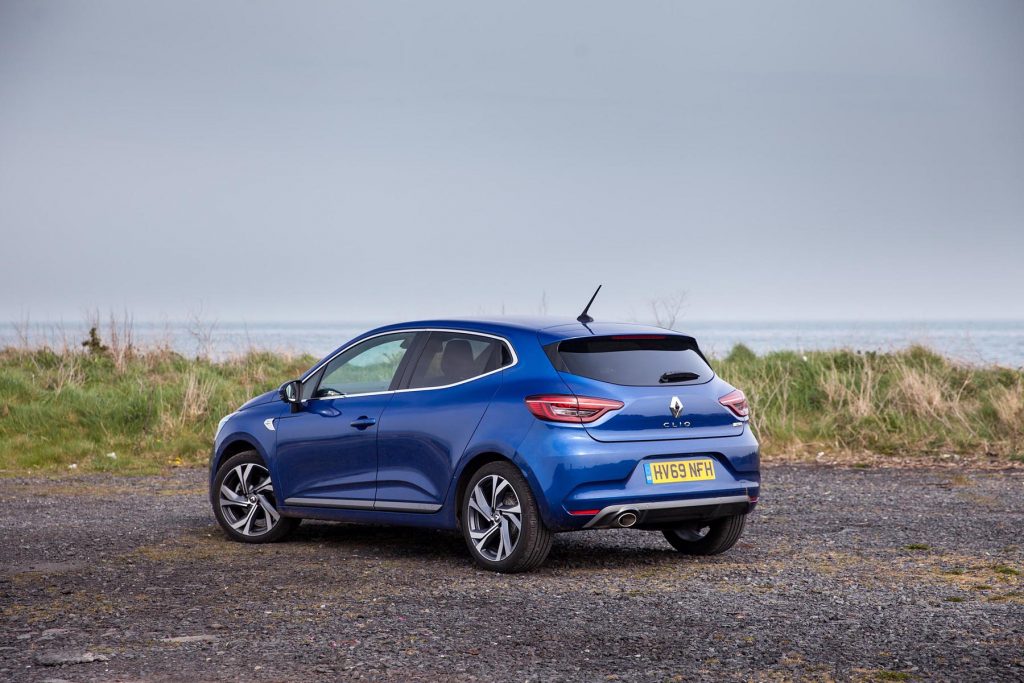 Fact File for model tested
Make : Renault
Model : Clio
Trim : R.S. Line
Engine : 1.3-litre turbocharged petrol
Gearbox : 7-speed dual-clutch automatic
Cost : £22,755
Words & Photos: GRAHAM BAALHAM-CURRY
images must not be used in any way without prior written consent of the photographer