A pandemic forced lockdown had a very different effect on many of us, but for furloughed master technician, Alan Cassells it was the perfect opportunity to realise a dream he has had for several years.
It was a case of 'Now or Never' for the 36-year-old from Lurgan, and alongside his wife, Judith who takes care of all the administration and postage, Motorsports Supplies was born and has been supplying local clubman competitors efficiently ever since.
Alan explains, "Something I have always wanted to do is to get involved with the supply of motorsport racewear and equipment, so Motorsport Supplies was set up in April last year. It is something I have always been interested in and decided this year just to go ahead and do it."
"The website was created from start to finish by myself, so I didn't need to rely on anyone else to get it up and running. We are able to provide race suits, all racewear including seats and belts and basically everything you would need to build a rally car or racing car."
In this day and age most of us tend to head online to purchase everything from the weekly shop, to electronics. Clothing, cars and holidays are mostly purchased via the World Wide Web, so why shouldn't this convenience be utilised when it comes to building a car and making sure your personal safety equipment is up to date.
As one of the top speed event contenders in Northern Ireland, Alan is usually found in and around the paddock area of most Hill climbs and sprints and, keeping a suitable amount of stock which can be brought to most events, should you need to try any clothing or safety equipment for size, it is easy to do so without going out of your way.
"We really like the customised P1 race suits," Alan stated, "But we also offer other brands such as OMP and Sparco, and if we don't have a particular item in stock, we are in a position to work with other local suppliers to make sure that competitors get what they want, when they need it.
"Motamec is a brand coming from Wales that we supply, offering tools and service equipment; seats, belts and harnesses; various pieces of the puzzle to kit your cockpit out; and a vast range of hoses and and fittings. You don't need to worry I'll be there any fuel shortages here either, as we have the full range of Renegade racing fuels."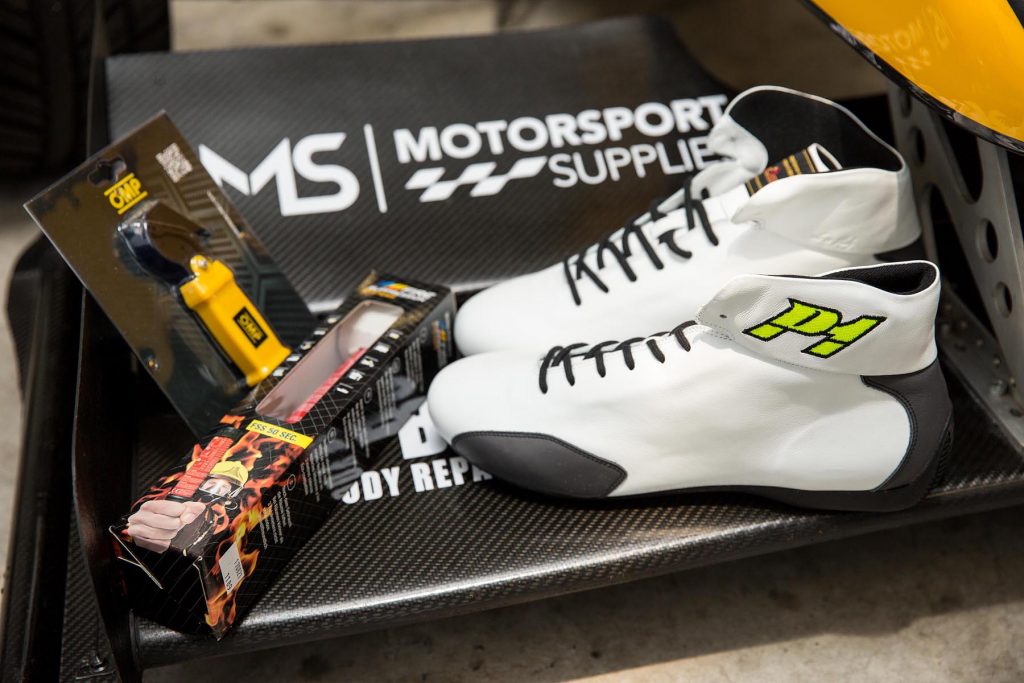 For the most part everything you need should be on the website, but if not, don't hesitate to contact Alan as there is every chance he can sort something that maybe isn't already listed.
A list of many of the popular items available on www.motorsportsupplies.co.uk as follows:
Hoses and fittings by Motamec, a great alternative to aeroquip hoses and fittings; oil coolers; hydraulic handbrakes; batteries by Antigravity, lithium and very light and powerful; Odyssey Batteries.
Cut of switches; ECUmaster electronics and accessories, dash displays; carbon fibre parts, footwells for rally cars etc; Carbon Lorraine brake pads and fluids; steering wheels and boss kits; fire extinguisher systems.
Stilo helmets, intercoms and electronics; Stand21 hans devices and Simpson hybrid; Monit rally computers and accessories; a full range of seats from OMP, Sparco and Motamec, along with seat brackets; racewear by P1, OMP and Sparco; custom-made race suits by P1.
Renegade race fuel, as used in Alan's OMS championship winning car; TRS and Motamec harnesses; various other accessories like bonnet pins, lock wire, spill kits etc.
Looking to the future, Alan hopes to have a small premises open as a showroom to allow fellow competitors the chance of dropping in for a cuppa, whilst checking out the latest in motorsport supplies.
Words and Photos: GRAHAM BAALHAM-CURRY
[Images must not be used in any way without prior written consent of the photographer]