The electric car revolution is here, and leading the way for Hyundai is their multiple award-winning IONIQ5 model which offers 'electrifying' design and a smart living space.
With the IONIQ 5, future mobility will no longer be something to look forward to, but a reality of everyday life. This ground-breaking electric crossover utility vehicle (CUV) will put you in charge – without compromise, helping you to decide about your way of life and your impact on the world.
Hyundai's design heritage has been re-imagined for the future. You can enjoy faster charging, increased driving range, better handling, and more interior space – thanks to Hyundai's ground-breaking new electric global modular platform. This new platform allows and interior that is created for a whole new in-car experience.
The IONIQ 5's pure design is a refreshing take on electric vehicles, stripping away complexity to celebrate clean lines and minimalistic structures. The unique clamshell hood spans the entire width of the car, minimising panel gaps for a clean, high-tech look. The LED lighting showcases its signature Parametric Pixels – unique jewel-like design elements that will feature on the exterior of all future IONIQ models.
Inside, the lines between living space and moving space are being blurred. This new Electric Vehicle platform gave the opportunity to re-create the interior as a whole new in-car experience. A larger flat floor, highly adjustable front seats that can be fully reclined, and a flexible centre console that can be moved throughout the cabin, make for an extraordinary experience.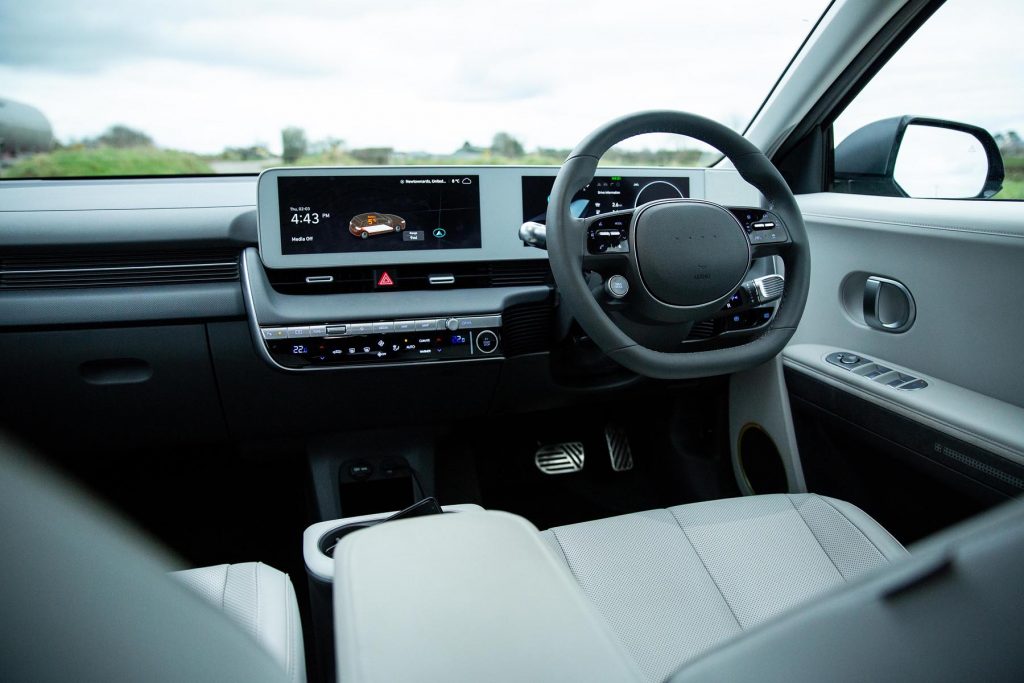 The 12.3-inch infotainment screen is seamlessly integrated with the 12.3-inch cluster for a high-tech look that comes standard – for easy access to all driving, safety, and infotainment functions. Environmentally friendly materials are used extensively in the IONIQ 5, like eco-processed leather and recycled yarn.
What's more, raw materials extracted from sugar cane are used on the headliner, carpet and seat covers. A solution that is both recyclable and beautiful. The innovative use of natural materials is another contribution to sustainability in our manufacturing processes, making the IONIQ 5 less reliant on oil-based products.
IONIQ 5 is one of the first production vehicles with an 800V battery system allowing it to be charged at the super-fast 350 kW public chargers. It charges ultra-fast, performs consistently high, and is optimized for weight and space.
Enjoy a maximum of safety and convenience with the highest level of safety and driver assistance features in the Hyundai line-up. With Hyundai SmartSense, cutting-edge Advanced Driver Assistance Systems, the IONIQ 5 has been equipped with the very latest safety and driving assist features for added peace of mind.
Visually, an advanced head-up display keeps important information within drivers' line-of-sight. Unseen driving aids include forward collision-avoidance assist, blind spot collision-avoidance assist, rear cross-traffic collision-avoidance assist, reverse parking collision-avoidance assist, lane keeping assist, smart cruise control with Stop & Go, remote parking assist, intelligent speed limit assist, navigation-based smart cruise control, and driver attention warning.
Amongst a tech-filled cabin, Hyundai's connected car app, Bluelink keeps you connected to your car. A whole suite of services has been designed to make driving safer, easier, and more fun. They are available through the Bluelink smartphone app and on your Hyundai's touchscreen display. You can check IONIQ 5 level of charge, you can set the ideal cabin temperature, you can enjoy connected routing giving real time information when you travel thanks to Hyundai Live services, Bluelink will even take you to your precise destination once you have parked your car.
Engine, or rather electric motor wise, there are two main options starting with a 58 kWh motor producing 170 PS which comes with two-wheel-drive on the entry level car only. The most popular motor will be the 77 kWh which comes with two power outputs depending on drivetrain. Available on all trim levels, the two-wheel-drive option produces 228 PS while the range topping 325 PS motor powers all four wheels.
Starting from £43,445 the IONIQ5 is far from affordable. You'd easily spend in the region of £54,000 for an ideal trim, of which there are three. 'Premium' is where the range starts, followed by 'Ultimate' which is priced from £49,945 with the 'Namsan Edition' being the range topping model coming in at £54,390.
The model tested and pictured is an all-wheel drive 'Ultimate' which, with options, would cost approximately £54,500. During my week with it, it was very much a comfortable cruiser. Unlike its cousin, the Kia EV6 which is harsh on the road in a similar way to the likes of the Mach-E from Ford.
With up to 315 miles of range and a top speed of 115 mph, the all-wheel drive, twin-motor IONIQ 5 is capable of 0-62 mph a mere 5.2 seconds. Combined with a 5-year unlimited mileage warranty running aside an 8-year 100,000-mile battery warranty, what's not to like.
Words and Photos: GRAHAM BAALHAM-CURRY [Images must not be used in any way without prior written consent of the photographer]