The S-Cross from Suzuki is one of those mundane crossover vehicles that gets about its job without a fuss and as such probably doesn't get the recognition it deserves.
Having driven the all-new mild hybrid S-Cross last year during a camping trip, I was pleasantly surprised by what this model offers. It no longer looks mundane, as the previous generation did. It coped impeccably with lugging the needs of happy campers around, along with providing more than adequate room for a young family.
First impressions are good with this Suzuki which offers great value starting from just £2,0499. Its nearest rival, the Nissan Qashqai starts close to £1,000 more, with most other vehicles in this segment coming in and around £30,000.
Suzuki are famed for offering superb value for money, adequate specification, and excellent reliability. Their affordability has always been reflected with the materials used in and around the cabin, but this is not the case today. The interior quality and finish are on-par with most SUVs of this size and price.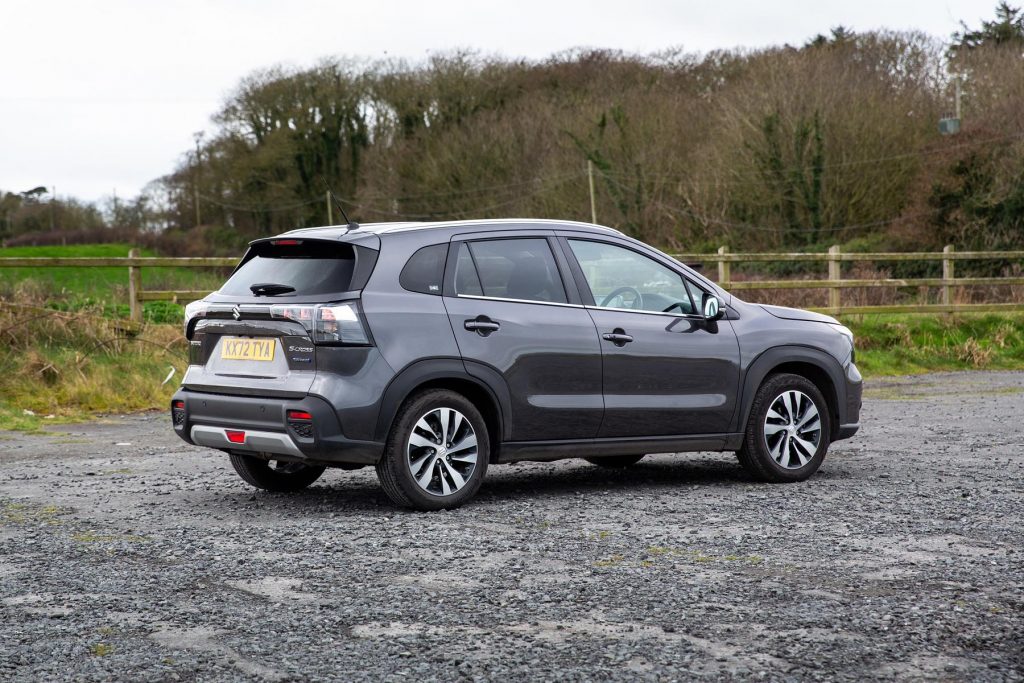 Regarding specification, Suzuki has moved from adequate, to plentiful with the S-Cross. Affording it a fair fight in an incredibly crowded marketplace. One advantage the Suzuki has over some rivals is its availability with a four-wheel-drive system.
With its wide stance and bold design features, the S-Cross makes itself known wherever you go. Briefly you'd probably not recognise what brand the S-Cross is, forcing a double take.
Equipped with a 1.4-litre turbocharged petrol engine, the entry level S-Cross is helped with 48V mild hybrid technology. A full hybrid is also available, and it is this model tested and pictured, that I will talk about for the remainder of this article.
A choice of two trim levels starts with the full hybrid 'Motion' model which is priced from £27,849 and includes 17-inch alloy wheels, keyless entry and start, heated drivers and front passengers' seats, as well as front and rear parking sensors.
For those living rural that require a durable four-wheel-drive system the full hybrid 'Ultra' model starts from £32,649 and adds Suzuki's famed ALLGRIP drivetrain, 360 view camera, double sliding panoramic sunroof, and navigation system.
Peace of Mind is not an option, so safety equipment that comes as standard across the range includes dual sensor brake support, lane departure prevention and warning, traffic sign recognition, and eCall. Next level comfort is provided thanks to smartphone link with Apple CarPlay and Android Auto, and dual zone auto air conditioning.
The full hybrid engine produces 115 HP which can see the Suzuki S-Cross to a top speed of 108 mph. The traffic light dash to 62 mph comes eventually in 12.7 seconds with a more sluggish 13.5 seconds for the four-wheel-drive model.
It wasn't Suzuki's finest hour when they equipped the S-Cross full hybrid with a 6-speed automated manual transmission. Having first experienced this transmission during a brief drive at a Vitara launch event in Wales, I wanted to hold judgement until I could spend a week with it.
Sadly, my judgement didn't change after seven days, and this one significant piece of mechanics would put me off owning the full hybrid S-Cross. A combined economy of 48.7 mpg is claimed, although I struggled to see 44 mpg.
For me, the S-Cross is a perfectly capable family car with good ground clearance, I do like it and if I was to opt for one, it would be the 1.4 turbocharged petrol model fitted with the 6-speed manual 'box.
Built at the Magyar factory in Hungary, Suzuki offer a 3-year/60,000 mile warranty.
Words and Photos: GRAHAM BAALHAM-CURRY [Images must not be used in any way without prior written consent of the photographer]