The Honda Civic e:HEV is a remarkable iteration of the iconic Civic line-up, offering a blend of exceptional fuel efficiency, advanced technology, and a stylish design. Equipped with Honda's e:HEV hybrid powertrain, this variant sets a new benchmark for eco-friendly driving. In this detailed review, we will delve into the features, performance, pricing, and specifications of the Honda Civic e:HEV in the UK market.
The Honda Civic e:HEV retains the sleek and aerodynamic design of its predecessors while incorporating subtle enhancements that showcase its hybrid nature. With its sporty contours, bold front grille, LED lighting elements, and distinctive alloy wheels, the Civic e:HEV exudes a modern and dynamic appearance. It strikes a perfect balance between sophistication and athleticism, making it an attractive option for both urban commuting and long drives.
Step inside the Civic e:HEV, and you'll be greeted by a thoughtfully designed cabin that emphasizes comfort, practicality, and advanced technology. The quality of materials used is top-notch, and the overall fit and finish are impressive.
The spacious interior accommodates five passengers with ample legroom and headroom. The driver-focused cockpit features an ergonomic layout with intuitive controls and a high-resolution digital instrument cluster that provides relevant driving information.
The infotainment system, equipped with a 9-inch touchscreen display, supports Apple CarPlay and Android Auto for seamless smartphone integration. Lugging large loads around will never be an issue, as the Honda Civic offers an incredibly generous 1,220-litre boot capacity with the rear seating stowed away.
The Honda Civic e:HEV utilizes a cutting-edge hybrid powertrain that combines a 2.0-litre petrol engine, an electric motor, and a lithium-ion battery pack. This intelligent system optimizes power delivery, energy regeneration, and fuel efficiency. Over 500 miles on a full tank is achievable with a 0-62mph dash in circa 8 seconds with a top speed of 111mph.
The petrol engine acts as a generator to charge the battery when needed, and the electric motor assists the engine during acceleration, resulting in smooth and responsive performance. The powertrain is mated to an efficient continuously variable transmission (CVT) that offers seamless gear shifts and contributes to an enjoyable driving experience.
The total system power output of the Honda Civic e:HEV is around 180ps, providing sufficient power for daily commuting and motorway driving. The hybrid system offers various driving modes, including an all-electric EV mode for short-distance, zero-emission journeys. The transition between electric and petrol power is seamless, ensuring a refined and quiet driving experience.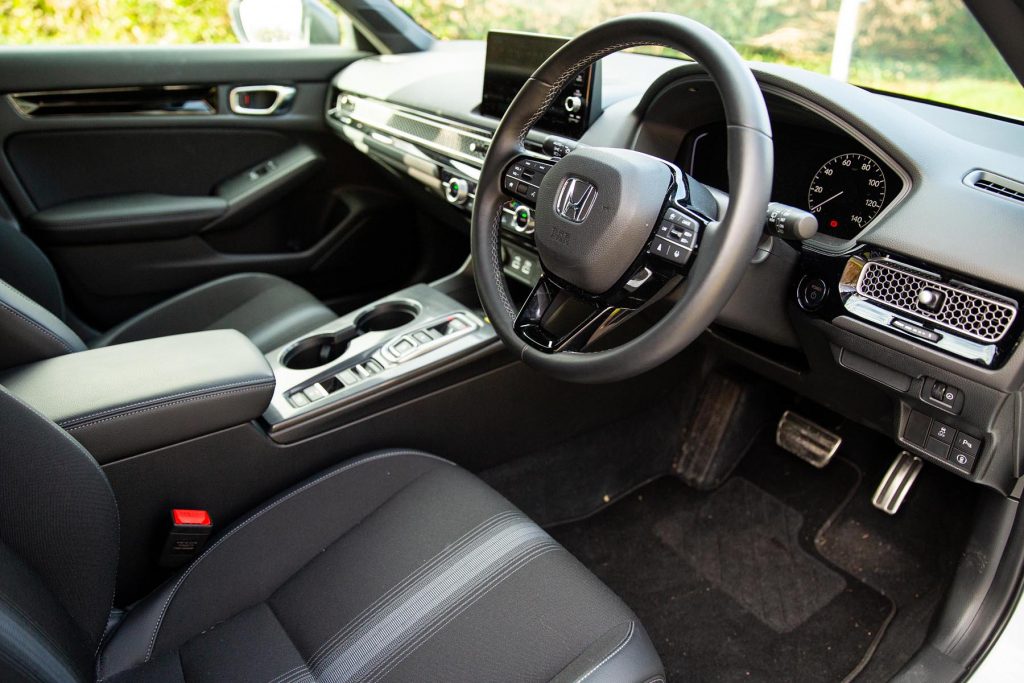 Honda has always prioritized safety, and the Civic e:HEV is no exception. It comes equipped with Honda Sensing, an advanced suite of driver-assistive technologies. Features such as adaptive cruise control, lane-keeping assist, collision mitigation braking system, and road departure mitigation contribute to a safer driving experience. Additionally, the Civic e:HEV incorporates advanced structural engineering to enhance occupant protection.
The Honda Civic i-MMD eCVT is available in two trim levels starting from £33,815 with the 'Sport' which features keyless entry and start, heated front seats, wireless phone charger, Honda SENSING, front and rear parking sensors, rear view camera, LED fog lights and adaptive cruise control.
Priced from £36,470 is an 'Advance' model as tested and pictured which adds digital driver's display, heated leather steering wheel, panoramic glass roof, adaptive driving beam lights and premium Bose audio 12 speaker sound system.
Words and Photos: GRAHAM BAALHAM-CURRY [Images must not be used in any way without prior written consent of the photographer]