When it comes to electric vehicles I have always struggled to get excited about them that is until I drove the Honda e.
Right up until spending a week with this quirky little Honda, I have never found an EV that I would actually wish to own. Many that I have experienced all carry merits in various areas, but none of them drove particularly well.
Living semi-rural, I feel that the extra weight carried in these vehicles, thanks to their batteries, isn't absorbed pleasantly via the chassis nor through the suspension on our rural roads network. They often feel very unsettled and nervous on an undulating stretch of tar at any sort of speed.
The worst culprits are those cars based upon a chassis initially designed to house an internal combustion engine. However, I have also not gelled with the driving mannerisms of even some of the most talked about and decorated purpose built EV's on the market.
The Honda e has changed my perception, thankfully, despite its eye-watering price tag and limited range. Given that this is nothing more than a small city car, it offers a surprising amount of room inside. The driving experience, even outside of the city, absolutely outstanding.
At a glance, the Honda e is priced at £6,000 more than electric rivals such as the Fiat 500, the Renault Zoe and the larger in size, Mini. All of which will be capable of doing at least fifty miles per charge more, in the real world. With the Zoe able to achieve double the miles of the Honda.
Finding its place as a city car that might struggle with a commute, when compared to others in this segment, pricing for the Honda starts from £36,920. At time of writing just one trim is available on the Honda UK configuration site.
This 'Advance' grade comes incredibly well equipped with My Honda+, full-width dual screen, heated leather steering wheel, single pedal control, smart entry and start, 230 volt outlet, centre camera mirror system, charging port, and Honda Sensing.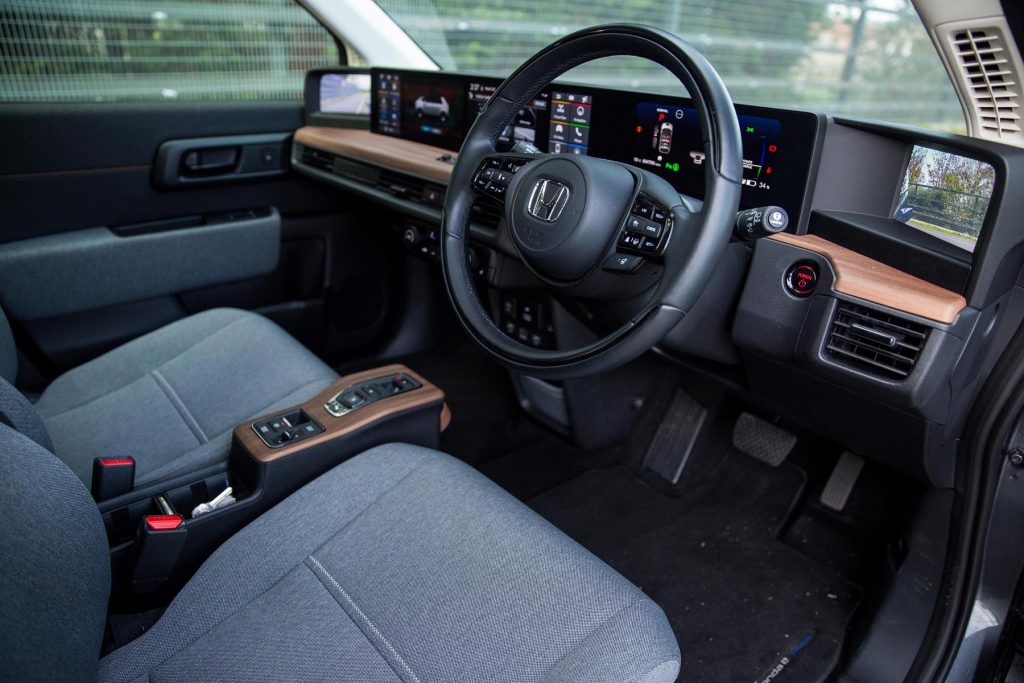 Also featured or LED daytime running lights, sky roof, pop-out door handles, rear privacy glass, side camera mirror system in place of large traditional side mirrors, Honda parking pilot, and heated front seats.
Various options and packs are available; key ones being a Style Pack priced at £2,165 which fully colour codes the vehicle. And an Illumination Pack priced at £655 which adds ambient lighting inside as well as illuminated doorstep garnishes.
Also available is U.R.B.A.N. Pack Black & Blue which is priced from £900 and adds a classy accent to your Honda e. Mouldings around the car with the blue accents offer extra protection and are a reference to the Urban EV concept that includes doorstep garnishes, bumper mouldings, and side body trims.
A choice of five exterior paint finishes are available, as well as either 16-inch or 17-inch alloy wheels. Inside the cabin you can specify dark brown or midnight black leather upholstery at an additional cost of £1,395.
In the week spent with the car tested and pictured, I covered a fair amount of mileage. Enough to get used to having live screens at each end of the dash, instead of side mirrors. But not long enough to get used to having two large screens that pretty much control everything to do with the vehicle.
The grey cloth upholstery fitted as standard brightens up the interior. The tan coloured seat belts and stitching around the interior matching perfectly to the wooden trim featured on the dash and centre console.
The Honda e is equipped with a 35.5 kWh battery which produces the equivalent of 154ps with 315 Nm of torque. This equates to a 0-62 mph sprint in 8.3 seconds with a top speed of 90 mph.
Like almost all WLTP range figures for electric vehicles, what you get in the real world is far removed from what the manufacturers claim, and the Honda e is no different. Myself and many others who have driven this car, could not get more than 100 miles from a full charge.
As I touched on before, this little Honda is, without doubt, the best driving EV I have experienced. As you would expect, it is perfectly at home in the city. Give it a motorway, and it won't blink an eye. Take it a lap of Strangford Lough, and it will return a surprising amount of confidence and feedback. As well as a smile!
As someone who has never really conformed to the norm, I absolutely love everything that this little car stands for, and is capable of. My children must have lost a good half an hour changing the cars aquarium, and the fish within it. A moment I will treasure for a long time.
Where I do struggle with the Honda e, is that you could quite easily rack up a whopping price tag of over £42,000 by adding just a handful of options.
Servicing should be done annually or at 10000 miles, whichever comes first. And Honda offer a 3-year warranty with the main battery covered by an 8-year or 100,000 miles guarantee.