Local man Ronan Cunningham, from Coleraine, has been organising the 'Supercar Sunday' event for the last few years. This year Ronan expanded the event across the entire weekend to fundraise for two well-loved local charities, Northern Ireland Hospice and Air Ambulance Northern Ireland.
The weekend long event kicked off on Saturday 14th August, in partnership with supercar club Bumblebee 1000, leading 70 supercars on a tour of the North Coast before culminating in an auction at the Culloden Hotel. A convoy of approximately 200 supercars made their way from Lisburn to Bishopscourt Race Circuit on Sunday 15th August.
At the Racecourse there were 340 supercars on show with around 1000 cars from luxurious to vintage on display. The Supercar Sunday event, which implemented COVID safe measures, saw thousands of spectators turn out to see the vast range of Supercars on show from Ferrari's to Lamborghini's, McLaren's, Aston Martin's, and passenger laps were available in a selection of cars.
Event Organizer Ronan Cunningham "I would like to say a massive thank you to all the car owners who volunteered their own cars and time to support me in bringing this all together. All the Volunteers from both charities who came to help over the weekend, the management from Bishopscourt Circuit for the venue and also to the NW200 organizers for the paddock in Portstewart"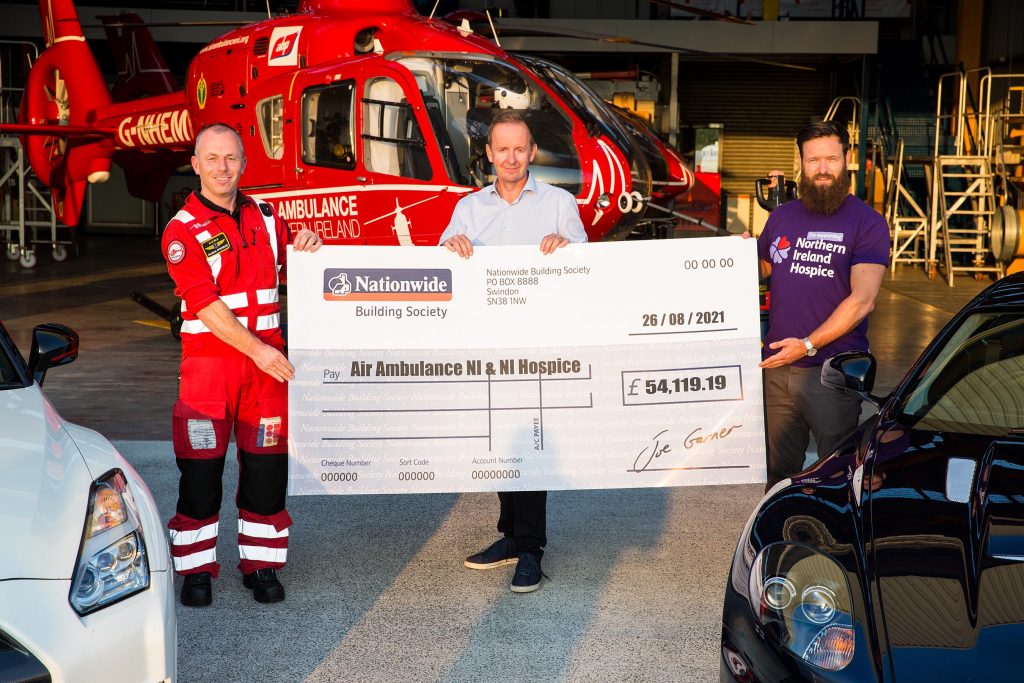 Mary McCall, Director at Northern Ireland Hospice congratulated Ronan on the extremely successful event. "We are delighted that Ronan and all who supported the Supercar Sunday event chose Northern Ireland Hospice to benefit from this amazing event. We had to cancel our own events this year due to COVID-19, so Ronan's efforts are even more extraordinary, I can't express how grateful we are for this donation.
"We have remained on the front line of care throughout the pandemic and continued to provide our specialist palliative care for families across Northern Ireland. But it has taken a toll on our ability to fundraise, and we rely heavily on voluntary donations, the money from Supercar Sunday has never been needed more, a massive thank you to everyone who donated so generously." 
Kerry Anderson, Head of Fundraising at Air Ambulance NI, expressed her thanks and congratulations to Ronan. "On behalf of all at Air Ambulance NI, a massive and heartfelt congratulations for funding 5 days of the Helicopter Emergency Medical Service. There was an incredible amount of work for Ronan and we recognize the organization, commitment and hours involved in an event of this scale. It was wonderful to see a community of support come together on the day.
"Through these amazing efforts, at least 10 patients will receive critical care at scene following a traumatic injury; saving lives, brains and limbs. Thanks to Ronan and his family, key organizers, the supercar owners, car clubs, sponsors, and prize donors, Bishopscourt racetrack, charity volunteers and marshalls, and all who attended. You are all life savers!"
Words: DAVID DIXON / NI HOSPICE | Photos: GRAHAM BAALHAM-CURRY
[images must not be used in any way without prior written consent of the photographer]