BMW is a brand best known for rear-wheel-drive executive saloon and estate cars, often producing high-performance variants through their M-Division and as such, this people carrier sits in the market with raised eyebrows.
The BMW 2 Series has been available for six years, and, now into it's second generation, is available with five varying body styles. Starting with a Coupé the range then moves to a sleek looking Convertible, followed by a more practical four-door Gran Coupé, then the Active Tourer and finally, the Gran Tourer.
Having driven the Gran Tourer quite a while ago, it is this model I wish to talk about within this article. The first question to be asked, 'what is the BMW 2-series Gran Tourer?'
Think front-wheel-drive family car, with 7-seats and a bit of practicality, a car like the Volkswagen Touran or Renault's Grand Scenic for ease of description and purpose.
This model from BMW fills a void in the premium car market for such a vehicle, and despite lacking some interior flexibility of its rivals, the BMW offers quality throughout with the option of four-wheel-drive.
Imagine you have driven a BMW most of your working life as a company car. Your partner also drives one. You both love the brand, you love the sporting agility, you love the seating position and you love the range of engines. 
After a few bumps in the night, you now love the patter of little feet in your life, but you still want a car that you know and love to transport the family in comfort and safety.
This is where the BMW 2 Series Gran Tourer ticks the boxes for you.
Prices start from £27,470 making the Gran Tourer cheaper than the entry-level Volkswagen, but as you would expect, the BMW is a few thousand more the Renault equivalent.
Despite German maker BMW adding more standard spec and tech to their vehicles, expect to pay quite a few thousand on options to bring your 2 Series Gran Tourer into a comparable trim of other brands.
Aesthetically this car looks as good as any MPV can look and is available in four trim levels starting with the 'SE'  which comes with alloy wheels, electric windows, satellite navigation, parking sensors, ISOFIX child seat anchor points, electric mirrors, cloth seat trim and cruise control.
Next is a 'Sport' which starts from £28,720 and adds 17-inch alloy wheels, sports seats, sports leather steering wheel, high-gloss black interior trim add highlighted cloth seat trim.
A 'Luxury' model starts from  £29,470 which adds 18-inch alloy wheels along with leather seat trim along with fineline stream wood interior trim.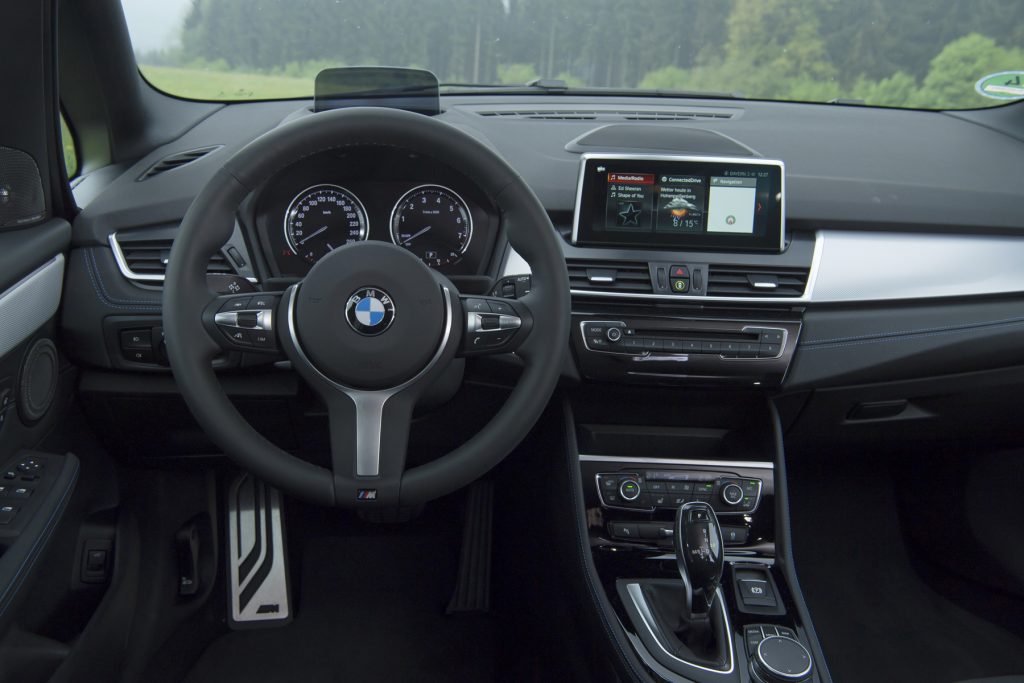 Finally the 'M Sport' model adds leather sports seats, aluminium hexagon interior trim, M Sport suspension, M Sport steering wheel, a different style of 18-inch alloy wheel and high-gloss exterior trim with prices starting from £30,475.
Trim level dependent, a brace of petrol engines are available alongside a trio of diesels, all of which come equipped with an automatic gearbox, whilst the smallest petrol and the two lesser powered diesel engines come with the option of a manual gearbox. 
A front-wheel-drive diesel is more likely to be most popular, while the four-wheel-drive version only comes with the most potent diesel engine and automatic 'box.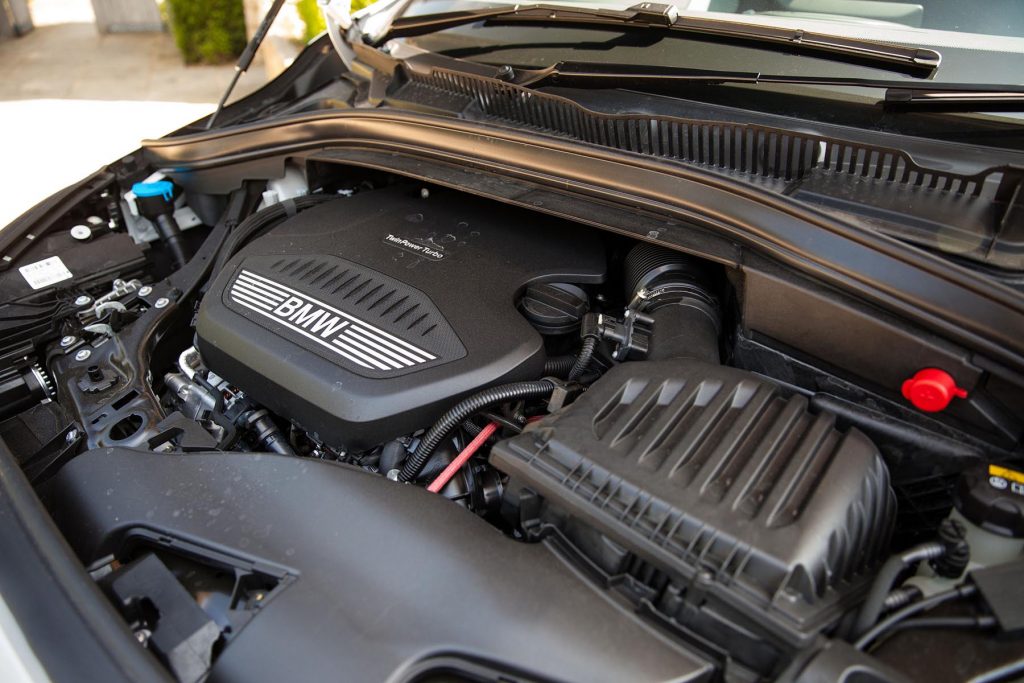 A 1.5-litre, three-cylinder petrol engine (218i) produces 134bhp and will do 0-62mph in less than 10 seconds and on paper, seems incredibly frugal, whilst a 2-litre petrol engine (220i) produces 189bhp and will see that sprint to 62mph, two seconds quicker.
Claiming to be the most efficient car in this segment, a 1.5-litre, three-cylinder diesel engine (216d) produces 114bhp and see's a 0-62mph run in 11.4 seconds. A pair of 2-litre diesel engines start with 148bhp (218d) and 187bhp (220d) which will see the traffic light sprint in 9.5 and 7.8 seconds, respectively.
The model tested and pictured here is a 220dX M Sport Gran Tourer and, with a plethora of options ticked, is priced at circa £43,710. It has three popular packs added to its specification. All three packs cost a bit more than £1,000, the first two of which I talk about here, I feel are most beneficial.
The 'comfort pack' adds heated front electric seats with drivers seat memory, a heated steering wheel and lumbar support for both front seats while the 'vision pack' adds  LED headlights, folding anti-dazzle mirrors and a reverse camera.
A 'tech-pack' adds a head-up display, Wi-Fi hotspot preparation, BMW navigation Plus and enhanced Bluetooth with wireless charging.
A BMW three-year unlimited mileage retailer warranty gives you peace of mind for the first three years of your ownership and even includes BMW emergency service for any of those unforeseen events.
Fact File for model tested
Make :  BMW
Model :  220dX
Trim : M Sport
Engine : 2.0-litre diesel
Gearbox : 8-speed automatic
Cost : £43.750
Words & Photos: GRAHAM BAALHAM-CURRY
images must not be used in any way without prior written consent of the photographer