A career in motorsport is something many young fans aspire to, but not all of them wish to be in the driver's seat. South Eastern Regional College provide the perfect stepping stone for such school-leavers.
Based within the colleges award-winning Environmental Skills Centre at its Newtownards campus, the level 3 motorsport engineering course equips students with the skills and knowledge to pursue a career in the motorsport engineering industry.
Requiring Maths, English, Technology and one Science, all with a Grade C or above at GCSE level, it is a course that is very accessible. After two years of hard work and keeping the head down, students have the opportunity to leave with the equivalent of three A Levels.
I was afforded the chance to catch up with students and their tutors at the final round of the Northern Ireland Sprint Championship, held at Kirkistown Racing Circuit, County Down.
A day like this not only allows students some time out of the classroom but it gives them the opportunity to see, smell, and hear motorsports first-hand.
Starting off in the scrutineering bay, chief scrutineer on this event, Gillian Magee was on-hand to talk students through each and every aspect of checking the cars safety equipment, and that the car's mechanicals, tyres, and bodywork all conformed to the motorsport UK rulebook for competition.
Students then made their way to the heated pit garage of Gerard O'Connell, who drives Sebastian Vettel's former World Series Dallara. Undoubtedly the most advanced vehicle that lives and competes in Northern Ireland, it provided the perfect opportunity for students to learn about the highest level of the sport from Gerard's engineer, Stephen Colbert.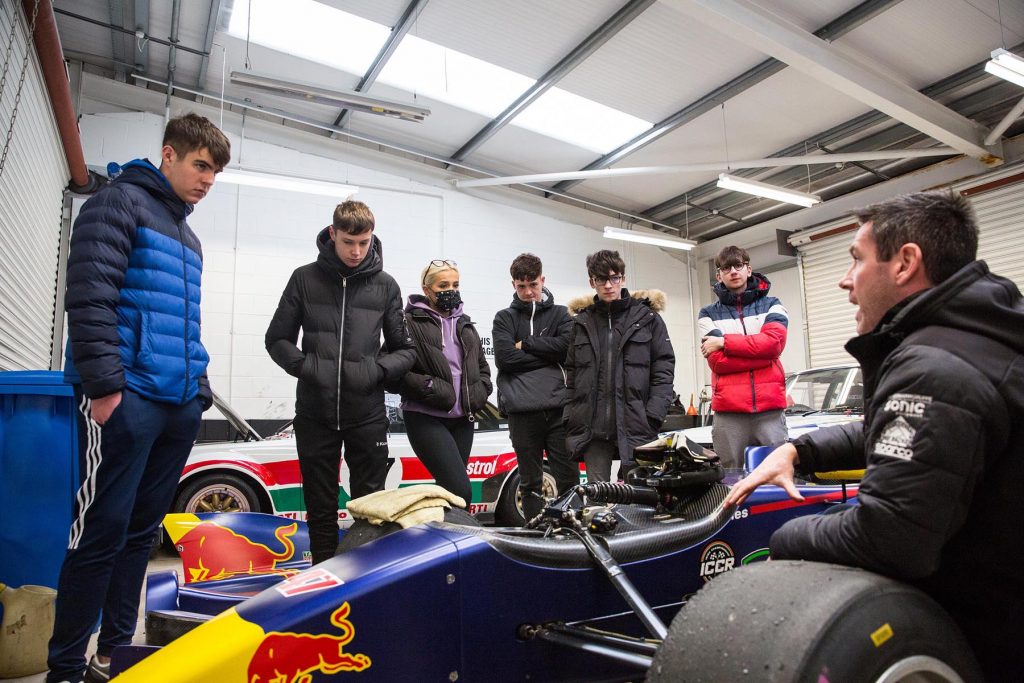 Stephen's career has seen him travel the world with motorsport, mostly Formula 3 which is very much a junior feeder series for F1. With that in mind, Stephen gave insight into chassis, suspension, tyres, aero and down force. Colbert also showed the students different data-log graphs from cars racing and testing on various circuits in Europe, which highlighted not only fine-tuning a car to a venue, but fine tuning the driver to the car or vice versa.
From here it was back into the cold, wet and windy paddock at Kirkistown students have the chance to peruse the faster rate of machinery entered into this event, chat to the drivers, and chat to any crew members who could answer questions about car design and setup.
Deputy Clerk Of Course on this event, Fel McIlRoy, along with COC, Wilson Carson then and had the opportunity to speak to students regarding the safe running and marshalling of motorsport. A vast team of volunteers are required for any event, many of them trained in specific areas such as radio, flag, fire, start-line, and rescue.
Mentored through their level three motorsport engineering studies by course coordinator, Stuart Parker who spent a decade working on top flight single seaters for a local racing team, as well as fabrication aficionado, Stephen Wishart who has built from the ground up, some of the country's most impressive rally cars, these teenagers really are in knowledgeable hands.
"Progression from the course is for students to jump straight into a pit lane role, or to head into a full-fat motorsport degree at university," Stuart explains.
"Our two-year course covers all the essential basic elements such as race car setup, engines, transmissions, and regulations. We then cover the engineering side of things by learning Computer Aided Design, fabrication and welding, sheet metal fabrication, and most of all Maths. Generally speaking our students come straight out of school, but we have people join our course in their mid 30s as they wanted a career change."
Stuart continued, "Today at Kirkistown is what we call a scrutineering day where these first year students will learn what racing circuits are all about, without getting their hands dirty. We get the chance to talk with teams and drivers to get their viewpoint on what it is like to race. And because it is club racing, it is a great place to learn as the higher up the motorsport ranks you go, the less people are willing to chat to you.
We attend three events per year with the students, and pre-covid we had the chance to visit Renault F1. We have also visited M-Sport whose operation has run in the World Rally Championship for decades with the Ford brand, along with a few other motorsport teams based across the water."
Words and Photos: GRAHAM BAALHAM-CURRY
[Images must not be used in any way without prior written consent of the photographer]