A County Antrim couple are raising money by driving across the USA for Alzheimer's Research UK because they have to remember those who may forget us – the adventure of Jim and Alan Magill, on a mammoth adventure.
You may recognise the name Jim Magill, as I recently drove a car here in Northern Ireland that he had sourced for the Lane Motor Museum in the United States of America. That car was a Japanese KEI car, Honda s660 to be precise, but within that article I talked about Jim's connection to the museum in Nashville, Tennessee and how he has sourced various cars for Jeff Lane over the last decade.
One of the most interesting vehicles he has helped add to the museum's collection is a Volkswagen XL1, worth something in the region of $150,000. Volkswagen built 250 of these vehicles for the European market, with only 200 of those available for retail customers. So they are an incredibly rare sight even at the best of times, never mind in America.
Jim's story with this vehicle, which was one with incredibly low mileage, starts a few years ago when he collected it from a dealer in Germany. Having spent considerable time driving it around Europe and the UK when he first collected the car, as well as now traversing America, the car sits on circa 25,000 miles. That's before the return journey of around 3,000 miles to its home in Tennessee.
I'll let Jim carry on with the story of their latest charitable adventure.
The Story – as told by Jim Magill…
"People with dementia are still people, they still have character and stories to tell and we want to create a road trip story with the Lane Motor Museum, Nashville, Tennessee, to raise funds for important Alzheimer Research in the UK and across the world.
This May 16th we will be driving the prototype Volkswagen XL1, the world's most economical car powered by an internal combustion engine, across a continent from New York to San Francisco, a journey of around 3,000 miles on less than 30 gallons of fuel (or about 2 tankful's in a normal family car).
We have christened the XL1 'The Car of the Future Past' because when it was shown to the world in 2014, its tiny, frugal 2-cylinder diesel engine, was going to be the next generation in automobile technology squeezing 313mpg out of every gallon but time has shown that battery electric cars to be they way forward for personal mobility in the 21st century."
Jim continued, "The Lane Motor Museum in Nashville have the only example in the United States, and through their generosity we would like to give the XL1 a last hurrah on a huge iconic road trip, that it was never designed to do, in a country that it was never sold in.
"We would love you to follow our adventure and consider donating to help overcome this terrible condition with the good work of Alzheimer Research. Even though they are a British based charity, they donate to projects world-wide to support studies and investigations towards finding a cure for the millions who suffer from Alzheimer's disease.
Follow us on social media with the hashtag #TheCarOfTheFuturePast"
"She has not voyaged into the dark of Alzheimers, she has arrived somewhere, as have I" – John Bayley
The Progress…
After 5,001 km, Jim, along with husband Alan, arrived in San Francisco having departed New York in the Volkswagen XL1 just 6 days prior. On arrival, the couple surpassed their fundraising target of £3,000 by more than £1,000.
On route, the Carrickfergus based couple went from Des Moines at +34'c to Lusk Wyoming at -2'c in one day. A chilling reminder of the feat they have undertaken in such a unique car.
In fact, before this massive difference in climates, the car visited Warsaw for the second time, but with a major difference. As the first time this vehicle visit Warsaw, it was a city that is the capital of Poland. Whereas this time, the Warsaw visited, is a city in the state of Indiana, USA.
Anyone with half an interest in motoring will have heard of the Bonneville Salt Flats regarded as the home of land speed records. Jim and Alan took the XL1 onto this lunar landscape in Tooele County, north-western Utah, and seized this once-in-a-lifetime opportunity to capture some incredible image of this futuristic car in an equally unique location.
Car limbo is a thing that I have witnessed at a Volkswagen show in Castlewellan many years ago, so it was refreshingly entertaining for me to see a photograph of this Volkswagen xl1 crawling under a car limbo at a show in America during it long trek West.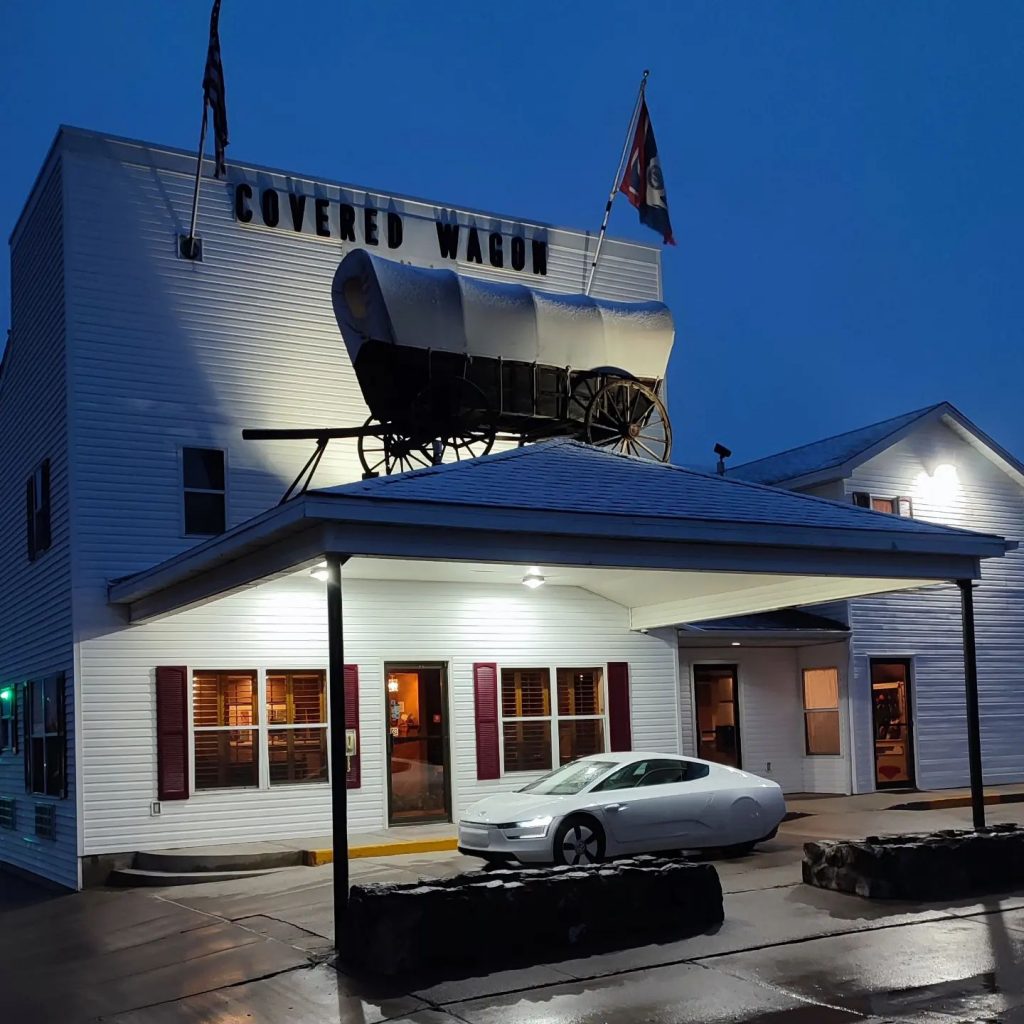 The Finish Line…
Having traversed a continent in less than 1 week, the couple deserve some rest and are currently spending a week enjoying California, before Alan flies back to Northern Ireland to carry on with his day job, leaving Jim the task of getting the Volkswagen XL1 back to the Lane Motor Museum in Tennessee.
All imagery is captured and/or provided by, Jim Magill.
Should you wish to donate to this worthy cause, please feel free to do so – https://www.justgiving.com/fundraising/thecarofthefuturepast