The 2021 motor racing season finally got under way, in glorious weather, on Saturday 29th May, at Kirkistown Race Circuit in county Down.
Having had two extra months of preparation, the majority of racing cars were looking great!
The first race of the season got off to a terrible start. The combined Kirkistown Fiesta and Mazda Modi-5-Cup race was red flagged on the first lap when German driver, Timon Dohnke, had a gearbox seizure, leaving him stranded in the middle of the circuit.
Since this happened on lap1, the restart was declared a new race.
The Mazda race was excellent, with current Champion, Paul Sheridan, from Randalstown, battling with the founder of the class, David Cousins, from Ballywalter. They swapped places continuously, while new driver, Gregory McMillan, from Ballymena, got closer and closer.
The Mazda MX5 lap record was broken on almost every lap!
On the sixth lap, Eugene McCann, from Newcastle, who had made a poor getaway, passed McMillan for third. Two laps later, both McCann and McMillan got by Cousins.
That was how it finished, with Sheridan first, McCann second and McMillan third, on his debut! Not only that, he set a new lap record on 1:10.278.
The Fiesta race was no less exciting. Belfast's Mark Stewart and Neville Anderson, from Banbridge, swapped the lead for the first three laps. Stewart finally got in front but Anderson was on his bumper all the way to the end. The gap was 0.169 seconds at the chequered flag! Paul Stewart, also from Belfast, had a steady run to third. Newcomer, Michael Graham, from Portadown, scored an amazing fourth place in his first motor race anywhere!
The second race of the day was for the amazing Superkarts.  Brian Jones, from Craigavon, led from start to finish, setting a fastest lap of 56.227 seconds.  Second in the 250cc class was Liam Fox, from Moira and third was the evergreen Colin Menary from Bangor.
In the 125cc class, Comber's Peter Crossen, got his first win on the board by almost 6 seconds. Aaron Newell, from Ballygowan, was second and Peter's brother, Alan Crossen was third.
The third race of the day was the first of two NI FF1600 encounters. Qualifying had indicated that current Champion, David McCullough, from Ballymena, was going to have a hard time defending his crown. Jordan Dempsey, from Mullingar, was on Pole by almost a quarter of a second, not from McCullough, but from Ballina's Dave Parks, who had just shaded McCullough by 0.03 seconds! Fourth was the Randalstown Rocket, Alan Davidson.
When the lights went out it was Parks who shot into the lead, with Davidson on his tail. Dempsey made a mistake that sent him almost to the rear of the field. The only person behind him on lap 2 was Robbie Parks, from Ballina, who was struggling with a mysterious misfire in his engine. McCullough moved into third when Dempsey fell back. On lap 4, Davidson had a spin and unfortunately, Neville Smyth, from Celbridge had no chance to avoid hitting him, putting both cars out immediately. That allowed Ballymena's Ryan Campbell, who had been going extremely well, to rise into third place.
However, Dempsey was on a charge back up through the field. On lap 6, Campbell was passed first by Trevor Delaney, from Carrickmacross and then by the charging Dempsey. A lap later, Dempsey passed Delaney for third.
On lap 10, Parks spun out of the lead, dropping to eighth. On the same lap, having just set the fastest lap of the race, Dempsey passed McCullough for the lead! And so it finished with Dempsey winning, McCullough second, Delaney third, Campbell a fine fourth, Parks recovering to fifth and Brandon McCaughan, from Ballycastle, sixth.
Race 4 was for Roadsports and there was much anticipation in the air because previous multiple Champion, Jim Larkham, from Newtownabbey had returned with his Radical Pro 6. Niall Fitzsimmons, from Downpatrick, a previous winner, was also in a Pro 6. Connaire Finn, from Dubin, was out in his potent Ginetta G50 and Holywood's John Benson was back with his Crosslé 37S.
At the start, Finn got away first but he was soon swamped by the Radicals of Larkham and Fitzsimmons. As Larkham began to build a lead he would not relinquish, Finn and Benson were battling hard, with positions swapping on laps 2 and 3. Eventually Finn established superiority. Benson's car expired on lap 8.
The race finished with Larkham almost 23 seconds ahead of Fitzsimmons, who was a further 11 seconds ahead of Finn.
The final race before lunch was for the Saloons. It was a lights to flag victory for Downpatrick's Ciaran Denvir, in his Honda Civic. Second was Nutt's Corner driver, Donal O'Neill in his Seat and third was Hugh McEvoy from Newry, in his Renault Clio Cup machine.
The Superkarts got proceedings restarted after lunch. Brian Jones won again but this time Liam Fox made him work for it, setting the fastest lap in the process. At the finish there was only 0.586 seconds between them. Colin Menary was a lonely third.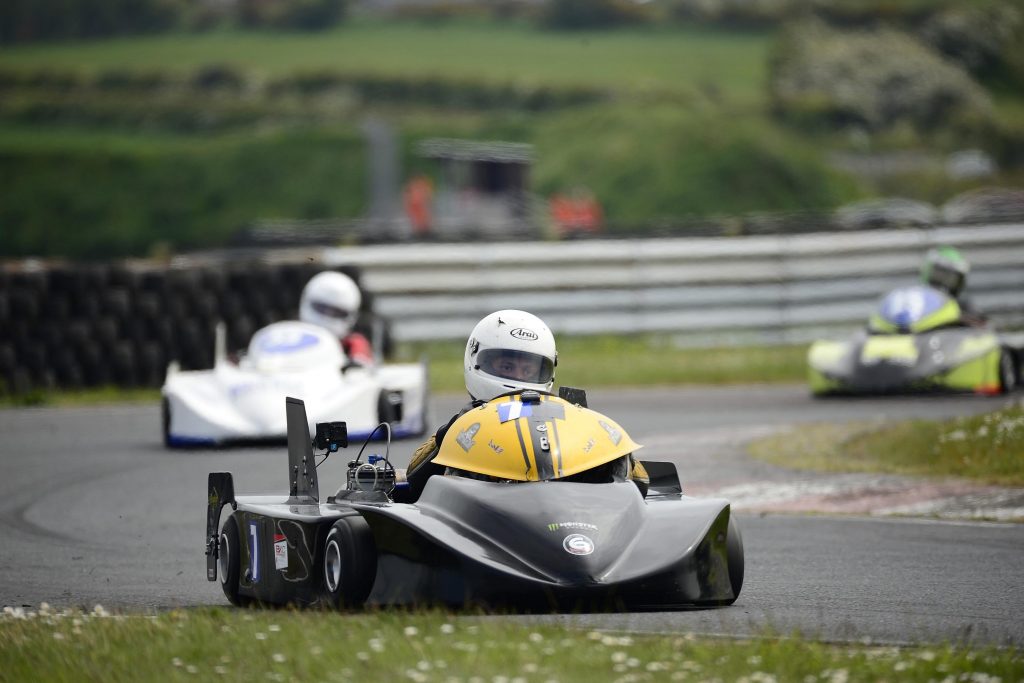 The 125cc class was a repeat of Race 1, with Peter Crossen winning from Aaron Newell and Alan Crossen.
The Modi-5-Cup drivers have a reverse grid for their second race. At the start, Derry's Gavin Kilkey was in the lead, followed by Jim Kennedy and Gregory McMillan. By the end of lap 2, that had changed. McMillan was now in control, with Eugene McCann up to second. Behind them, David Cousins and Paul Sheridan were making progress, with Cousins up to third by lap 5. On lap 6 Sheridan grabbed the place. He passed McCann for second, three laps later. Cousins further demoted McCann to fourth on the next tour. And so it finished with Gregory McMillan winning on only his second outing. Sheridan's second place leaves him leading the Championship.
In the Fiestas, newcomer Michael Graham actually led the field for the first lap. Inexperience told and he was shuffled backwards by first Neville Anderson and then Paul Stewart. On lap 5, Mark Stewart got by as well but Graham was learning all the time and he let no others through. Anderson held the lead to the end but Mark Stewart deposed his brother for second on lap 7.
Race 8 was the second Saloon race. Once again, Downpatrick's Ciaran Denvir had an easy win. Hugh McEvoy took second from Donal O'Neill in third.
In the second FF1600 race, Jordan Dempsey was passed on lap 1 by both David McCullough and Dave Parks. He passed Parks again on lap 4 but his car expired shortly after. That left McCullough in a lead he would not lose. Parks was in a fairly secure second place until he spun on lap 14. This allowed both Ryan Campbell and Brandon McCaughan through, although he did regain third from McCaughan on the final lap. A great result for the Ballymena men!
The final race for the Superkarts saw a welcome change of fortune for Stuart Coey, from Comber. Liam Fox had taken the lead and held it for the first two laps. However, Coey, who was sixth at the start, was on a charge. He took the lead from Fox on lap 3 and held it until the end. Meanwhile, Alan Witherow, from Newtownards was also having a better time and he passed Fox for second on lap 4. Brian Jones, who was second on lap 1 but had dropped to fourth by lap 4, also passed Fox, for the final podium position on lap 5.
Peter Crossen got the hat trick in the 125cc class. This time his brother, Alan managed to demote Aaron Newell back to third.
The final race of the day was the second of the Roadsports encounters. This time Connaire Finn got into the lead from the off and held it until lap 5, when Niall Fitzsimmons got past. However, Fitzsimmons' Radical expired on the next tour, just as Jim Larkham arrived to pass Finn for the lead. Paul Thompson, from Banbridge, took third place.
This was a great meeting to re-establish racing after the Covid hiatus.  The next meeting will be on the 26th June.
Words: Donal O'Neill / 500 MRCI Photos: Gary Craig Motorsport Photography