Last summer I spent a week with the Suzuki S-Cross which coincided with a camping trip and I was shocked at how well it coped with carrying people and luggage.
My first experience of this model came at the launch of the full hybrid Suzuki Vitara, when a couple of S-Cross models were entrusted to do the airport transfers for some of us journalists attending the event.
The drive from Manchester Airport to Carden Park Estate took something in the region of 75 minutes, during which time the S-Cross proved to be much more comfortable and accommodating than expected when laden with four grown men.
First impressions were good for this Suzuki which offers great value starting from just £25,499. Its nearest rival, the Nissan Qashqai starts around £1,000 more, with most other vehicles in this segment coming in and around £30,000.
Suzuki are famed for offering superb value for money, adequate specification and excellent reliability. Their affordability has always been reflected with the materials used in and around the cabin, but this is not the case today. The interior quality and finish isn't too dissimilar to most SUV's of this size and price.
In regards to specification, Suzuki has moved from adequate, to plentiful with the S-Cross. Affording it a fair fight in an incredibly crowded marketplace. One advantage the Suzuki has over some rivals is its availability with a four-wheel-drive system.
With its wide stance and bold design features, the S-Cross makes itself known wherever you go. At a glance you'd probably not recognise what brand the S-Cross is, forcing a double take.
Equipped with a 1.4-litre turbocharged petrol engine, the S-Cross is helped with 48V mild hybrid technology. A full hybrid is also available, but as I am due to have it for a week in the near future, it will receive its own article.
So focusing on the mild hybrid S-Cross as tested and pictured, standard safety includes dual sensor brake support automated breaking, blind spot monitor, rear cross traffic alert, traffic sign recognition and adaptive cruise control.
The high specification as standard also includes Apple CarPlay and Android Auto smartphone link, keyless entry and start, dual-zone auto air conditioning, heated front seats and front and rear parking sensors.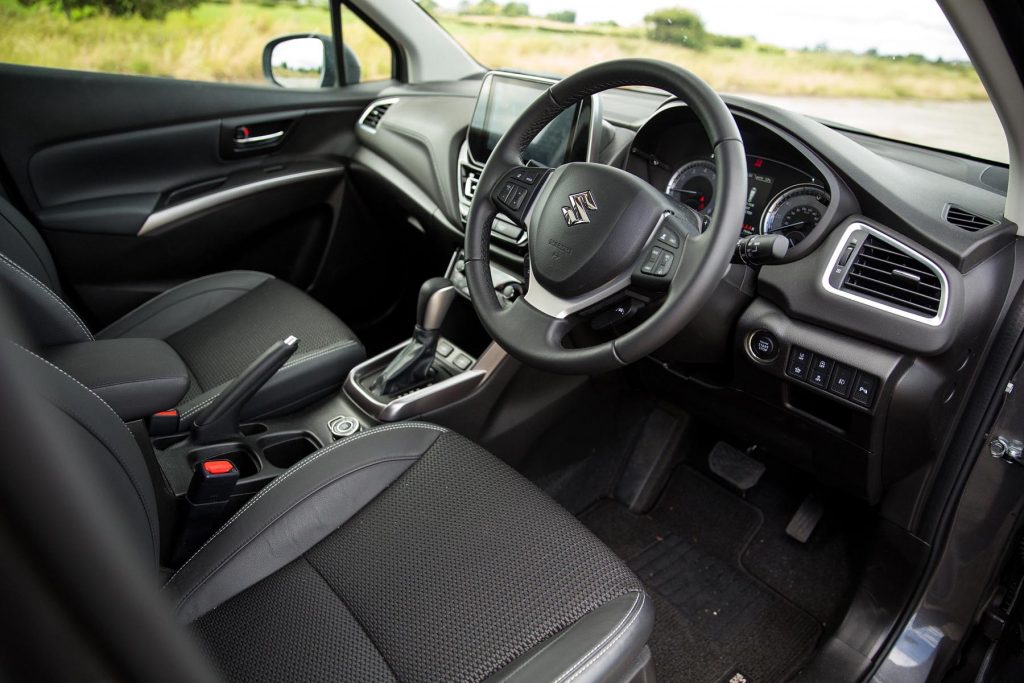 With just two trims to choose from; 'Motion' or 'Ultra', all come equipped as standard with a 6-speed manual gearbox, the 'Ultra' coming with Suzuki's Allgrip four-wheel-drive system. A 6-speed automatic can be added to either at an additional cost of around £1,400.
Key features of the affordable 'Motion' include 17-inch alloy wheels; front, side and rear under body trims; aluminium roof rails; LED headlights for low and high beam; LED daytime running lights; auto headlights and wipers; and weaving alert. A 7-inch infotainment display; rear parking camera; and a two position reclining rear seat also feature.
The 'Ultra' starts from £30,299 and on top of the four-wheel-drive system you get polished 17-inch alloy wheels; 360 view camera; leather seat upholstery; double sliding panoramic sunroof; a 9-inch infotainment display; navigation system; and front centre speaker.
The engine produces 129PS with 235Nm of torque allowing you to travel from 0-62 mph in 9.5 seconds with a top speed of 121 mph and a claimed combined return of 53.2 mpg. When equipped with the Allgrip system these figures change to 10.2 seconds, with the same top speed and a claimed combined return of 47.8 mpg.
I was able to return almost 45 mpg in the real world carrying a fair bit of weight, so the claimed figure is almost certainly achievable.
The mild hybrid S-Cross is fairly punchy and enjoyable to drive. It is significantly lighter than all rivals, which not only aids its agility but makes it one of the most economical cars in its class.
Around the cockpit everything is well thought out and within easy reach of the driver. Front seats are surprisingly supportive and comfortable. Some extra sound deadening would be ideal, but this then adds weight and cost.
Where the S-Cross is let down is with its luggage capacity in the boot when compared to rivals. Despite the fact that it managed with all that my young family could through at it during our camping trip, its capacity is fairly small. Meaning you need to be methodical about the way in which you pack in what is required.
I appreciate affordable motoring, and thankfully Suzuki still offers this. I am also a fan of their Boosterjet engine, the mild hybrid system assisting its economy more than anything else. The S-Cross gets a thumbs up from me.
All Suzuki models are covered by a three-year/60,000-mile new vehicle warranty, one year AA Suzuki Assistance, providing 24-hour UK and European roadside assistance, recovery and associated services; and by a 12-year perforation warranty. New S-Cross requires servicing every 12,500 miles.