The Hyundai Tucson has been around for quite some time now and this latest model this more attractive than ever.
The Tucson started life as an incredibly rugged vehicle, one that was far from pretty and one that was terribly grim and utilitarian inside.
Don't get me wrong, it served a purpose, best suited as a family vehicle on a remote farm, in my opinion. Things changed for the better five years ago however, when Hyundai relaunched the Tucson.
Despite sitting in a very crowded segment alongside the likes of the Ford Kuga, Kia Sportage or Nissan Qashqai, the Hyundai Tucson rose above them all a couple of years ago, when the need for a practical SUV was justified in my own household. An SE NAV model was soon given a loving home.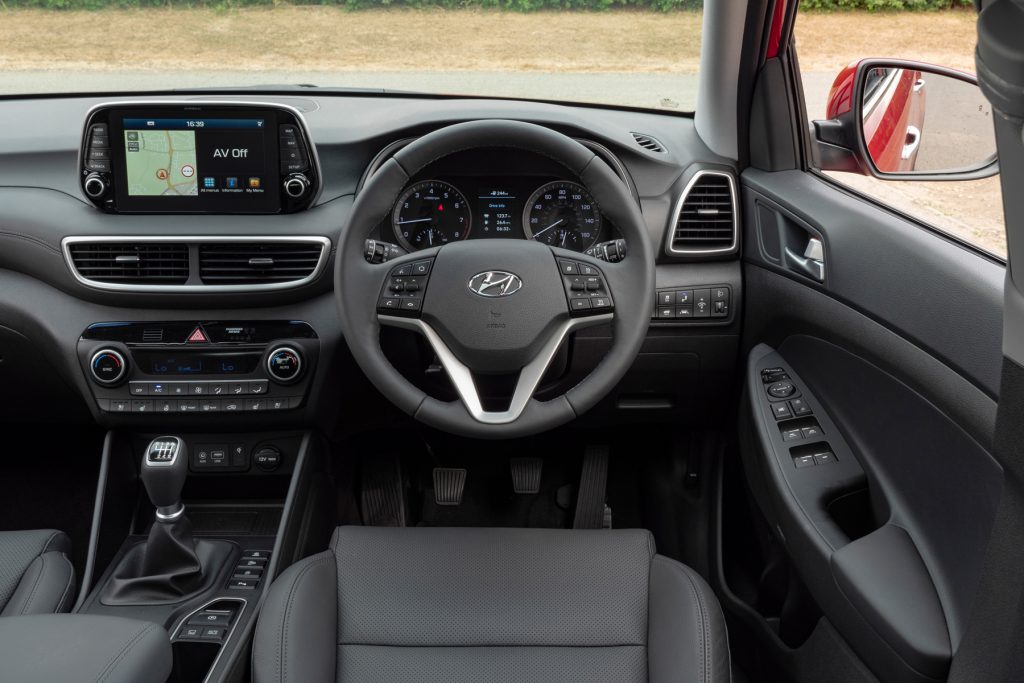 More recently, Hyundai have given the Tucson a facelift outside, a few changes within the cabin and an updated range of engines. Sharper details with the restyled front grill and the use of sharp lines within the front and rear lighting means the Tucson has never looked better.
Priced from £23,150 an 'S Connect' trim receives 16-inch alloy wheels, leather steering wheel and gear knob, split folding and reclining rear seats, dual-zone climate control, automatic headlights with dusk sensor, LED daytime running lights, full electric windows, rear-view parking camera, 7-inch touchscreen with smart device integration and Bluetooth connectivity, Android Auto and apple CarPlay with DAB radio, autonomous emergency braking, ISOFIX rear seating, and lane keeping assist.
A popular trim level would be the 'SE Nav' priced from £24,650 which receives 17-inch alloy wheels, chrome radiator grill, front and rear grey skid plates, chrome interior door handles, cornering lights, front fog light, rear privacy glass, rear LED lighting, cruise control with speed limiter, rear parking sensors, 8-inch touchscreen with satellite navigation including traffic messaging channel, map care and live services, as well as a speed limit information function.
The model tested is an 'N Line' which, price from £27,085 receives 19-inch alloy wheels, gloss black door mirrors, trim specific badges, bumpers and grille, heated front seats, leather and suede upholstery, automatic windscreen wipers with rain sensing, electric parking brake, front and rear parking sensors, keyless entry with Engine start stop button, and wireless phone charging pad.
A 'Premium' starts for not much more, at £27,150 and for this you get 18-inch alloy wheels, chrome exterior trim, leather effect drivers knee bolster, electrically adjustable front seating, heated outer rear seating, black leather upholstery, door mirror puddle lights, front windscreen wiper de-icer, KRELL premium audio system with subwoofer, blind spot detection system, and rear cross traffic alert.
The Range topping 'Premium SE' starts from a whopping £31,060 and gets 19-inch alloy wheels, chrome door handles with front handle illumination, ventilated front seats, bi-led headlights with high beam assist, panoramic glass electric tilt and slide roof, cruise control with smart adaptive speed control with stop and go function, heated steering wheel, surround view camera system, and smart electric tailgate.
There isn't a vast array of engine and transmission's available, but what there is, is something for everyone's needs.
A 1.6-litre GDi petrol engine, paired with a six-speed manual transmission and front-wheel-drive system, delivers 132ps which will see 0-62mph in 11.5 seconds with a combined return of around 36mpg.
A rather potent 1.6-litre T-GDi turbocharged petrol engine is paired with a six-speed manual, or 7-speed DCT gearbox, delivering 177ps which will see 0-62mph in 9.2 seconds and 8.9 seconds respectively, with a combined return of around 35mpg and 36mpg respectively.
For those who prefer diesel, you would need to like batteries as well, as the full range of diesel engines comes only as a 48-volt hybrid system.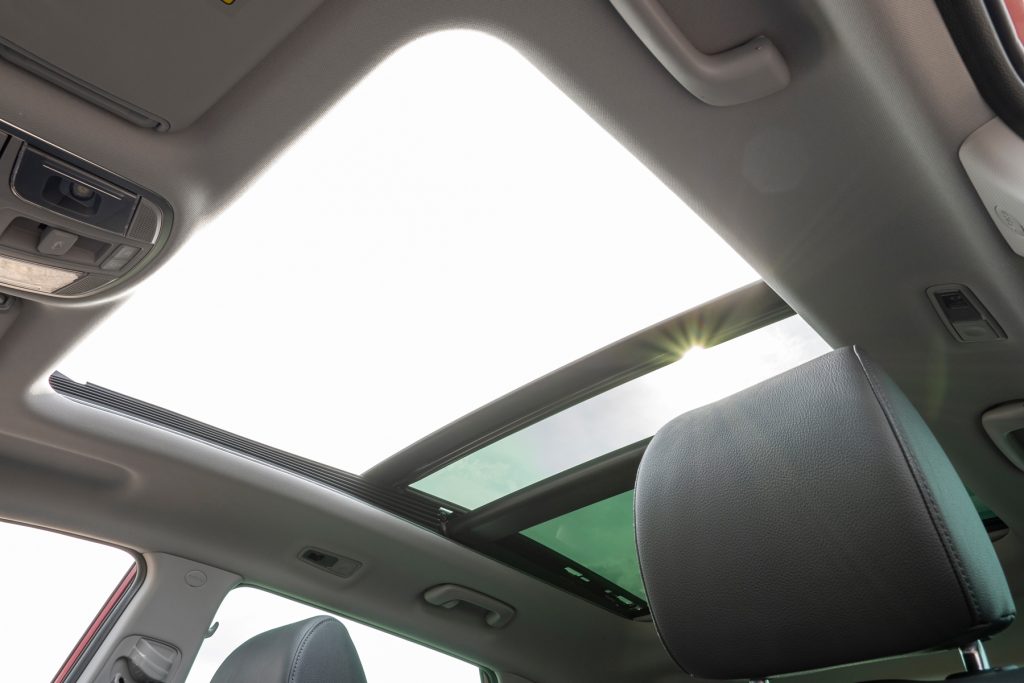 Starting with a 1.6-litre CRDi turbocharged diesel, paired to a 6-speed manual gearbox with a front-wheel-drive system, the 115ps unit will see 0-62mph in 11.8 seconds with a combined return of around 54mpg.
There is a more powerful version of this engine which produces 136ps, seeing 0-62mph in 11.2 seconds for the 6-speed manual, or 11.8 seconds should you up for the 7-speed DCT 'box, a combined return of around 48mpg and 50mpg can be expected, respectively.
Should you need all-wheel-drive there is just one option available. That is a 2-litre CRDi 48-volt hybrid fitted with an 8-speed automatic transmission. The respectable 185ps unit seeing 0-62mph in 9.5 seconds with a combined return of around 42mpg.
The Hyundai Tucson drives every bit as well as it looks, offering a very comfortable, yet predictable ride, with minimal body roll compared to some rivals. But more importantly, reliability that few other manufacturers can boast.
Featuring the turbocharged petrol engine and 7-speed dual-clutch transmission, the model tested during the course of one week was just brilliant. The bulk of motorists these days, really don't have any need for a diesel, this engine eliminating any doubt, fully.
For me personally, the only reason for buying a diesel was for that turbocharged mid-range power. I recall saying a couple of years ago that had a turbocharged petrol engine been available, it would have suited our needs much better than the diesel.
That option is now available, and I can see it being a successful one for the Korean manufacturer, reducing the number of diesels on our roads over the coming years.
Inside the latest model retains an array of easy-to-use push buttons for the vast majority of comfort, convenience and safety controls, meaning the infotainment screen which is no longer built into the dash, instead of sitting on top of it, is used solely for music, Sat Nav and connectivity.
I cannot say that I am fond of the new positioning of this screen, much preferring flushed look when it was built into the dash. The cabin also perhaps isn't quite as homely as other brands, however, it is more than acceptable and, hard-wearing enough to cope with demands of busy family life.
When it comes to load space, the boot absorbs a double buggy with ease, and a pair of swivel seats attached via ISOFIX, are not a problem. At 5ft 9in, I am by no means tall, but I did have to move the front seats forward enough to be slightly uncomfortable, to enable these seats to sit safely.
This latest Tuscon is honest and practical. It does what it says I the tin and looks great, too.
Hyundai offer a 5-year, unlimited mileage warranty and a manual version of the car tested, can be had today, for as little as £299 per month with no payments for 3 months and 0% APR (are terms and conditions apply please speak to your nearest Hyundai dealer for more information).
Fact File for model tested
Make : Hyundai
Model : Tucson
Trim : N Line
Engine : 1.6-litre turbocharged petrol
Gearbox : 7-speed dual-clutch automatic
Cost : £28,376
Words : GRAHAM BAALHAM-CURRY