Korean manufacturer Kia have a vast family within their Ceed model but what happens when you outgrow the entry-level hatchback, when you're too cool for the Sportwagon, and when you're too stylish for the crossover styled XCeed?
You go and order the head of this family, the Proceed, that's what happens.
Referred to as a shooting brake, this incredibly sleek Kia takes inspiration from both an estate car and a coupe giving it an appearance that would make anyone look twice.
Although not offering the true practicality of an estate, the Proceed offers a higher spec than its siblings. Looking immensely better than similar priced estate rivals, the Ford Focus or Volkswagen Golf, the Kia Proceed is where I would be spending my money.
Having spent a week with the model tested and pictured towards the end of last year, the Proceed appears to have received a slight facelift, since. Removal of a diesel engine as well as the binning of a 1.4-litre petrol engine being the main changes.
Priced from £26,540 the current model is available to order on Kia UK's website only in 'GT-Line' trim and, equipped with a 1.5-litre turbocharged petrol engine, comes only with a six-speed manual gearbox.
17-inch alloys feature as standard, as does LED full-width tail light, rear privacy glass, heated front seats and steering wheel, dual automatic air conditioning, leather D-cut steering wheel with grey stitching, a 10.25-inch touchscreen satellite navigation infotainment screen features a reversing camera, Android Auto and Apple CarPlay.
'Orange Fusion' is the standard paint colour, whilst five other premium colours are available at an additional cost of £595. Larger wheels, body styling, interior enhancements and protection, dash camera's and head up display, as well as roof rails and a towbar are all other optional extras available from your nearest Kia dealership.
Digging deeper into the manufacturer website, it does appear that a 7-speed dual-clutch transmission is available on the 1.5-litre engine, as too is the 1.6-litre engine that I tested which is only available aside the 7-speed auto 'box.
Producing 158bhp, the smaller engine has a top speed of 130mph after a 0-60mph dash is achieved in 8.3 seconds, with a claimed combined economy of 48.7mpg.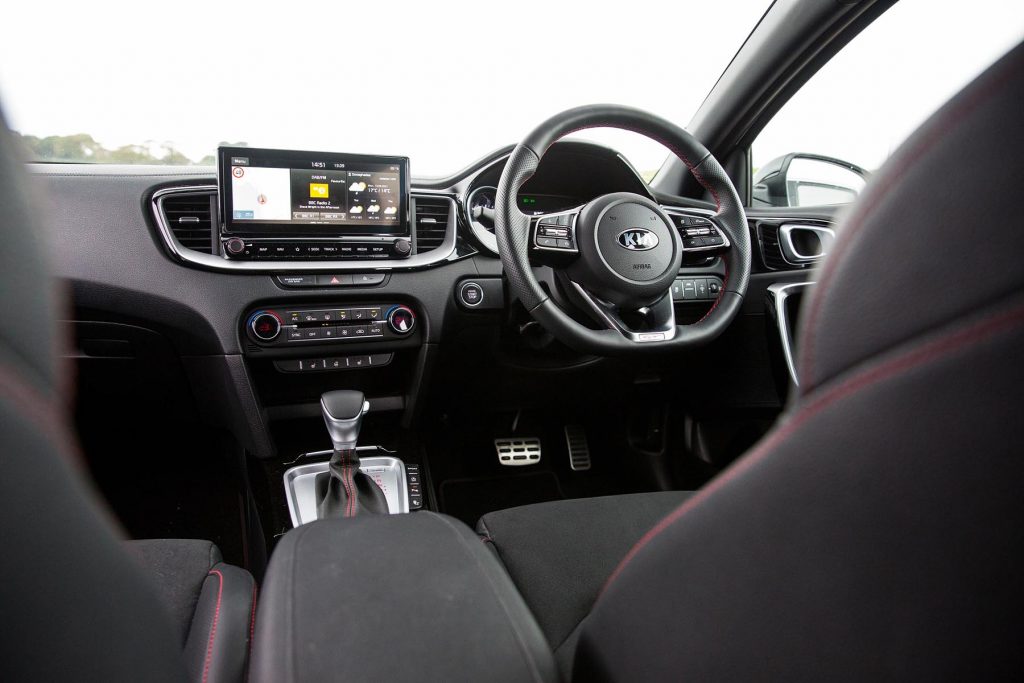 The larger engine produces 201bhp giving it a top speed of 139mph after a 0-60mph is achieved in 7.2 seconds, with a claimed combined economy of 41.5mpg.
It may not be quite hot-hatch material, but the larger engine paired to the 7-speed 'box perfectly complements this chassis. So much so in fact, that the way in which this family car drives, led to my wife selling her large jeep in favour of a decent handling hatchback.
Inside offers an abundance of space for occupants, with plenty of legroom both front and back. Due to the sloping nature of the roof towards the rear, headroom for tall occupants is somewhat compromised, especially in the rear seats. This also affects the ability of carrying tall loads in the boot.
Thinking a little outside the box, Kia have produced a car which looks great, goes well, has surprising agility, well-bolstered comfort, and with a sporting essence added for good measure. I really liked the Proceed, and it was a hoot to drive when running late.
Kia offers 7-year/100,000 mile warranty (3ys/unlimited miles) with service intervals every 12 months/10,000 miles, whichever comes sooner.
Words and Photos: GRAHAM BAALHAM-CURRY
[Images must not be used in any way without prior written consent of the photographer]