There may only be two models to choose from with DS automobiles, but this, the baby of the fleet is available with five trim levels.
DS automobiles is to Citroen and the PSA Group, what Lexus is to Toyota. Offering a more refined, bolder styled and more pleasurable mode of transport, based upon a chassis that is already available within the manufacturing group.
Named the DS 3 Crossback, this latest model from the French maker is likely to pop on the radar of potential Audi Q2 owner's as it is similarly priced, or potential Lexus UX buyers who maybe want a little more value for money.
Starting from £22,515 an 'Elegance' trim comes with the choice of 10 colours, flush fitting door handles, rear parking sensors, 17-inch alloy wheels, safety pack which includes emergency braking system, lane keeping assist, lane departure warning, speed limit recognition and recommendation as well as intelligent speed adaptation, and a 7-inch touchscreen.
A 'Performance Line' is priced from £23,915 and adds a digital instrument cluster, dark coloured 17-inch alloy wheels, rear privacy glass, and heated electrically folding door mirrors with LED spotlight.
A 'Prestige' adds front parking sensors, 3D LED rear lights, automatic air conditioning, keyless start, 10-inch HD touchscreen with DS connect nav, and diamond cut 17-inch alloy wheels and is priced from £25,915.
An 'Ultra Prestige' starts from £31,955 and adds 18-inch alloy wheels, DS matrix LED vision headlights, city pack which includes front parking sensors, reversing camera and 180-degree vision, advanced safety pack which includes extended emergency braking system, extended lane keeping assist and blind spot detection, and a head-up display.
The Range topping model ia a 'La Premiere' which is available only with the electric power-train and, starting from £39,490 features a different style of 18-inch alloy wheel and most of what the ultra-prestige features.
With no hybrid engine available you have the choice of petrol, diesel or electric, depending on which trim you choose trim.
A 1.2-litre, 3-cylinder turbo charged PureTech petrol engine is available with 101hp which, with its six-speed manual gearbox will see 0-62mph in 10.9 seconds with a combined return upwards of 46mpg.
This engine is also available with either 131hp or 155hp and, paired only with an 8-speed automatic transmission, will see 0-62mph in 9.2 seconds and 8.2 seconds respectively, with a combined return upwards of 42mpg for each.
Just one diesel is available and that is the 1.5litre, 4-cylinder BlueHDi which produces 102hp to and is paired only with a 6-speed manual gearbox, seeing 0-62mph in 11.4 seconds with a combined returned upwards of 54mpg.
The single electric offering produces the equivalent of 136hp thanks to its 50kWh battery, which will see 0-62mph in 8.7 seconds with a claimed range of close to 200 miles.
The model tested and pictured, finished in a very rich 'Ruby Red' colour, is for me, fitted with the best option under the bonnet as it features the higher powered petrol engine and automatic gearbox.
On taking delivery of a test car for a week, I usually don't look at the spec sheet until the end of my tenure with it and for this particular vehicle I was shocked at how small its capacity is.
The little engine is absolutely perfect around town and even on the return journey to the Aviva Stadium when the Six Nations was on, it cruised up the Autobahn, sorry, I mean the M1 northbound from Dublin, at a respectable rate. Despite the best efforts of storm Ciara from slowing our progress home.
The DS 3 Crossback is a very quirky looking compact crossover, with pop-out door handles that retract when you're driving, similar to that sign on the Range Rover velar. Boldly stand front and rear LED lighting on the test vehicle means you will not be missed on the road, nor will use the road.
A couple of weekend hold-alls will fit in the boot with comfort, alongside some warm clothing that is required when viewing a game of rugby.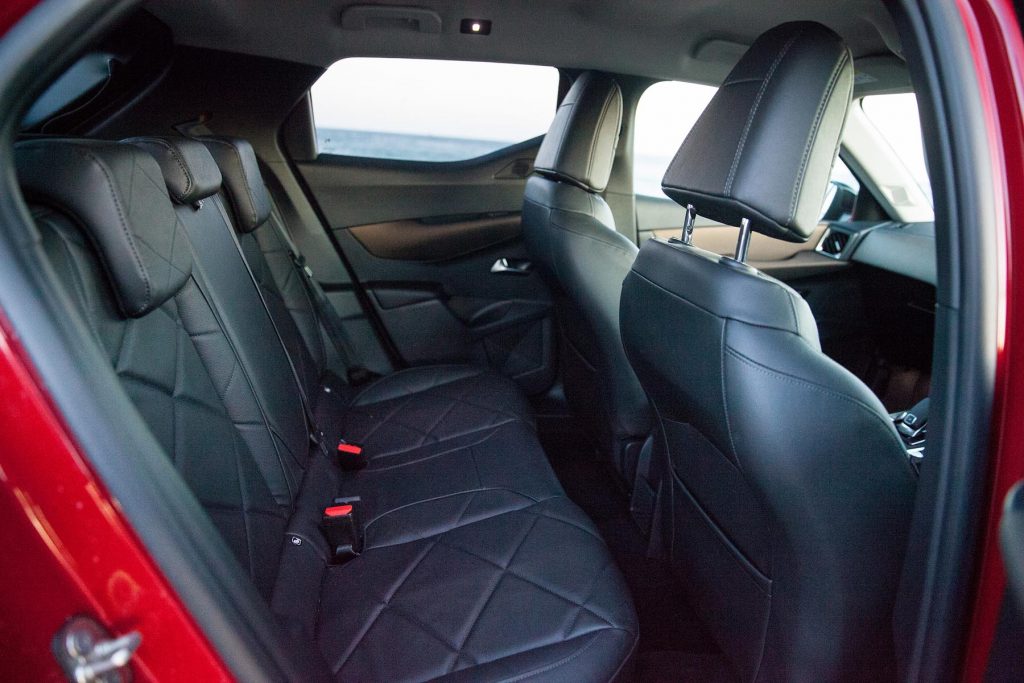 The leather cross-stitched seating looks great, offers great support and is suitably comfortable. I'll even go as far as saying surprisingly comfortable over a long journey. However, being a small car means that front passengers sit shoulder to shoulder and I do recall headroom whilst accessing the vehicle being limited.
Rear seating is best suited for two kids, whilst rear and over-the-shoulder visibility isn't as good as rivals.
The dash layout is every bit as quirky as the exterior of the DS3 Crossback and takes a little getting used to as it is very different to the norm, but the10-inch touch screen is perfectly sized, and combined with the digital cluster behind the steering wheel, provides all the information you need.
Plushness aside, there is no the arguing that the DS 3 Crossback is pricey, especially compared to Peugeot and Citroen cousins, built upon the same platform that offer most of the same tech and spec, without the fur coat.
The most powerful petrol engine, as tested, is now only available in 'Ultra Prestige' trim, meaning in Ruby Red, you will need to spend a staggering £34,205.
DS offer a 3-year, 60,000 mile warranty (whichever comes first) with servicing of the model tested advised every 16,000 miles.
Fact File for model tested
Make : DS
Model : 3 Crossback
Trim : Prestige
Engine : 1.2-litre turbocharged petrol
Gearbox : 8-speed automatic
Cost : £30,570
Words & Photos: GRAHAM BAALHAM-CURRY
images must not be used in any way without prior written consent of the photographer