Sunday 15th August was the first Trackskills track day after a six weeks break. It also fell on the day of the British Touring Cars' visit to Knockhill in Scotland, an event that usually pulls a fair few people from these shores.
However, although slightly smaller than usual, a good field of cars and drivers were in attendance. Interestingly, a large number of "first timers" were involved.
Gavin Kilkey was the first driver on track in his racing MX5. He was using the day to test some modifications and seemed happy with the results.
Daniel Mahood was also out in the first group in his Toyota MR2, which went very well.
Steven Larkham usually drives a Renault Megane 225 but it suffered mechanical woes in July and was not yet fixed. Thus, he was in a quick Mini this time. His friend, Richard Greenaway, was back in his Clio and circulating rapidly. Philip Hughes' Megane 225 was going well, as were Crawford Ewing Snr. And Jnr., in their Clio 197. However, later in the day they had brake disk problems, which curtailed their fun.
Craig McKeown was back in his Suzuki Swift. He still maintains that this car provides the best value for money of any car for the track and he may be right!
The new driver group went very well. Included in the number were Mark Cannon, in a quick Peugeot 205 GTi, Andrew McMonagle in a VW Golf Mk 5, Connor Rice in a Golf GTi, Marc Whitford in a VW Lupo and Philip Rooney, who made the trip from Wrexham in Wales, to drive his tidy Escort RS Turbo. Unfortunately, Mark Cannon's car had mechanical difficulties and he had an early finish.
Eric Fulton has had his Striker for sale all year but he confided to me that he is enjoying it too much and is going to sell his other car instead! So if anyone wants a well turned out Spire, get in touch with Eric.
Desi Auld drove the wheels off his trusty Seat Leon Cupra. These cars are quick, reliable and easily bought.
Robert Chodkowski put a lot of fast miles on his Focus ST.
A Hyundai Coupe would have been a first for us at Trackskills. However, we actually had two appear! Michael Farrell had great fun all day in his model but Jim Smylie had a serious suspension issue after his second session.
Alistair Boyd brought his Tiger Avon out to play. However, this car had had very little running in recent times and the clutch began slipping in his first run. Since Alistair was driving it home, he decided to forgo any further track activity in favour of hoping it would get him back to base. We haven't heard any missing persons reports, so we assume he made it!
Nigel Scott brought his Radical this time. This is one very quick car and he knows how to drive it!
MX5s are perfect track day cars for those who favour rear wheel drive. Apart from the aforementioned Gavin Kilkey, we also had fellow racer Paul "Pablo" Sheridan, Eoin and Colm Murray, Dermot Hughes and Gary Robinson. All had great fun in these little sports cars.
Another man having RWD fun was Norman McNaught in "Roxy", his race prepared RX8.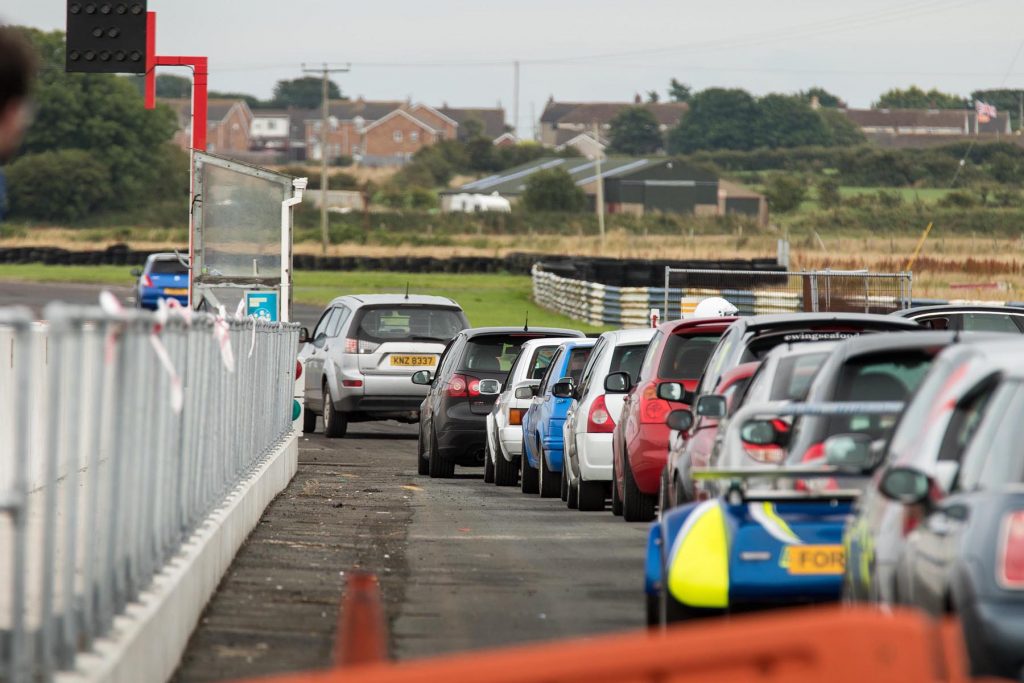 Jason Pollock was in the third "Locaterfield", in his case a Caterham 7. He had a trouble free day and is already booked for our September date on the 12th.
There weren't as many Honda Civics as usual but Harry Watson and David McMinn represented the marque well.
The weather was very good all day.  Driving standards were excellent and running was uninterrupted by red flags.
Words: DONAL O'NEILL/TRACKSKILLS  Photos: GRAHAM BAALHAM-CURRY. [Images must not be used in any way without prior written consent of the photographer.]