A week or so ago Belfast racer David Mutch touched base about a possible feature on his recently built competition car and, having seen the 35 year old compete on a number of occasions over the years, as well as featuring two of his previous cars, a photo shoot was organised right away.
Mutchy, as he is known in the paddock, is a highly experienced rally mechanic having worked at David Greer Motorsport in Carryduff for the past 14 years, meaning he's no stranger to the adrenaline-fuelled sport.
Something that is backed up when you find out that he has been competing from he was just 14 years of age, in an autotest Mini. Soon after, with the help of his father, Bryan, who has also competed for a lifetime, young 'Mutchy' progressed into a Toyota Corolla aged just 16, becoming the youngest in the UK to compete on a Hillclimb at the time, in that particular vehicle.
Not only that, but he won his class at the Cultra hillclimb event and this was enough to get him hooked for life.
David worked his way through a few high-powered hot-hatches, doing selected events in Northern Ireland and, at the end of 2011, he took the plunge and bought an "NI7's" kit car. A car similar to what you see pictured here that was used in the highly popular, and fiercely competitive NI Sevens Racing Series.
In 2013 David took to the grid for the first time, this was to prove a huge undertaking from a driver who had never been on a grid with a dozen odd other cars. During this season, Mutchy picked up a few podiums as well as taking the 'Rookie of the year' award at the prize giving.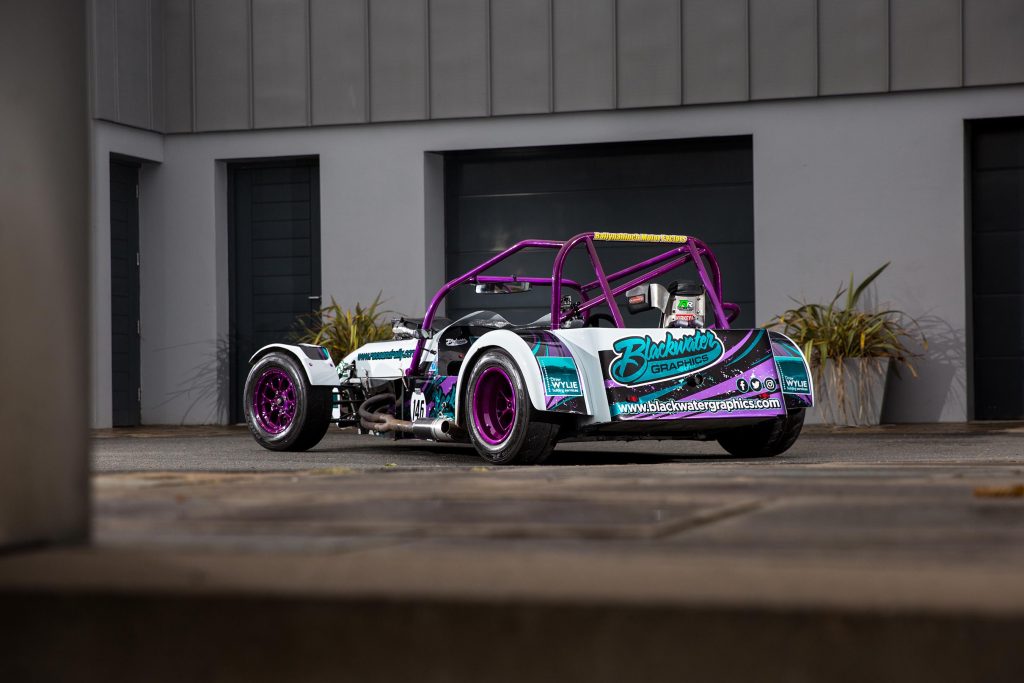 The year after, David picked up the pace to finish second overall in the NI Sevens championship. In 2015 someone made David an offer he couldn't refuse for the car and, with a wedding and house purchase looming, he sold up and took a sabbatical for that year and the following.
In 2017 David enjoyed some lanes rally events in a Mazda MX-5, but the kit car bug was still there and he soon purchased a turbocharged 'Striker'.
Not eligible for the NI Sevens racing series, this car was used in anger on various sprint and hillclimb events, mainly to gain experience behind the wheel of something different and have some craic in what must have been an absolute handful to drive.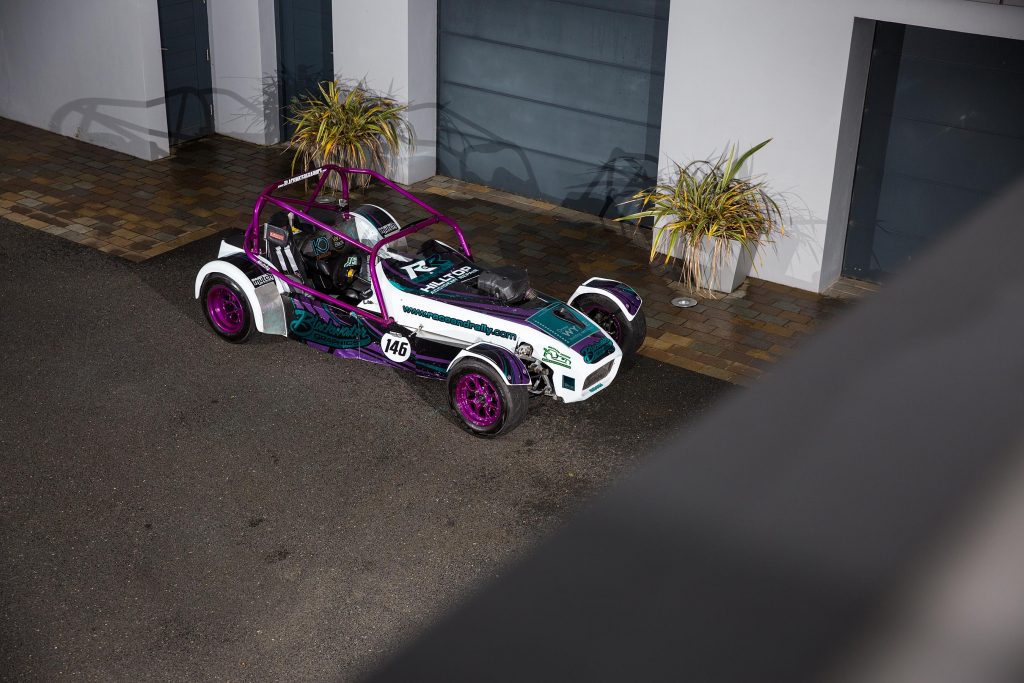 The following year, David purchased a former NI Sevens lap record holding car which he took to a couple of races before stripping and rebuilding over the following winter.
Mutchy returned to racing in 2019 and as he could not commit to a full championship, he entered select events, netting a couple of podium finishes along the way.
David's commitment to his young family as well as a busy work schedule, combined with the fact that motorsport ceased for much of the past two years due to the pandemic has meant that the flamboyant driver has taken a back-seat with his own racing plans, focusing what little spare time he has elsewhere.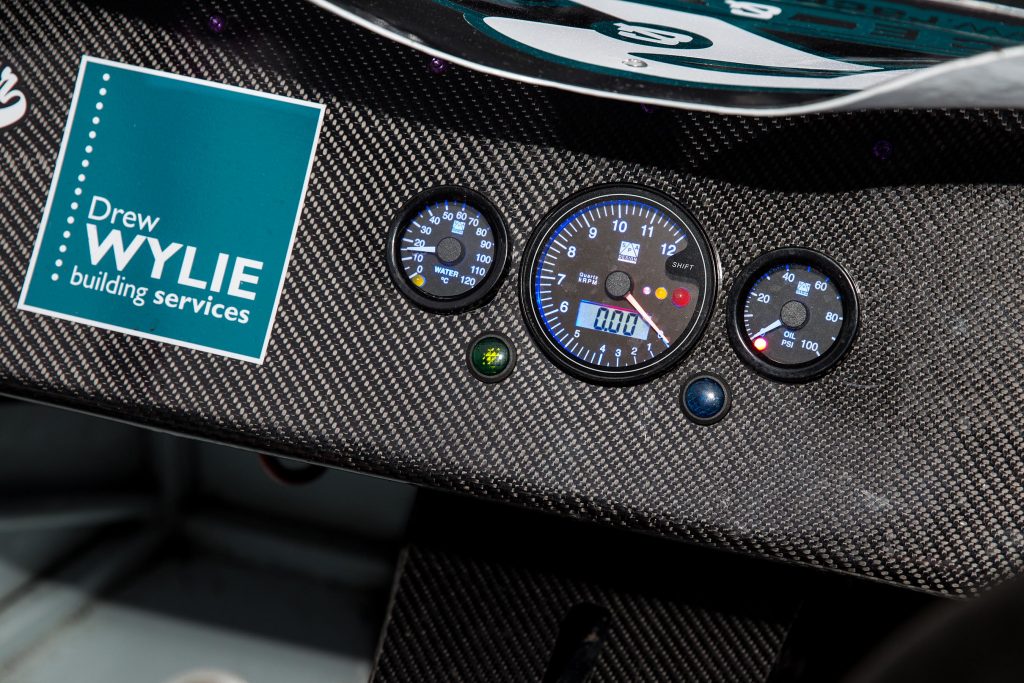 Some of this spare time is spent working on fellow competitor and good friend, Drew Wylie's targa rally car, where at some point in the not too distant past, Drew has come up with a plan to get David back on the start line.
This brings us to just five weeks ago when David started to put the massive jigsaw puzzle spread across his garage floor, back together.
David could never fully gel with the car he bought in 2018 and even after it's rebuild before the following season, he wasn't 100-percent comfortable in the car. As this GMS Locost was once a road car with MOT and TAX, it had a lot of stuff not necessary for its racing life, a result of which led to it carrying a lot of weight.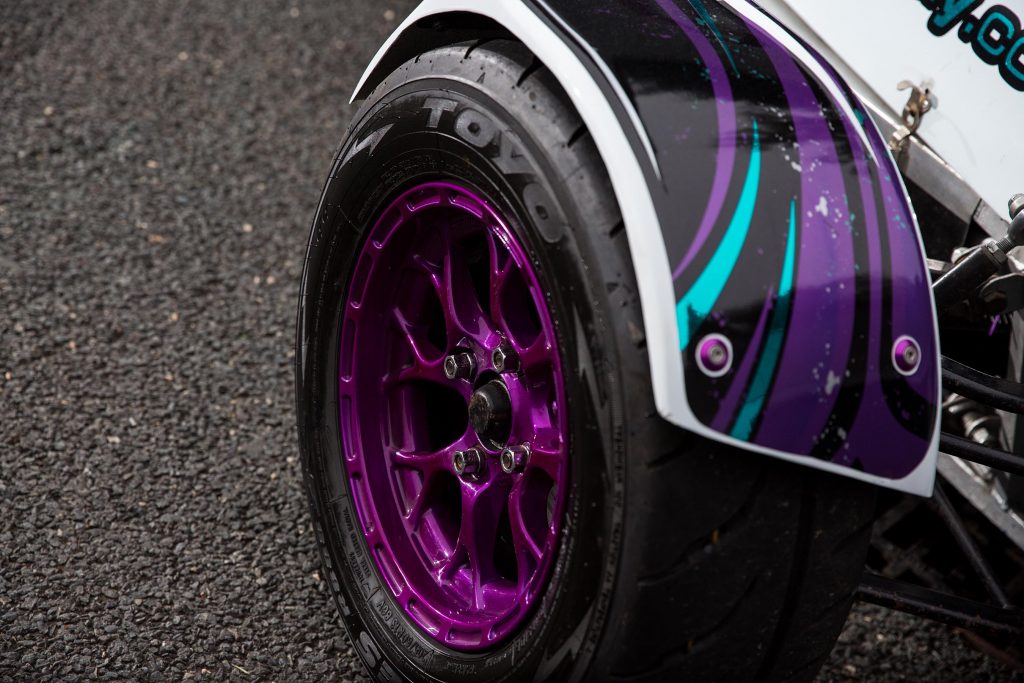 Having spent over two decades preparing rally cars, it was time to transfer all his skills and knowledge over to his own racing car as David undertook a bare chassis rebuild to make this car his own, removing almost 50kg of weight by using lightweight materials where possible and binning anything that wasn't required.
Things have been absolutely manic for Mutchy the last few weeks to rebuild, rewire, paint, sticker and fit several parts supplied by Raymond Moore from Race & Rally. Items such as the Kirkey seat, Atech steering wheel, Atech seat belts and the SPA gauges all came from this Carryduff business who we featured recently.
Although David has missed the first couple of rounds of the NI Sevens championship, he will commence a full attack from July, having recently spent some time testing the car at Bishopscourt racing circuit.
As I write this article, Mutchy will be sitting on the start line of Larne Motor Clubs Cairncastle hillclimb, for no other reason than to tick it off his competition bucket list and get some valuable seat time in this vastly improved car.
Should Donegal Motor Club get Knockalla hillclimb up and running anytime soon, you can expect to see Mutchy weave his way up the scenic course, whilst Knockhill Racing Circuit in Scotland is also somewhere that the Belfast driver would like to tick off his bucket list in this car.
SPEC LIST
Car
GMS Locost
Engine
929 cc Honda Fireblade engine
Transmission
6-speed sequential gearbox
Brakes
Alloy Willwood front & rear callipers
Wheels
13x 8 inch rears and 13×7 inch fronts
Toyo 888 GG tyres
Interior
Kirkey seat, SPA gauges, Atech steering wheel, Atech belts, cut off switch and lap timer
Exterior
Alloy body painted Ford Frozen white with a Blackwater Graphics livery scheme
Thanks To
My Dad for giving me the opportunity to compete and Drew Wylie
Raymond at Race & Rally
Kev O'Neil at KO Carbon
Jonny Armstrong for the spares
Davey Greer and all the boys at DGMotorsport
Graham Moore for the chassis setup and advice
Vanilla Black Catering
Jimmy at Hilltop Accident Repair for the painting
Andrew & Kyle at Blackwater Graphics for the livery
Words & Photos: GRAHAM BAALHAM-CURRY
Images must not be used in any way without prior written consent of the photographer