When it comes to small family cars there is an option from almost every corner of the world.
This vast array of makes and models means it is very much a buyers' market, so can this latest model from Japanese maker Mazda, pack a punch against other well established models.
Models such as the Volkswagen Golf or the Ford Focus are ones that spring to mind immediately. With similar amounts of equipment and relatively equal pricing, does the all new Mazda 3 have what it takes?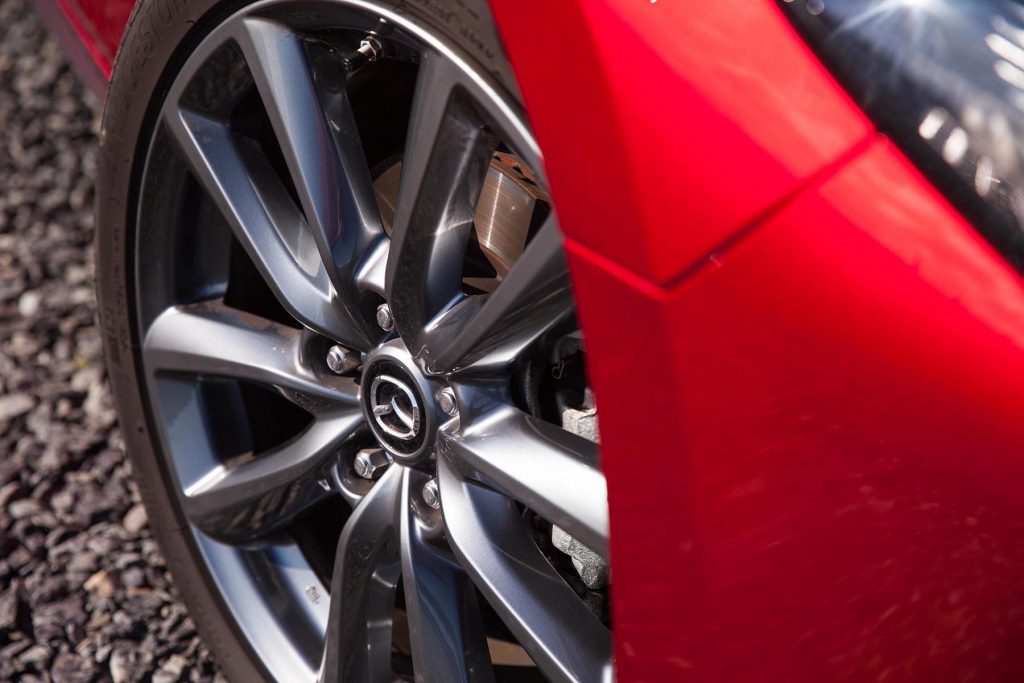 To find out, we tested one for a week and the answer varied dramatically depending on what aspect of this family hatchback was talked about.
At a glance, there are few models within this segment of the car market that look quite as striking as the Mazda 3. Like all models from Mazda, the sharp and bold styling won't be to everyone's taste, but you are sure to stand out from the crowd.
Available in five trim levels starting from £21,840 an 'SE-L' includes 16-inch alloy wheels, black cloth upholstery, LED headlights with high beam control, air conditioning, head-up display, Mazda radar cruise control, and rear parking sensors. 
An 'SE-L LUX' is priced from £22,940 and adds heated front seats, auto dimming driver's door and rear-view mirrors, dual-zone climate control, front parking sensors, and reversing camera.
A 'SPORT LUX' is available from £24,040 and adds 18-inch grey alloy wheels, adaptive LED headlights, frameless auto dimming rear-view mirror, rear signature LED lights, and smart keyless entry.
A 'GT SPORT' starts from £25,840 and includes black leather upholstery, 12-speaker Bose surround sound system with Bose CenterPoint, BassMatch and AudioPilot technology and instrument panel with 7-inch colour driver display, door mirror tilt down function with reversing, and driver attention alert.
Finally, priced from £26,740 is a 'GT SPORT TECH' which adds cruising and traffic support, driver monitoring, front cross traffic alert, rear cross traffic braking, and rear smart brake support.
In the eight months or so since driving this latest Mazda 3, the diesel engine fitted to the GT Sport test car, is no longer available in the UK market.
However, should you be buying one that's a year old, or perhaps buying new in the Irish market, it's worth noting that the 1.8-litre turbocharged diesel is more than adequate.
New Mazda 3 customers have the choice of a 2.0-litre petrol engine only and, being naturally aspirated, it can feel rather lacklustre compared to many rivals offering smaller in capacity, but turbocharged petrol engines which tend to provide effortless power, without the need for a lot of right foot.
A Skyactiv-G engine is available with front-wheel-drive only and produces 122ps which will see you from 0-62mph in 10.4 seconds when paired to the 6-speed manual gearbox, with a combined return of around 45mpg.
A recently released Skyactiv-X engine produces a more respectable 180ps which, when paired to the manual 'box, will see 0-62mph in 8.2 seconds in front-wheel-drive guise, or 8.5 seconds should you choose the four-wheel-drive model, with a return of 51mpg and 45mpg respectively. 
All models have the £1,500 option of a 6-speed automatic 'box and these are not only a touch slower, but around 5mpg less frugal.
When it comes to driving the Mazda 3, it stands out considerably against rivals. Mazda's Skyactiv technology combines years of research and development into the perfect blend of weight saving, chassis rigidity and engine efficiency, which is very much apparent when driving this latest model.
Being very much driver orientated, comfort is somewhat sacrificed compared to rivals, especially on higher trim models fitted with the 18-inch alloy wheels, through which you can almost conduct a road survey on every journey.
As someone who enjoys a 'good aul drive' I appreciate greatly the engagement this family car offers to the driver. The limited range of engines and in particular, the lack of forced induction, is something that may sway potential buyers towards other brands.
Having driven the higher powered petrol engine in another model more recently, it is for sure the engine to opt for, despite the fact that even when worked hard, it doesn't quite feel anywhere as potent as it looks on paper.
Inside this model tested is a sea of black leather, the front seats offering plenty of support with a nice driving position, whilst the rear is a little cramped for adults. The latter, combined with a less practical boot to rivals, is another blow to the chin in the fight for supremacy of the small family car.
So does the Mazda 3 have what it takes? Well I guess that is for you to decide, so get a look for yourself and see if it suits your needs.
What I can say is, it is incredibly well built both inside and out, it looks great and handles great, but the lack of practicality and choice of engines would for me, see it drop down my potential purchase list.
Words & Photos: GRAHAM BAALHAM-CURRY
images must not be used in any way without prior written consent of the photographer